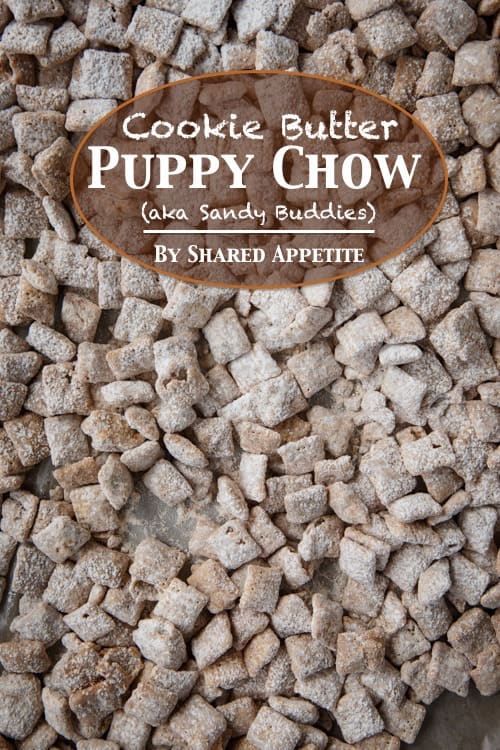 What to do with Trader Joe's cookie butter?  How should I eat cookie butter?  What can I make with cookie butter?  Look no further.  Here's an alarmingly addictive snack of  cookie butter coated Chex cereal dusted with powdered sugar.  Quick and easy to make, and even quicker and easier to eat the whole batch.
Nutella is so 2012.  You want to be current?  You want to be trendy?  Cookie butter is where it's at.  And I'm just kidding… nutella is still pretty darn good and I have a half-eaten jar of it in my cabinet right now.  But cookie butter has been getting a whole lot more love in our household lately.  It's made appearances in this Crack Pie with Speculoos.  And then in these Pretzel Coated Cookie Butter Truffles.  And if Asheley has the house to herself all day, it's not unusual for her to fix herself a glorious breakfast (and lunch) of animal crackers dipped in cookie butter.  I'm a proud husband.
 I have been seeing a lot of puppy chow and muddy buddies floating around the food blogosphere lately.  Not being from the Midwest (where apparently the stuff is most readily consumed), I had absolutely no clue what they were talking about.  But it looked sinfully good and something I needed to consume immediately.  I'm just going to warn you know.  It's habit-forming.  You will have a growing dependency on this Cookie Butter Puppy Chow.  Don't blame me.  I'm just the messenger, bringing good tidings of great joy.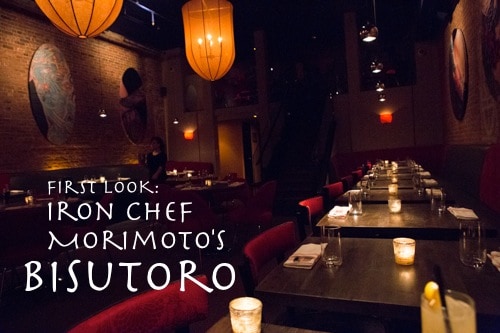 A first look at the food and atmosphere at Iron Chef Masaharu Morimoto's new TriBeCa restaurant, Bisutoro.
I miss my wife.  We kind of work opposite schedules as of late.  My week is full of after-school concerts and meetings, teaching private lessons during the evening, and spending a couple nights at the church for a photography community group I co-lead with Tyler and helping out with our middle school youth group.  Weekends are typically wide open.  Asheley pretty much has the exact opposite schedule.
We get to spend a few hours a week together, maybe even get to eat a meal together once or twice.  Other than that, it's me kissing her goodbye as I leave early for work and she is trying to get some sleep after working a late shift at the hospital.  Oh, and texting.  That's how we communicate the vital info to each other since who knows if we'll remember to tell the other the next time we're actually face to face.
Sometimes the whole opposite schedule thing is nice.  I get to develop recipes, photograph, and blog without feeling like I'm neglecting Asheley.  But honestly, I miss my wife.  So when she purposely asked for a weekend off a few weeks ago, we made it a point to just spend the entire time together.  It was amazing.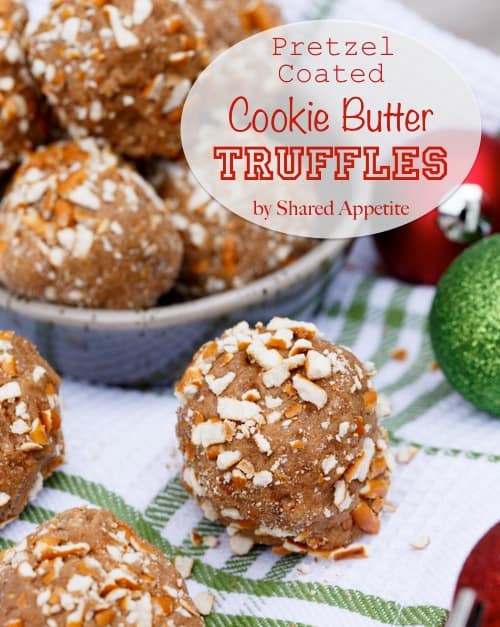 The sweet, addictive flavor of cookie butter gets a salty sidekick in these Pretzel-Coated Cookie Butter Truffles.  
How did we go from Thanksgiving being just last week to all of a sudden having less than 3 weeks until Christmas?  I'm freaking out a bit, mostly because I want to enjoy a whole lot of quality holiday baking time (well that and I need to start Christmas shopping immediately).  Good news.  The butter and sugar is already stockpiled in my kitchen.  The recipe ideas are all floating around within the scary abyss that is my head.  Now it's just a matter of having enough time to get baking.  I can do this.  Tell me I can do this.
Cookie butter has been on my mind.  Big time.  I love the stuff.  It's addictive quality is pure sorcery.  And ever since my first experience with cookie butter at the Wafels & Dinges food truck here in NYC, I've been hooked.  Only they call it speculoos.  Which is also the same as biscoff spread.  Three names… same ridiculousness.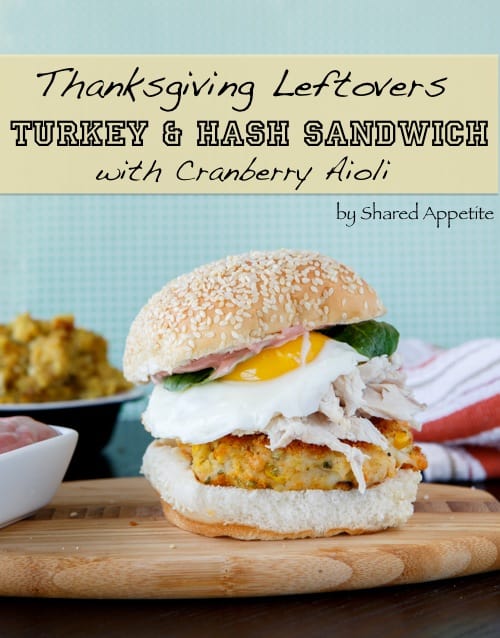 A creative recipe to transform your Thanksgiving leftovers into one unbelievable sandwich: a crispy hash patty made with mashed potatoes, stuffing, and corn, topped with turkey, cranberry aioli, and a fried egg.
Well, that's a wrap.  Thanksgiving is over.  But before we totally abandon all things autumn and enter the glorious world of Christmas recipes and holiday desserts, let's just savor one more morsel of Thanksgiving leftovers.  Let's (cranberry) relish in this one last leftover turkey recipe.
People.  This sandwich is so freaking good.  It's the epitome of all good things Thanksgiving, stacked neatly between a single bun.  Except the sweet potato casserole.  I couldn't figure out how to squeeze that into the mix.  But you better believe I has some of it on the side

 Oh how I love sweet potato casserole.  Side note: I made a big tray of it for Asheley to bring to work on Thanksgiving to share with her coworkers (yup, she had to work on Thanksgiving) and everyone devoured it.  Apparently everyone loves sweet potato casserole.

But anyway, back to this sandwich.  It might have a super lame name — sorry, I couldn't think of anything better — but you better believe it more than makes up for it in the flavor category.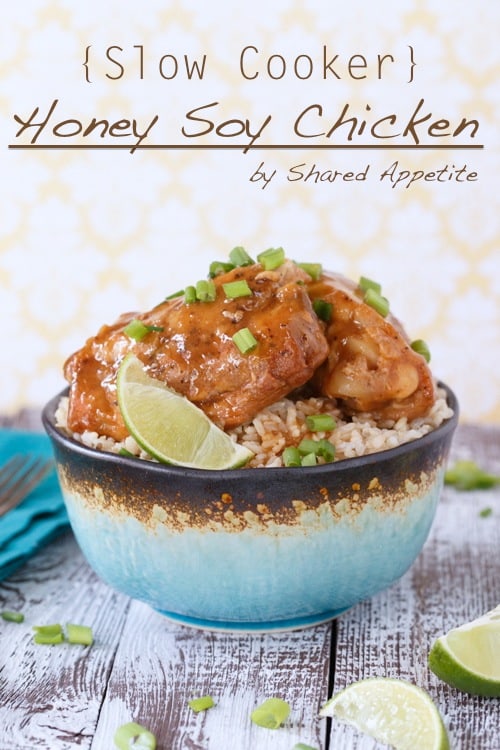 This Slow Cooker Honey Soy Chicken is an easy weeknight dinner recipe featuring slowly braised chicken thighs coated in a sweet and spicy sauce of pineapple juice, honey, soy sauce, and sriracha.  
How was everyone's Thanksgiving?  Eat way too much?  Have to unbutton your pants to squeeze in dessert?  …or were you one of the smart ones that wore sweatpants or stretch pants to the table?  And if that's the case, you are a Thanksgiving pro.  Good work.
Asheley had to work on Thanksgiving, which was a total bummer.  It's one of the "perks" of working in a hospital I guess.  People don't take off from going to the ER just because it's a holiday unfortunately.  But since she worked Thanksgiving, that means she's going to have off Christmas Eve and Christmas.  It's a good trade-off, right?
Well, the Thanksgiving leftovers are all (sadly) gone at this point.  I did a good job of making those bad boys last all weekend long.  And although I totally love all things Thanksgiving, I've now happily started rocking out to my Christmas tunes in the car and have the house (halfway) decorated for the big day.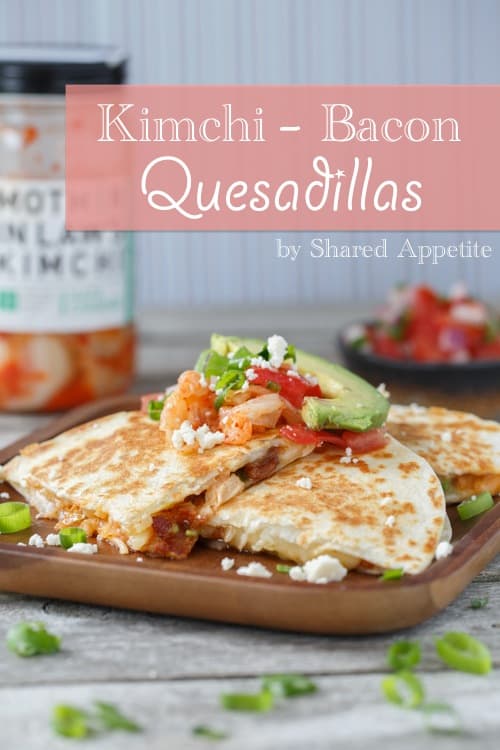 You can never go wrong with quesadillas at dinner.  Adding in authentic Korean kimchi and thick-cut bacon?  It's a whole new level of flavor awesomeness and an easy way to introduce your family to Korean flavors!
I've never had a bad quesadilla.  I mean, even bad quesadillas are still good quesadillas.  It's pretty hard to ruin a beautiful sandwich of flour tortillas, melted ooey gooey cheese, and whatever other fillings are crammed inbetween.  Am I right or am I right?
Of course some quesadillas are better than others.  I've grown pretty close to the Buffalo Chicken Quesadillas with Avocado Ranch Sauce.  We're BFF's.  And although I kind of feel bad for sneaking around behind its back with these Kimchi-Bacon Quesadillas, I kind of don't.  Because there's plenty of quesadilla love to go around in this house.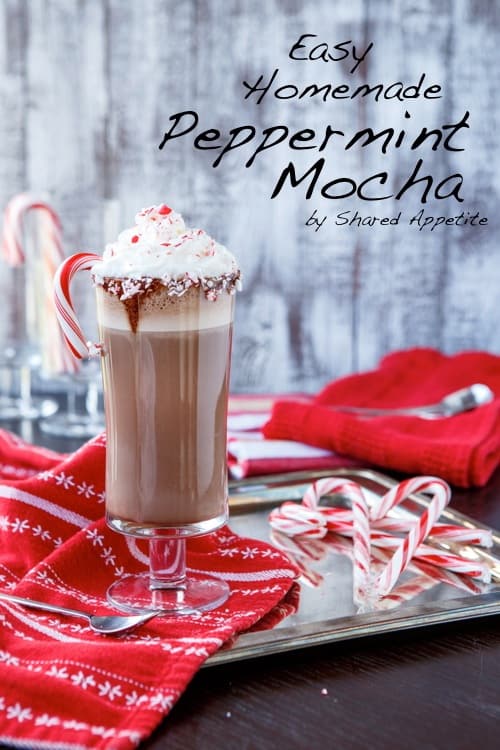 I am a member of the Collective Bias®  Social Fabric® Community.  This shop has been compensated as part of a social shopper insights study for Collective Bias and their client.
Peppermint season is almost upon us.  In four short days (the day after Thanksgiving, for those counting), let all things pumpkin terminate and may peppermint reign down upon me.  I love it.  It just screams Christmas to me.  Candy canes.  Peppermint-flavored desserts, hot chocolate, and coffee.  Uhm actually, wait…
I feel like we're pretty close at this point.  Not share our toothbrush close (Asheley and I aren't even at that point yet… and really, gross). But we're close enough that I can tell you a secret and it'll stay between us, right?  Okay, here it goes.  I have never tried coffee.  Nope, never.  Well, okay, I've eaten coffee-flavored things, but that doesn't count.  I'm talking any sort of beverage varietal.
That normally shocks people when I tell them.  How have you never tried coffee?!  I don't need the caffeine (I'm one of those annoying people that actually likes the morning), I'm not really a fan of the smell of coffee, and I think deep down I'm afraid of liking it and beginning a daily dependency on it.
That being said, my wife is an addict.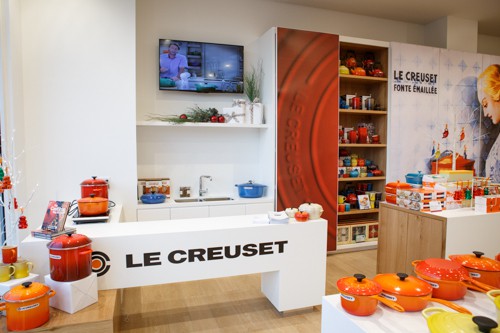 This post brought to you in conjuction with Le Creuset.  Thanks to Le Creuset for giving me a personal tour of their newest signature store and a cool little gift bag of a few Le Creuset goodies!  All views and opinions, as always, are completely my own.
Random fact.  I am slightly obsessed with Le Creuset.  Specifically, I'm a healthy hoarder of their flame orange products.   Cookware, bakeware, kitchen tools and gadgets… I'm a proud owner of many (many) of them.  And here's some music to my ears: Le Creuset has opened it's very first signature store in New York.  And where is that store, you ask?  Oh, only a short drive from my home.  This could be dangerous.
When Le Creuset invited me to take a look at their inaugural NY signature store, I jumped at the chance.  Hey, if nothing else, I can get some good ideas of what Asheley can get me for Christmas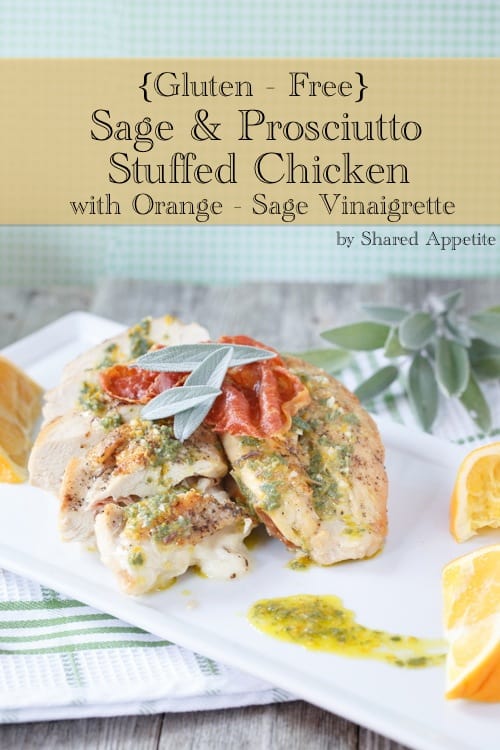 Compensation for this sponsored post was provided by the Parma Ham – Pass the Prosciutto campaign.  As always, all views and opinions, as well as the recipes herein, are my own.  
Vinaigrette.  The word I can never seem to spell right, no matter how many times I look it up.  And yes, I had to look it up to spell it correctly here.  It frustrates me greatly.  Am I the only one who always resorts to spell check on this one?
I almost didn't even use the "v" word in the recipe title because I didn't want to spell it wrong, again.  Sage & Prosicutto Stuffed Chicken with Orange-Sage Vinegrette. Vinagrette. Vinegraitte. ahhhhhhhh… Vinaigrette!  See, get's me every time.  Even if I can't spell it, this dressing (see what I did there) is absolutely delicious, healthy, and quick to whip together.
And you know what I love about this healthy and gluten-free stuffed chicken recipe?  It's easy enough to make for those busy weeknight dinners, but totally elegant enough to serve on the weekends too.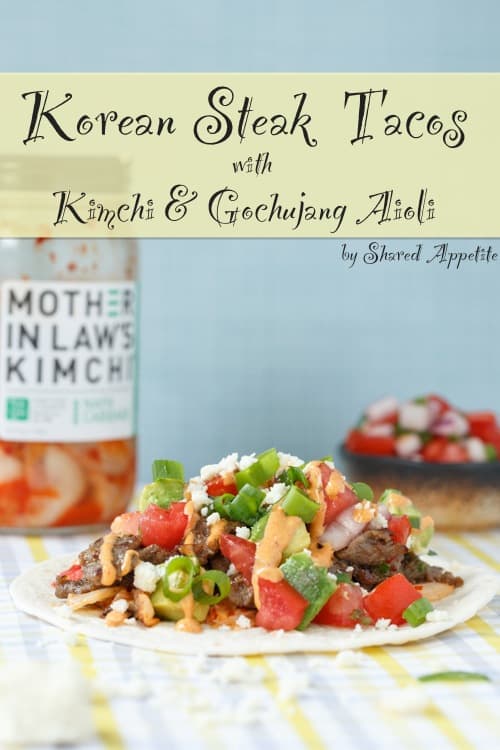 Here's an easy way to introduce the flavors of Korea to your family.  Give  your next taco night a creative twist with these Korean Steak Tacos with Kimchi and Gochujang Aioli!
I grew up eating an awesome variety of different foods.  Indian.  Thai.  Korean. Japanese.  No, not really.  My dad is pretty much the epitome of picky eaters, so the craziest we got come dinner time was ordering the most inauthentic food possible from the lame Chinese takeout place down the road from our house. Sesame chicken, anyone?
When Asheley and I have kids, it's pretty much my number one mission to get them eating an eclectic mix of ethnic foods as early as possible.  If they eat a big variety of foods early on, they won't be picky eaters, right?  I hope it's that easy. Is it that easy?  Probably not.
But anyway, these Korean Steak Tacos with Kimchi and Gochujang Aioli is a pretty gentle transition into the world of Korean food.  Your kids will be way too busy thinking about the word taco to even notice they are experiencing new, exciting flavors.  Well, that's the plan at least.