Blueberry-Thyme Soup with Honey-Vanilla Mascarpone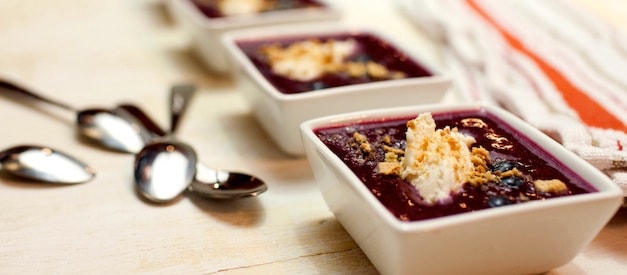 If I had to pick one dessert creation that I am most proud of this summer, this is it… so keep reading, it's totally worth it.
Soup for dessert?!  I was totally skeptical when Asheley ordered the Blueberry Soup for dessert at L'Office in Paris.  Let's just say it was one of my proudest moments of being dead wrong.  This wasn't just a good dessert.  It was a pretty darn perfect.  I thought the flavors would be very one-note, kind of boring.  Au, contraire. The fresh, bright flavors of the blueberries, combined with the creamy mascarpone, was well… a match made in heaven.   Immediately when we got back from Paris, I went to work on trying to recreate Chef Kevin O'Donnell's mind blowing dessert.  After several trial runs, numerous recipe tweaking, and having many good friends be my loyal taste-testers, it finally came together:
The success of this simple soup is all in the quality of the ingredients: fresh blueberries and thyme, a good quality honey and real vanilla extract.  Make sure to use fresh blueberries.  I tried it with frozen blueberries and for some reason it just didn't work as well.  The texture was a little gummy and it was too sweet.  I guess if you were backed up against the wall and really had to use frozen blueberries, try adding a little more water and lower the amount of sugar by a little bit.
The process for making the soup is really quite simple.  Just place the 6 cups of blueberries (3 pints), 2 cups of water, zest of 1 lemon, 3/4 cup of sugar, 1 tbl. of freshly minced thyme, and a pince of Kosher salt in a medium pot.
Place it over medium heat and bring to a boil, stirring occasionally.  Lower to a simmer and let cook for about 20-30 minutes, until slightly reduced and the blueberries start to break down, stirring occasionally.  It will look like this when it's done:
Let the mixture cool completely and then scrape it into a blender or food processor.  Purée the mixture until completely smooth.
Letting the blueberry mixture cool is important: blending a hot mixture will cause steam pressure to build up inside the blender, potentially creating a mess (not to mention the danger of a hot mixture spraying on you)!  If you are going to purée the mixture while it's still warm/hot, make sure you firmly hold down the lid of your blender.
Place a fine mesh sieve/strainer on top of a medium-sized bowl.  Pour the blended mixture through the fine mesh sieve, which will catch any stubborn solids that are left (blueberry skins, seeds, bits of thyme, etc.)  Use a wooden spoon or spatula and gently stir the mixture through the sieve.  Discard the solids that get caught up in the sieve.
Store the blueberry soup in the refrigerator.  You can make the soup a day ahead of time.
When you are ready to serve, making the Honey-Vanilla Mascarpone takes literally 2 minutes:  Just place 8 ounces of mascarpone cheese, 1 tablespoon of honey, 1 teaspoon of vanilla extract, and the juice from 1/2 lemon into a small bowl.
Stir to combine and then taste the mixture.  If you can taste a hint of lemon, then you're good.  If you can't taste any lemon or you prefer a stronger lemon flavor, add in the juice from the other 1/2 of lemon.
It's plating time:
If you are going for a casual dessert vibe, just place a dollop of the mascarpone mixture on top of the blueberry soup.  If you are going for a little more elegance, it looks extra fancy to make quenelles.  A quenelle is a basically an oval, football-shaped scoop of ice cream, whipped cream, sorbet, mousse, or any other sort of soft dessert like treat.  I typically make quenelles when I'm serving this for a dinner party, for that extra "wow"!  If it's just Asheley and I, dollop it is.
To make a quenelle, get 2 spoons of the same size.  The size of the spoon will determine the size of the quenelle.  Grab a scoop of the mascarpone on one spoon and then basically take the other spoon and scoop out the mixture from the first one, following the contour of the spoon.  Keep doing this between the two spoons until you get a smooth result, which could be anywhere from 3-12 alternations.  You'll get better at it with some practice!  Check out this quick picture tutorial if you are confused.
There is a way to make quenelles with a single spoon that is pretty amazing… I just haven't learned how to be that fancy yet!
If you don't have access to mascarpone cheese, scratch the Honey-Vanilla Mascarpone and just top the blueberry soup with a little scoop of vanilla ice cream.  It is still very delicious and a fine replacement!
Finish your plating with a couple of fresh blueberries and a sprinkle of crumbled shortbread cookies or graham crackers.  That little bit of crunch elevates the dish texturally and visually!
Blueberry-Thyme Soup with Honey-Vanilla Mascarpone
Inspired by an amazing dessert soup we enjoyed on our honeymoon at L'Office in Paris, this fresh, elegant dessert is simple to make, luxurious to eat, and completely addicting. It is sure to wow your dinner guests and is always a party pleaser!
Ingredients
For the Blueberry-Thyme Soup

6 cups (3 pints) fresh blueberries
2 cups water
3/4 cup sugar
1 lemon, zested
1 tablespoon fresh thyme, finely chopped
Pinch of Kosher Salt

For the Honey-Vanilla Mascarpone

8 ounces mascarpone cheese
1 tablespoon honey
1 teaspoon vanilla extract
1/2 - 1 lemon, juiced

For Garnish

Fresh Blueberries
Crushed Graham Crackers or Crushed Shortbread Cookies
Instructions
In a medium pot, add the blueberries (keep a couple of the blueberries to the side for garnish), water, sugar, zest of one lemon, fresh thyme, and a dash of salt. Stir to combine.
Bring the pot to a boil over medium heat, then lower to a gentle simmer for approximately 20-30 minutes, until the blueberries start to break down, stirring occasionally.
When the blueberry mixture is done cooking, allow to cool, then transfer to a blender. Puree until smooth (make sure if the mixture is still warm while blending, hold the top of the blender down to prevent the steam from popping the lid off... not a fun mess to clean up!).
Place a fine-mesh sieve over a bowl. Transfer the blueberry mixture from the blender into the sieve (in batches if your sieve doesn't hold the full amount). Use a spoon or spatula and stir the mixture through the sieve. Discard the solids that didn't make it through the sieve. Chill the soup until ready to serve (up to a day ahead of time)
Before serving, make the honey-vanilla mascarpone topping. Combine the mascarpone cheese, honey, vanilla extract, and the juice from 1/2 lemon. Stir to combine and taste. If you taste a hint of lemon, you're good! If you prefer a little more lemon taste, add the juice from the other 1/2 of lemon.
To plate, add the blueberry soup, a dollop (or quenelle, if you want to be fancy) of the honey-vanilla mascarpone, a couple fresh blueberries, and a sprinkle of the crushed graham crackers/shortbread cookies.
http://sharedappetite.com/blueberry-thyme-soup-with-honey-vanilla-mascarpone/
Shared Appetite 2012
Related posts: