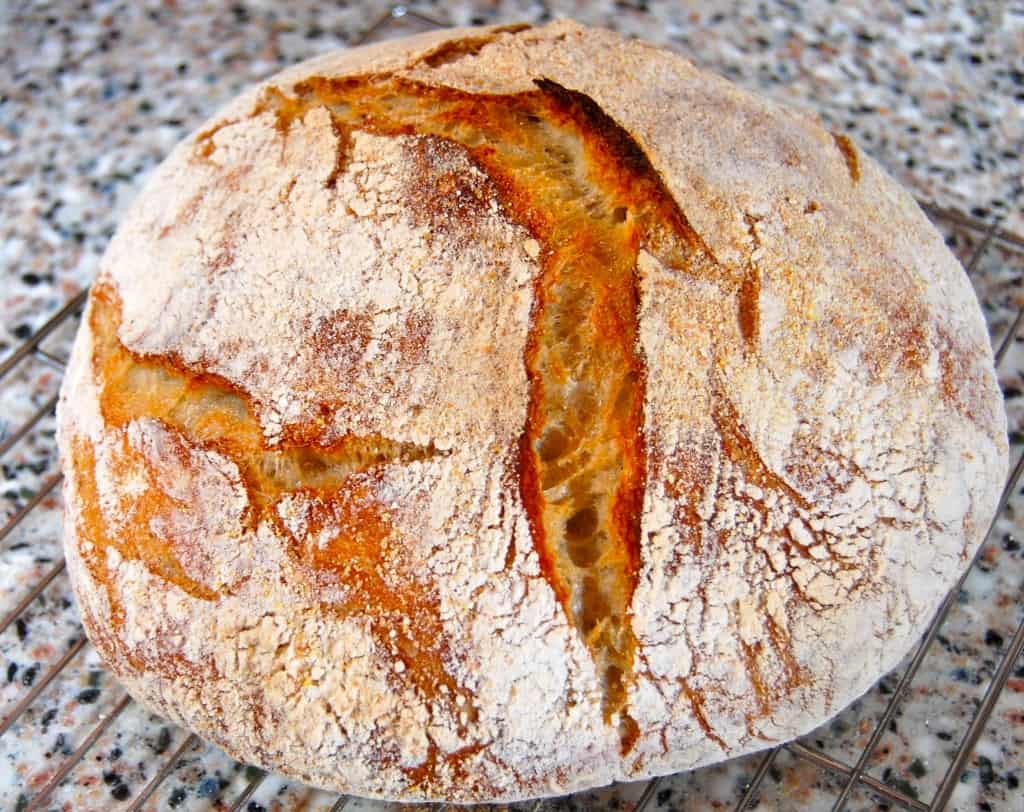 I tried to make bread from scratch a couple months ago… with little success.  The whole experience was plain frustrating.  I was initially super excited to make bread: I did some  research, bought quality bread flour and active-dry yeast, and attached my sparkly never-been-used dough hook onto my beloved KitchenAid Stand Mixer.  The initial charm of it all quickly faded and things went downhill fast.  The mixing bowl got severely stuck to the base of the stand mixer from the kneading motion of the thick bread dough.  It took copious amounts of mineral oil, a hammer (wrapped in a kitchen towel), and 20 minutes of my brute Superman strength (go ahead, laugh at that one) to get it free.  After all that and the numerous steps it took to make the bread, it came out just eh… just eh?! For all that work.  I can go buy "just eh" bread from the chain grocery store down the street.  I was completely discouraged.  There must be an easier way!
Enter my friend Tyler, who clued me into this revolutionary no-knead bread recipe.  It sounded ridiculously easy to make, almost too easy.  My mother always warned me "if it sounds too good to be true…"   Well, this is the exception.  It really is ridiculously easy to make.  Even better, it's absolutely delicious, and puts many bakery-bought breads to shame.
This No-Knead Bread is such a hit that it quickly made its rounds on countless food blogs, including being featured on the very popular sites Amateur Gourmet and Smitten Kitchen.  The mastermind behind all this bread buzz is none other than Jim Lahey, owner of the well-known  Sullivan St. Bakery in NYC, which makes the bread for numerous fine dining NYC restaurants (including Marea, Grammercy Tavern, and Jean Georges).  In his words, this recipe is so easy that a six year old can make it, and he's right.
Check out the video of NY Times food columnist Mark Bittman making the bread with Jim Lahey:
http://www.youtube.com/watch?v=13Ah9ES2yTU
The only thing to be wary of is that you need to start the process the day before you want to actually eat the bread (12-18 hour initial rise, then an additional 2 hour rise before baking it for 45 to 60 minutes).  For me, I was serving this bread for a little dinner party on Sunday along with a Winter Caprese Salad and Pasta with Braised Pork Ragu , so I mixed the couple bread ingredients together on Saturday around 6 pm.  By 10 am the next morning, I was ready for the 2 hour rise.  At 12 pm, it was in the oven and ready for the evening's dinner party.  Here's how simple it really is:
No secret ingredients here.  It really is as easy as mixing 3 cups all-purpose or bread flour (I just used all-purpose), 1 1/2 tsp. salt, 1/4 tsp. instant yeast*, and 1 5/8 cups water (just over 1 1/2 cups) until just combined.
*I didn't have instant yeast.  All I had was active-dry yeast.  After doing some research on the differences and if it can be substituted, here's what you do:  Up the active-dry yeast to 1/3 tsp. and make sure the water is warm so the yeast will wake up.
The dough will be, as Jim Lahey puts it, "sticky and shaggy".  Cover the bowl with plastic wrap and leave it alone at room temperature (about 70 degrees) for at least 12 hours… Lahey recommends 18 hours.  I think I ended up doing around 16 hours.
After the initial rise of 12-18 hours, this is what the dough will look like.  There should be little bubbles on the surface of the dough.  At this point, place the dough on a surface dusted with flour and fold it over on itself once or twice to create the shape of a ball.
Sprinkle a cotton cloth with flour, cornmeal, or wheat bran (I just had flour in the house so I used that). Place the dough seam-side down on the cotton cloth and cover with more flour, cornmeal, or wheat bran.  Cover it with another cloth and let the dough rise 2 more hours.
After the 2 hours, it will have doubled in size and ready to bake.  Place a covered heavy pot (enamel, cast iron, pyrex, ceramic… I used my Le Creuset Dutch Oven) in the oven and turn it on to 450°.  Let the heavy pot preheat for 30 minutes, then carefully remove the pot from the oven and flip the dough over (seam side up) into the pot.  Place lid back on top of the pot and bake in the oven for 30 minutes.  Remove the lid from the pot and bake another 15 to 30 minutes, until your bread looks like:
Golden brown, crusty exterior goodness!  Look at that bread… just look at it.  It's… it's… beautiful!  And I can't take any credit for it.  Thank you Jim Lahey for making bread easy, fun, rewarding, and delicious!
No-Knead Bread
From the mastermind of all things bread, Jim Lahey let's us in on his secret recipe to amazing tasting homemade bread that's really easy to make.
Serves:
One 1½ pound loaf
Ingredients
3 cups all-purpose or bread flour, more for dusting
¼ tsp. instant yeast (or ⅓ tsp. active dry yeast)
1½ tsp. salt
1⅝ cups water (use warm water if using the active dry yeast)
Cornmeal or Wheat Bran, as needed
Instructions
Combine the flour, yeast, and salt in a large bowl. Add the 1⅝ cups water (just over a 1½ cups) and blend with your hand until just combined. The dough will be sticky and shaggy. Cover the bowl with plastic wrap and let it rest for at least 12 hours, preferably about 18 hours, at room-temperature in a warm room, approximately 70 degrees.
You will know the dough is ready when it has a surface dotted with tiny bubbles. At this point, lightly flour a work surface (i.e. counter-top or large cutting board) and place the dough on it. Fold the dough over itself once or twice, creating the shape of a ball, and sprinkle with a little flour.
Generously coat a cotton towel with flour, wheat bran or cornmeal. Put the dough seam side down on the towel and dust with more flour, bran or cornmeal. Cover with another cotton towel (or if your towel is large enough, fold it over the dough completely. Let rise for about 2 hours, until the dough has doubled in size. .
30 minutes prior to baking the dough, place a 6 to 8 quart heavy covered pot (cast iron, enamel, pyrex, or ceramic) in the oven and heat the oven to 450 degrees. When dough is ready, carefully remove pot from oven. Slide your hand under the dough and turn dough over into pot, seam side up. It may look like a bit of a mess, but that is totally okay. Shake the pan once or twice if dough is unevenly distributed... it will straighten out as it bakes. Cover with lid and bake 30 minutes, then remove lid and bake another 15 to 30 minutes, until loaf is beautifully browned.
Cool on a rack.