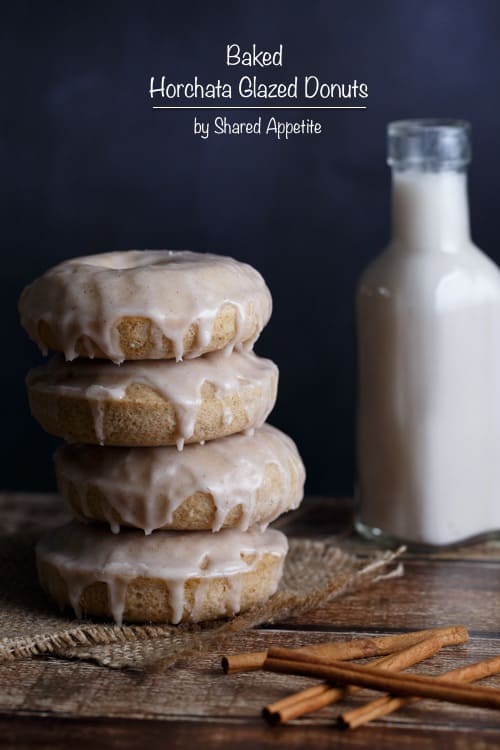 Transform traditional Mexican horchata into a creative Cinco de Mayo dessert with these soft, moist, and pillowy Baked Horchata Glazed Donuts!
Did you miss it?
I had my baked donut debut last week and it was a freaking doozie. Baked Brown Butter Churro Donuts. Yea, that's right. A churro donut. They were pretty epic.
And now I'm totally obsessed with my donut pan
.
Asheley's not complaining. She is a strong supporter of my baked donut phase. And suddenly is very eager to help taste test.
Quality control, she tells me.
So let's talk horchata. Love it? Hate it? No idea what it is?
Don't feel bad. Up until a few years ago, I had no clue either.
It's a refreshing, cinnamon-y milky drink popular in Latin America that apparently varies greatly depending upon who's making it. Every country does it a little different. According to the end-all-be-all source of internet knowledge, Wikipedia, this version is most closely aligned with Guatemala.
I guess I was subconsciously thinking about the mission trip Asheley and I took there last summer? Who knows.
So the Guatemalan version. Rice, water, and cinnamon hangs out in the kitchen and pulls an all-nighter. Then they get blended like crazy and mixed with almond milk and a touch of vanilla. Piece of cake. Donut.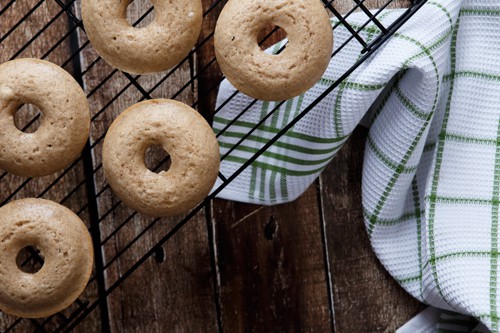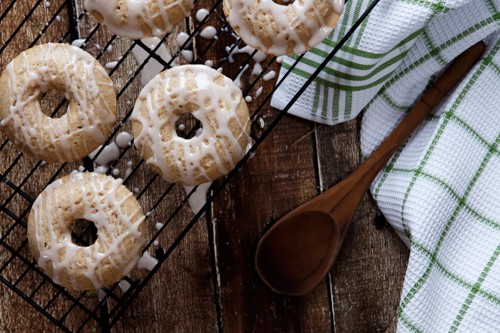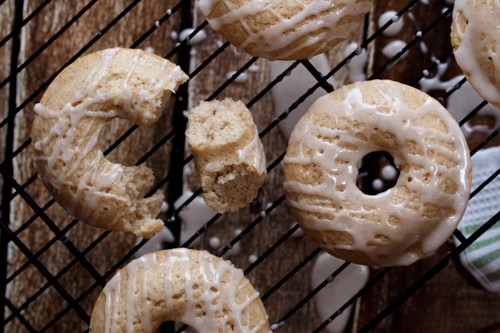 Aside... Do you know how much it pains me to keep typing donut? I cringe a little each time. Doughnut. Ah, that's better.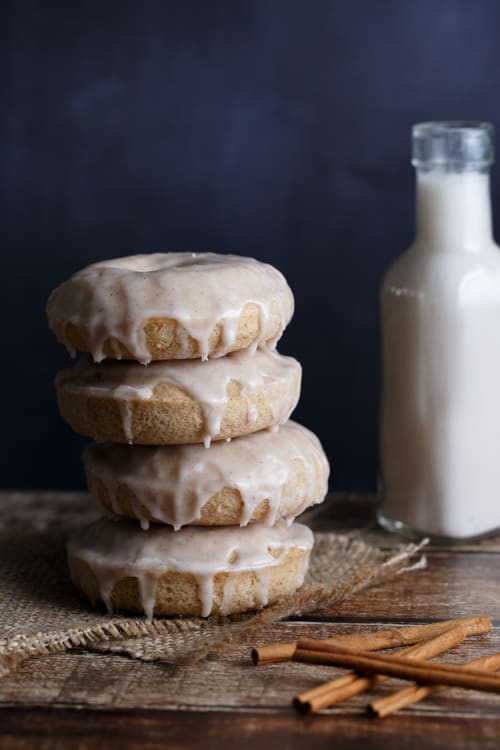 Oh, and if you aren't into the whole horchata-making process, you can easily skip a step and just go buy some horchata. Go ahead, I won't judge you... maybe.
It is quite easy to make, but you just need to plan a day ahead since the rice and cinnamon needs some time to soak. So if you want your donuts and you want them now, check out a grocery store with a high-quality Latin food aisle. They should have horchata or at least a good horchata concentrate
that you can thin out with water.
Print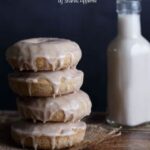 Baked Horchata Glazed Donuts
---
Total Time:

22 minutes

Yield:

6

donuts

1

x
3 tablespoons

unsalted butter

1 cup

all-purpose flour

¾ cup

sugar

1 teaspoon

baking powder

½ teaspoon

cinnamon
Pinch Kosher salt

1

egg

⅔ cup

Horchata (recipe below)

½ teaspoon

vanilla extract
for the Horchata glaze
3 tablespoons

Horchata (recipe below)

1 cup

powdered sugar
for the Horchata
1 cup

raw rice (medium or long grain)

2 ½ cups

hot water

1

(3-inch) cinnamon stick

⅓ cup

sugar

1 cup

unsweetened almond milk

½ teaspoon

vanilla extract
---
Instructions
Preheat oven to 350°F. Lightly grease a doughnut pan with nonstick cooking spray and set aside.
Melt 3 tablespoons butter in a small saucepan over medium-low heat, stirring occasionally. Butter will crackle and foam a bit as it browns. Once butter is light brown and smells nutty, remove from heat and immediately transfer to a small bowl. Be careful, it goes from brown butter to black burnt butter quickly. Allow brown butter to completely cool.
In a medium mixing bowl, whisk together flour, sugar, baking powder, cinnamon, and salt.
In a small mixing bowl, whisk together egg, horchata, and vanilla extract. Measure out 2 tablespoons of the cooled browned butter and whisk into the wet ingredients.
Add wet ingredients to dry ingredeints. Stir together until ingredients are well combined, but do not overmix.
Spoon batter into a large ziploc bag and use a scissor to cut about a ½" piece off one corner to create a makeshift disposable pastry bag. Fill each well in the doughnut pan approximately ¾ full. Alternatively, use a spoon to carefully fill donut pan and smooth out batter.
Place in the oven and bake for approximately 12 minutes, or until a toothpick inserted into doughnut comes out clean. Remove from the oven and allow to cool in the pan before inverting onto a wire rack to cool completely.
In a small mixing bowl, thoroughly combine 3 tablespoons of horchata with powdered sugar to make a glaze. Drizzle glaze over donuts or preferably, dip the top of each donut in the glaze to coat. Allow glaze to harden, then devour.
for the Horchata
In a glass bowl or pitcher, add rice, hot water, and cinnamon stick. Cover and let sit overnight on the counter. The next day, pour the mixture into a blender, add ⅓ cup sugar, and blend on high for several minutes until smooth. There will be some grit from the rice. Strain well through a very fine mesh sieve or a cheesecloth into a pitcher. Stir in almond milk and vanilla extract. Refrigerate for a couple hours to allow flavors to meld. Stir before use. Extra horchata can be enjoyed straight up as a refreshing beverage or mixed with a bit of vanilla vodka for a creative martini.
Prep Time:

10 mins

Cook Time:

12 mins
Want another baked donut option this Cinco de Mayo. Heck, forget that. They are too good for one day a year. Want another baked donut option for every day?