With just a handful of ingredients, these kid-friendly Easter Peeps Milkshakes come together in just minutes and are perfect for dessert easy entertaining!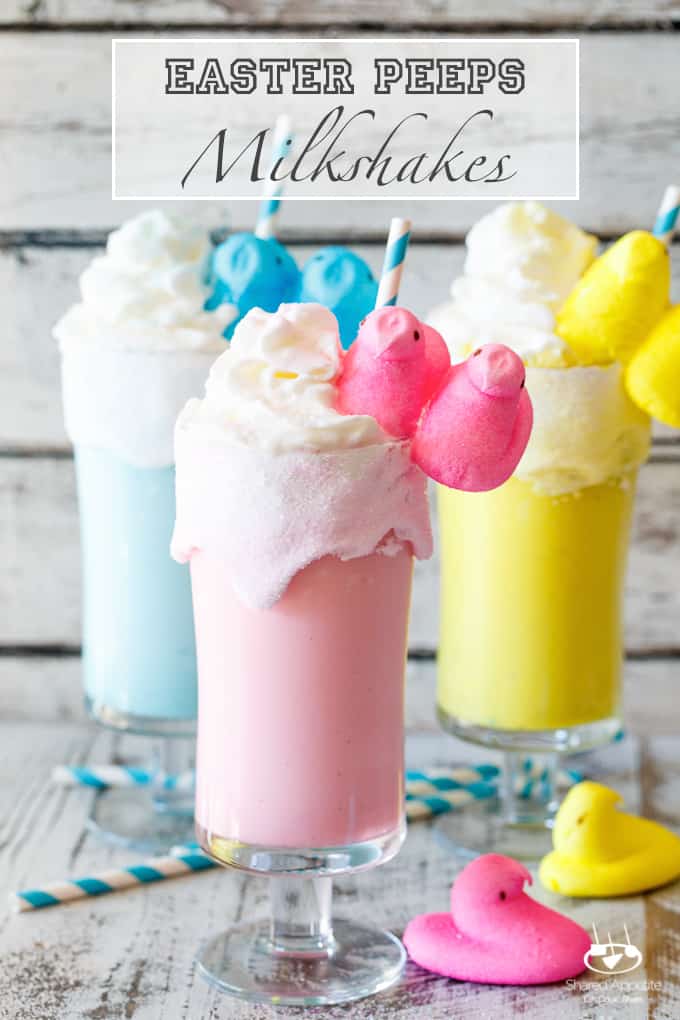 I'm very blessed to still have all four grandparents alive and well. I still have vivid memories of spending days with both sets of grandparents as a kid. Each side of the family brought different benefits to a chunky kid coming of age. My grandparents on my dad's side lived very close to a deli and bagel store. We would walk to pick out whatever I wanted for lunch. My grandpa also stashed kit kats in the fridge. Huge win.
But my grandparents on my mother's side definitely knew how to take it one step further. My grandma was/is one of those Weight Watcher's for life members. In other words, she was the queen of snacking. Precisely at 10am, we would enjoy a snack of a few Vienna Fingers, which she oddly enough always repackaged into a cookie tin that lived on top of her fridge. Lunch was melted cheese, with copious amounts of butter... and cheese. Finally around 1:30/2pm, she would whip out the heavy hitters. Those which lived in the freezer. I'm talking ice cream bars, ice cream sandwiches, and ice cream cones. Heck freaking yes. It was a rolly polly kiddie paradise.
Needless to say, my grandma has been told by her doctors to stay away from sweets at this point. She listens, to a certain extent. With one major exception. Peeps. You give her a package of peeps, and she'll instantly giggle with uncontrollable excitement. So grandma, this one's for you. Toasted Marshmallow Easter Peeps Milkshakes. Boom.
Peeps. Ice cream. A straw. What else could you possibly need in life?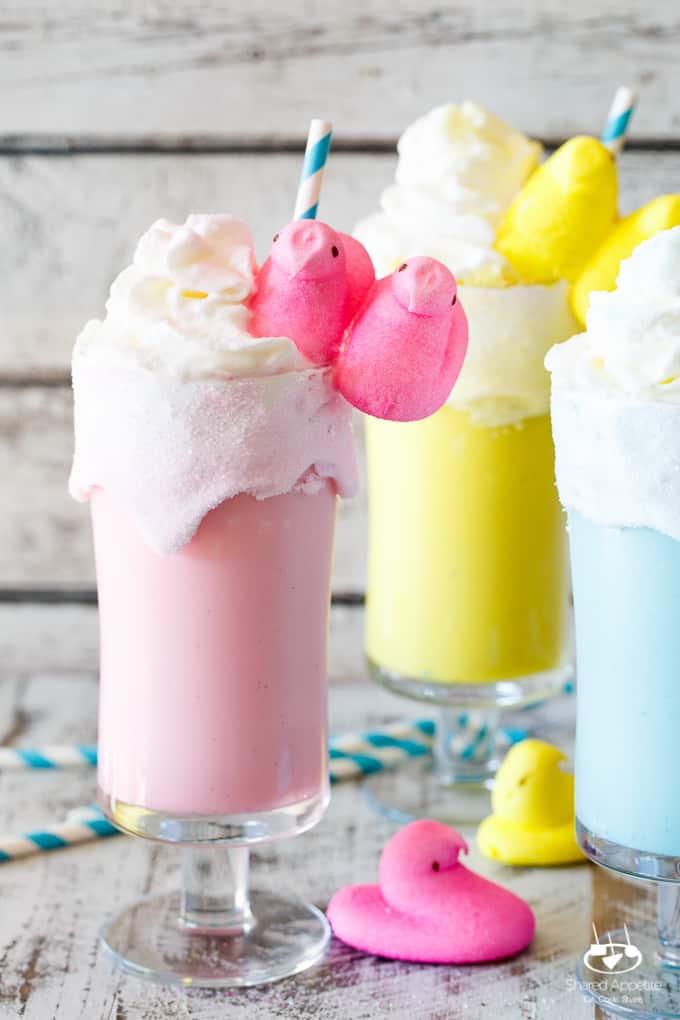 And even if you don't have a Peeps-loving grandma, your kids/nieces and nephews/anyone with a pulse will totally dig these fun Easter dessert milkshakes. They literally whip together in minutes, and take even less time to gulp down.
Yes. For those that remember this epic Toasted Marshmallow Milkshake (i.e. the milkshake to end all milkshakes), this is a quick and easy variation on those. And since they are pretty pastel colors, they instantly become more Easter cutesy and stuff.
For bonus points, coat the top inch or so of the outside of each glass with marshmallow fluff and cover in sprinkles. I used pastel dusting sugar, but any colorful sprinkles would work. Obvi. And don't forget to have some spare peeps for garnish.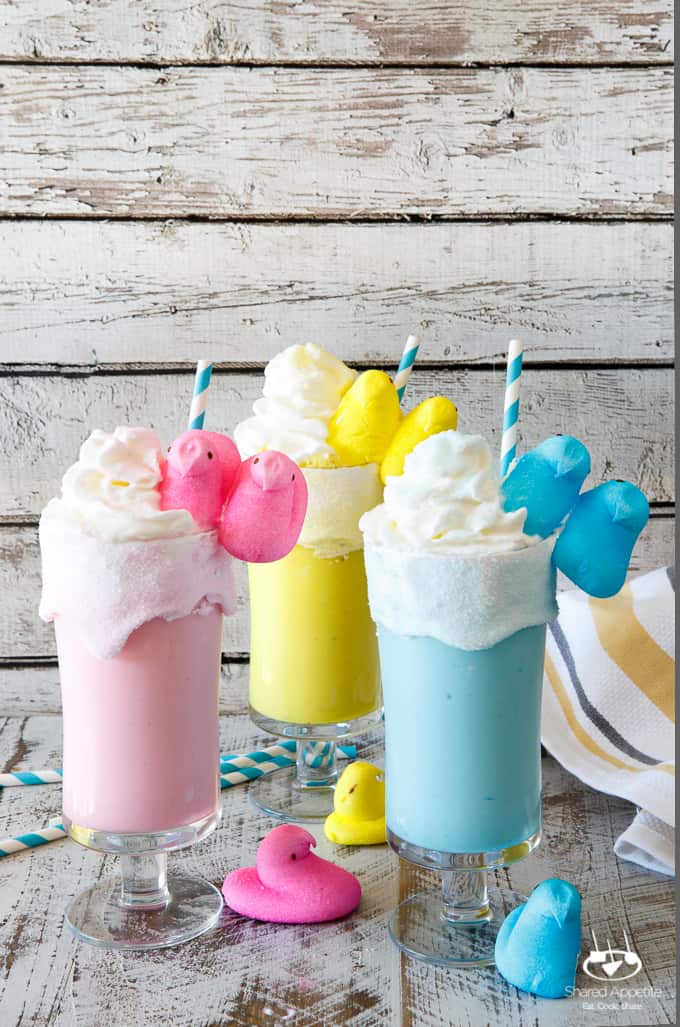 By the way, I recently got a new blender because my old one finally bit the dust. Best thing to ever happen, because now I'm rocking this awesome Ninja Professional Blender. It's seriously amazing, and really an incredible value.
And here's the Pastel Sanding Sugar I used on the rim of each glass.
Print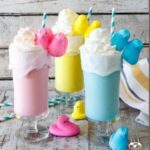 Toasted Marshmallow Easter Peeps Milkshakes
---
Total Time:

10 minutes

Yield:

1

(12-16 ounce) Shake

1

x
5

scoops high-quality vanilla ice cream

2 tablespoons

whole milk

10

Peeps, plus more for garnish
Food coloring, same color as your Peeps
Whipped cream, for topping
Marshmallow Fluff, for garnish
Sprinkles, for garnish
---
Instructions
Using a small offset spatula, spread a thin, even layer of marshmallow fluff around the top 1" of the outside of your glass. Sprinkle sprinkles (say that 5x fast) on fluff. Set glass aside.
On a foil-lined baking sheet sprayed with nonstick cooking spray, toast peeps under a broiler, until slightly golden brown. Keep a close eye on them as they can burn rather quickly.
Just as the marshmallows are finishing up, put ice cream and milk in the blender. Combine briefly, then add toasted peeps and blend until incorporated. Add in a few drops of food coloring (same color as your peeps) and blend just until fully incorporated.
Pour shake into a glass and top with some whipped cream. Garnish with Peeps.
Notes
*Multiply recipe as necessary for additional shakes, or use smaller glasses.
Prep Time:

5 mins

Cook Time:

5 mins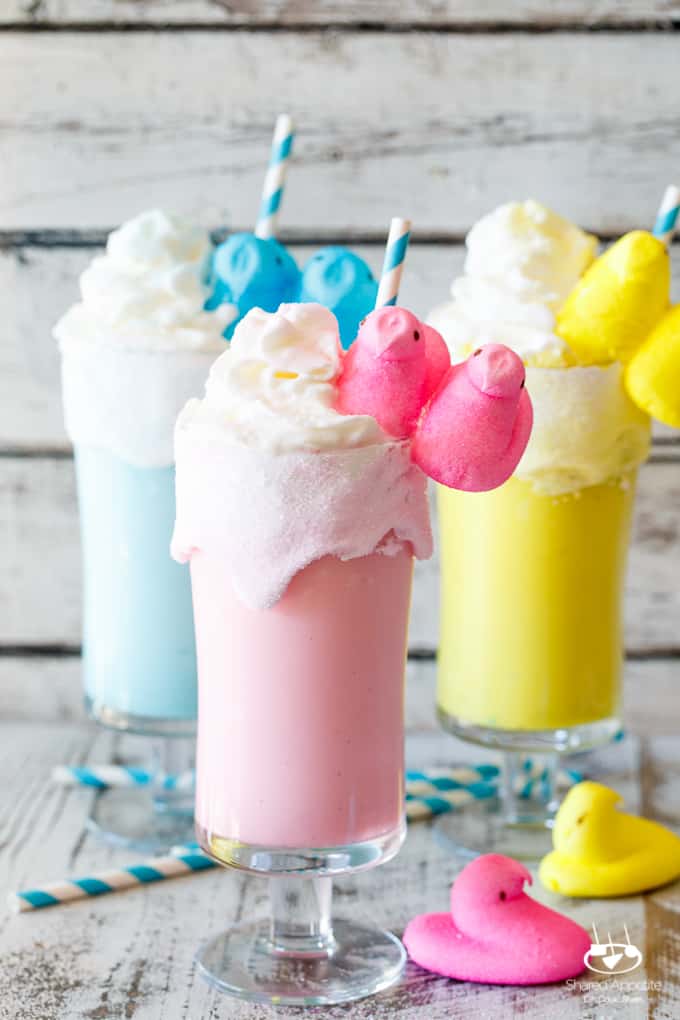 Easter Peeps Milkshakes
Need More Easter Recipes?
Chipotle Pineapple Bourbon Glazed Ham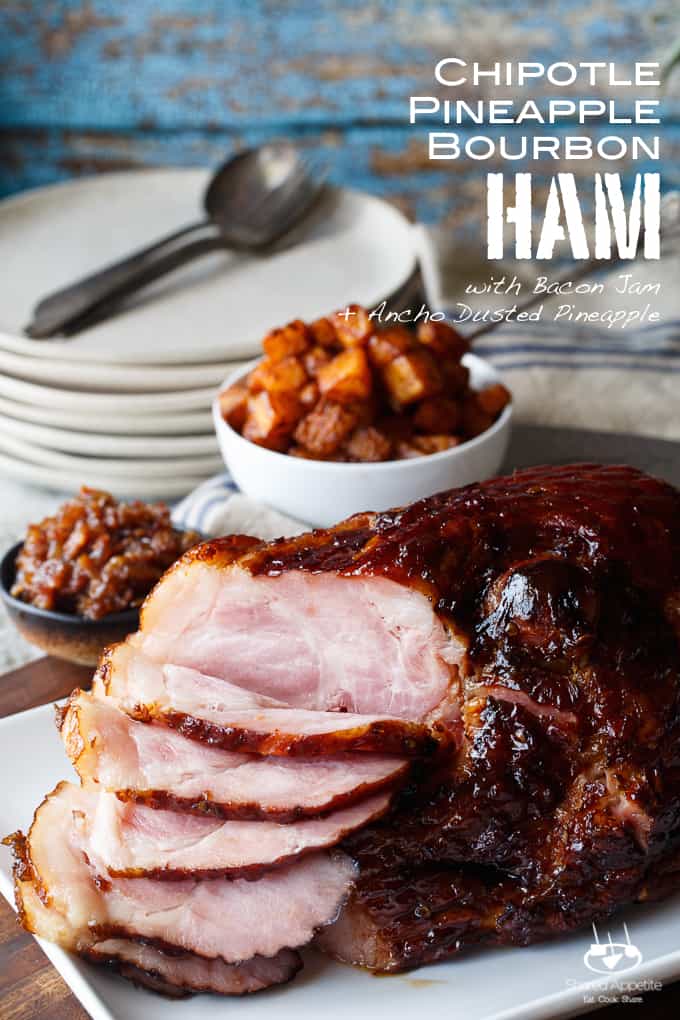 Southwest Bacon and Caramelized Onion Quiche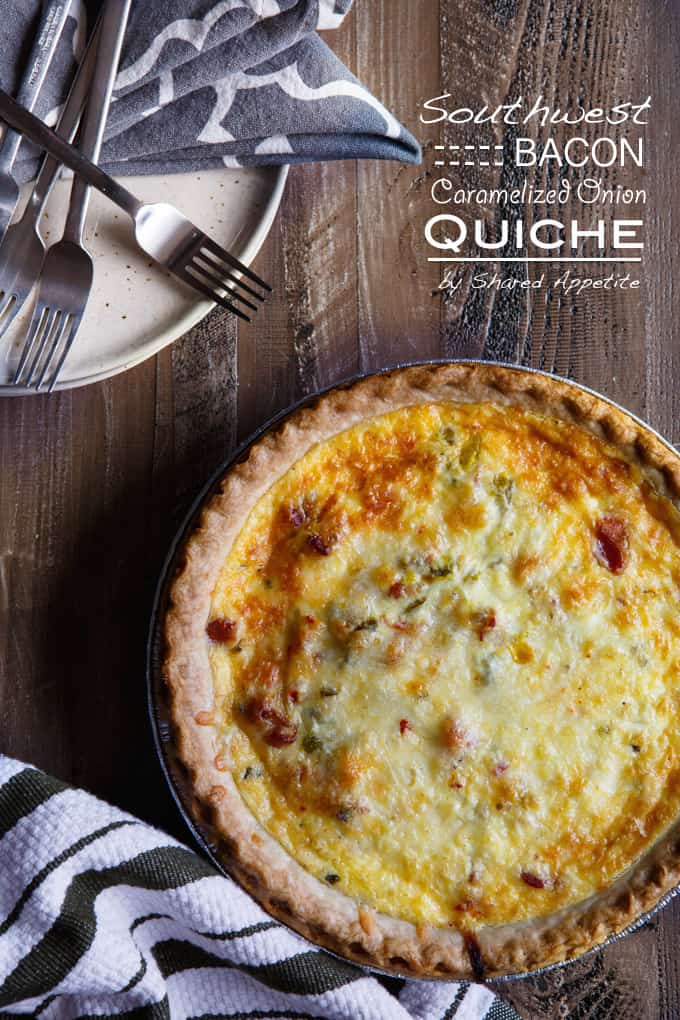 Gluten-Free Meyer Lemon Custard with Almond Thyme Crumble