Bring your game day eats to a whole new level with these family-friendly Bacon Cheeseburger Tater Tot Nachos, topped with copycat Big Mac secret sauce!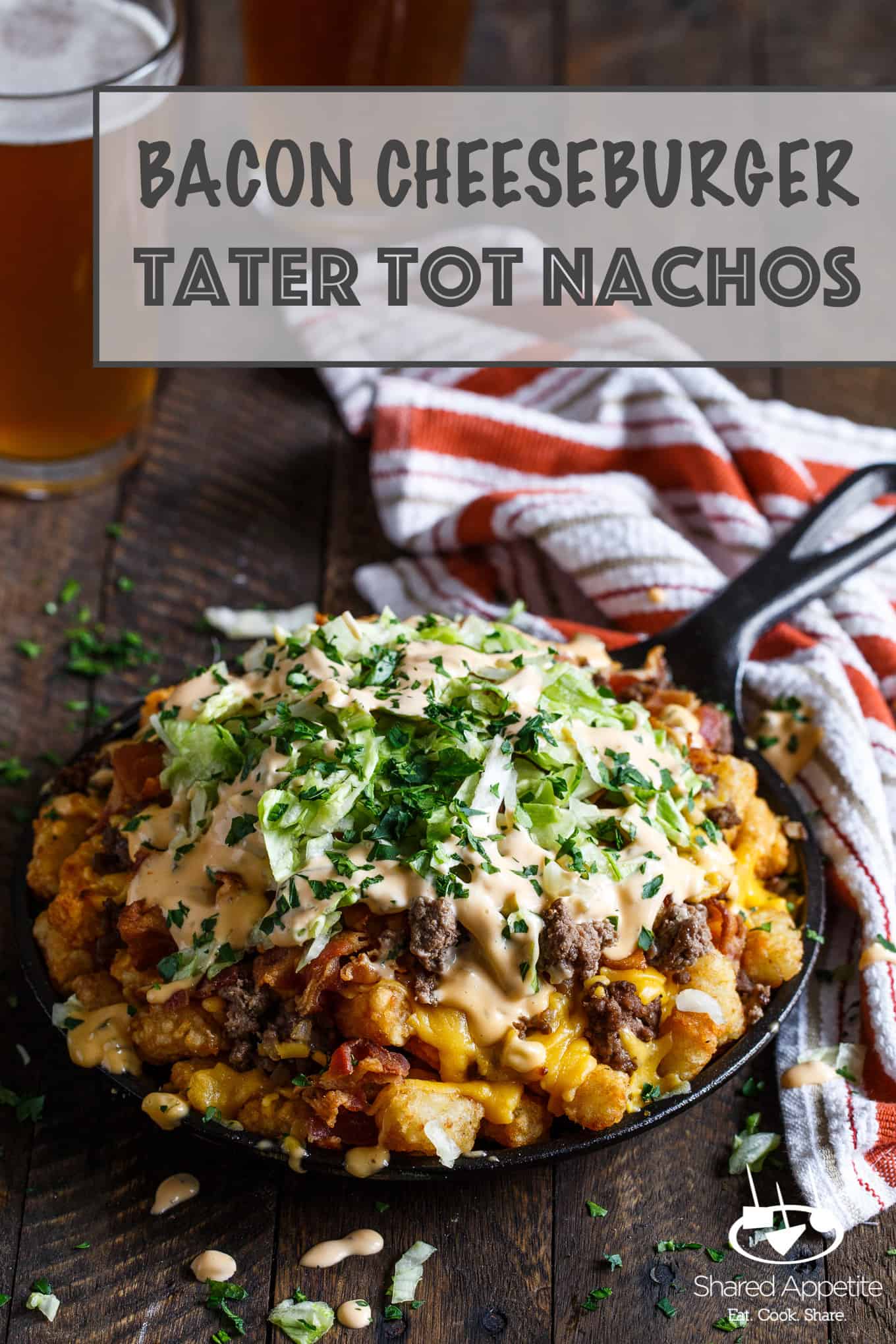 So Asheley was a big time college athlete. Her whole life was sports. And then I happened. When we first met, she'd spend her free time on weekends watching whatever college games she could catch. She knew all the coaches. All the players. The history of each team, the direction each program was heading... but then slowly, it all withered away. Soon reality cooking show marathons won out over watching football or basketball all day.
And then Olivia happened... and the only television that's a part of our lives now is Mickey Mouse Clubhouse and Daniel Tiger.
Except in March. That's Asheley's one chance every year... it's March Madness baby. Even I get into it. It's exciting stuff.
But let's be real, what's the real star of watching any sporting event? FOOD.
You can bribe me to watch any athletic event if there's legit game day eats involved. And these Bacon Cheeseburger Tater Tot Nachos. Yup, they're pretty darn epic.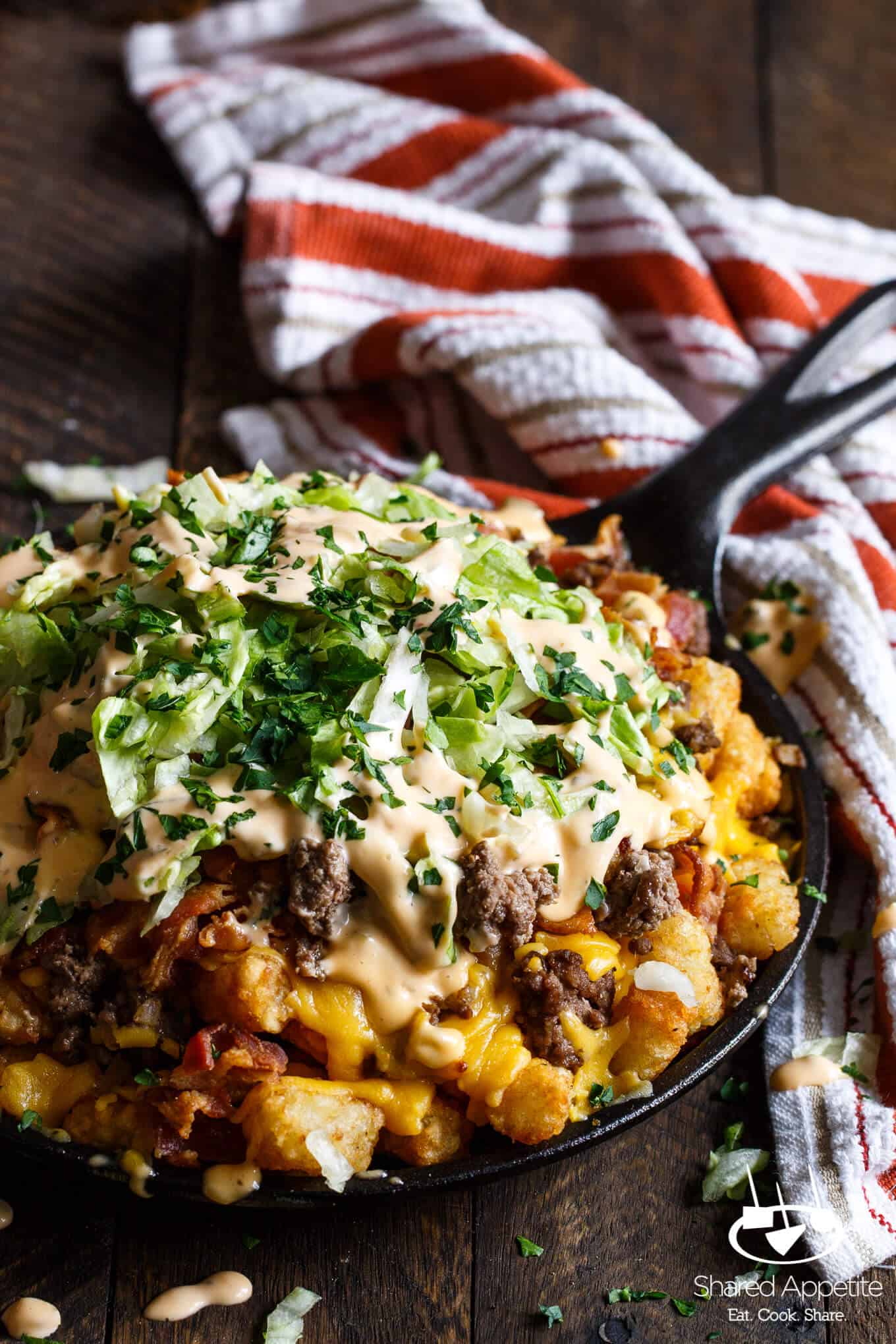 Just a note before we go on. These Bacon Cheeseburger Tater Tot Nachos (i.e. also known as totchos) would be equally fantastic on French fries. I know because... well yeah, I made both kinds.
Alright jeez YES I ate both of them too. Gosh, get off my back.
Which one to choose to make your family and friends? Isn't it obvious... BOTH. Duh.
When I was taste testing these Bacon Cheeseburger Tater Tot Nachos on friends, one mentioned she was seriously loving the throwback to her middle school cafeteria days... buying tater tots daily to supplement her brown bag lunch nourishment. It was actually her first time since those pimply-awkward-phase-days that a tater tot has touched her lips. To that I say, what the heck took you so long?
Yea, it's fun to be all nostalgic and stuff, but tater tots are kinda awesome. And then loaded with all this bacon cheeseburger goodness? Freaking irresistible.
By the way, I have come to the conclusion that I can't spell irresistible right. Every freaking time I get that red squiggly line under the word letting me know that yet again, I spelled it wrong. Darn you irresistible.
Back to these Bacon Cheeseburger Tater Tot Nachos. Your kids will love them. Your spouse will love them. Your friends will love them. EVERYONE LOVES TATER TOTS. And if they don't, you may want to reevaluate your commitment to having them in your life. Just saying.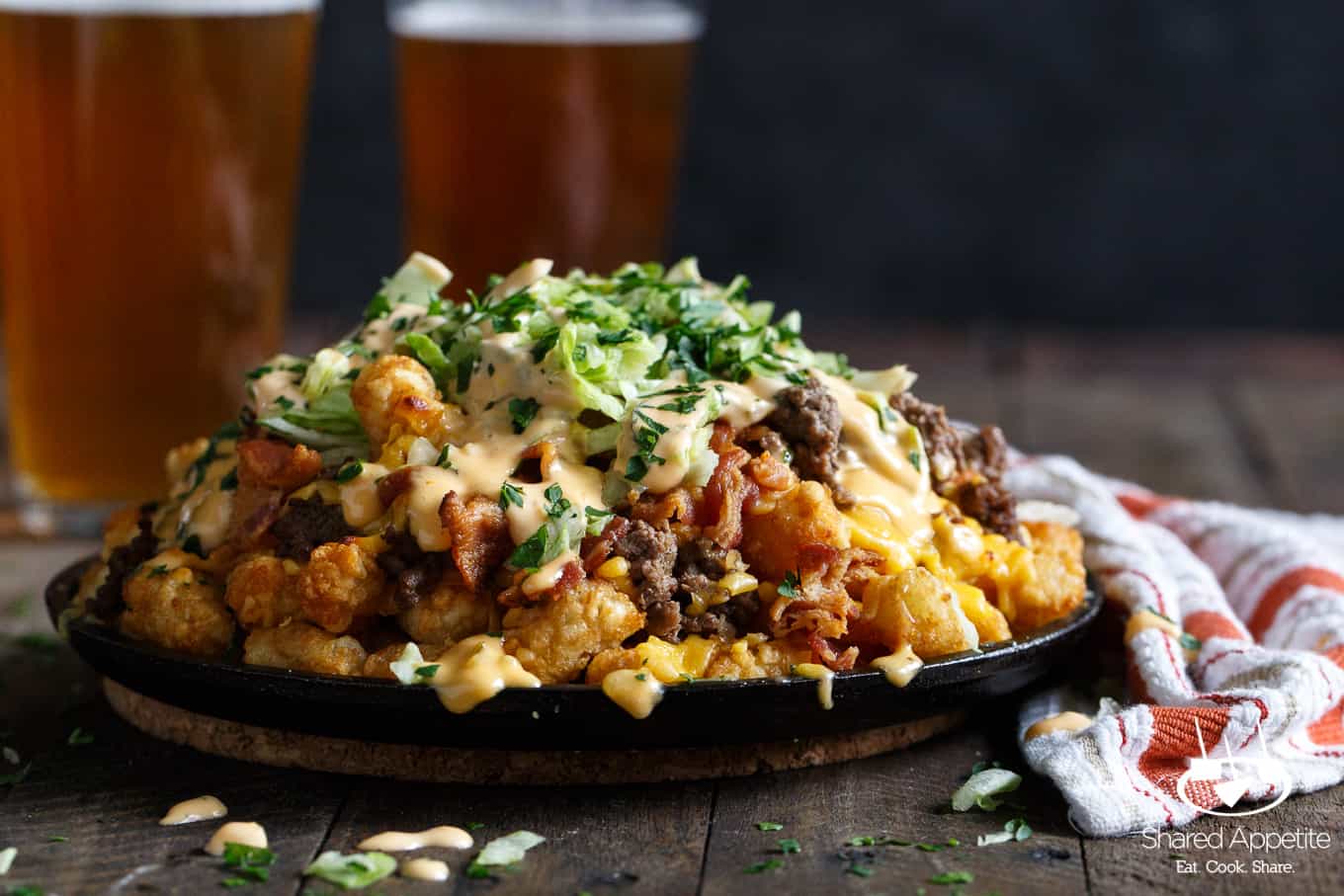 I do a solid to the ground beef by browning it along with an onion, garlic powder, and some mustard for a serious flavor upgrade. If you don't want to through the trouble of shredding American cheese, you can just use a mild cheddar OR use slices of American cheese. No one will judge you, it's okay. Just make sure to not skimp out on the secret sauce (slightly adapted from here). It's magical, and tastes just like the stuff that put on your Big Mac. Except you get the control the sauce ratio here. Hint... you want lots of sauce.
Oh, and did I mention that this is GLUTEN FREE?! Yup, that's right my gluten intolerant friends. Chow down, because this is all for you, too.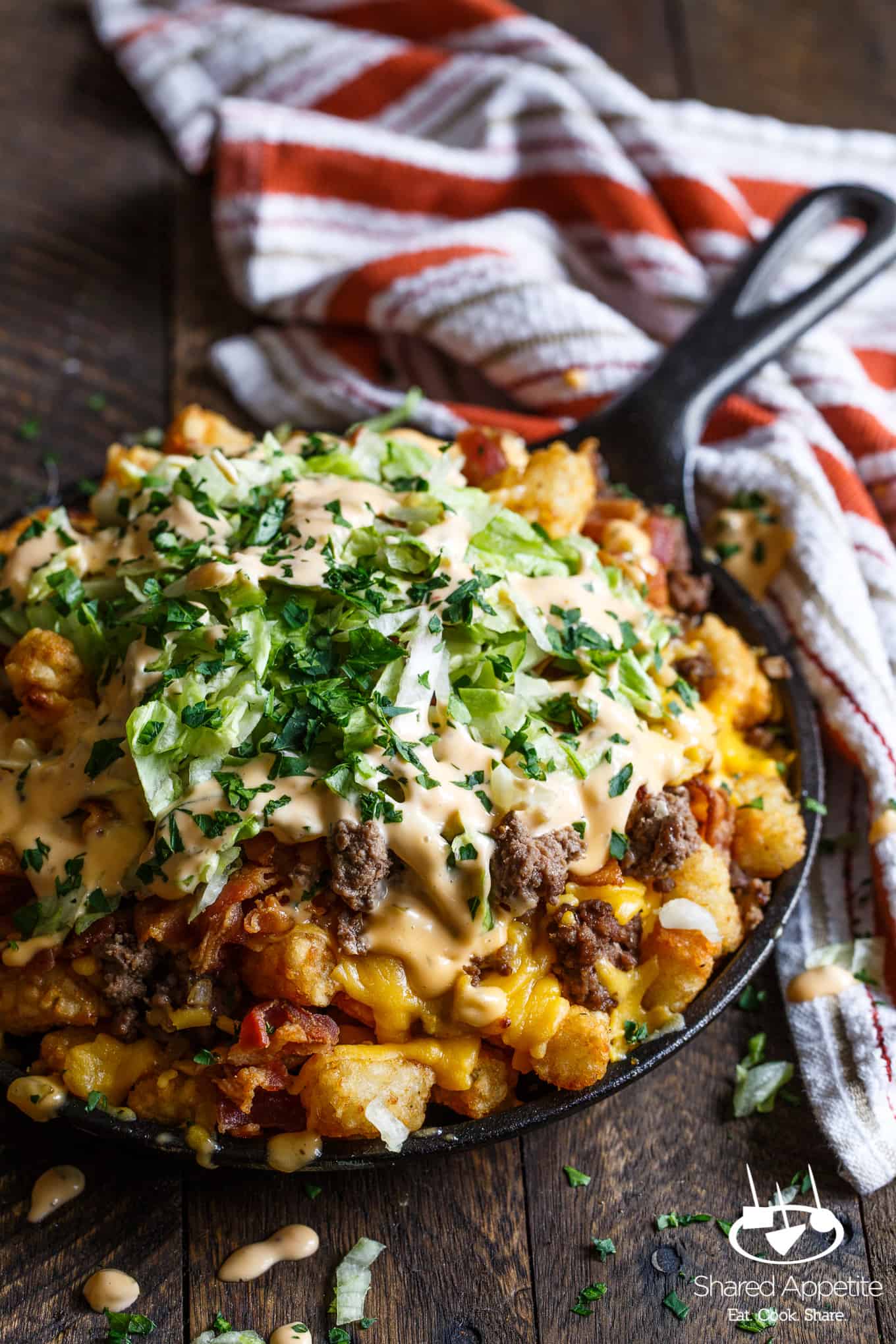 Print
Bacon Cheeseburger Tater Tot Nachos
---
1

(32 ounce) bag tater tots

1 tablespoon

canola or vegetable oil

1

(16 ounce) package bacon, cooked and crumbled

½

small onion, finely chopped

1

pound lean ground beef

¼ teaspoon

garlic powder

1 teaspoon

yellow mustard
Kosher salt

12 ounces

American cheese, shredded*

2 cups

shredded iceberg lettuce
Special Sauce (recipe below)
Chopped parsley, for garnish if desired
for the Special Sauce
½ cup

mayonnaise

2 tablespoons

French dressing

4 teaspoons

pickle relish

1 teaspoon

white vinegar

1 teaspoon

granulated sugar

½ teaspoon

onion powder
Kosher salt
---
Instructions
Cook tater tots according to package directions. Meanwhile, heat oil over medium heat. Add onions and cook, 3-4 minutes, until onions soften. Increase heat to medium-high and add ground beef, garlic powder, and yellow mustard. Season with Kosher salt and cook, breaking beef into bite-size pieces until beef is browned and just cooked through.
Preheat oven to 375°F. Top cooked tater tots with cooked hamburger meat, American cheese, and bacon. Cook until cheese is melted through. Remove from oven and top with shredded lettuce and special sauce and chopped parsley, if desired.
for the Special Sauce
Combine all ingredients in a small mixing bowl and season with Kosher salt. Let flavors meld at least 1 hour before using.
Notes
*shredded American Cheese? I know... it's easy. Just go to your deli counter and ask them for the thickest slices possible. Then get grating!
Prep Time:

10 mins

Cook Time:

30 mins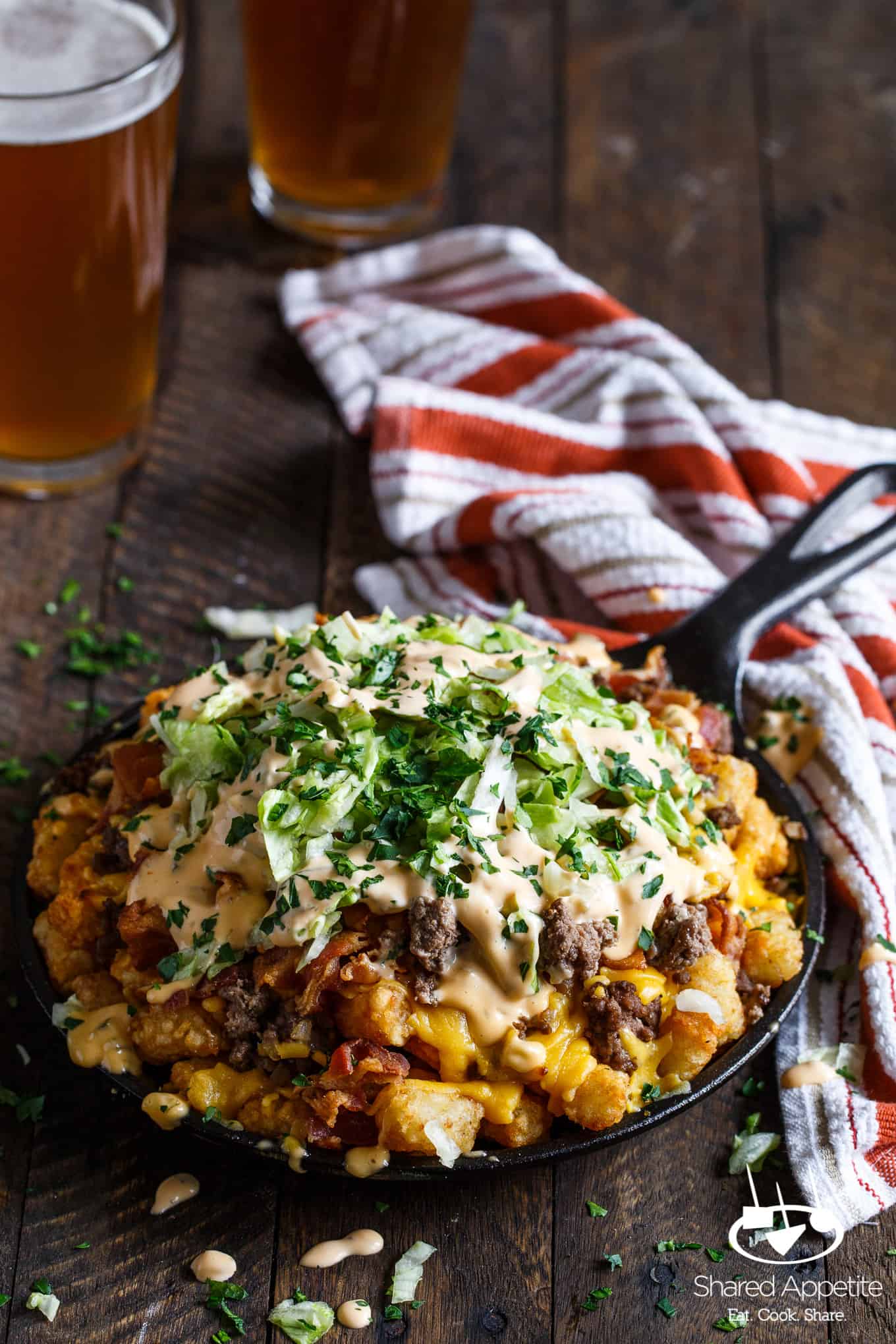 Bacon Cheeseburger Tater Tot Nachos
More Game Day Totchos (Tater Tot Nachos)?
Buffalo Chicken Tater Tot Nachos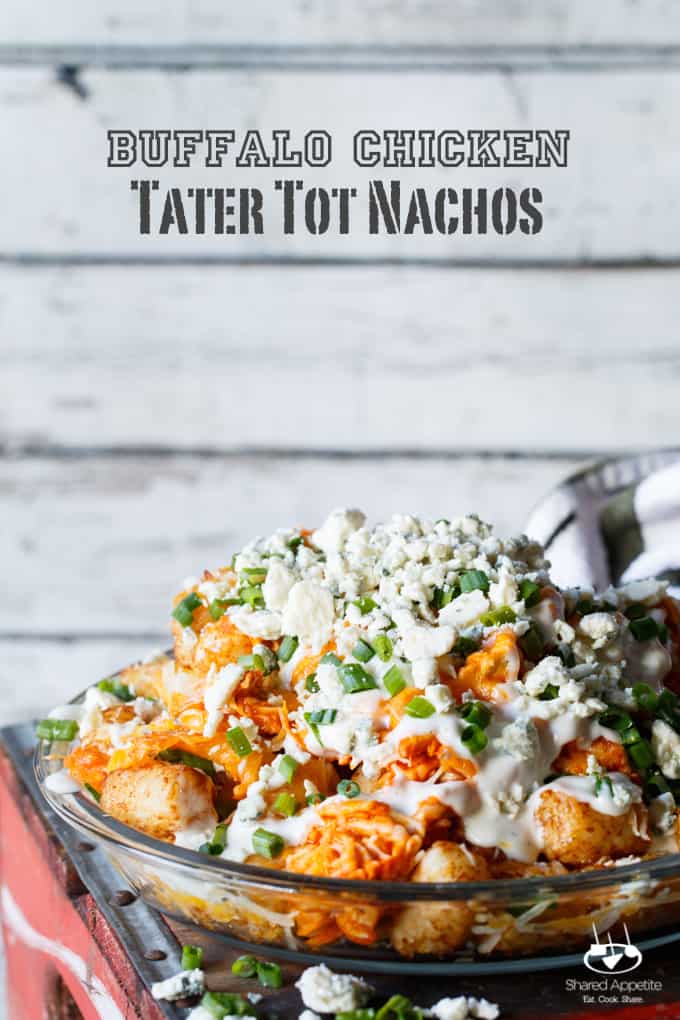 Korean Pork Sweet Potato Totchos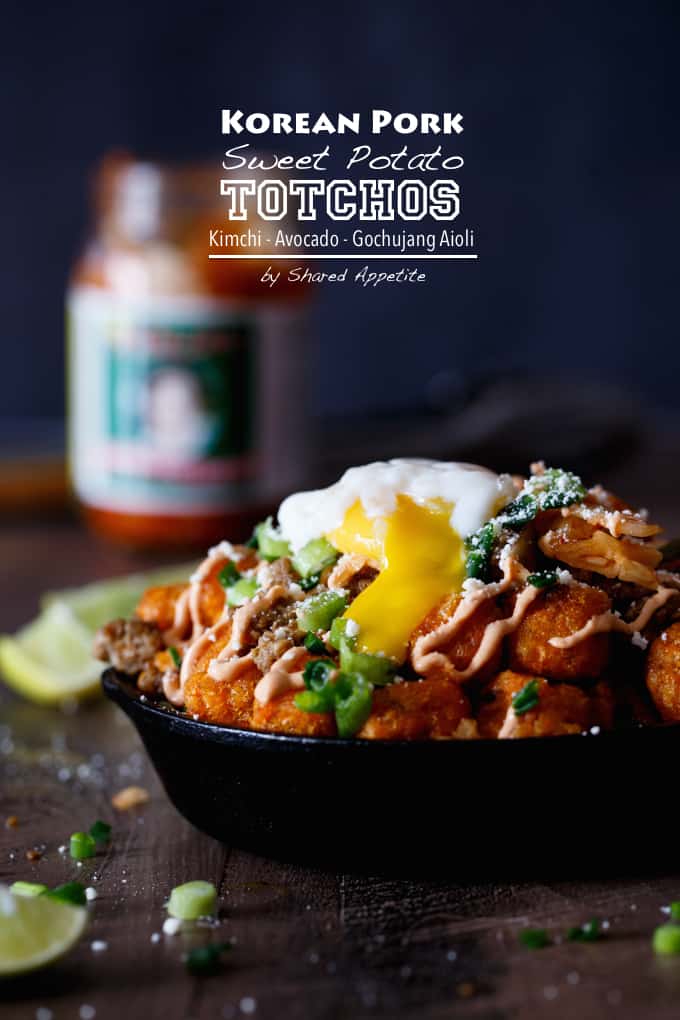 Bacon, Egg, and Cheese Breakfast Totchos