This recipe for Cranberry Brie Puffs with Candied Walnuts was created in partnership with Peapod. As always, all opinions and recipe are my own. Thanks for supporting the brands that support Shared Appetite!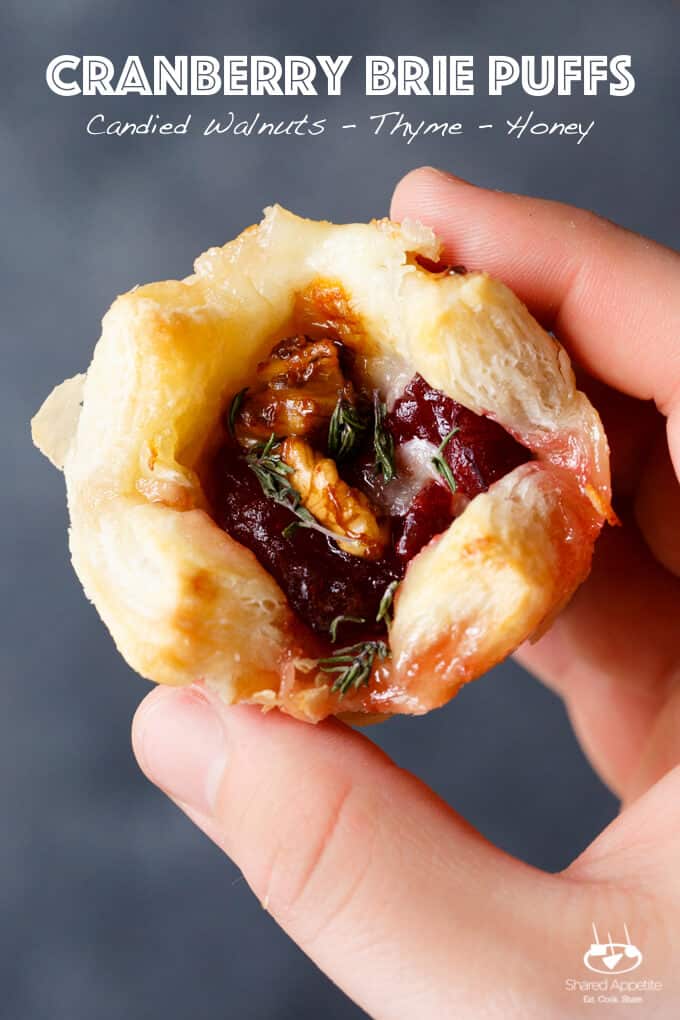 It happens every year. Yet again, Christmas is here and I'm totally not ready. And it's kinda shocking, because I'm a certified 100% Type A planner.
It's our second year in a row hosting Christmas, and I love it. I really hope it's the start of a beautiful tradition, because nothing makes me happier than a home full of family celebrating together. Even if it brings on a little bit of stress this last week before Christmas. Every free moment is being spent picking up last minute gifts... wrapping... baking cookies... eating cookies. Eating more cookies.
There was a time in my life that entertaining for a crowd, whether it be family for a holiday or our friends for an epic party, meant me spending days in the kitchen prepping. This was followed by cooking throughout the entire event, me literally separated from the people we invited over in the first place.
I like to think I'm getting a little wiser in my old age. That, and I simply don't have the time to cook like that anymore because we have a toddler that literally does not stop moving. Ever.
Easy entertaining. That's the name of the game now. Delicious, crowd-pleasing food that is simple to pull off with minimal prep. It's a win-win. It gives me more time to keep Olivia from drawing on the walls with her newest obsession (crayons), and allows me the opportunity to spend time with all my extended family that are making the trip for Christmas.
I've already got the menu all set, and my appetizer game is strong. Like, beyond legit. I'll be whipping up a batch of these Havarti, Pear, and Walnut Puff Pastry Bites, some Filet Mignon Crostini with Romesco, Goat Cheese and Crispy Shallots, and Eggplant Caponatina Crostini.
And making their debut this year at our house... Cranberry Brie Puffs with Candied Walnuts!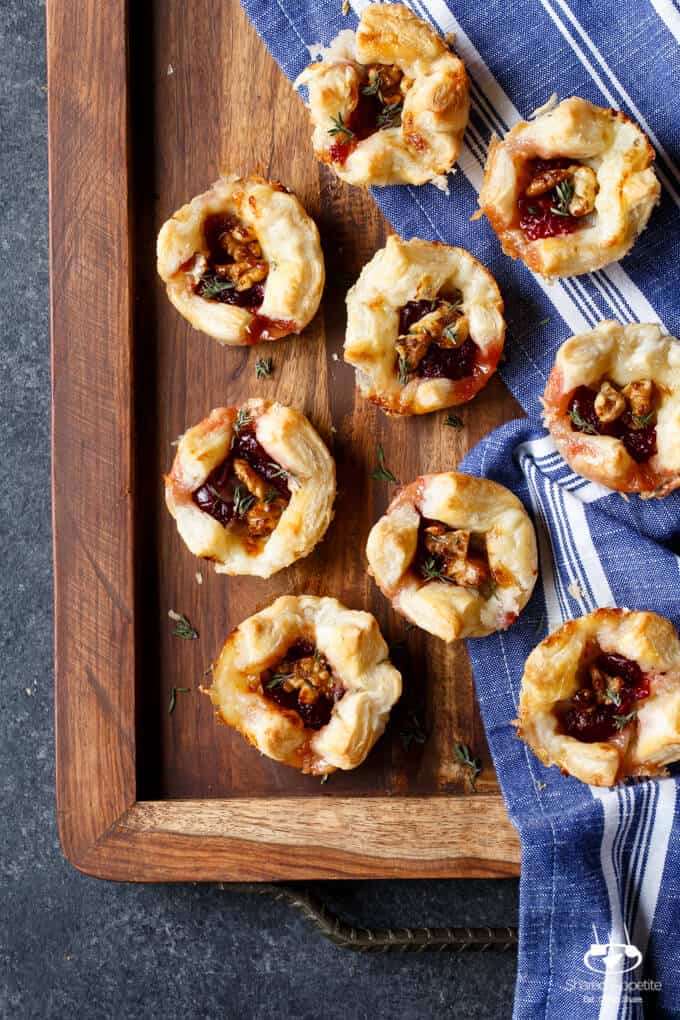 Every single one of the appetizers on my Christmas menu can either be made ahead of time or takes very minimal prep and delivers huge in the flavor category.
And guess what? I've found yet another way to save a lot of time this year for my holiday entertaining. Peapod!
Going to the grocery store, especially this week, can take forever. The lines are long, the traffic on the roads are unbearable, and it's a surefire way to temporarily deplete my Christmas spirit this holiday season.
With Peapod, the grocery store literally comes to me. I can shop from the comfort of my own home and on my own time. There's no dragging Olivia to the food store (although I have to admit, she oddly enough loves going to the food store with daddy), and I can shop at 11pm at night right on my laptop. It's pretty amazing.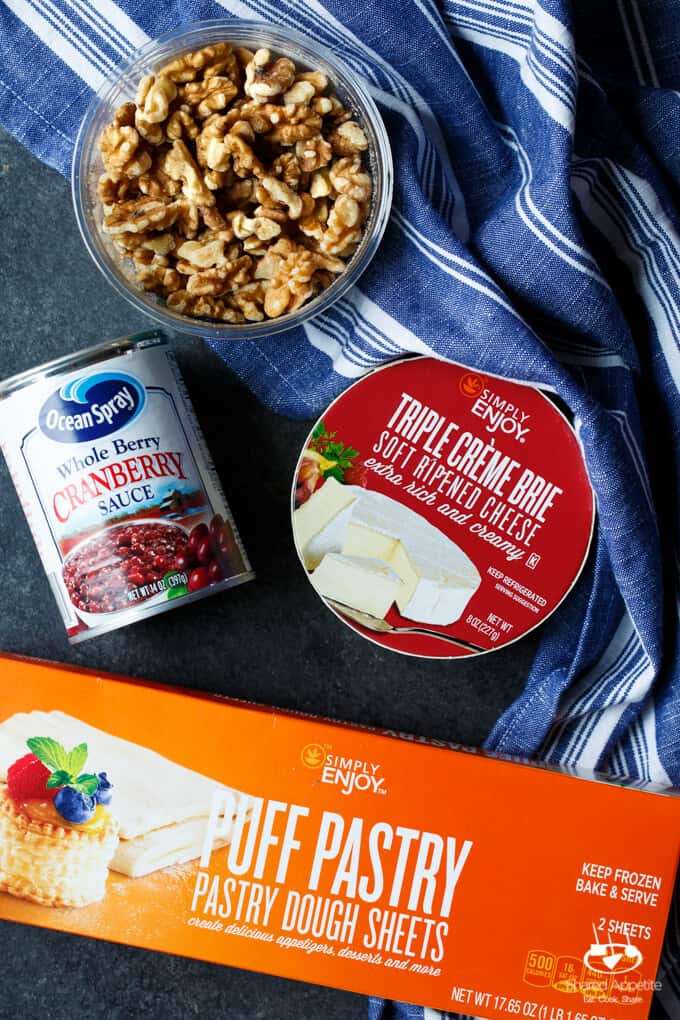 Because I'm shopping online on Peapod's amazing website, I can also avoid impulse purchases (darn you on-sale ice cream that always get me right by the checkout lines). I have my list, I get what I need, and I pick exactly when I want it delivered to the house. Boom.
Have you heard of Peapod? It's pretty huge here in New York. They are actually the longest operating and country's leading Internet grocer, and they service a ton of areas all over the east coast. Whether you live in the city or the 'burbs, are shopping for home or your business, Peapod has you covered. They have a huge selection of pretty much everything you would find in an actual grocery store.
If you're anything like me, you enjoy saving both time and money. Who doesn't, right? Peapod has your back with some really cool functions:
With

Express Shop

, you can enter in your grocery list and they'll auto-display your product options.
Auto fill your cart with items you buy most frequently thanks to

Order Genius.

Re-orders are super easy thanks to the

Past Purchases

... Peapod saves every order!
With their

Sort Feature

, you can find products at the best price, to meet your dietary needs, and even see the most popular products.
Peapod shows you the running total of your bill as you shop so you can stick to your budget!
Check the

My Specials

list to see Peapod's weekly specials and sale items!
Peapod will double manufacturers' coupons (up to $0.99)!
You can enjoy unlimited deliveries with PeaPod's

PodPass

, which is available in 3, 6 and 12 month subscription options.
Something I just found out... Peapod has an app! Now I can shop on my phone, too. Mind blown.
Are you struggling with your holiday menu this year? Or are you ever at a loss about what to cook up for dinner throughout the week? Uhm, yes... me too. Weeknight dinners are hard sometimes! Peapod can help with their super awesome lifestyle website featuring tons of recipes and tips: Fromthepod.com
It's basically the meal solution center, and will bring you a ton of recipe inspiration. Even better, you can use the "SHOP NOW" button on each recipe to place ingredients straight into you shopping cart! How cool is that?! #timesaver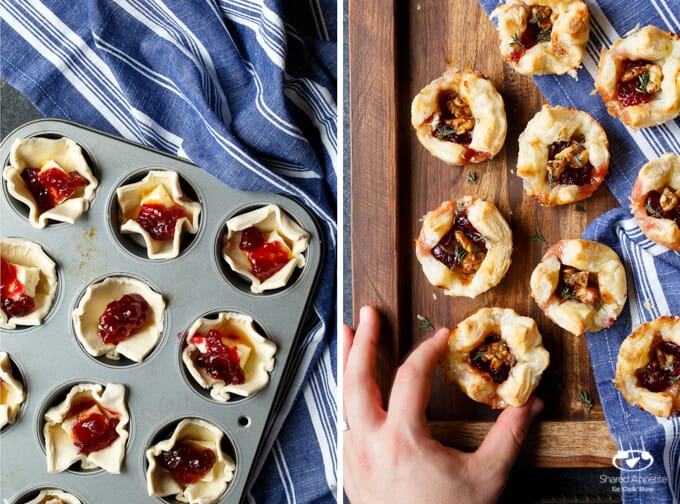 Okay, back to these Cranberry Brie Puffs with Candied Walnuts. They seriously take 5 minutes of prep. Cut the puff pastry into squares. Press into muffin tins. Fill with brie and cranberry sauce. Sprinkle with thyme and drizzle with honey. Bake. Top with candied walnuts. Allow your guests to devour. And trust me, they will devour them.
It's one of those super impressive holiday appetizer recipes that are so incredibly easy, you'll question why you ever spent so many laborious hours in the past making more "difficult" appetizers for a crowd. These are quick, fast, and beyond satisfying. And that, my friends, is the definition of holiday easy entertaining.
Wishing you and your loved ones a very, very Merry Christmas.
Oh, and these Cranberry Brie Puffs with Candied Walnuts are also pretty perfect for that New Year's Eve cocktail party you are going to. Just saying 🙂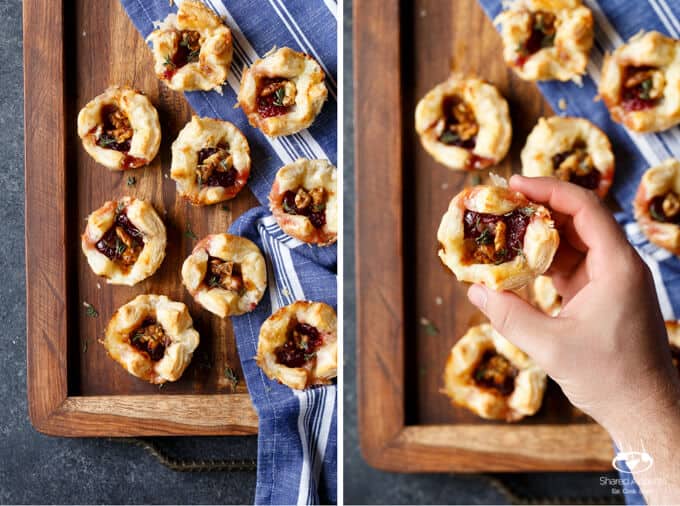 Print
Cranberry Brie Puffs with Candied Walnuts
---
1

package (2 sheets) puff pastry, thawed according to package directions

1

egg, whisked

8 ounces

brie, cubed into bite-size pieces about

¾

"

⅔ cup

whole cranberry sauce

2

-

3

tablespoons honey

1 tablespoon

roughly chopped thyme
Candied Walnuts (recipe below)
for the Candied Walnuts
1 cup

walnuts, roughly chopped

1 tablespoon

unsalted butter

¼ cup

brown sugar

½ teaspoon

cinnamon
Pinch salt
---
Instructions
Preheat oven to 375°F. Cut each puff pastry sheet into 9 squares. Brush puff pastry with whisked egg. Gently press each puff pastry square into a muffin tin, egg side up.
Add one cube of brie and a spoonful of cranberry sauce to each puff pastry. Drizzle with a little bit of honey and sprinkle lightly with thyme.
Bake for 15-20 minutes, until puff pastry is golden brown. It will look a bit messy at this point. Remove from oven and let cool for 4-5 minutes, which will allow the pastries to "set" a bit. Run a knife or offset spatula around the perimeter of each puff pastry and lift out of the pan. Top each puff with a few candied walnut pieces and serve.
for the Candied Walnuts
Melt butter in a small saucepan over medium heat. Add remaining ingredients and cook 4-6 minutes, stirring frequently until sugar is melted. Place on a parchment paper lined baking tray and allow to cool in the refrigerator for about 20-30 minutes.
Prep Time:

10 mins

Cook Time:

15 mins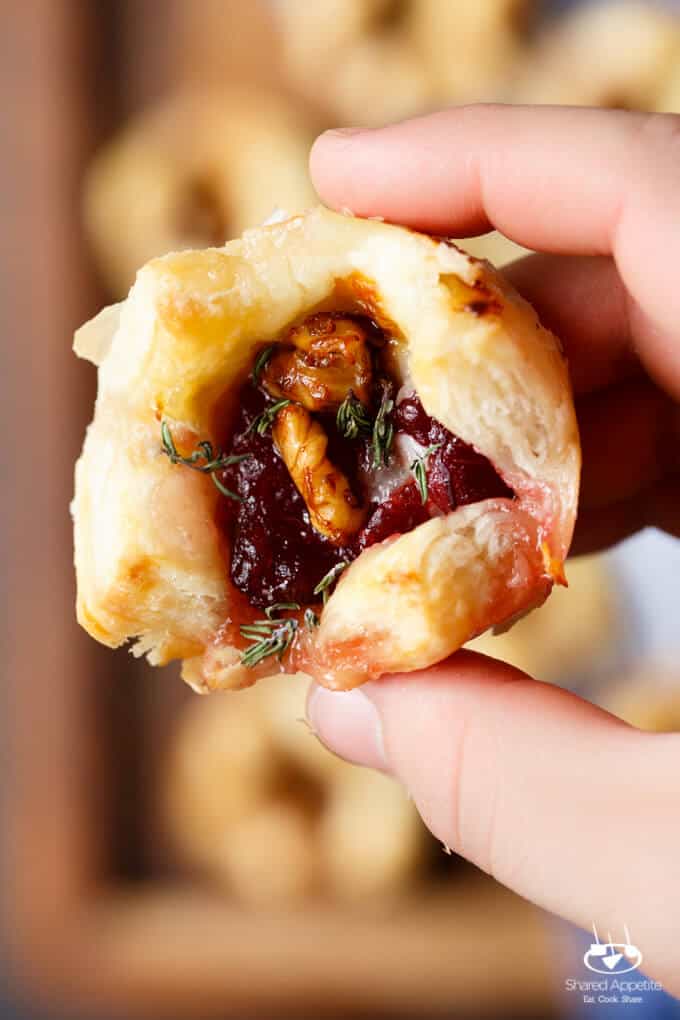 Follow Peapod: Facebook | Instagram | Pinterest | Twitter
Cranberry Brie Puffs with Candied Walnuts
Need More Holiday Appetizers?
Havarti, Pear, and Walnut Puff Pastry Bites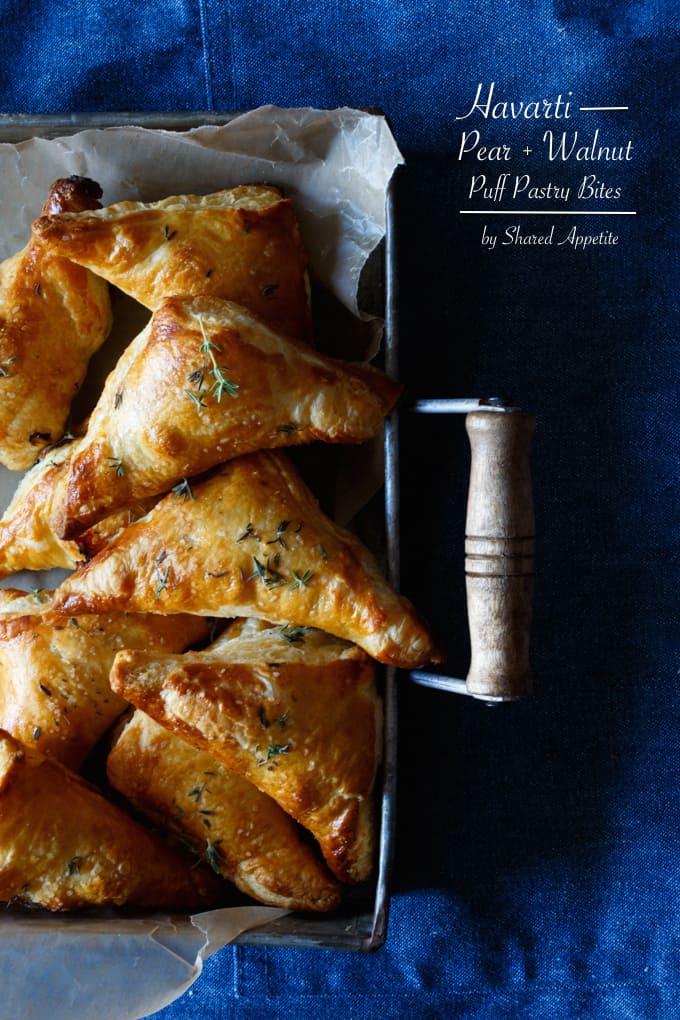 Filet Mignon Crostini with Romesco, Goat Cheese, and Crispy Shallot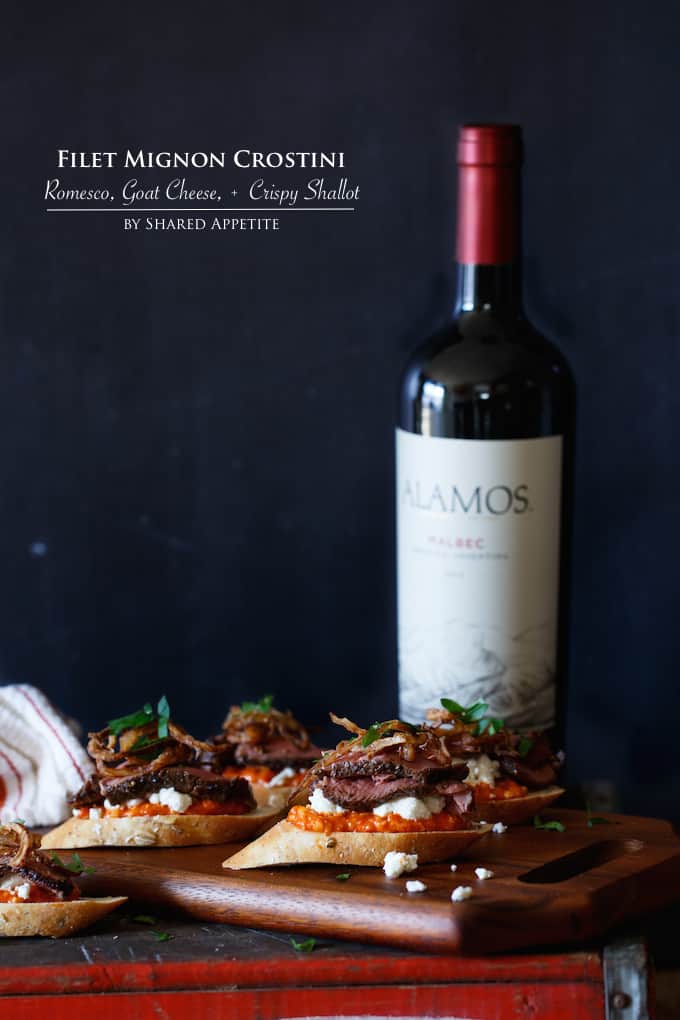 Acorn Squash Crostini with Ricotta, Bacon, and Fried Sage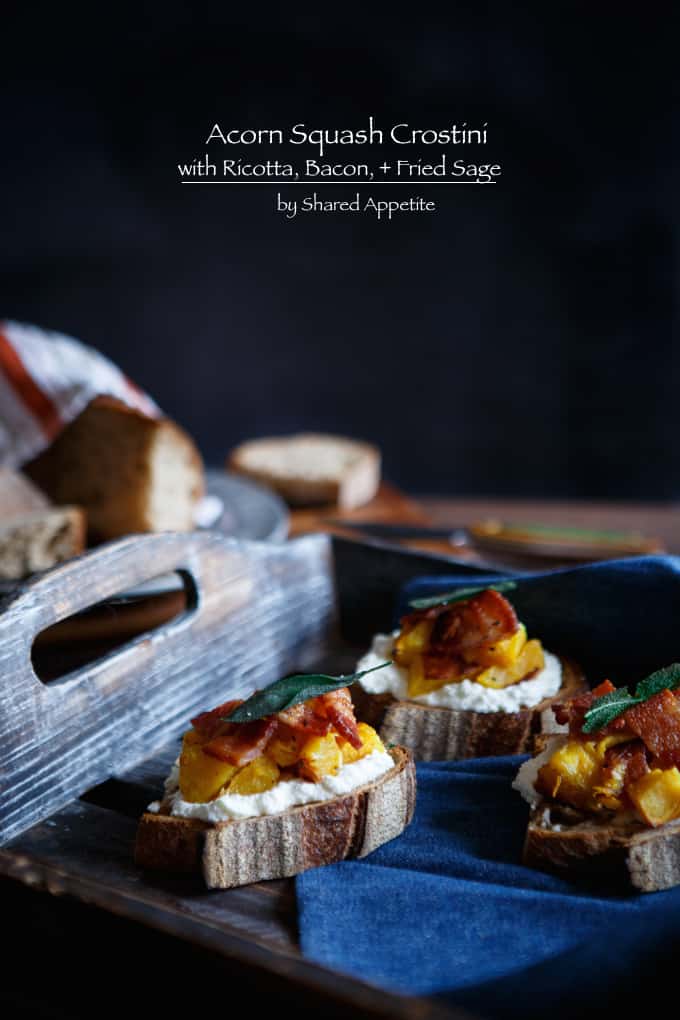 Winter Holiday Charcuterie Board