Asheley loves pickles. LOVES them. I even got her an "I Love Pickles" t-shirt for Christmas. She wears it with a smile on her face and pride in her heart.
Personally, I'm not a fan of the conventional cucumber pickle. They just don't do it for me, unless we are talking about those little bread and butter pickle chips. I've liked those since I was a little squirt of a kid.
But we're about to embark upon a completely different story. Pickled onions are a precious gift. I cherish them. I adore them. And they are ridiculously easy to make. 5 minutes and you're done.
You can add pickled onions to pretty much anything and it will taste better. They add a perfect, tart crunch to sandwiches, burgers, salads, nachos, tacos, and really anything else you can think to add them to.
And it really is as easy as mixing up a quick brine solution and pouring it over a thinly sliced onion. No cooking required.
The pickled onions really taste best once they've had at least a day to relax and chill out in the brine bath. And they last for a few weeks kept refrigerated.
I always try to have a mason jar full of them in the fridge... you don't want to be unexpectedly caught pickled-onion-empty-handed. That would just be plain embarrassing.
I attended a pickling seminar this past fall at the NYC Wine and Food Festival, hosted by Iron Chef Geoffrey Zakarian. He mentioned that when he cooks a dish and feels like it's missing a certain something, 9 times out of 10 he ends up adding some sort of pickled vegetable. The power of the pickle!
Go ahead and use red onions. You won't achieve this vibrant pink color with any other onions, unless your talking about adding some artificial food dye to your pickled onions. And really, why would you do that?
You're going to see a bunch of recipes coming up in the next couple of weeks that include these pickled onions. Get ready now and whip up a batch. It will literally take you 5 minutes, unless you are out of red onions and need to go the store. In which case, can you pick me up some milk? I'm out of milk.
I'll just come out right now and say You're Welcome, since I'm pretty sure you'll want to thank me after adding pickled onions to your condiment pantry.
I found this recipe in one of my recent issues of Bon Appetit...
Print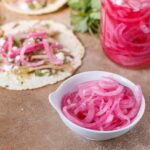 Easy Pickled Onions
---
1

medium red onion, thinly sliced

½ cup

apple cider vinegar

1 cup

warm water

1 tablespoon

sugar

1 ½ teaspoons

Kosher salt
---
Instructions
Combine vinegar, water, sugar, and salt in a medium bowl. Whisk together until sugar and salt is fully dissolved.
Place onion in a jar or bowl (I like to use a mason jar). Pour vinegar mixture over the onions and let sit at room temperature for at least 1 hour if you're in a rush. Preferably, cover jar or bowl and place in refrigerator for at least 1 day. Pickled onions will last for a few weeks stored in the refrigerator.
Use pickled onions to top tacos, nachos, sandwiches, salads, and more!