Mother nature has not been nice to us here in New York the past couple of months.  The most recent gift was Blizzard Nemo, which dumped almost three feet of snow on our doorstep.  I know some of you are laughing at me right now, since three feet of snow for you is just another typical Monday morning.  But for us, it's as unlikely as me running a marathon.  Without a plow in sight for two days, Asheley and I were snowed in and confined to eating whatever food we had inside.  We were totally elated when we opened up the freezer and saw a full stock of chili.  It's the perfect winter comfort food on those cold, blistery days.
I actually made a giant batch of the stuff the week prior for a friend's Super Bowl party.  That's the beauty of chili.  It freezes incredibly well.  I always make as much as my two giant stockpots can handle, and then freeze individual sized portions for super quick, easy weeknight meals.  It's one of the few times Asheley and I actually get excited for "leftovers".
You are totally going to love this chili, because it's chock-full of secret ingredients (ssshh, don't tell anyone!) put together into one mega, end-all be-all, chili recipe.
Making chili is definitely not a quick process, but it is quite easy and extremely worthwhile.   It's really not a lot of "active cooking time".  It's more of throw a bunch of stuff in a pot and stir once in a while.  And don't be afraid of the big list of ingredients.  You probably already have most of it in your pantry.
To me, making chili is like spending the day smoking a pork shoulder to make pulled pork.  Yes it's time consuming, but also deeply satisfying and a culinary spectacle.  It takes time for the chili to transform those individual ingredients into a complex, harmonious flavorful stew.
I love spending a cold winter weekend day just relaxing around the house, most likely watching a Law & Order marathon, while tending to my big 'ole pot of chili.
One of the secrets in this recipe is the braised short ribs.  They help raise this chili to a state of pure luxury.  If you can't find short ribs or don't want to do the extra step of braising, feel free to omit them.
I love searing meat.  The beautiful dark golden brown crust that forms is so beautiful to me, as is watching the meat slide right off the bone after a couple hours of braising in beer.
When shopping for short ribs, make sure to get nice, plump, meaty ones.  You want to maximize as much meat as possible.
Just food for thought, since it literally just popped into my head: I recently learned a great tip from reading one of Michael Symon's cookbooks.  He salts food in stages as it cooks:  Vegetables in.  Season.  Meat in.  Season.  Liquids in. Season (you get the idea).  So when you add your chopped onions and peppers to the pan, make sure to season them generously with salt.  It totally has made a difference in my cooking.
Roasting the poblano peppers adds another dimension and depth of flavor. Watching them blacken and blister all over is incredibly enjoyable.  Once they are done roasting, you are going to need to remove the skins.  The easiest way to do this is to place the poblanos into a bowl and cover with plastic wrap, which will create steam.  After 10 minutes in the sauna, the skins will have loosened from the peppers, which makes removing them a whole lot easier.
Asheley loves to top her bowl of chili with a mountain of shredded cheddar cheese.  I like mine topped with little sweet bursts of cornbread croutons and a dollop of lime crema.  And tortilla chips.  I need tortilla chips!
I love the acidic brightness that the lime adds to the sour cream.  And lime crema might sound fancy, but really it's just sour cream mixed with the zest and juice of a lime.
The cornbread croutons are also really simple, but you are going to need some cornbread first.... oh, wait, I just posted a cornbread recipe?  How convenient 🙂 Check out the recipe here: Honey – Jalapeño Cornbread
Asheley and I actually don't typically eat the chili on the day it's made, because it always tastes better the following day.  It gives the flavors more time to get all friendly.
Print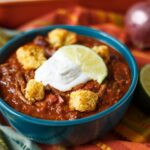 Fire Roasted Chili with Beer Braised Short Ribs
---
For the Beer-Braised Short Ribs
3

pounds short ribs (try to purchase big, meaty ones)

2 tablespoons

canola oil

1

red onion, diced

4

cloves garlic, finely chopped

2

(12 ounce) bottles of light mexican beer

1 tablespoon

Mexican oregano

2

bay leaves
Kosher Salt
Freshly Ground Black Pepper
For the Chili
3

poblano peppers

3 tablespoons

canola oil, plus a little more to drizzle over poblano peppers

3

red bell peppers, diced

3

medium red onions, diced

2

jalapeños, seeds removed, finely chopped

8

cloves garlic, finely minced

1

pound lean ground beef

1 tablespoon

garlic powder

1 tablespoon

onion powder

½ tablespoon

ancho chile powder*

½ tablespoon

pasilla chile powder*

1 teaspoon

arbol chile powder*

2 teaspoons

cocoa powder

1 tablespoon

Mexican oregano

1 teaspoon

black pepper

1 teaspoon

cumin

1

(12 ounce) bottle of light mexican beer

2 cups

chicken stock

3

(15 ounce) cans fire roasted tomatoes

1

(28 ounce) can tomato sauce

1

(6 ounce) can tomato paste

2

(15.5 ounce) cans pinto beans, drained and rinsed

2

(15.5 ounce) cans kidney beans, drained and rinsed
Kosher salt
*if you don't have all those chile powders, just substitute 1 tablespoon of regular chile powder
Garnish options
Tortilla Chips
Shredded Cheddar Cheese
Honey-Jalapeño Cornbread croutons (see below)
Lime Crema (see below)
---
Instructions
For the Beer-Braised Short Ribs
Pat short ribs dry with a paper towel to ensure a good sear. Sprinkle short ribs generously on all sides with Kosher salt and freshly ground black pepper.
Heat canola oil in a dutch oven (or another pan with a lid that is deep enough to contain the short ribs and braising liquid), over just a little higher than medium heat. When oil is hot, add the short ribs and sear them on all sides until they create a deep golden-brown crust, about 5 minutes per side.
Remove seared short ribs from pot and add red onion. Season with Kosher salt and cook for about 4 minutes, stirring occasionally. Add garlic and cook for 1 minute, stirring. Add beer and stir, loosening up any brown bits stuck on the bottom of the pan. Add mexican oregano and bay leaves, and return short ribs to the pan. Make sure the short ribs are almost completely submerged by the beer.
Bring pot to a boil, then turn down heat to maintain a simmer. Cover with lid and simmer for 2-3 hours, until the meat is fork tender and slides easily off the bone. Remove short ribs from pan and let cool, and then shred the meat with your fingers, removing as much fat as possible.
For the Chili
While the short ribs are braising, begin the chili. Turn on your oven broiler to low. Place poblano peppers on a foil-lined baking sheet. Drizzle poblanos with a little canola oil and season with Kosher salt. Place baking sheet on top rack in your oven and let peppers broil, about 7 minutes per side, turning with tongs. You want them to be blistered and browned/blackened all over. Remove from oven and place in bowl covered with plastic wrap. Let sit for 10 minutes, which will loosen the skins from the peppers. Remove skin and seeds from peppers, and chop into ½" pieces.
While poblanos are roasting, heat 3 tablespoons canola oil in a large stockpot over medium heat. Once hot, add red bell peppers, red onions, and jalapeños, and season generously with Kosher salt. Cook, stirring occasionally, until vegetables are softened, approximately 7 minutes. Add garlic and cook 1-2 minutes, stirring occasionally. Add ground beef, stirring and breaking it down into bite-sized pieces as it cooks. Season with Kosher salt.
Once the ground beef is browned, add in all the spices (garlic powder, onion powder, chile powders, cocoa powder, Mexican oregano, black pepper, and cumin), stir and cook for about 1 minute. Add beer, chicken stock, fire roasted tomatoes, tomato sauce, tomato paste, and beans. Stir and season with Kosher salt. Bring chili to almost a boil, then turn down heat to maintain a simmer and let cook for as long as possible, at least 3 hours. (Add in the diced roasted poblano peppers and shredded braised short rib meat once they are done cooking.)
Chili always tastes better the second day. You can refrigerate for a few days or freeze for several months. Serve with lime crema, honey-jalapeño cornbread croutons, tortilla chips, and/or shredded cheddar cheese.
For Honey-Jalapeño Cornbread Croutons
Make [Honey-Jalapeño Cornbread|
honey-jalapeno-cornbread/]
Cut into approximately ½" squares. It's okay if the cornbread crumbles a bit. Place on foil-lined baking sheet in preheated 375°F oven. Let bake for about 10 minutes, until the cornbread pieces have developed a crispy golden-brown crust.
For the Lime Crema
Mix 8 ounces of sour cream with the zest of 1 lime and juice from ½ of the lime.