Honey Sriracha Chicken Kebabs with Avocado Ranch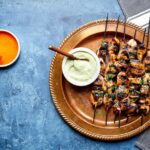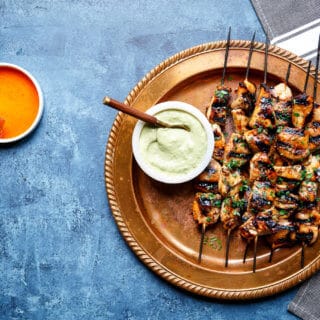 Ingredients
2 pounds boneless, skinless chicken breasts
½ cup honey
¼ cup olive oil
2 tablespoons sriracha
Kosher salt
Freshly ground black pepper
for the Avocado Ranch
1 avocado
1/2 cup ranch dressing
Kosher Salt
Instructions
Combine honey, olive oil, and sriracha in a small mixing bowl. Season with Kosher salt and freshly ground black pepper.
Slice chicken into approximately 1″ cubes and place in a bowl with all but  ¼ cup of the marinade.  Stir the chicken with marinade until well combined.  Let chicken marinate in the refrigerator for at least 6 hours, preferably overnight. Refrigerate and reserve remaining ¼ cup marinade.
Place approximately 5 cubes of chicken on each skewer.  Preheat grill over medium-high heat and grill chicken kebabs until just cooked through (about 3-5 minutes per side). Brush the reserved 1/4 cup marinade on the chicken as a glaze.  Serve with avocado ranch and DEVOUR.
for the Avocado Ranch
Combine avocado, ranch dressing, and a pinch of Kosher salt in a food processor until smooth.