Bursting with flavor, this healthy Mediterranean Eggplant Dip is equally perfect as an easy entertaining party appetizer as it is a vegetarian weeknight dinner main course!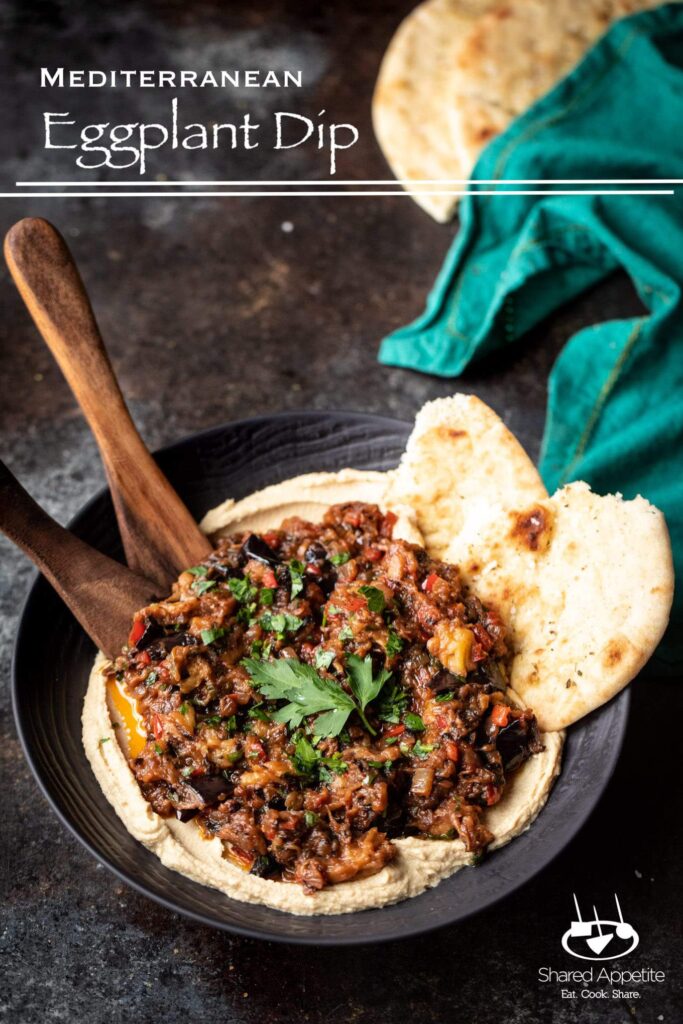 I fell in love with Michael Solomonov's cooking after trying his hummus bar DIZENGOFF in NYC's Chelsea Market. The hummus. The pita. The toppings. They were all AMAZING.
Sadly, Dizengoff ended up closing here in New York, but you can still visit his other location in Philadelphia (along with his wildly popular upscale Israeli restaurant, Zahav and the renowned donut shop Federal Donuts).
Philly's a bit far to fulfill my hummus cravings, but thankfully I found some incredible recipes in his book entitled Zahav. One such recipe, for his "Twiced Cooked Eggplant", I've slightly modified and adapted into this Mediterranean Eggplant Dip.
It's perfect as an easy entertaining party appetizer (my preferred use for it), but I've also been known to make it for a healthy vegetarian weeknight dinner.
My favorite part of this recipe? It's JAM PACKED with flavor and it has converted SO MANY of my friends (who previously were indifferent to eggplant) into eggplant lovers.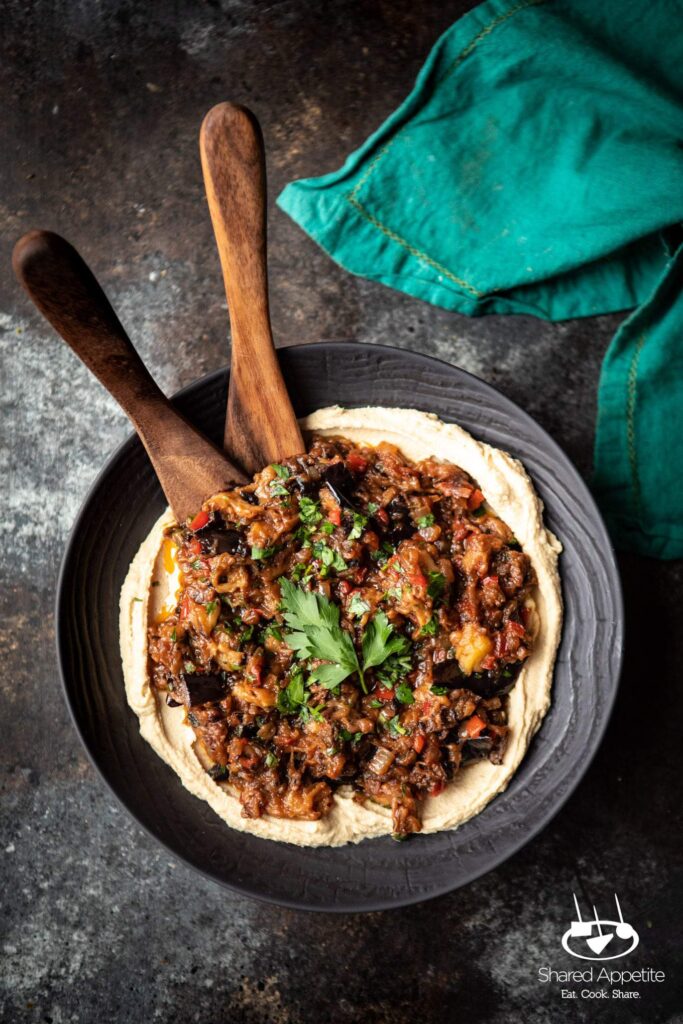 You'll want to salt your eggplant slices about 30 minutes prior to cooking it. The salt will help draw out excess moisture and after about 30 minutes the surface of the eggplant slices will be a little wet. You can then go ahead and blot the moisture away with paper towels.
As you cook the eggplant, you'll see that it will suck up the olive oil. I typically will continue drizzling in olive oil periodically as needed to encourage browning. Be patient, it will take anywhere between 3-6 minutes per side for it to get to the desired doneness. Usually the first side of the first batch takes the longest. Make sure to watch your pan because it can overheat (and the house can get smoky) as you progress if not careful. You'll know the eggplant is done when it's fall apart tender and getting that beautiful dark golden brown caramelization on the outside.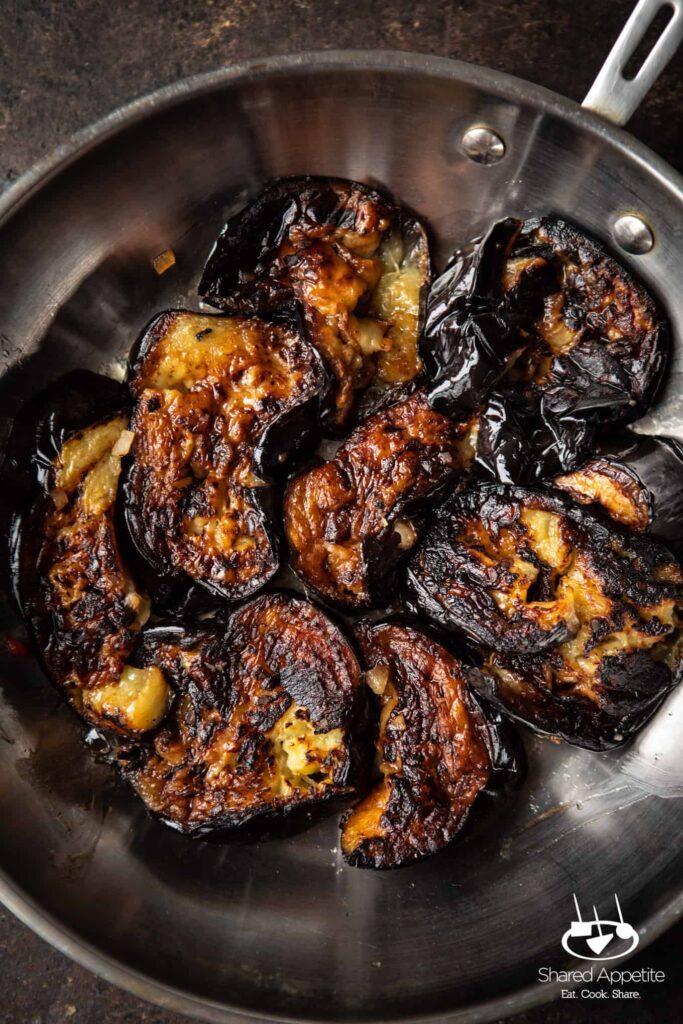 Once you're done cooking the eggplant, you'll sauté up the peppers and onions in coriander and paprika, which adds such a nice depth of flavor to this Mediterranean Eggplant Dip. And although the original recipe calls for sherry vinegar, I personally rarely have it in the pantry and always use red wine vinegar.
Parsley often gets viewed as an unnecessary garnish, it's really essential here. It adds a beautiful pop of color and a fresh herbaceous bite to the Mediterranean Eggplant Dip!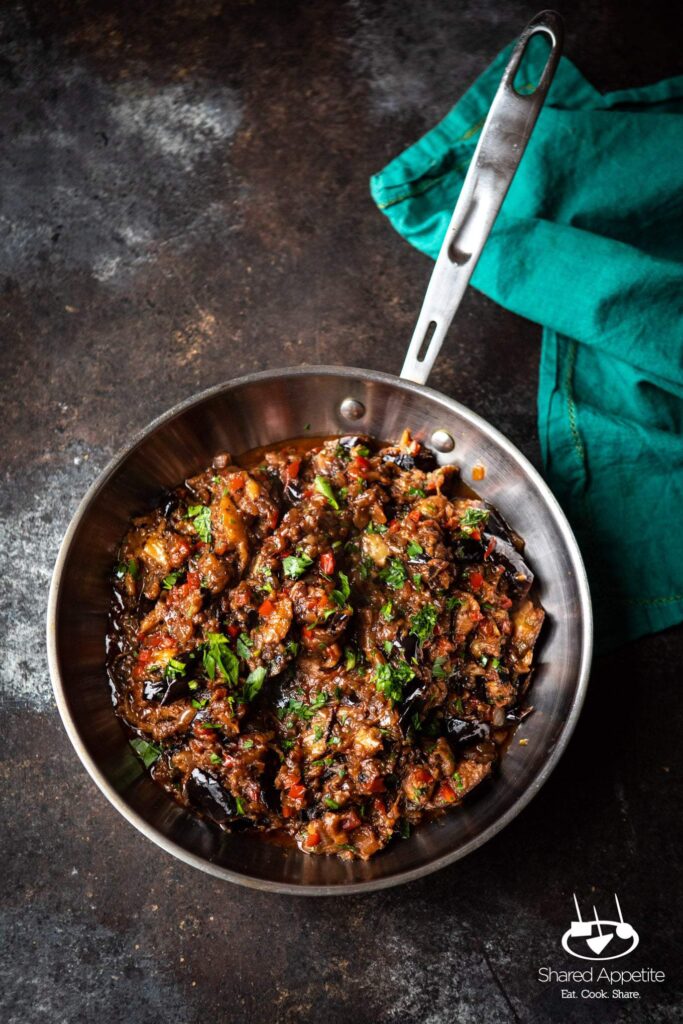 My favorite way to serve this Mediterranean Eggplant Dip is over a smooth and creamy hummus. Making your own is always a great idea, but I honestly often use store bought for convenience! The local Costco by our home sells a really great one called "Hannah Organic Hummus".
Another important detail: your pita!
We absolutely love the way Souvlaki GR serves up their pita in NYC. The easiest recreation I've found at home is to take your favorite store bought pita (Kontos Pocketless Pita is my go-to choice) and brush them lightly with olive oil. Give a little sprinkle or dried oregano and Kosher salt and pop them directly on the oven racks of a preheated 350-375°F oven. Let them get lightly toasted for a few minutes and absolute perfection!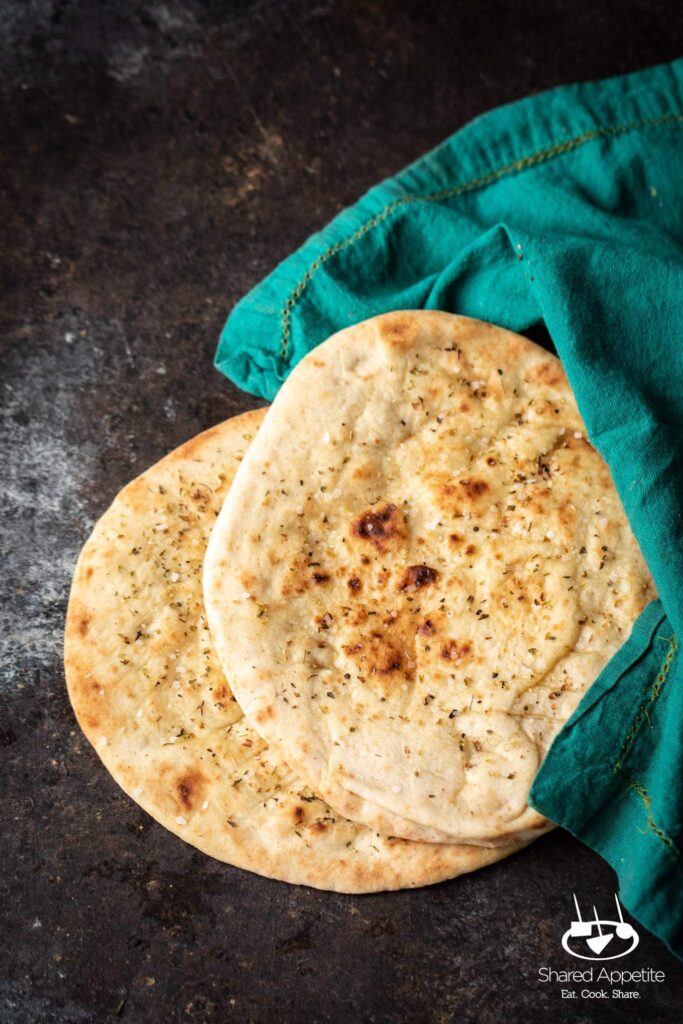 Feel free to make this Mediterranean Eggplant Dip ahead of time (sans the parsley) and refrigerate it! I often do this for parties for really easy entertaining! Just make sure to reheat the dip, add fresh parsley, and also allow the hummus to come to close to room temperature for optimal enjoyment!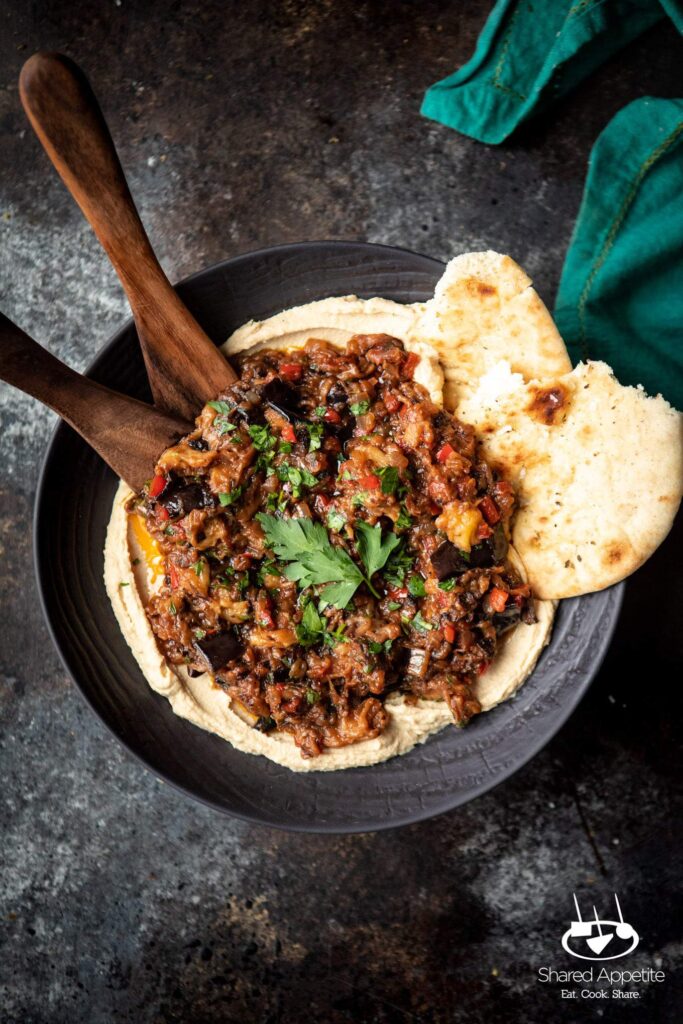 Print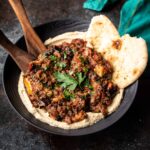 Mediterranean Eggplant Dip
---
Author:

Chris Cockren

Total Time:

approximately 1 hour

Yield:

5 cups

, serves 4-6

1

x
2

medium eggplants, cut into thick rounds
Kosher salt

½

-

¾

cup olive oil

1

red bell pepper, finely chopped

1

medium yellow onion, finely chopped

1 tablespoon

ground coriander

1 teaspoon

sweet paprika

¼ cup

red wine vinegar

½ cup

chopped parsley
Half of lemon, juiced
---
Instructions
Sprinkle eggplant slices generously with Kosher salt.  Let stand for 30 minutes and then blot with paper towel to remove moisture on surface.  
Heat a large nonstick skillet over medium-high heat and pour in about 2-3 tablespoons of oil.  Working in batches as necessary, cook eggplant slices in a single layer until almost black on each side, about 3-5 minutes per side.  Add more oil as needed.  Remove cooked eggplant to a plate.  
Once eggplant is all cooked, lower heat to medium and add 2 tablespoons olive oil.  Add red pepper, onion, coriander, and paprika to skillet.  Cook, stirring occasionally, until vegetables are soft, about 8-10 minutes.  Add eggplant and vinegar to skillet, breaking eggplant and mashing it coarsely with a wooden spoon until well combined.  Cook until vinegar has evaporated, about 8-10 minutes.  
Remove from heat and stir in parsley and lemon juice.  Serve warm or at room temperature over hummus with pita*.  Can be made ahead of time, refrigerated, and reheated as needed.  
Notes
*for restaurant quality pita, preheat oven to 350°F.  Meanhwile, brush pita lightly with olive oil and sprinkle dried oregano and Kosher salt on top.  Place directly on oven racks for 2-3 minutes, until warmed through and slightly toasted.  
Prep Time:

30 minutes

Cook Time:

30-40 minutes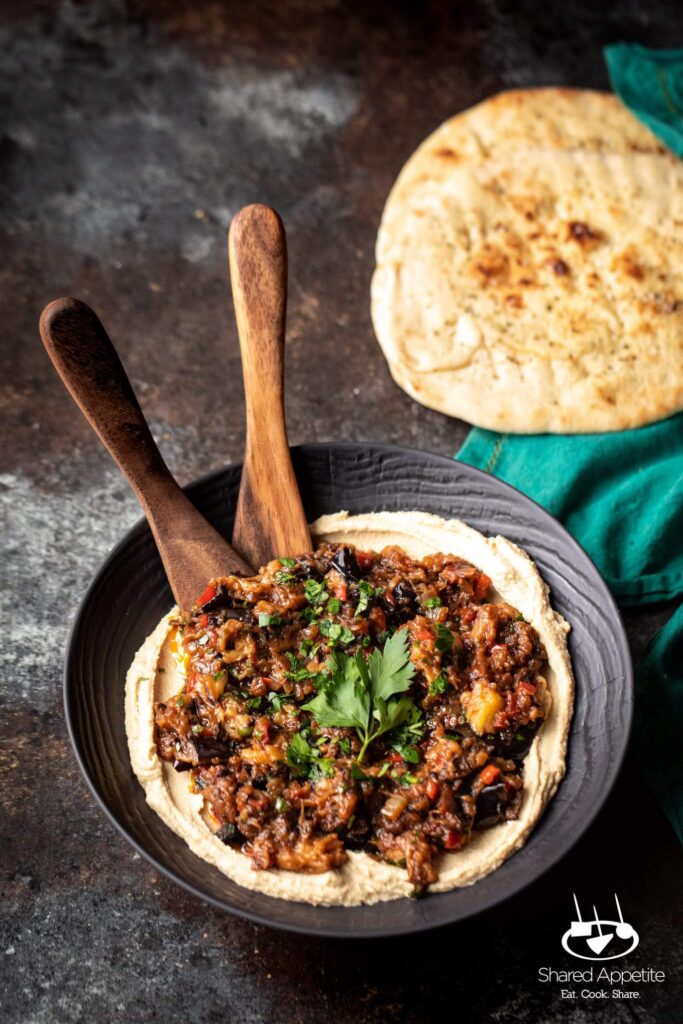 Mediterranean Eggplant Dip