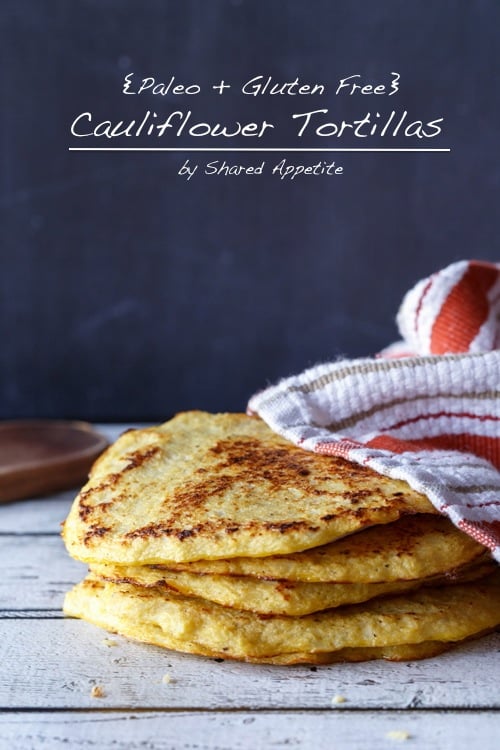 A healthy, gluten-free, and paleo friendly recipe for Cauliflower Tortillas.
I have to give it up to our friends Steve and Valerie for this one. They are doing this not-quite-paleo, not-quite-Atkins type of diet where they are severely limiting their intake of carbs and sugars. There's a name for it... I just can't think of it.
They've been dropping all sorts of weight and look fantastic. The only bummer is that sometimes their meals can feel incomplete because the majority of their food intake is basically meat and non-sugary vegetables. But then Valerie was talking about how she made cauliflower tortillas a few weeks ago, which made her super happy to be able to have a normal meal.
And then pair that with all the fantastic cauliflower recipes my man Mike over at The Iron You has been pumping out, and I knew I had to get in on this cauliflower action. Especially since I'm working on getting back into the whole operation stop being a fatty thing.
Regular tortillas = fatty
Cauliflower tortillas = less of a fatty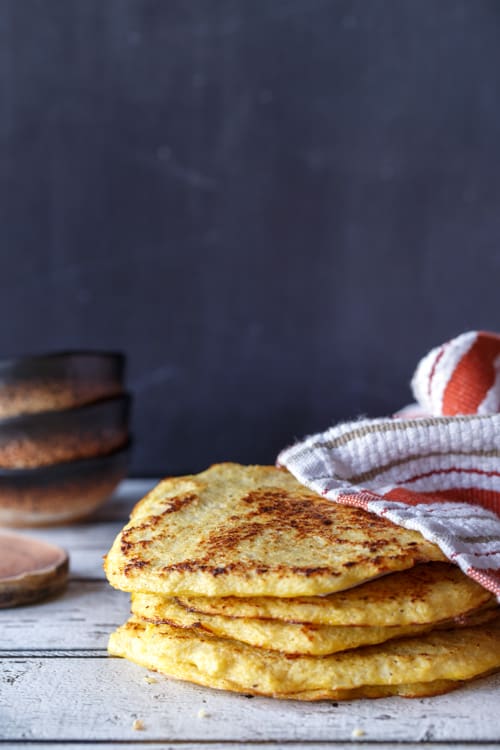 These faux-tortillas are a bit plumper than it's flour and corn counterparts. It's almost more like the thickness of a gordita at Taco Bell. Mmmm, Taco Bell. I digress.
And sure, these homemade cauliflower tortillas are a bit more work than just opening up a plastic package from the grocery store and calling it a day, but it's worth it. Especially when you consider they are pretty much guilt-free. And anytime I can stuff my face with Mexican food and feel healthy about it... it's a good day.
Print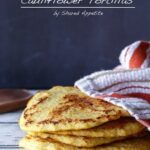 Paleo and Gluten-Free Cauliflower Tortillas
---
Total Time:

25 minutes

Yield:

6

tortillas

1

x
1

head cauliflower

3

eggs
Kosher salt
Freshly ground pepper
---
Instructions
Preheat oven to 375°F.
Chop cauliflower into florets, removing most of the stem. Pulse cauliflower in food processor (in batches if necessary) until cauliflower has the texture between rice and quinoa.
Place riced cauliflower in a glass bowl and microwave for 2 minutes, stir, and then another 2 minutes. Let cool slightly, then place cauliflower in a clean dish towel and squeeze out as much water as you can (careful, it will be hot!).
Combine cauliflower and eggs in a bowl until thoroughly combined. Season with Kosher salt and freshly ground pepper. The mixture will be a bit runny... that's ok! Spread mixture into small tortilla-sized circles on a baking sheet lined with parchement paper or a silicone mat (you will probably need two baking sheets). Make sure "tortillas" are fairly flat and even.
Cook in preheated oven for 10 minutes, flip with spatula, and cook for 5-7 more minutes. Remove tortillas from baking sheet and let cool on wire rack slightly.
Heat a medium sized skillet (I use my cast iron skillet) over medium heat. Place the tortillas, one at a time, in pan and press down slightly with a spatula to slightly brown tortillas. Flip and repeat. This gives tortillas a slightly crisp exterior.
Prep Time:

10 mins

Cook Time:

15 mins