These Peach Bourbon Glazed Pork Chops were created in partnership with Kingsford Charcoal. As always, all opinions and recipes are my own. Thanks for supporting the brands that support Shared Appetite!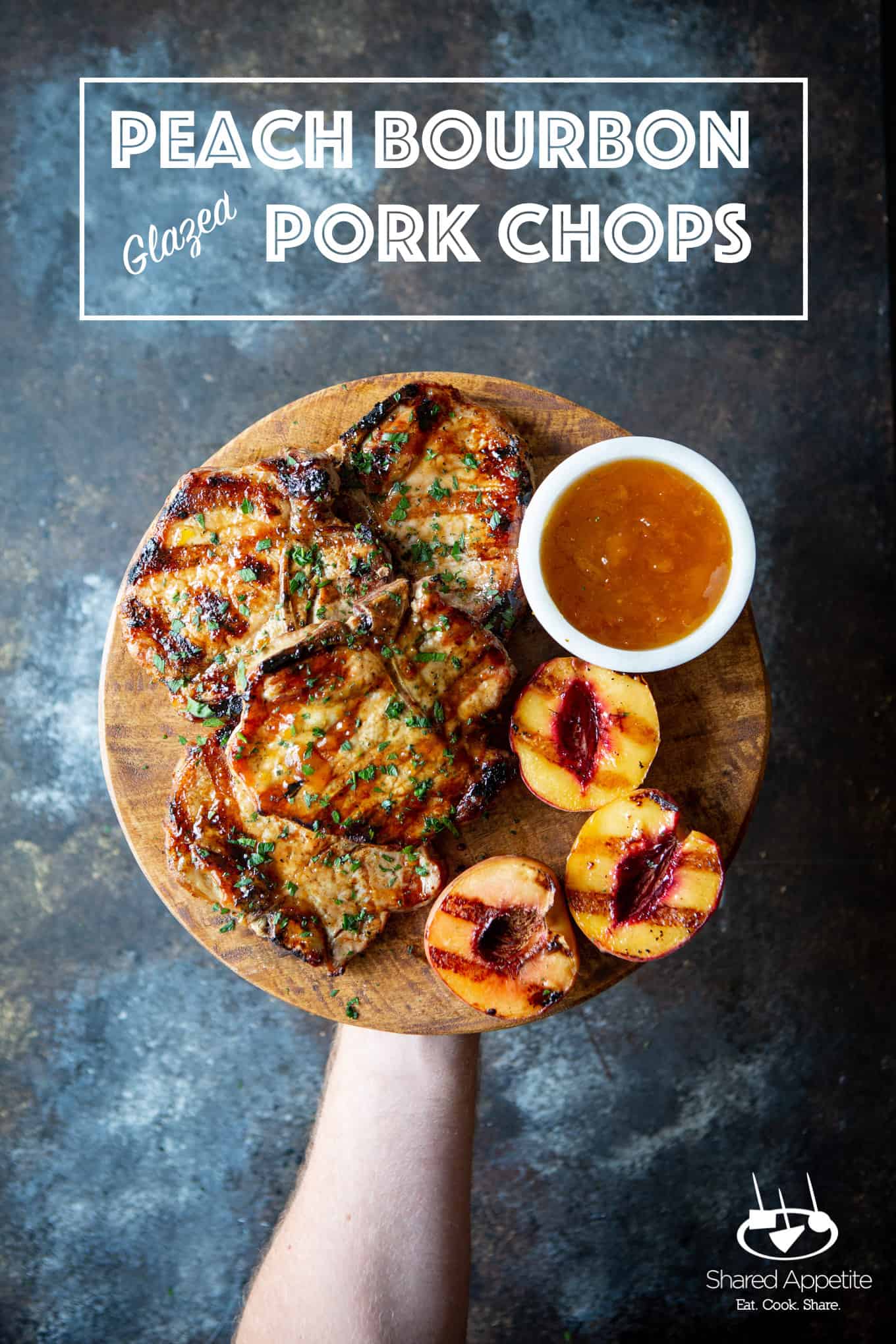 FINALLY. We are out of the 90°F weather we've had the last few days here in NY. Hopefully that's the last time we'll see that kind of humid heat until next summer. Now don't get me wrong. I'm not done with summer yet. And I'm definitely not endorsing the shorter days and cold weather that'll be coming way too soon. I'm just a fan of walking outside and not immediately feeling regret for leaving the air conditioning. Give me all the beautiful sunny fall weather!
The pool is still open (thanks to our new pool heater that's keeping it at a balmy 85°F!)... and you BETTER believe the grill will remain open for business for as long as I can walk outside without a snow shovel in hand. There's something so satisfying about grilling, especially when you've got friends or family hanging around with you outside!
Anyone out there have hours and hours to prep and cook a meal? Yeah, didn't think so. I feel like I'm becoming more and more strapped for time lately (the beginning of the school year and the whole having two kids thing is most likely the reason). Especially with the sun setting earlier and all the back to school activities starting up (our three year old is now enrolled in soccer, gymnastics, AND dance), successful dinner times require minimal prep and cooking time. 30 minutes. That I can do. ESPECIALLY when you can whip up a legit meal like these Peach Bourbon Glazed Pork Chops with Kingsford Original Charcoal!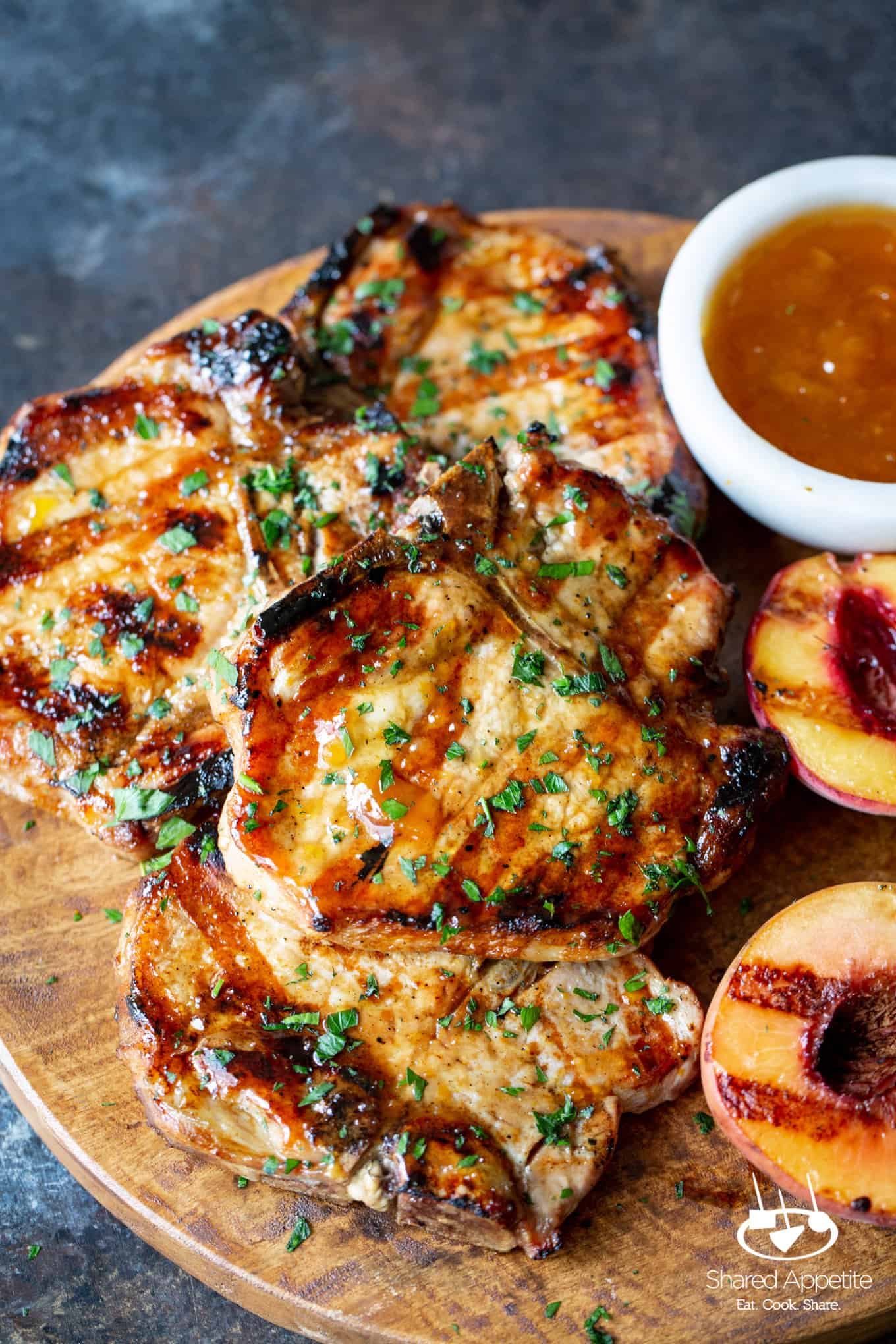 Let's talk about these Peach Bourbon Glazed Pork Chops. They are BIG on flavor and BOLD in taste. If you're a bourbon fan (my bros definitely are), you'll definitely taste and appreciate it in this glaze. If you're not a bourbon fan (like me), you'll be 100% okay with the bourbon in this recipes because the alcohol flavor disappears during the cooking process and you're left with a complex peach glaze that will leave you thinking... maybe I am a bourbon fan?!
Most of the peach glaze and sauce recipes out there call for using fresh peaches that you need to peel and cut up (and then cook down for about 30 minutes) to obtain a glaze consistency. No doubt those recipes will yield a great tasting glaze, but all that prep work and cooking time just isn't feasible when you're trying to hang with your bros and focus your time on beating them in bocce (our go to lawn game when we get together).
Instead, I learned a trick awhile back in one of those cooking magazines when you can make epic glazes using fruit preserves. A good-quality jar of fruit preserves will use top-notch fruit at the peak of freshness, so the flavor is always on point. It's also already thickened and sweetened, so it's a great shortcut to glaze greatness. All I needed to do was add some bourbon (to help deepen the complexity of the glaze), apple cider vinegar (to tame the sweetness), and onion powder (for flavor) and BOOM. Instant peach bourbon glaze for these pork chops!
Best of all, these pork chops come together in under 30 minutes (and just 15 minutes of prep and cooking time) and just 3-4 ingredients you probably need to actually get at the store and don't already have in the pantry .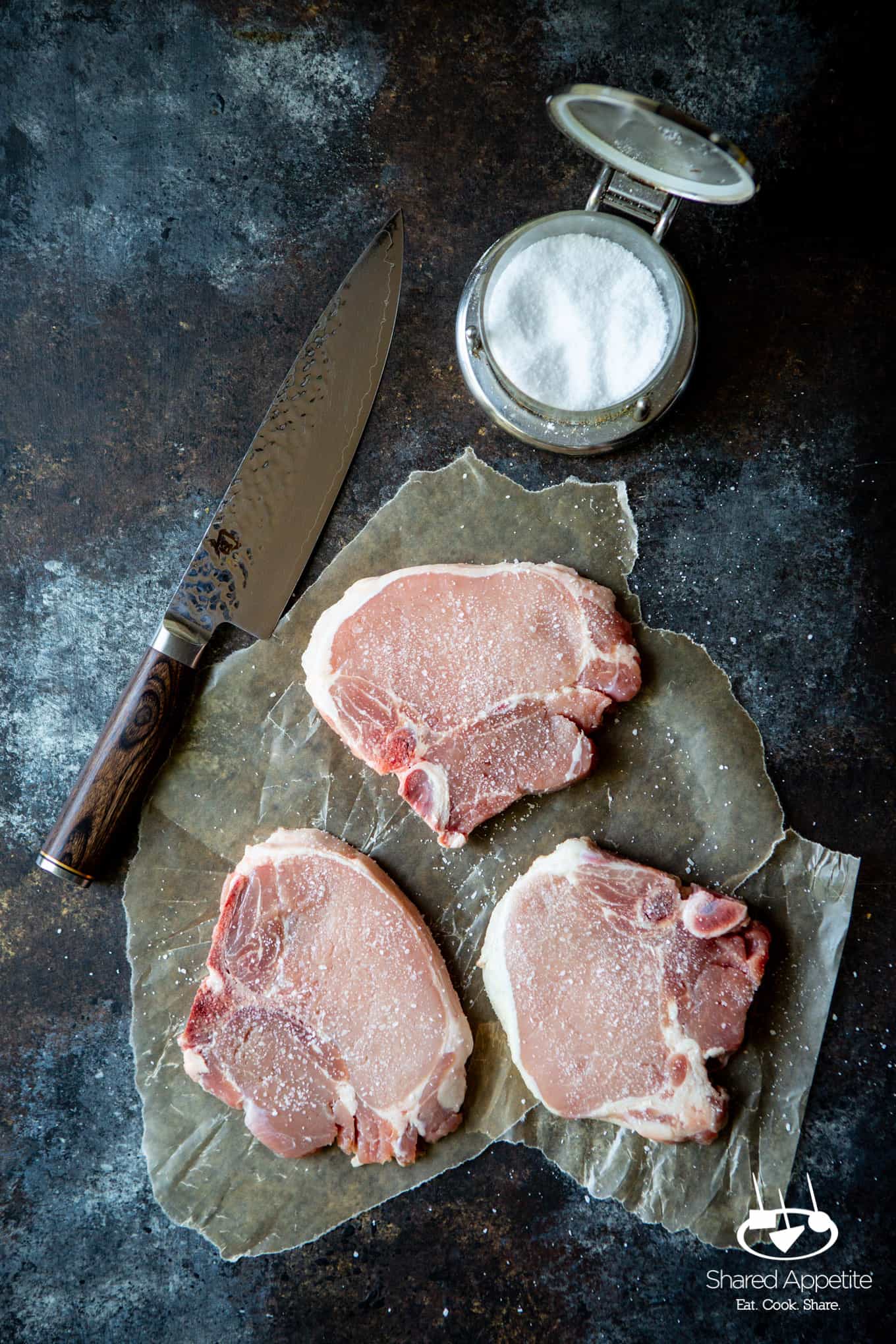 When it comes to grilling, Kingsford® Original Charcoal is the gold standard. I remember my dad using Kingsford when I was a kid, and I'm happy to keep that tradition alive! Each of those beautiful Kingsford's® Original Charcoal Briquets are made with natural ingredients and real wood to ensure the smoky flavor we all crave (and a flavor you just can't replicate on a gas grill).
And let's be honest. There's nothing more exciting than hanging with your bros building a fire. My buddy Tyler is an Eagle Scout and is a fire-building expert. Me... not so much. Thankfully, these briquets also feature Kingsford's signature Sure Fire Grooves® to help coals light faster than ever (they're ready for cooking within about 15 minutes)!
Kingsford gets it. Labor has come and gone. For many of us, that means close up the pool and pack up the grill for the winter. But we deserve better. Let's soak up every moment we can outside with family and friends before we have to be stuck inside. Especially as those cool fall weather nights start to set in, there's nothing better than grilling around a warm charcoal fire!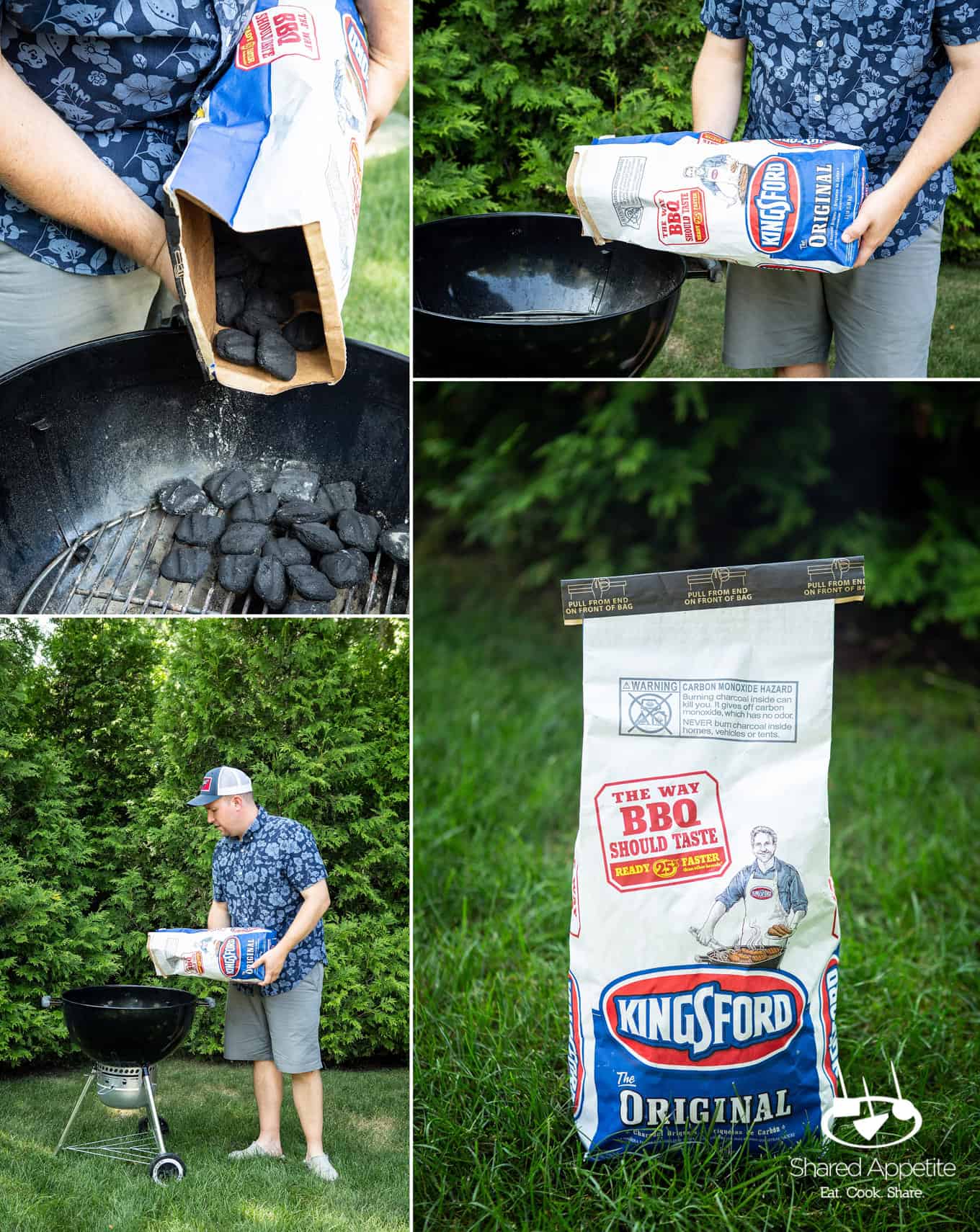 Two more things. If you've never grilled peaches before, you NEED to. The sugars in the peach begin to caramelize and the flavor concentrates. You also get some of that smoky flavor from the grill in the peaches, which pairs SO perfectly with pork. Speaking of pork, if your momma every made you pork chops as a kid, you probably remember a dried out piece of rubber because our parents were brainwashed into cooking pork until it was void of any moisture at all. Make sure to buy pork chops with a good thickness to them (1" is good) and I prefer bone in because it helps to keep the meat juicy. And jeez... make sure not to overcook it! An instant read thermometer is KEY!
So let's review. The weather may be changing, but your grill game shouldn't! Get grilling with these Pork Bourbon Glazed Pork Chops and you'll have more time to hang with your family and friends (and beat them in bocce)!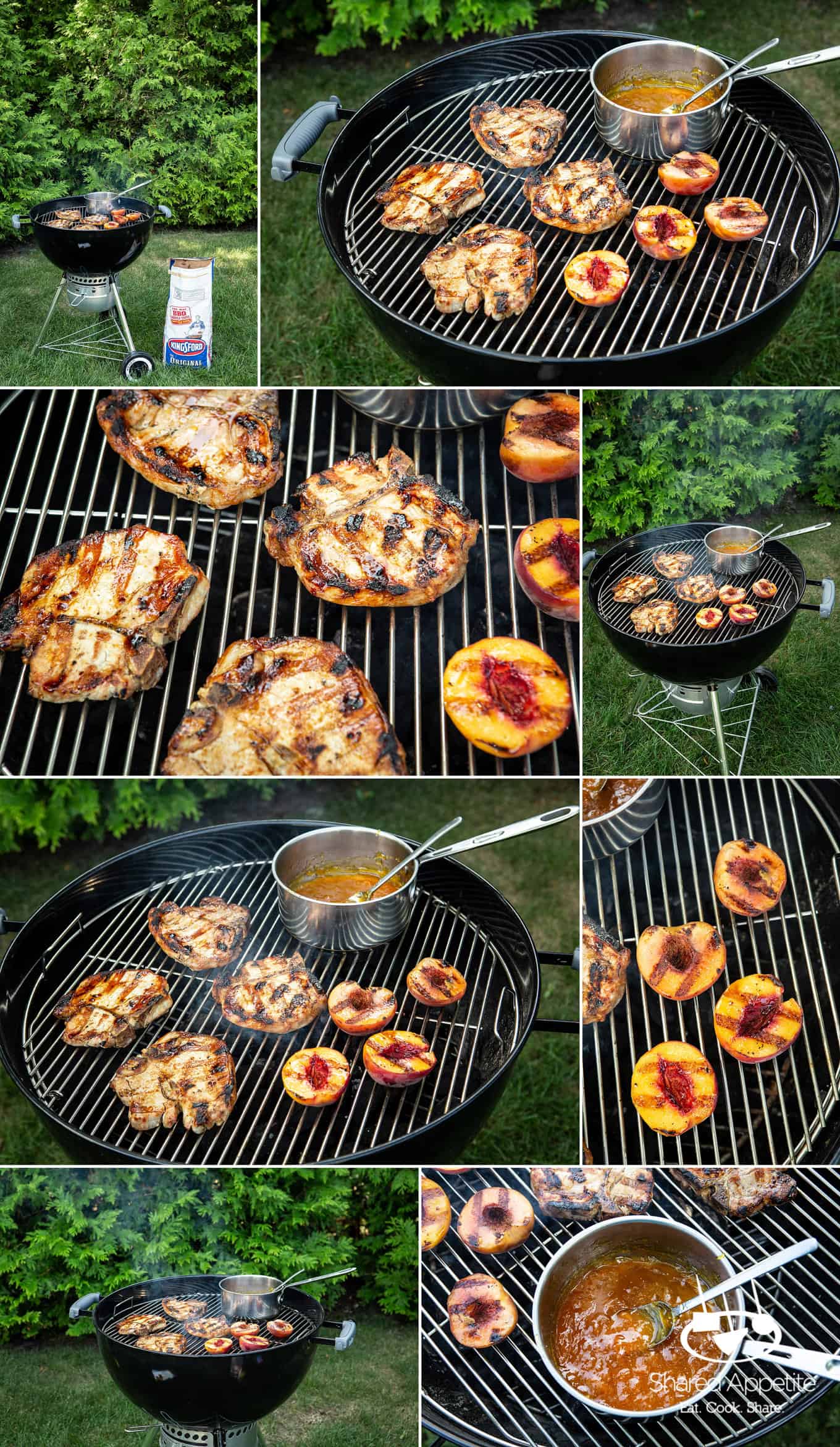 Print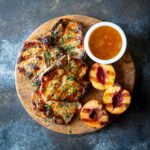 Peach Bourbon Glazed Pork Chops
---
Author:

Chris Cockren

Total Time:

15 minutes

Yield:

4

servings

1

x
4

Pork Chops

4

peaches, halved and pits removed
Vegetable or canola oil

1 cup

peach preserves

3 tablespoons

bourbon

1 tablespoon

apple cider vinegar

½ teaspoon

onion powder
Kosher salt
Freshly ground black pepper
---
Instructions
Season both sides of pork chops generously with Kosher salt and freshly ground black pepper.  Lightly brush peach halves with oil.
Heat grill over medium-high heat and lightly oil grill grates.  I do this by folding up a paper towel and pouring some vegetable/canola oil on it.  I then place paper towel on grates and use my grill brush to push the towel very quickly over them.
Grill pork chops on grill, flipping once, until just cooked through.  Grill peach halves, cut side down, until warmed through and you get those awesome looking grill marks!
Meanwhile, stir together peach preserves, bourbon, apple cider vinegar, and onion powder in a small saucepan.  Season with Kosher salt and place saucepan on grill along with pork.  Bring to a boil and let simmer on the cool side of the grill for about 6-8 minutes.  Alternatively, you can also do this part on the stove inside (bring mixture to a boil over high heat, then lower heat to maintain a simmer).
During the last minute of cooking, brush peach bourbon glaze all over pork chops.  Serve pork chops with extra glaze and grilled peaches.  Devour immediately!
Prep Time:

5 minutes

Cook Time:

10 minutes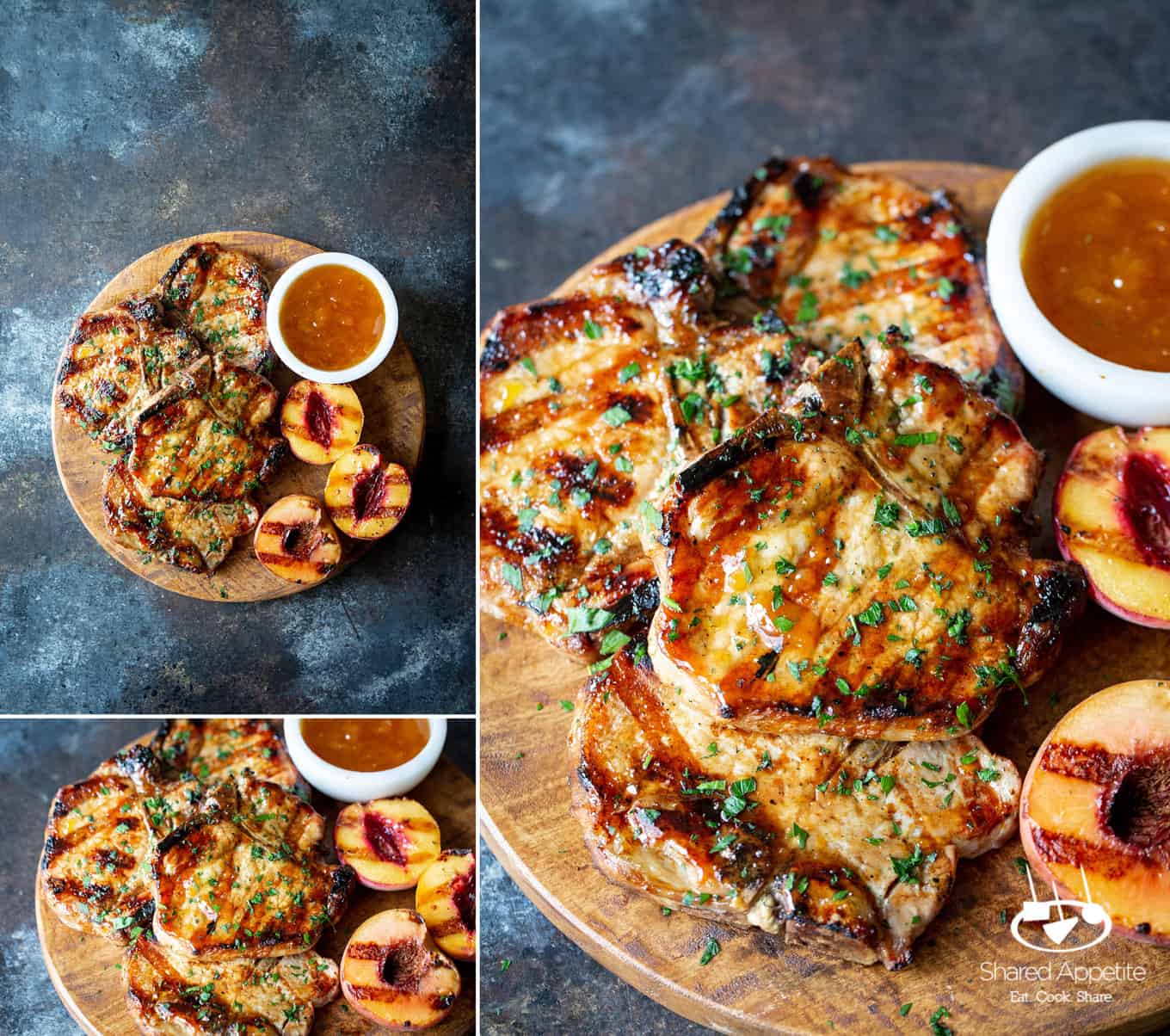 Peach Bourbon Glazed Pork Chops
This is a sponsored conversation written by me on behalf of Kingsford Charcoal. The opinions and text are all mine.
If you're looking for more great ways to prepare pork, check out this awesome "How To Pork" recipe from Kingsford! https://www.kingsford.com/how-to-food/pork/