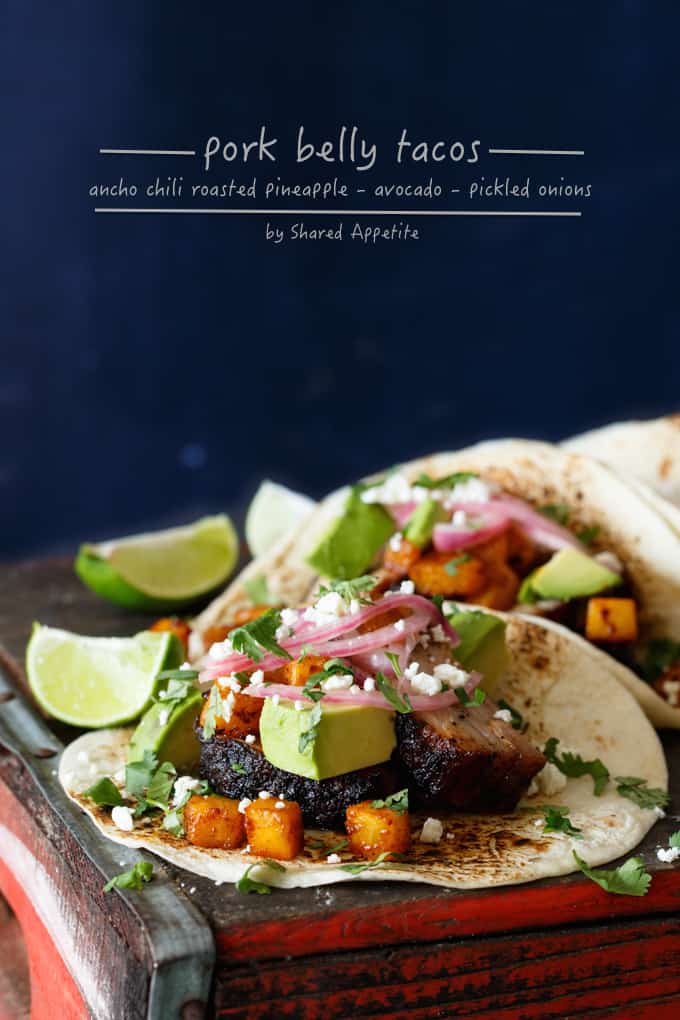 Get a margarita in your hand and these Pork Belly Tacos with Ancho Chili Roasted Pineapple and Avocado in your belly... it's Cinco de Mayo people!
Is that a margarita in your hand? If not, you better go grab one and start celebrating... because today is Cinco de Mayo! By the way, if you didn't just audibly cheer, you need to re-read that last sentence and try again.
Break out the chip and guac... it's party time.
Although my Cinco de Man-o party isn't for a few days still (us dudes get together on the weekend, so we can party it up right!), I'm prepped and ready to go. The menu is set. The grocery shopping will be done tomorrow. And I'm breaking out a new recipe that I'm super excited to share with all my fellow pork-loving comrades... these Pork Belly Tacos with Ancho Chili Roasted Pineapple and Avocado.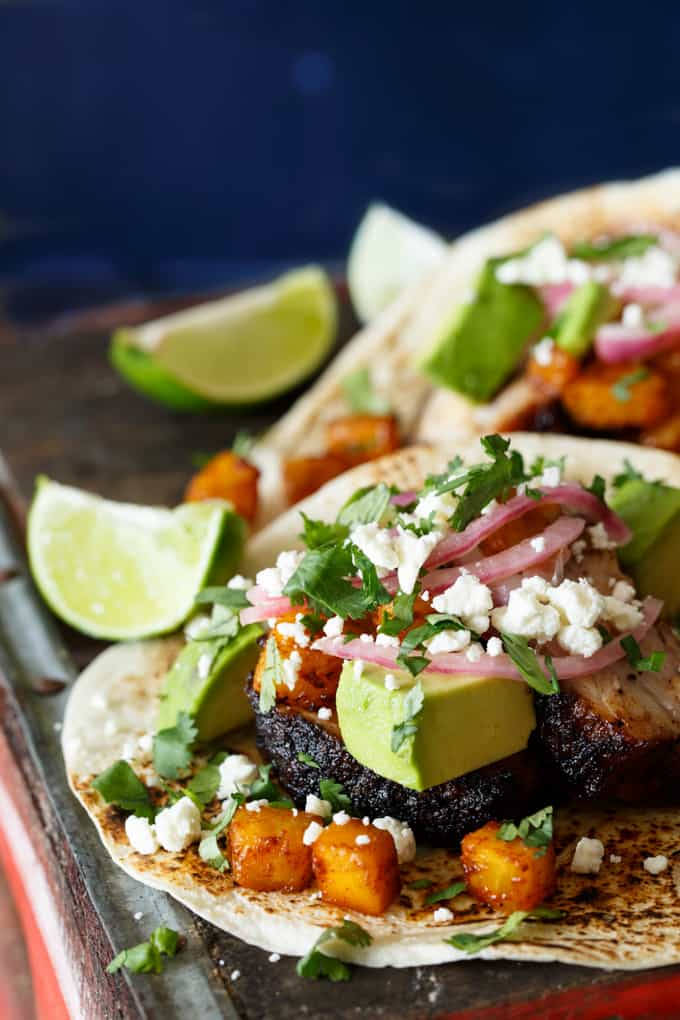 There are few things in life more satisfying than a perfect piece of juicy, melt-in-yo'-mouth tender pork belly. And it's way easier to make happen than you think. Just give yourself time, since it's gotta sit in the fridge for quite a bit to get all cozy with a sugar-salt mixture before roasting.
And let's talk about the supporting actors in this taco. Don't skimp on them. They all play a really important part in balancing out the overall flavor, and if you skip on one, you're missing out some serious enjoyment. The avocado brings it's creamy luxuriousness to the party, while the pickled onions bring that needed acidic punch to cut through the fatty succulence of the pork. And BTW, pickled onions need to be a staple in your fridge condiment section. They are so easy to whip up, last for a really long time, and perk up anything and everything in the flavor department.
And that ancho chili roasted pineapple. Oh man, I'm addicted. It's smoky, it's a little spicy, and it's all caramelized with the sweet sugary goodness of pineapple. Side note... try stirring some into guacamole with a bit of bacon. You'll never be the same, I promise.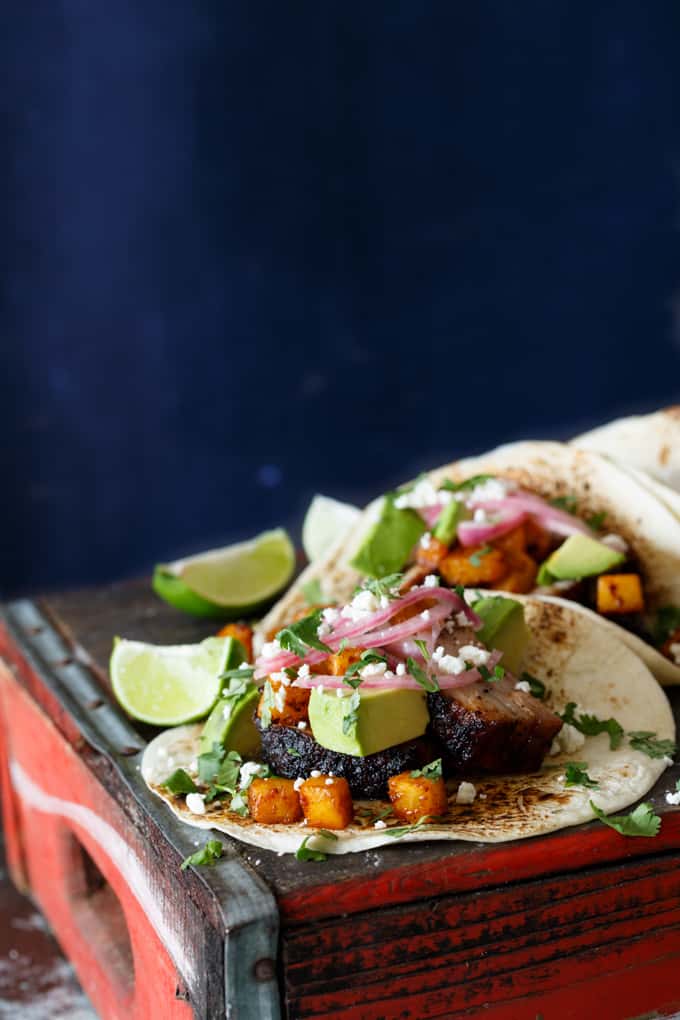 Print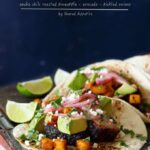 Pork Belly Tacos with Ancho Chili Roasted Pineapple and Avocado
---
Total Time:

2 hours

Yield:

Serves

4

-6

1

x
4

pounds boneless skinless pork belly

3 tablespoons

granulated sugar, divided

3 tablespoons

Kosher salt

2 tablespoons

ancho chili powder

8

-

12

tortillas, warmed
Ancho Chili Roasted Pineapple (recipe below)

2

avocados, chopped
Pickled Onions (recipe below)
Queso Fresco, crumbled
Cilantro, chopped, for garnish
Lime wedges, for garnish
for the Ancho Chili Roasted Pineapple
1 ½ cups

finely diced fresh pineapple

1 tablespoon

olive oil or canola/vegetable oil

½ tablespoon

+

1 teaspoon

ancho chili powder

1 ½ teaspoons

granulated sugar
for the Pickled Onions
1

medium red onion, thinly sliced

½ cup

apple cider vinegar

1 cup

warm water

1 tablespoon

sugar

1½ teaspoons

Kosher salt
---
Instructions
Place pork belly in a glass baking dish and rub evenly with granulated sugar and Kosher salt. Cover with plastic wrap and refrigerated for at least 12 hours and up to 24 hours. Remove from refrigerator and discard plastic wrap, pat dry and remove any liquid that has accumulated. Rub with ancho chili powder. Preheat oven to 450°F. Roast pork belly for 30 minutes, then lower heat to 275°F and roast for 1 hour more, until pork belly is tender.
Let pork belly cool slightly, then slice into approximate ½" slices. If you want perfectly clean slices: cool pork belly completely, then remove from baking dish and wrap in aluminum foil. Refrigerate until cold. Slice pork belly, then reheat in oven at 275°F wrapped in aluminum foil until heated through.
Top tortillas with a couple slices of pork belly, chopped avocado, ancho chili roasted pineapple, pickled onions, and a sprinkle of queso fresco and cilantro. Serve with lime wedges and preferably a margarita. Devour.
for the Ancho Chili Roasted Pineapple
Heat oil in a medium skillet over medium high heat. Add pineapple, sugar, and ancho chili powder and stir to coat. Cook, stirring occasionally, for 4-5 minutes, until pineapple caramelizes with a nice golden brown color.
for the Pickled Onions
Combine vinegar, water, sugar, and salt in a medium bowl. Whisk together until sugar and salt is fully dissolved.
Place onion in a jar or bowl (I like to use a mason jar). Pour vinegar mixture over the onions and let sit at room temperature for at least 1 hour if you're in a rush. Preferably, cover jar or bowl and place in refrigerator for at least 1 day. Pickled onions will last for a couple weeks stored in the refrigerator.
Prep Time:

30 mins

Cook Time:

90 mins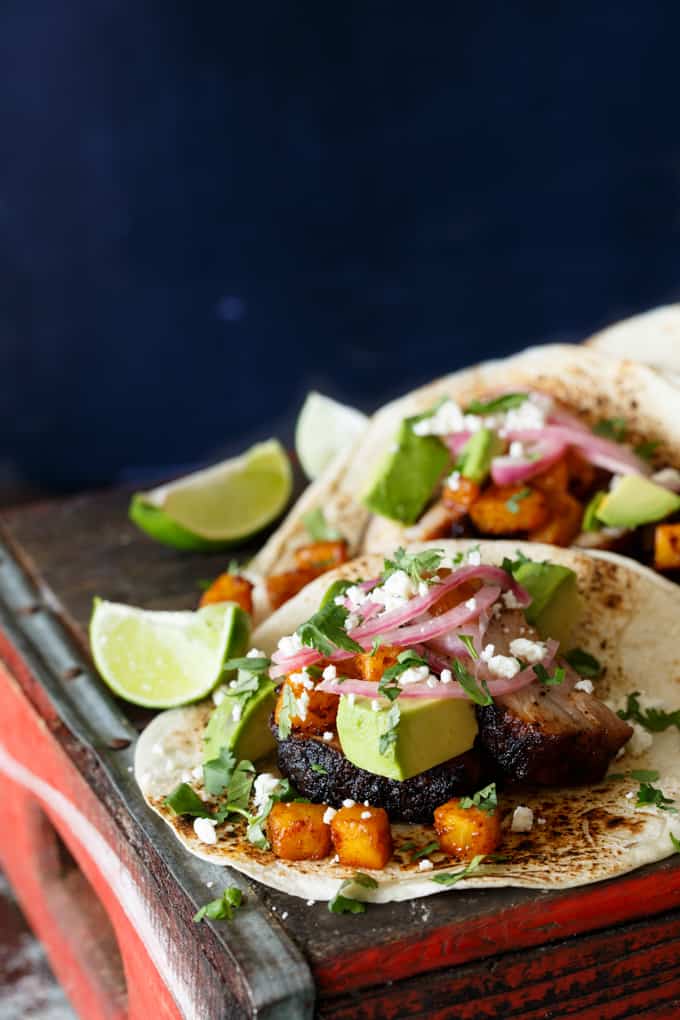 link