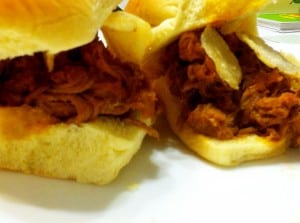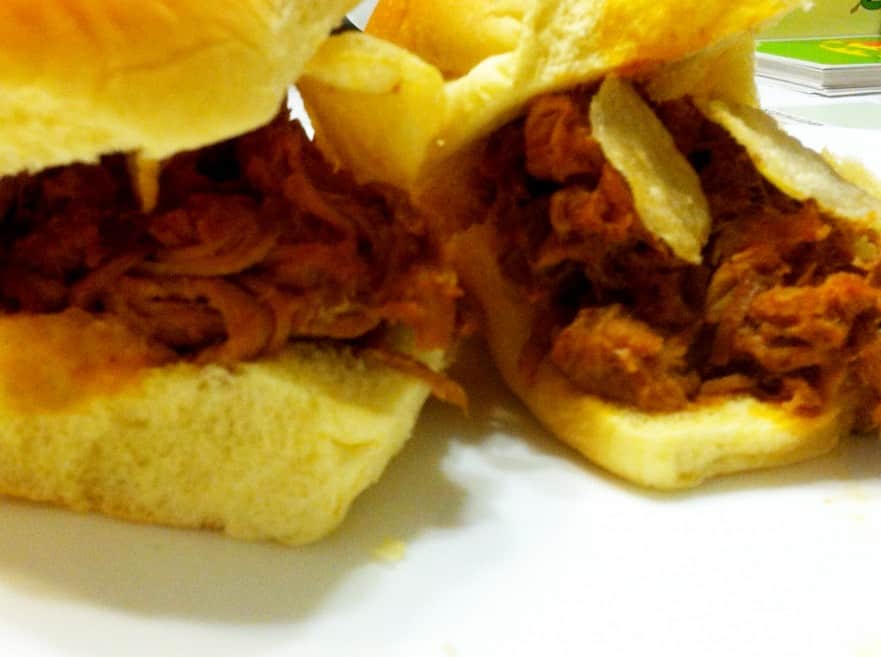 I love pulled pork.  It's the dish I always order at a BBQ joint.  In fact, every time I check out a new BBQ restaurant, the three things I always tend to judge their food quality on is their pulled pork, mac n' cheese, and cornbread.  To me, it's the perfect trifecta of BBQ eating...  add in some sort of sweet potatoes and I'm a happy, happy man.  Making authentic pulled pork at home would involve smoking the meat for hours and hours outdoors under my careful watch.  Although I can't wait to own a smoker and embark on the art of smoking meat, there is a simpler, easier, no-fuss way to make a delicious pulled pork meal at home that doesn't require you to be outdoors with a smoker all day long.
The slow-cooker in our house is rapidly becoming a really good friend of mine.  Although it's true that I'm not making authentic pulled pork with it and barbeque purists would go into an uncontrollable rage at the idea, using a slow-cooker to make pulled pork is super easy and very delicious.  I can prep all the ingredients within 20 minutes before I leave for work in the morning, and then when I walk back in the door, the delicious aromas of the braised pork are waiting for my quick and brief attention.  For Asheley and I, this recipe of pulled pork feeds us for about 3-4 days:
Day 1: Pulled Pork with Mac n' Cheese, Honey-Jalapeno Cornbread, and Sweet Potato Mash
Day 2: Pulled Pork Sandwiches or Sliders with Sweet Potato Fries
Day 3: Pulled Pork Nachos
Day 4: Pulled Pork Quesadillas with Charred Corn Guacamole and BBQ Crema
Pulled Pork
Ingredients
[list style="red"]
Bone-in Pork Shoulder or Pork Butt (approximately 5 lbs.)*
1 large red onion, halved and then sliced
1 cup ketchup
¾ cup apple cider vinegar
1 tbl. dijon mustard
¼ c. packed brown sugar
2 tsp. garlic powder
1 tsp. onion powder
1 tsp. ancho chile powder**
1 tsp. Spanish paprika
1 tsp. kosher salt
½-1 tsp. chile de arbol powder** (spicy, so use according to your taste)
½ tsp. freshly ground pepper
1 teaspoon - 1 tbl. Worchestire
1 tbl. molasses
[/list]
*I prefer using pork shoulder.  It seems to come out a little more tender and easier to shred than the pork butt.
**Not all chile powders are the same.  Ancho chile powder is made of ground dried poblano peppers and has a dark, smoky flavor with mild-medium heat.  Chile de arbol powder is made from the long, slender chile de arbol and is very spicy.   Speciality food stores should have these spices.  I get all my chile powders and many other spices from Kalustyans in NYC, which has the biggest variety of spices I have ever seen under one roof.  You can easily order from them on the internet, but if you live in proximity to NYC, definitely take a trip to see the place.  It is pretty amazing.  If you don't have these chile powders, you can try using cayenne pepper or generic chile powder.
1) Prepare the bbq sauce:  Combine all ingredients (except pork and red onion)  in a bowl.  Taste and adjust spices to your liking.  This is a starting off point for your bbq sauce.  There truly are infinite possibilities by playing around with the ingredient ratios and by adding/deleting ingredients.  I am still experimenting with different ratios of ingredients.
2) Using a paring knife, trim the pork shoulder/butt of any skin and as much fat that you can.  If you are afraid of having to do this, you can ask your butcher to do it for you.
3) Put sliced red onion in the slow cooker.  Place pork shoulder/butt on top of the onions.  Pour bbq sauce over the pork.
4) Set your slow cooker on the low setting, and walk away... for about 8-10 hours.  I normally set it before I leave for work, and I arrive home 9 hours later. Make sure there is nothing flammable near the slow cooker as it does get quite hot.
5) Take off lid (be careful because there will be a lot of condensation on the inside of the lid and you don't want to spill that on you!) and with two forks, pick up the pork out of the slow cooker and place in a large bowl.  The meat should literally be falling off the bone by this point.  Remove the bone and any grizzle or fat that is noticeable.  Using the two forks, shred the pork to your desired pulled pork consistency.
6) Look at the sauce in the slow cooker.  If it looks good, put the pulled pork back into the slow cooker and keep on low for at least another hour, up to 3-4 hours.  The pork will soak up the flavor of the sauce and make it even more tender.  If the sauce is looking too thin and runny, while the pork is in the other bowl being shredded, pour the bbq sauce into a saucepan.  Reduce the sauce on the stove over medium/medium-high heat, stirring occasionally.  Reducing your sauce is basically boiling off excess liquid, which in turn makes the sauce thicker and intensifies its flavor.  The longer the sauce boils, the thicker it will get.  Reduce your BBQ sauce to the consistency you desire.  This should take about 10 minutes.  Put the pulled pork back into the slow cooker and pour the BBQ sauce on top.  Cover and keep on low for at least another hour, up to 3-4 hours.
7) Serve the pulled pork as a sandwich on a soft bun (I like to pair that with some sweet potato fries and "crunchify" my sandwich by placing some potato chips on top of the pork) or as part of a platter on top of a piece of bread (the bread will soak up some of the bbq sauce and keep the sauce from running off to other parts of your dish).
I know this is a lot of waiting and patience, but it is truly worth it.  What to do while you are waiting?  Make some delicious cornbread, macaroni and cheese, and/or sweet potato casserole!