An elegant, hearty, and surprisingly healthy creative vegetarian soup recipe that will become an instant hit in your house. This Roasted Butternut Squash and Apple Soup with Thyme, Pecans, and Creme Fraiche is perfect for weeknight dinners or for a dinner party appetizer!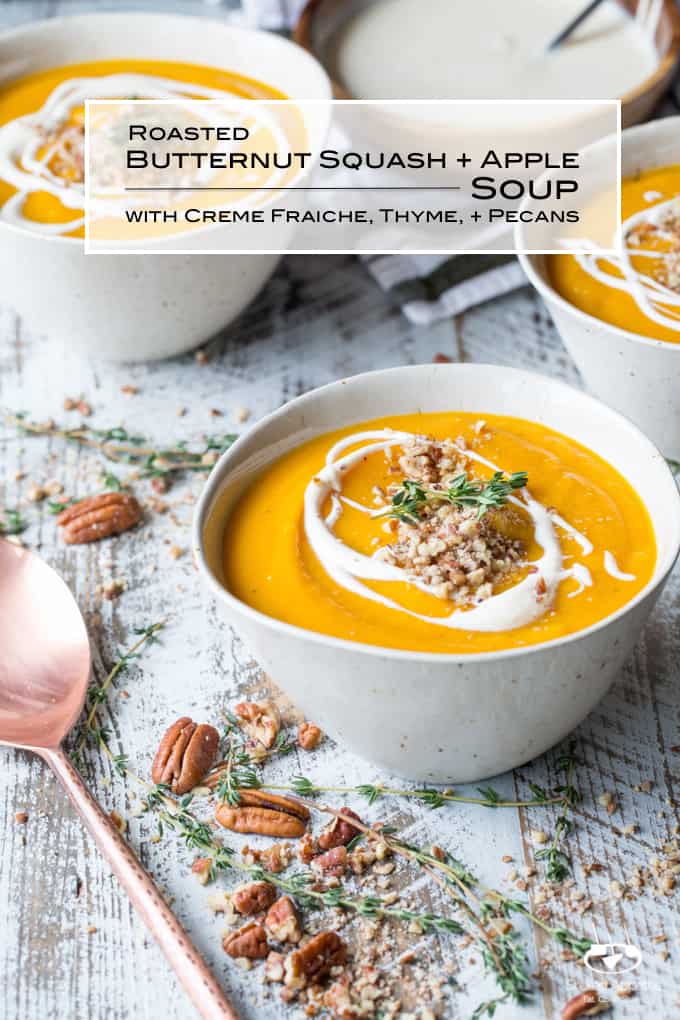 A few times a year, Tyler and I get a group of 10 food-loving friends together and throw what we've come to call the Shared Appetite Test Kitchen.  It gives us an opportunity to try out some new cooking techniques, create an elegant and cohesive tasting menu, and cook together in the kitchen.  It's a night when we get to play "pretend restaurant" and act like chefs running a legit operation.  We get to use words like "Behind!", "Mise en Place", and other nerdy chef terms we think they use in restaurant kitchens.  We think we're are pretty bad-a$$ on those nights.
The prep starts weeks prior, as we think of an overall theme for the night, and then start throwing out ideas for ingredients, dishes, and cooking techniques we want to try out.  When it's all said and done, we have about 7 or 8 courses that takes a ridiculous amount of time to prep for.  Everything is made from scratch.  Every single freaking pot, bowl, dish, and utensil in my house ends up getting used.  It's pretty awesome.  Except when it's time to clean up.  That's why after hosting a few of these dinner parties, we got smart and started hiring someone to wash dishes.
So this Roasted Butternut Squash and Apple Soup with Thyme, Pecans, and Creme Fraiche.  It was one of the big hits of the last Shared Appetite Test Kitchen.  And to be honest, Asheley and I have been 100% addicted to it ever since.  There's a great balance of savory, sweet, acidic, and herbaceous elements to the soup that makes you keep wanting more.  And extra bonus?  It's actually healthy.  #winning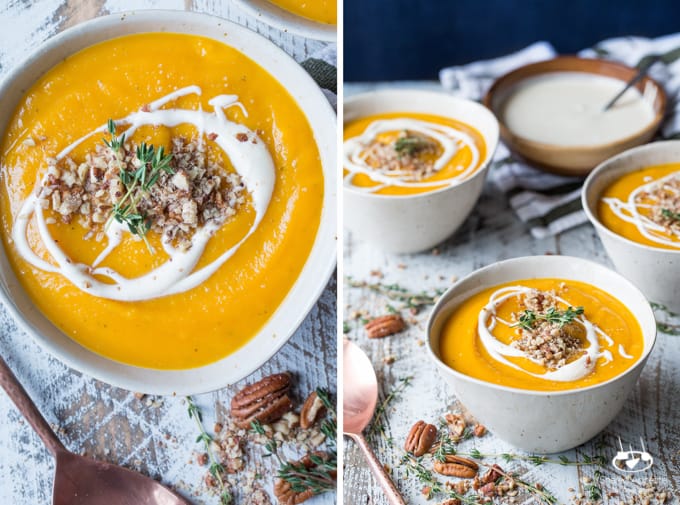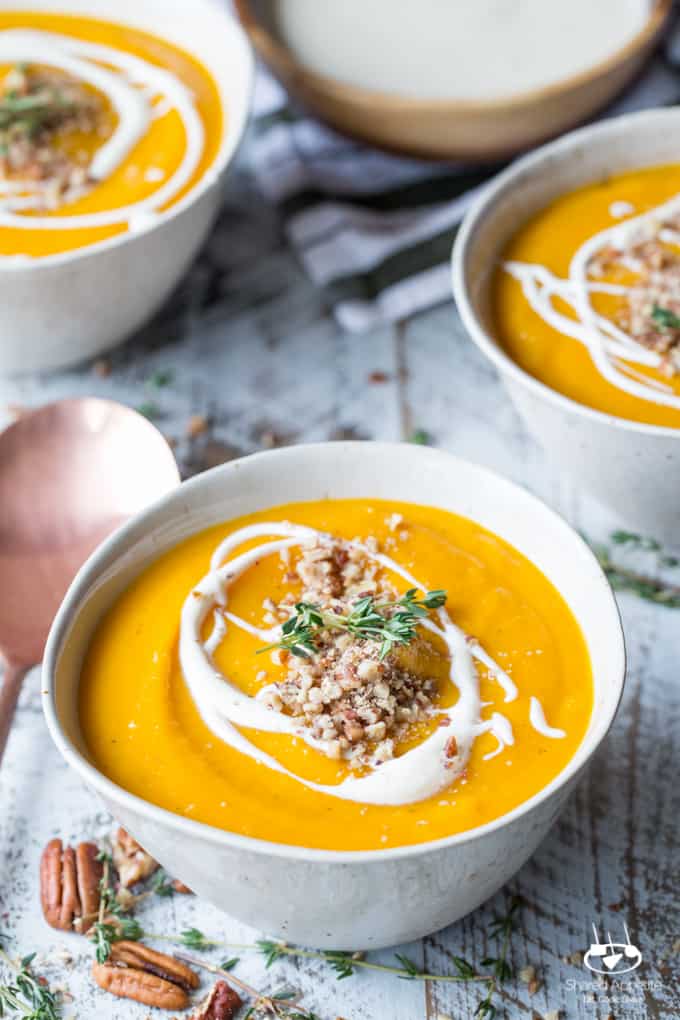 This soup is also amazingly easy to make.  The most difficult part is breaking down and chopping up the butternut squash… and if you need a shortcut around that, just grab some of that overpriced pre-cut butternut squash at your grocery store (if they have it, of course… I know Trader Joe's does).
So why roast the butternut squash?  It's gives this soup a greater depth of flavor.  Roasting vegetables are the absolute best.
Why specifically granny smith apples?  Because their tartness plays nicely with the sweetness of the squash.
Why thyme?  Because thyme is pretty much the greatest herb ever. #truth  Except basil in the summer.
And why creme fraiche?  Because who doesn't like saying there is creme fraiche in something?!  It automatically makes you sound more legit.  But seriously, the creme fraiche adds a richness, creaminess, and spicy acidic component (it's laced with apple cider vinegar and cayenne pepper in the recipe) that takes this soup to the next level of epic.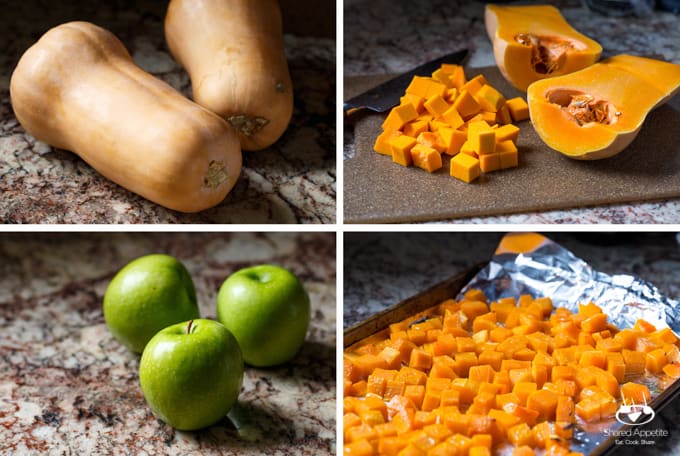 Just be prepared to fall in love with this creative vegetarian soup.  It's super hearty and filling.  It's warming and comforting.  It'll pretty much become your best friend.
It's elegant enough for dinner parties as an amazing appetizer.  I've even served it up in mini soup bowls during a tapas/small plates party.
And for easy and quick weeknight dinners, I make double batches and keep individual portions frozen!   Boom.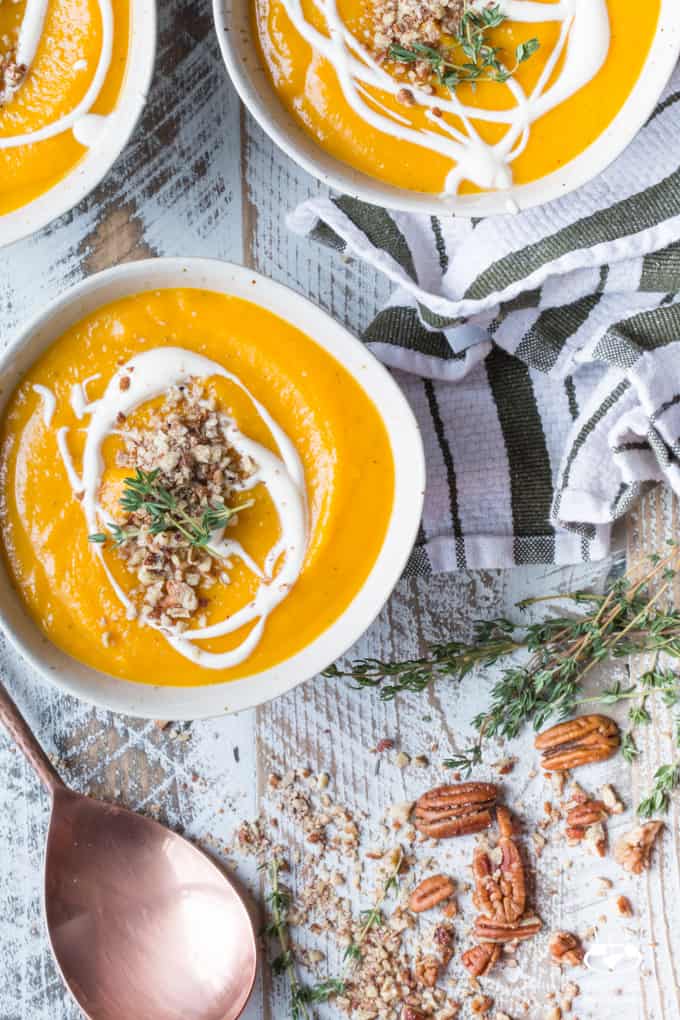 By the way, the absolute easiest way to blend up this soup is with an immersion blender.  If you don't have one yet, you totally absolutely need one.  NEED one.  They are amazing.  Because really, who wants to dirty up an entire blender.  Nobody's got time for that.  And really… an immersion blender is so much fun to use.  Trust me.  This is the Immersion Blender
 I use and love.
Print
Roasted Butternut Squash and Apple Soup with Thyme, Pecans, and Creme Fraiche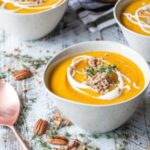 An elegant, hearty, and surprisingly healthy vegetarian soup recipe that will become an instant hit in your house. This Roasted Butternut Squash and Apple Soup is perfect for weeknight dinners or for a dinner party appetizer!
Prep Time:

20 mins

Cook Time:

50 mins

Total Time:

1 hour 10 minutes

Yield:

6 to 8
Ingredients
2 medium butternut squash, peeled and diced
3 granny smith apples, peeled and diced
6 tablespoons olive oil, divided
Kosher salt
1 red onion, chopped
1 large shallot, chopped
1 tablespoon fresh thyme, chopped, plus a few extra sprigs for garnish
4 cups good quality store-bought chicken stock
1 (8 ounce) container creme fraiche
1 1/2 tablespoons apple cider vinegar
Pinch cayenne pepper
1/2 cup pecans, ground fine in a food processor
Instructions
Preheat oven to 425°F. Line two large baking sheets and one small baking sheet with aluminum foil. Spread chopped butternut squash in a single, even layer on the two large baking trays. Spread chopped apple in a single layer on the small baking sheet. Drizzle squash and apples with 2-3 tablespoons olive oil. Season generously with Kosher salt and toss to coat. Roast squash in oven for 20-30 minutes, until tender. Roast apples for only 15-20 minutes, until tender.
In a large stockpot, heat 1 tablespoon olive oil over medium heat. Add red onion and shallot, season with Kosher salt, and cook until softened, stirring occasionally, for 5-7 minutes. Add roasted squash, roasted apple, thyme, and stock. Season with Kosher salt. Bring to a boil, then reduce heat and simmer for 20-30 minutes.
Using an immersion blender, blend soup until very smooth. Alternatively, place soup in a blender (in batches if necessary), and blend until smooth (just be sure to securely hold top on blender with hot soup in there!).
Meanwhile, in a small bowl, combine creme fraiche, apple cider vinegar, and a pinch of cayenne pepper. Season with Kosher salt.
When ready to serve, divide soup between bowl, top with a dollop of creme fraiche, and sprinkle with ground pecans. Garnish with thyme sprigs, if desired. Devour immediately.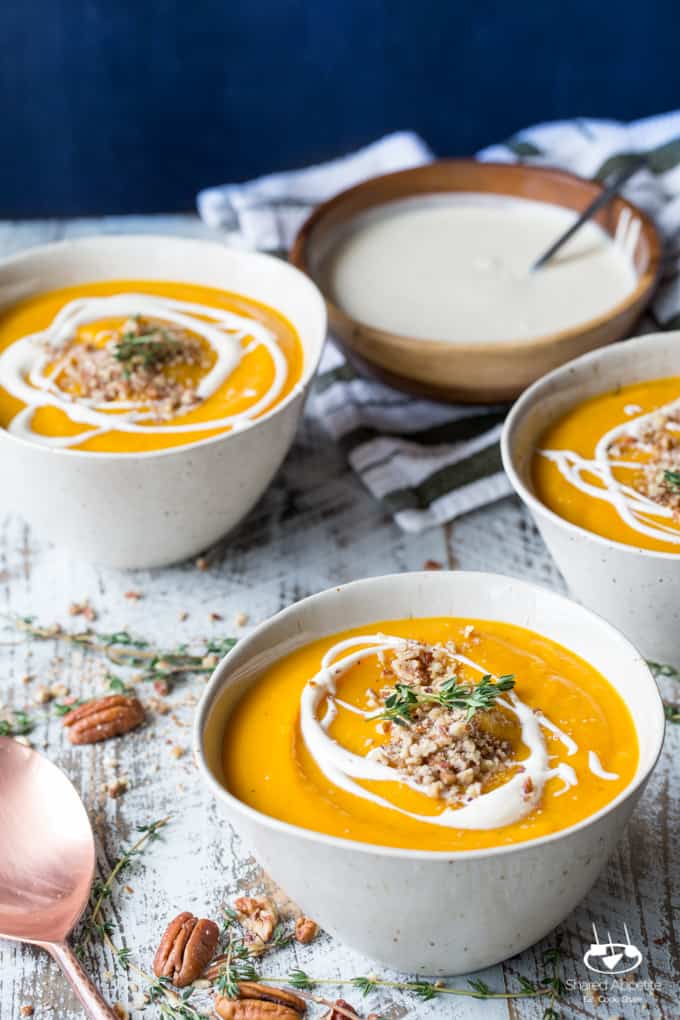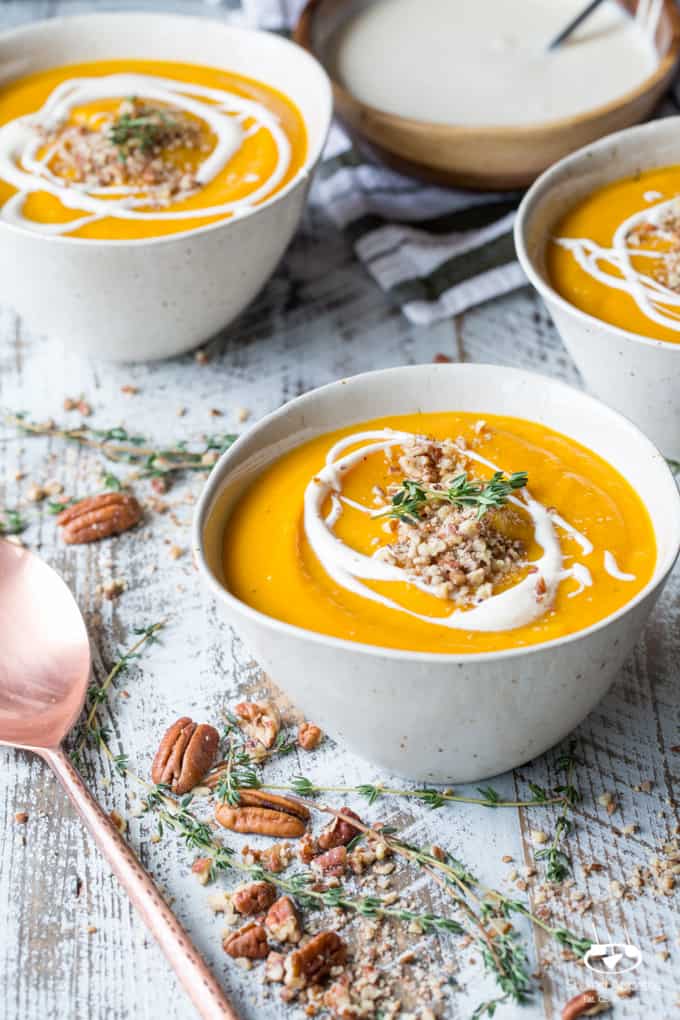 Need More Soup In Your Life?
Rustic Tuscan Style Sausage, White Bean, and Kale Soup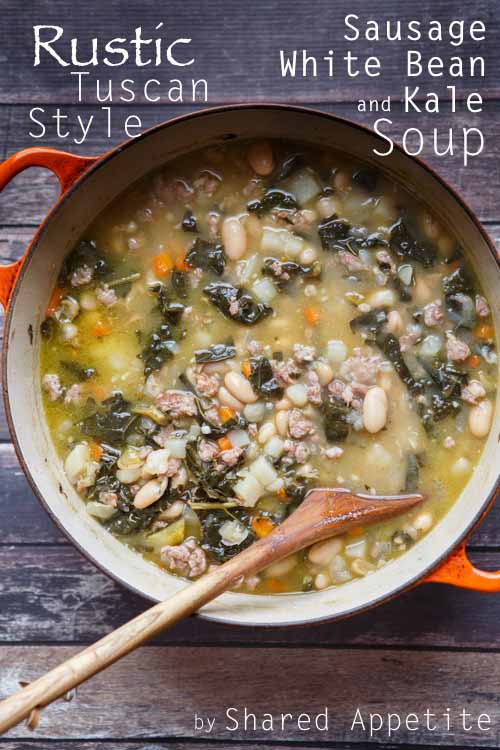 Quick and Easy Creamy Tomato Basil Soup