These Southwest Braised Lamb Shanks in Adobo Sauce are brought to you by the American Lamb Board. As always, all opinions and recipe are my own. Thanks for supporting the brands that support Shared Appetite!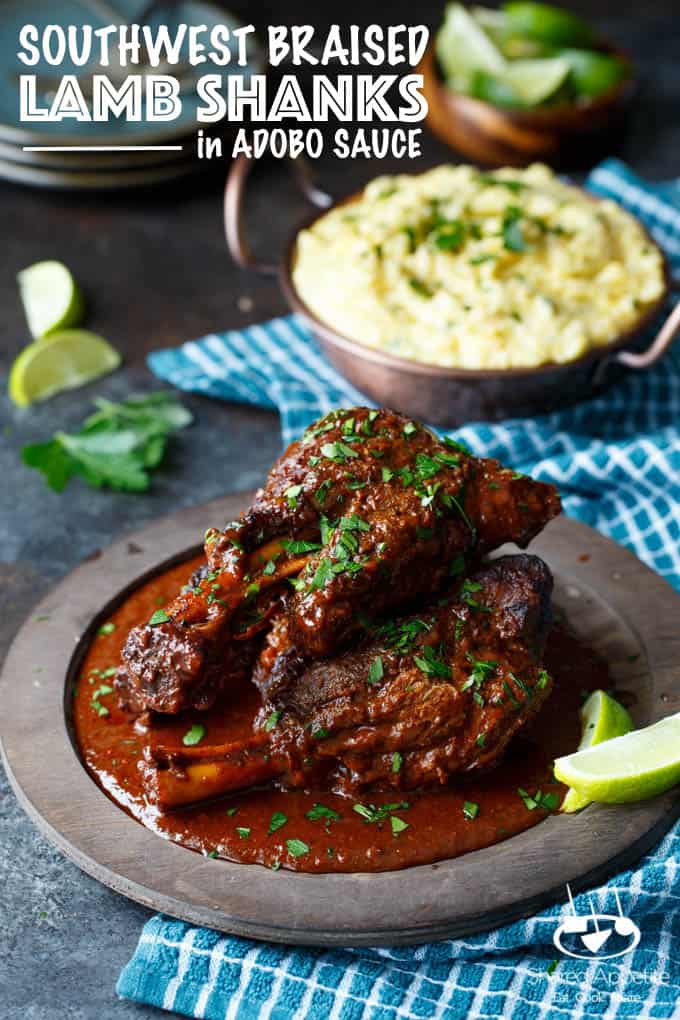 Guys. I'm so excited. I'm really proud to announce that I'm an official Lambassador for the second year in a row. What does that mean, exactly? I get to highlight everything that makes American lamb absolutely legit, and you'll continue to get some epic lamb recipes perfect for special occasions, easy entertaining, and everyday eating. Because American lamb is awesome.
We all know tomorrow is Valentine's Day. I'm sure by now you all have plans. The roses have been ordered. Reservations have been made (or perhaps a romantic at home meal is in the works). You're excited to let your someone special know how much they mean to you. You're on top of things. I'm proud of you.
Or maybe you are like Asheley and I. We aren't really big Valentine's Day people. It's not one of those holidays we really celebrate all that much. In all honesty, we usually don't even celebrate it on actual Valentine's Day. Restaurants are packed, they try to turn over tables as quick as possible, charge extra, and usually have lackluster "special" menus. No thanks. Sure, I could cook up a romantic meal at home... but by the time we get home from work, spend some time with Olivia, and get her to bed, it's like 7:30. All we want to do at that point is relax... so usually we'll wait until a weekend to celebrate. I'll get a reservation at a cool place in the city (sans the Valentine's Day crowd) or spend a good chunk of time cooking Asheley an unforgettable meal at home.
Whether you're celebrating Valentine's Day tomorrow or next weekend (or you're not really going to celebrate it at all), February is officially Lamb Lovers Month. And that's something we all can celebrate. This year, I'm super excited about these Southwest Braised Lamb Shanks in Adobo Sauce. It's the perfect romantic dinner for your someone special. Not just for Valentine's Day... but for anytime you're looking to impress.
SPOILER ALERT: scroll down below to learn more about Lamb Lovers Month, but remember to head to the official Lamb Lovers Contest to win legit prizes! It only takes 60 seconds to enter!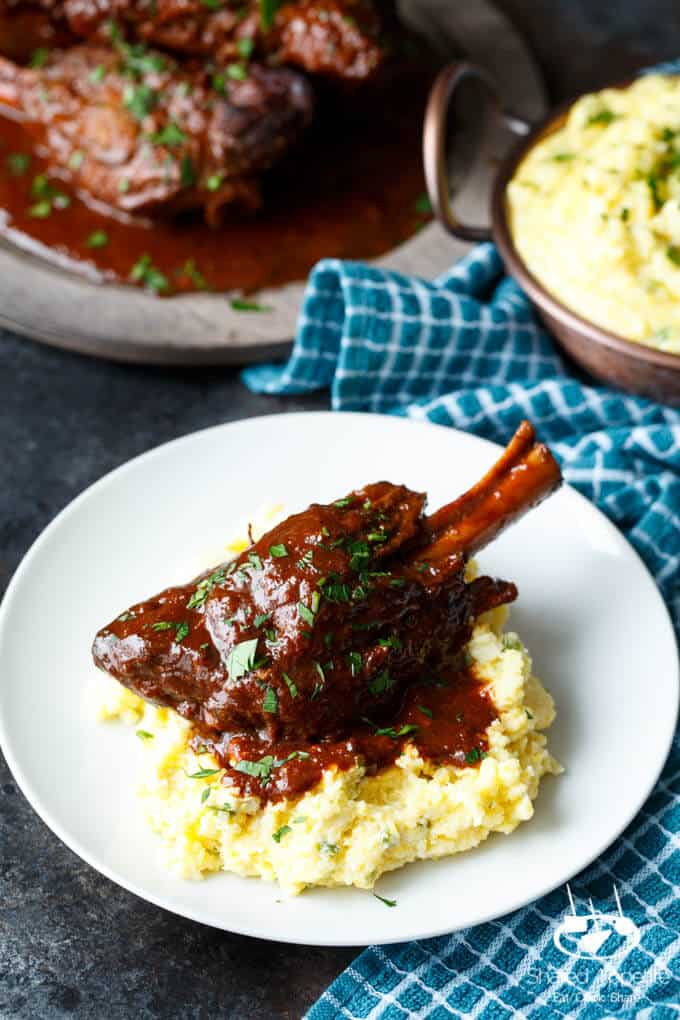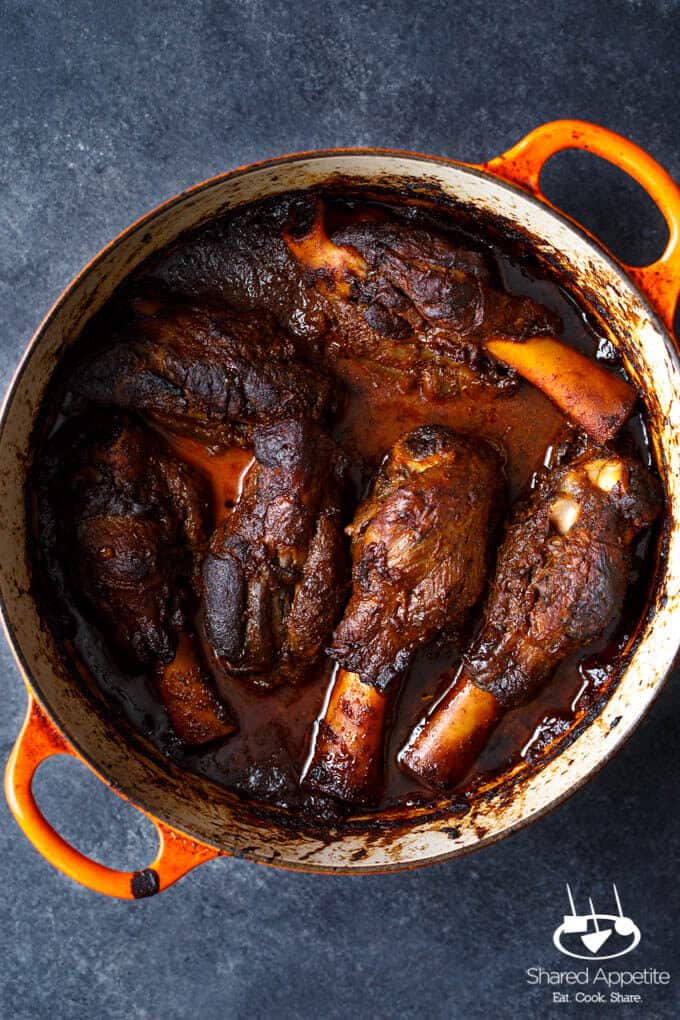 Looking for a huge win at your next intimate dinner party? Boom. These Southwest Braised Lamb Shanks in Adobo Sauce look really elegant and sophisticated, but secretly are super easy to pull off. Seriously. The actual hands on time for this recipe is shockingly low, considering how pro this meal ends up looking (and more importantly, tasting). It's also a super forgiving recipe if you are ::ahem:: less than comfortable in the kitchen.
Don't worry though, it'll be our secret... shank you very much. Did ewe catch that pun? Wow, two in a row. I'm good.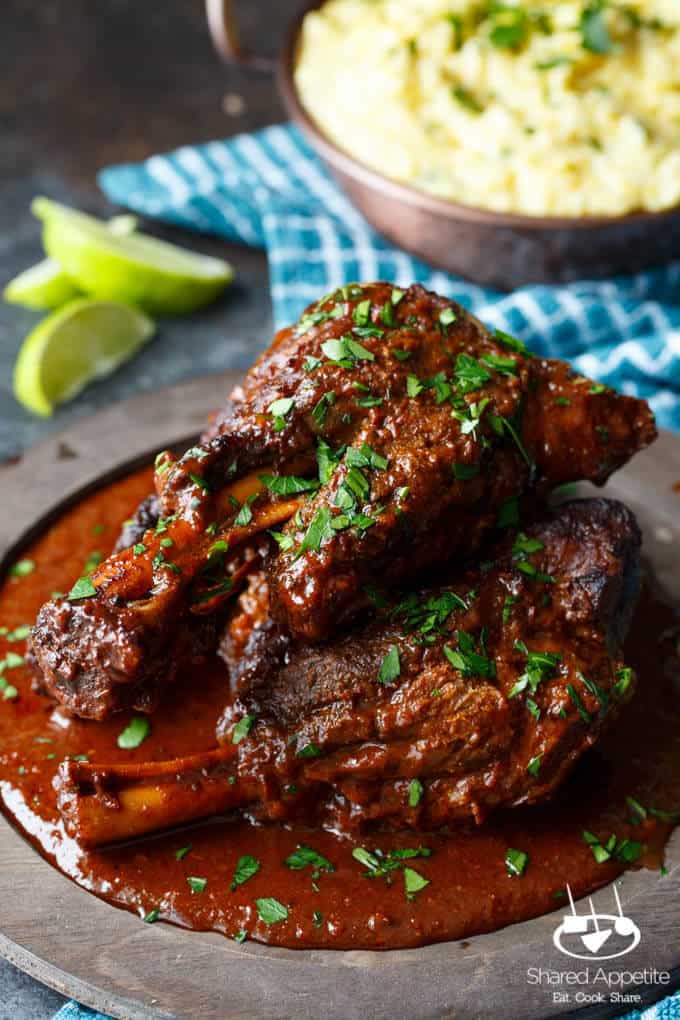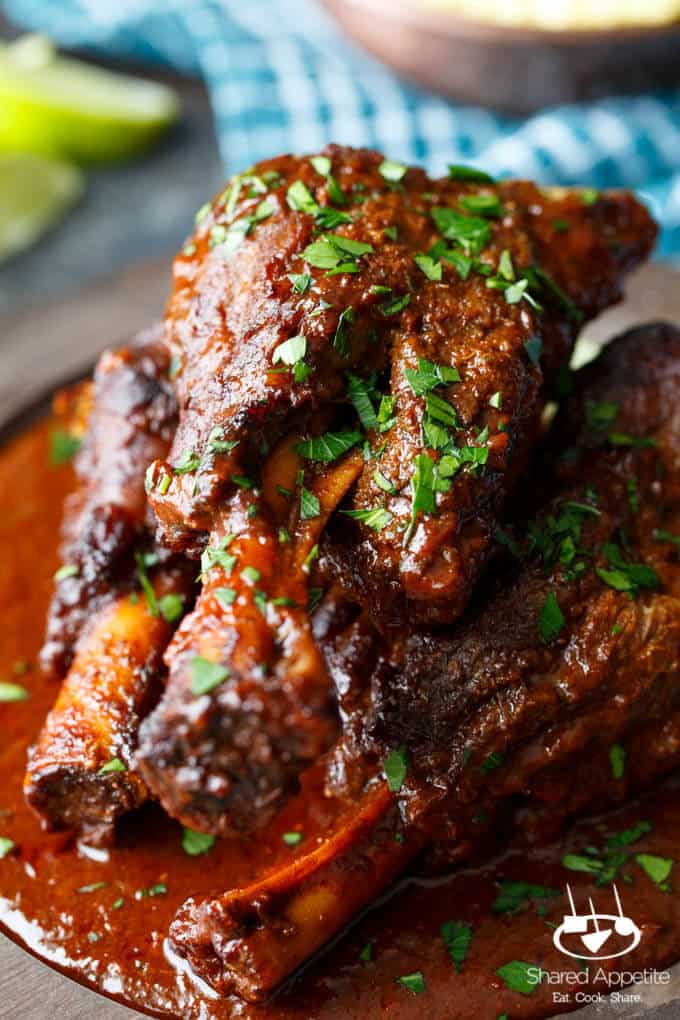 If you've never had lamb shanks, or at least never cooked with them... me either. I've had them at a restaurant before, but never attempted cooking them at home. This is the funny thing, though. It's probably one of the easiest and most forgiving cuts of lamb to cook.
The shank is the lower part of the leg, from the knee down. As you can imagine, it's one of the hardest working parts of the animal... making it one of the toughest cuts you'll find on a lamb. That means one thing and one thing only: you gotta go low and slow. There's no quick sautéing or grilling going on with shanks. You need to braise these bad boys.
Braising is probably my favorite cooking method throughout the winter months. There's not a whole lot of prep, there's a ton of room for error (cook it too long and it's no biggie at all), and it makes your house smell amazing. Best of all, you'll get to witness one of life's greatest cooking miracles. A super tough cut of meat going from something rubbery and inedible to super moist and succulent.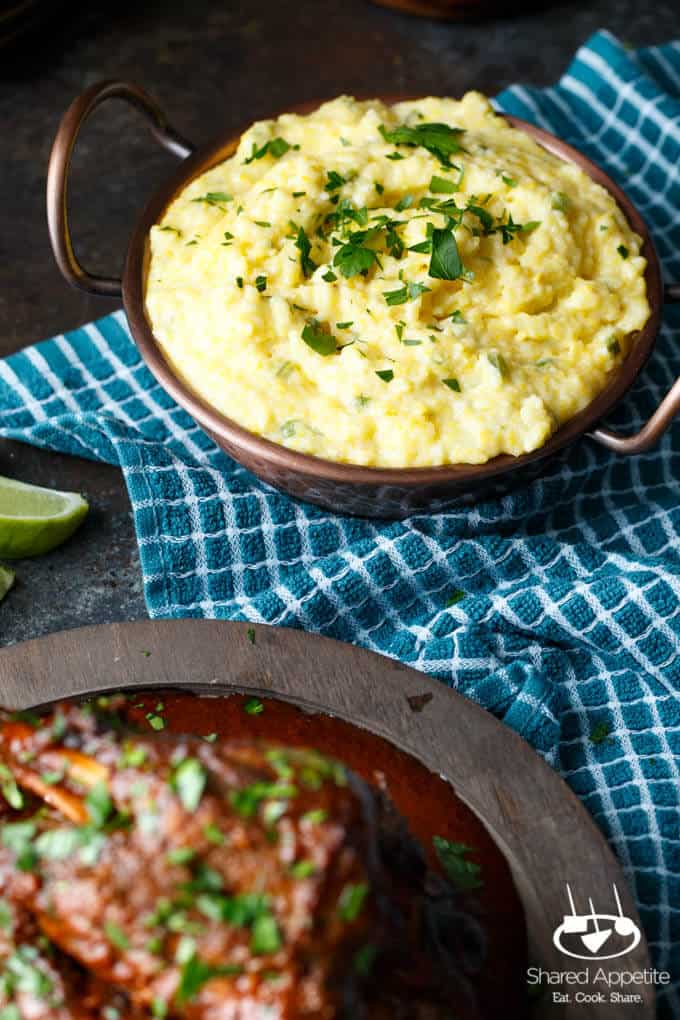 To make these Southwest Braised Lamb Shanks in Adobo Sauce a complete meal, I whipped up a modified version of my popular Creamy Cheddar Polenta by adding in some sweet corn kernels and fresh jalapeno. I'm drooling just thinking about it again, because it was so good. Mmmm, polenta.
And this adobo sauce. It's pretty magical. It's an earthy and rich ancho chile sauce that pairs really well with lamb. You can find the whole ancho chiles at good quality grocery stores. Whole Foods always has them. You can also find them online like here.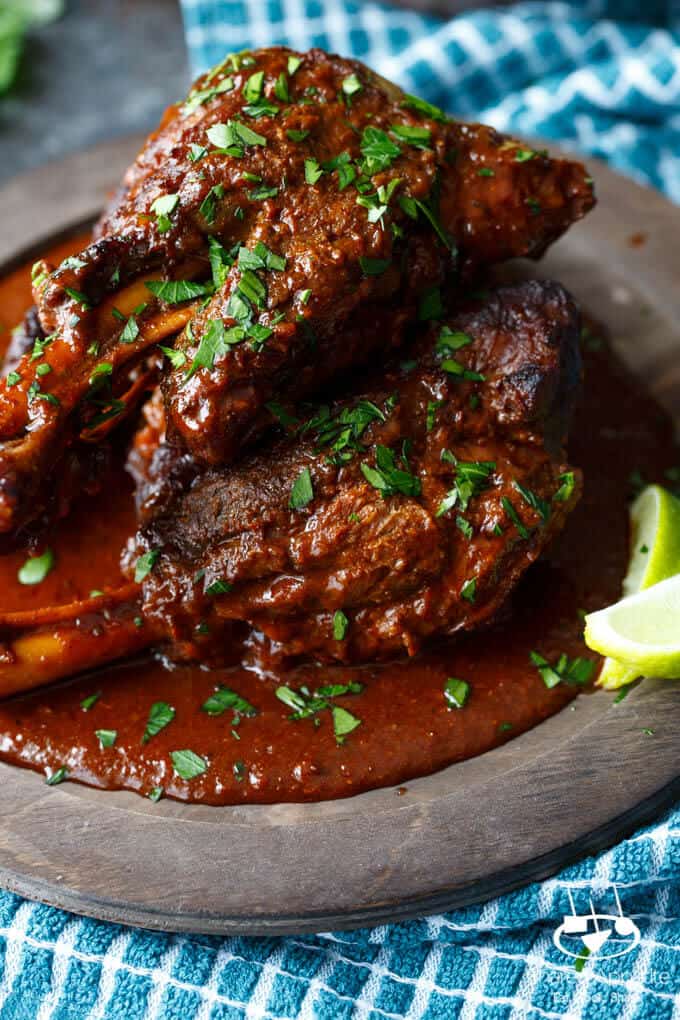 Let's talk American Lamb. Emphasis on American.
I'm all about supporting products made here... especially when it's local. American Lamb is produced in almost every state. You can't get more local than that.
I had a really great opportunity this past summer to visit a lamb ranch in California. I got to speak with the head rancher, and he seriously oozed passion from every ounce of his body. The guy loves what he does, and that really makes a huge difference in the final product. I don't know about you, but I'd much rather support our local farmers and ranchers than buying stuff that's been imported. Especially when the local product is BETTER!
I was pretty shocked to learn that about 50% of the lamb we eat here in America actually comes from Australia and New Zealand. That means your lamb already traveled 10,000 miles and approximately 30 days just to get to your supermarket. Uhm, why are we doing that? We have local lamb ranchers right in our own neighborhoods that are doing an amazing job. And psst, most of the US sheep operations are family-owned. That's really cool.
Extra bonus, American lamb is raised 100% without any artificial growth hormones and provides nearly 5 times the amount of essential omega-3 fatty acids than beef (get more nutritional info on lamb here if you're into that sort of thing).

Here's the part that you're going to want to pay attention to... WINNING PRIZES. That's right, it's the American Lamb Board's Lamb Lovers Month! You can win all sorts of fun prizes, including all different cuts of lamb and an epic date night with a $200 restaurant gift certificate!
Best of all, it only takes like 60 seconds to enter. Just head to the official Lamb Lovers Contest here and enter to win! Oh, and just for entering, you're going to get a cool personalized lamb spice blend!
Come on, everyone... let's ceLAMBrate! It's Lamb Lovers Month!
Just to review:
American lamb is local, delicious, and overall awesome.
enter the Lamb Lovers Contest now!
make these Southwest Braised Lamb Shanks in Adobo Sauce for a special meal.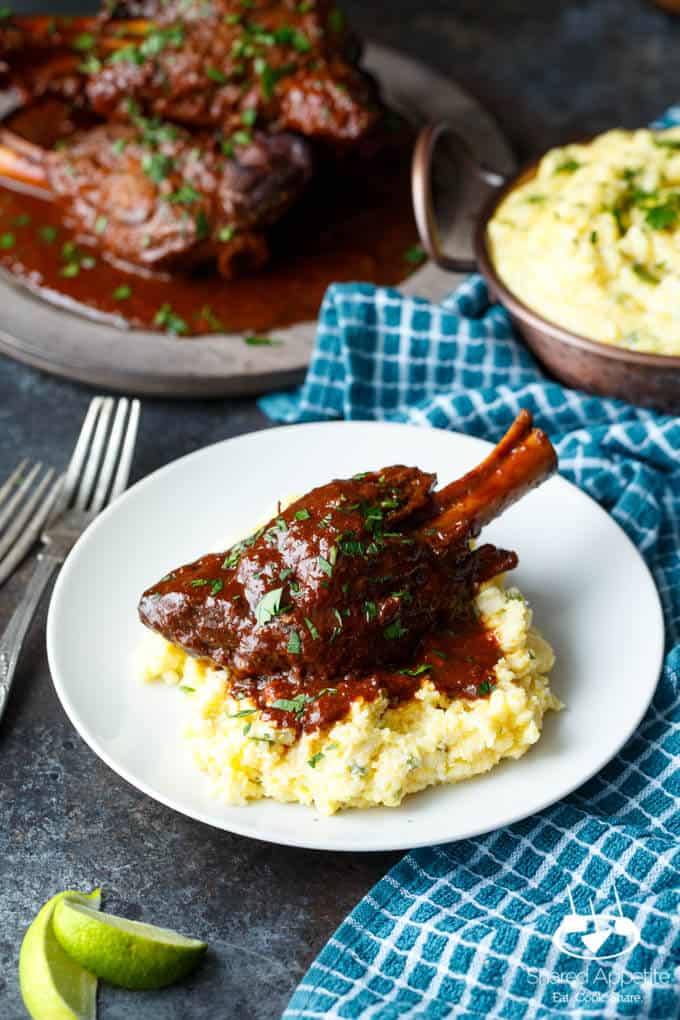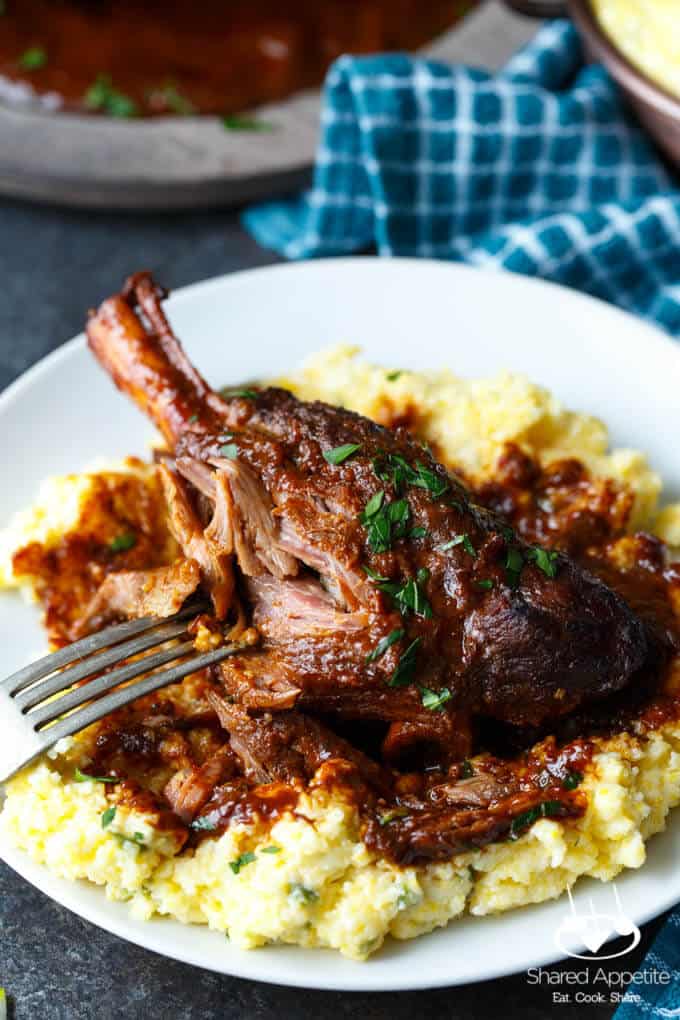 *lamb recipe slightly adapted from here
Print
Southwest Braised Lamb Shanks in Adobo Sauce
---
6

lamb shanks (approximately

4

pounds)

2 tablespoons

olive or canola oil

8

garlic cloves, minced

4

dried ancho chiles*, stemmed and seeded

4 cups

orange juice

2 tablespoons

brown sugar

1 tablespoon

dried oregano

2 tablespoons

apple cider vinegar

2 teaspoons

Kosher salt

2 teaspoons

ground cumin

1 teaspoon

ancho chile powder

1 teaspoon

freshly ground black pepper

½ teaspoon

ground cinnamon

⅛ teaspoon

ground cloves

2

dried bay leaves
Creamy Cheddar Jalapeno Polenta (recipe below)
Cilantro, for garnish
for the Creamy Cheddar Jalapeno Polenta
3 tablespoons

butter

1 cup

corn kernels

2

jalapeños, minced

1 cup

whole milk

2

-

3

cups water

1 cup

cornmeal (medium grind)

1 tablespoon

extra virgin olive oil

1 cup

sharp white cheddar cheese, shredded
Kosher salt
Freshly ground black pepper
---
Instructions
Preheat oven to 325°F. Sprinkle lamb shanks generously with Kosher salt. Heat oil in a heavy, large pot over medium-high heat and sear lamb shanks (in batches if necessary) on all sides until deep golden brown, about 3 minutes per side. Remove shanks and set aside.
Lower heat to medium low and add garlic and ancho chiles. Stir constantly until garlic is fragrant, about 30 seconds. Add orange juice, oregano, vinegar, salt, cumin, ancho chile powder, black pepper, cinnamon, cloves, and bay leaves. Stir to combine, bring to a boil, then reduce heat to maintain a simmer for about 10 minutes.
Using an immersion blender (or letting adobo mixture cool slightly and then carefully transferring mixture to a regular blender), puree until very smooth. Add adobo sauce back to pot and nestle lamb shanks in sauce in a single layer. Lamb shanks should be covered at least half way with sauce, so add some water if needed (I didn't need it, but it depends upon the size of your pot).
Cover the pot with a lid and cook in oven for 1 hour. Remove from oven, turn lamb shanks, and cook for 1 additional hour without the lid. If meat is very tender at this point, it's done! If not, allow to cook for an additional 30-60 minutes.
Transfer braised lamb shanks to a platter and top with adobo sauce. Sprinkle with cilantro and serve with Cheddar Jalapeno Polenta.
for the Creamy Cheddar Jalapeno Polenta
Melt butter in a small skillet over medium heat. Add corn and minced jalapeno and cook until softened, about 5 minutes. Remove from heat and set aside.
Bring the milk, 2 cups of the water, and a very large pinch of salt to a boil in a medium saucepan. Reduce heat to a low simmer and add cornmeal in a slow and steady stream, constantly whisking to prevent lumps and avoid the polenta bubbling violently.
Polenta should be at a bare simmer, and cook for 8-12 minutes, stirring occasionally. If the mixture gets too thick (mine always does), add water, ½ cup at a time. I ended up doing this twice.
Remove polenta from heat, stir in the corn/jalapeno mixture, olive oil, and cheddar cheese. Season with Kosher salt and freshly ground black pepper.
Notes
If needed, you can braise the lamb shanks ahead of time, allow to cool and refrigerate for one day. Reheat covered with lid in 325°F oven until lamb is heated through.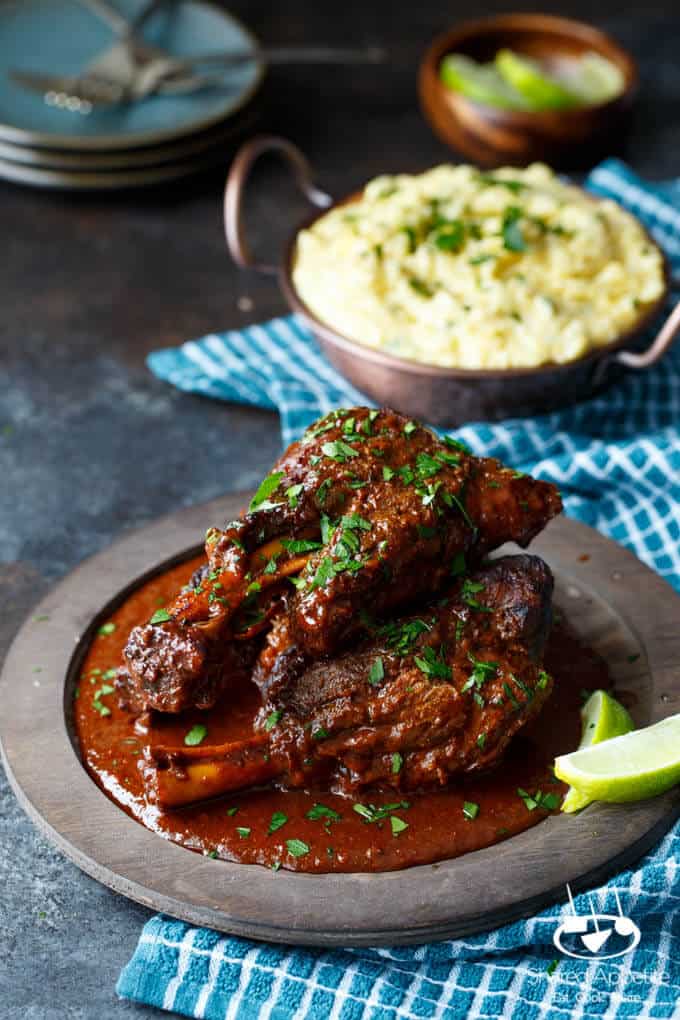 Southwest Braised Lamb Shanks with Adobo Sauce
Need More Lamb?
Southwest Ancho Chile Crusted Lamb Chops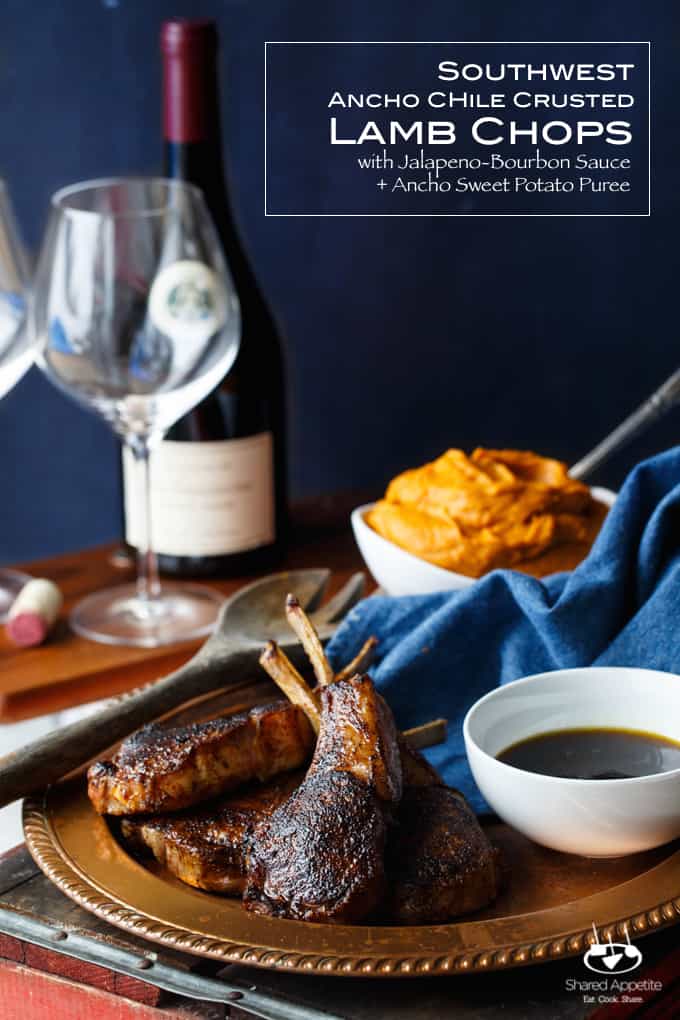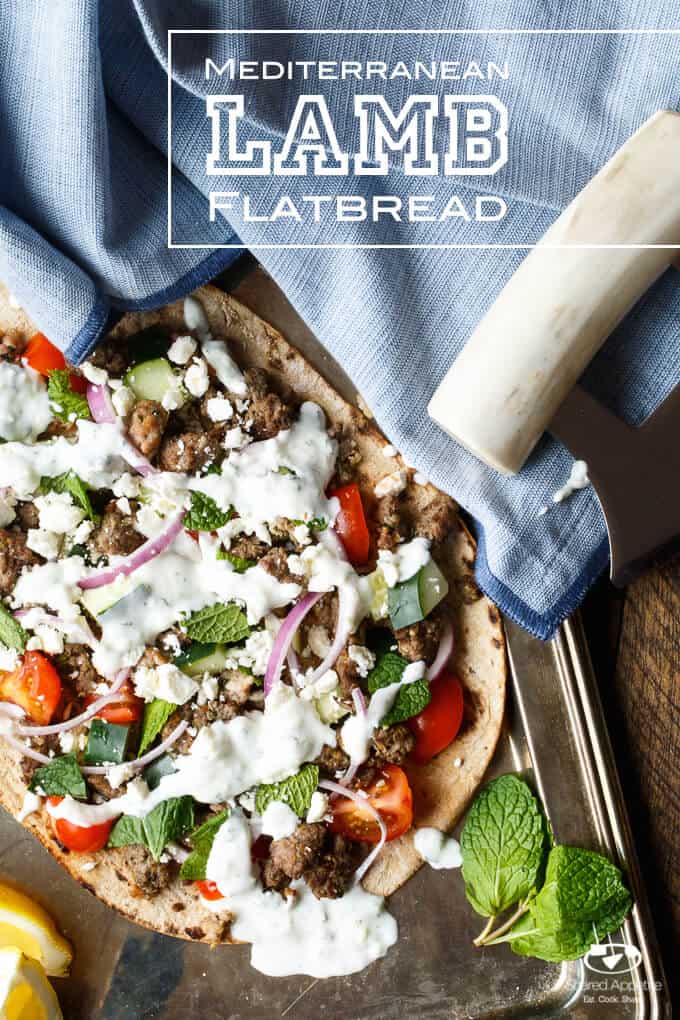 Lamb Kefta Burgers with Spicy Whipped Feta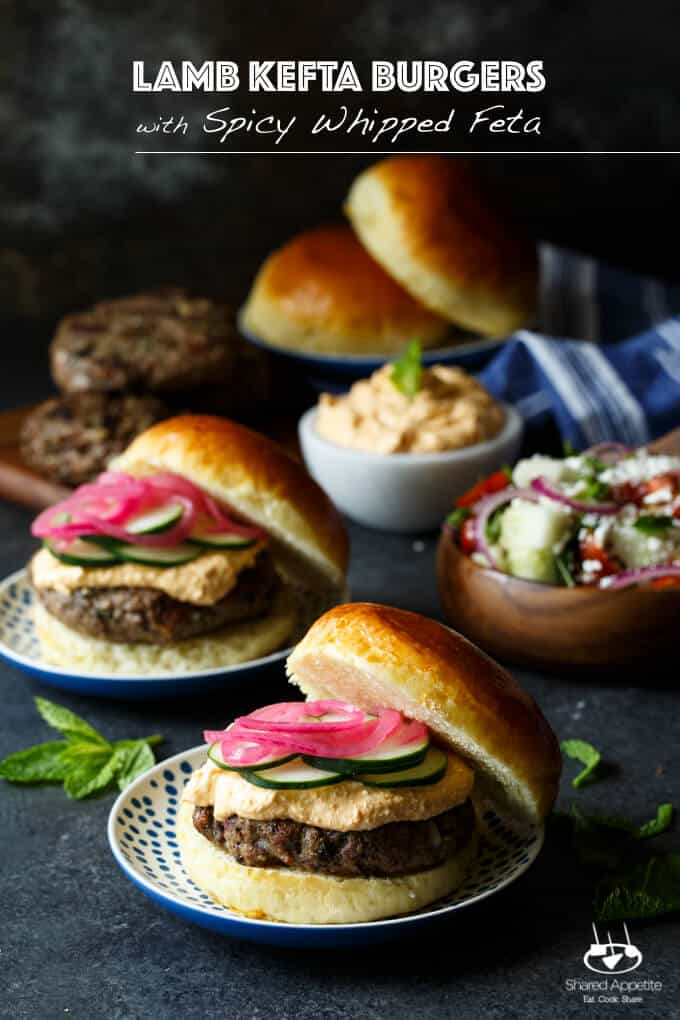 Mexican Lamb Tacos with Tequila Soaked Raisins, Pickled Onions, and Pepitas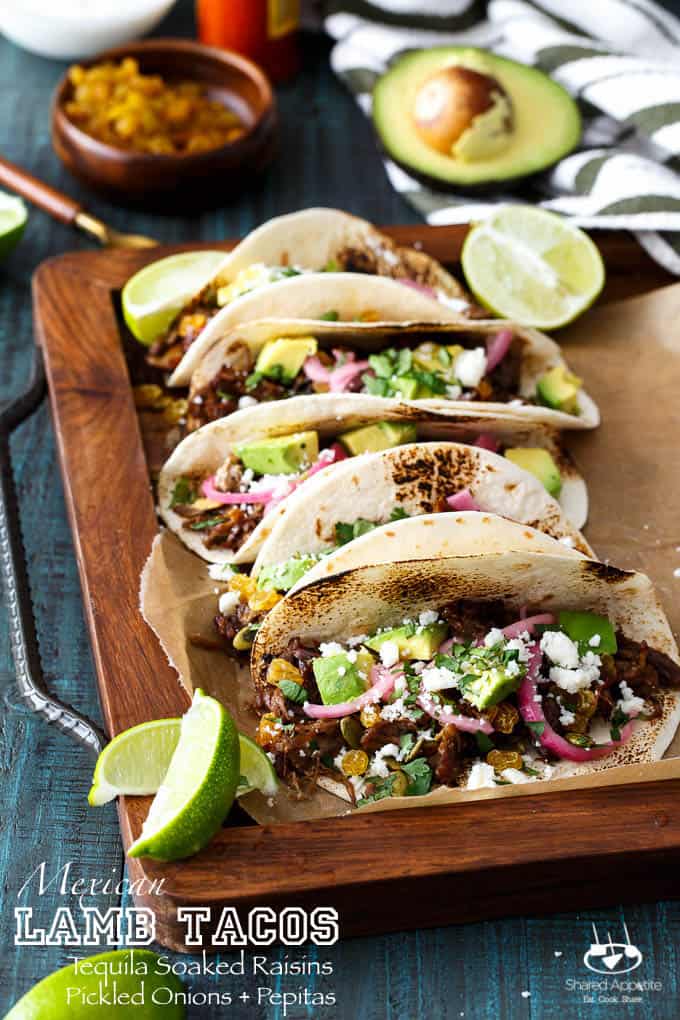 Butternut Squash and Lamb Flatbread with Pickled Cranberries and Cider Onions