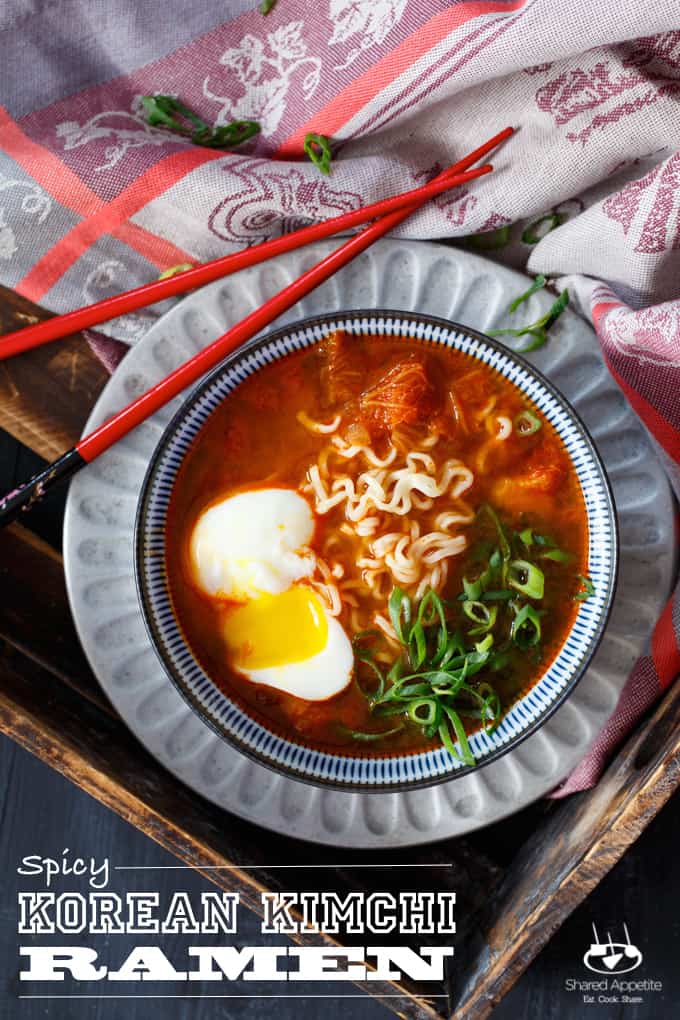 Done in under 45 minutes, this quick and easy Spicy Korean Kimchi Ramen with pork belly, poached egg, and scallion is beyond legit!
Ramen has exploded here in NY. For the past year or two, the ramen scene in the city has been growing at a crazy awesome rate. Ramen masters from Japan have been setting up shop all over, and you better believe we have been taking full advantage of it. Asheley literally can't get enough of the stuff. Even during a heat wave (when hot, steamy soup is the last thing on a normal person's mind), Asheley craves ramen.
But who can blame her... the stuff is freaking magic. And if you are thinking this real deal ramen is anything like those sad $.20 packets you survived on during your college years, think again. They are nothing alike.
Traveling into the city has been pretty rare lately... you know, with the whole having a 3 month old and everything. Although Olivia has been to Brooklyn twice so far for some food (or, more accurately, watching mommy and daddy eat food), she has yet to experience her first bowl of ramen-watching. This obviously needs to change.
And in the meantime, I decided to step up and try to make Asheley a big ole' bowl of comforting ramen at home. With a spin, of course.
I've been really loving Korean flavors lately, and there was some kimchi in the fridge that was staring me down for several weeks now. Boom. This quick and easy Spicy Korean Kimchi Ramen was born.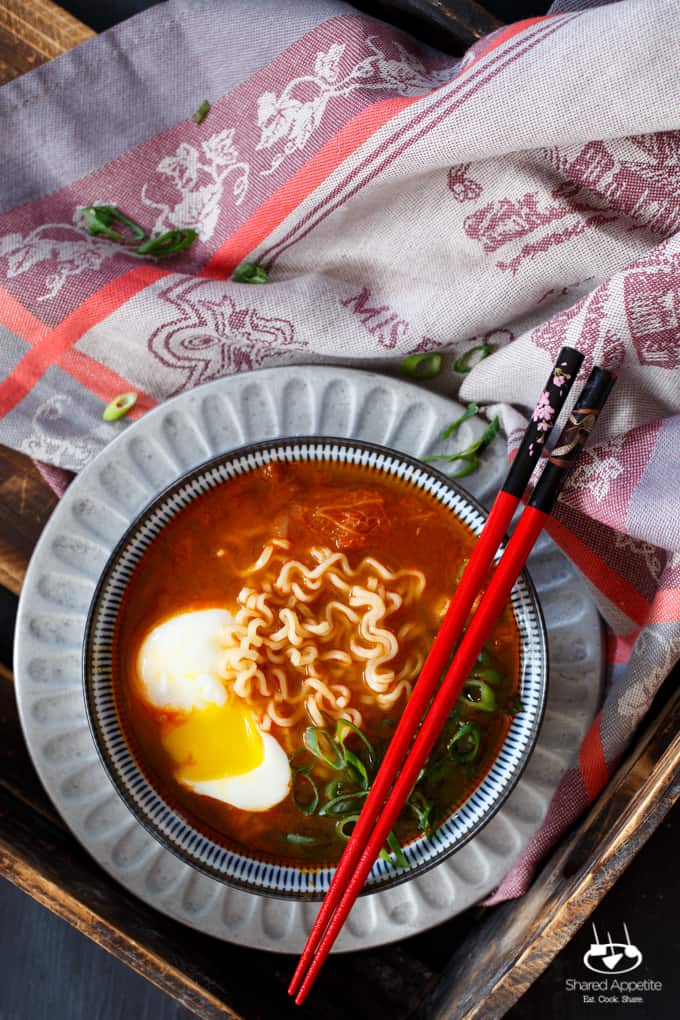 You know when someone says something is spicy, and then you're like... uhm, yea not at all. This is not one of those times. This is SPICY. In the best way possible. It's not going to burn your face off (it's a flavorful spicy), but it gives me a runny nose every time... truly spicy food always makes my nose run for some reason.
One of my favorite spicy bowls of ramen has to be Ivan Ramen's Red Chili Pork Ramen. It's so flavorful, so intense, so perfect. And although the flavor profile for this creative ramen is completely different thanks to the help of some key players in the Korean flavor department, it's just as comforting when you're stuck at home and need to get your spicy ramen fix.
Best of all, this ramen comes together in under 45 minutes. That's right... just 45 minutes stands between you and this quick and easy Spicy Korean Kimchi Ramen. That's a whole lot better than the typical multi-day process with a bajillion steps it takes to create the authentic, real deal ramen.
What's better than slurping up noodles out of a spicy Korean kimchi broth... studded with pork belly, scallions, and of course... a velvety, perfectly poached egg. Heck to the yes.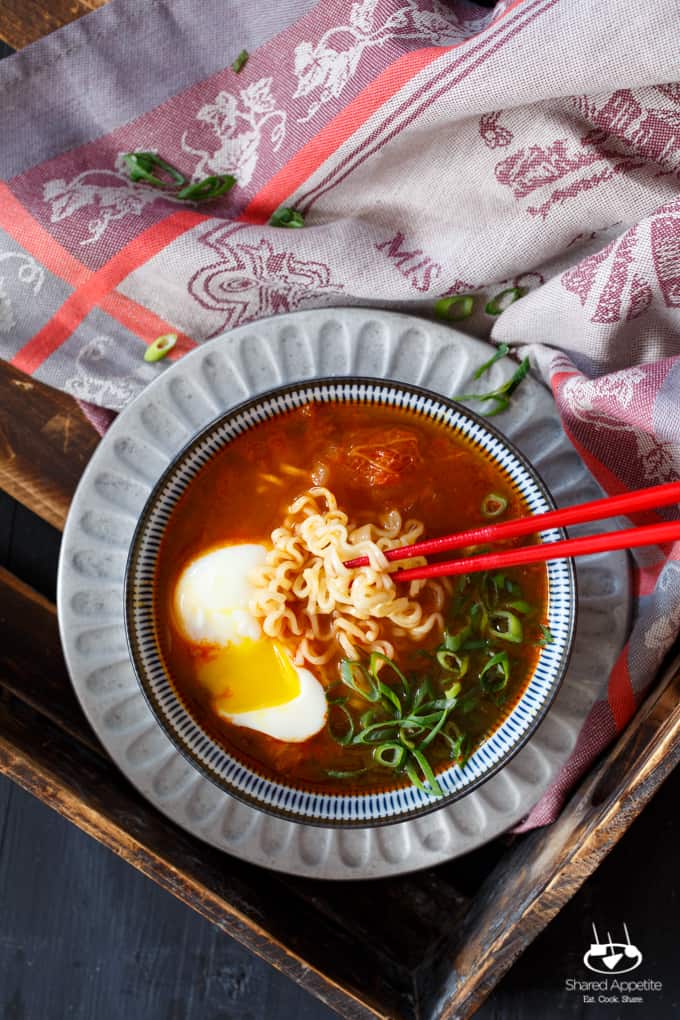 Print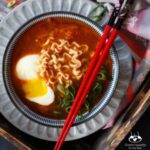 Spicy Korean Kimchi Ramen
---
Total Time:

45 minutes

Yield:

6

-

8

Servings

1

x
1

pound boneless pork belly, cut into a ½" dice

4

cloves garlic, grated

1 tablespoon

ginger, grated

2 tablespoon

soy sauce

1 teaspoon

sesame oil

1

medium onion, finely chopped

16 ounces

kimchi, squeezed dry and chopped, juice reserved (Buy Here)

3 tablespoons

gochujang (Buy Here)

1 tablespoon

gochugaru (Buy Here)

8 cups

chicken or vegetable broth

4 cups

water

6

(3 ounce) packages instant ramen noodles, flavor packets discarded

6

to

8

poached eggs

2

bunches of scallions, chopped
---
Instructions
Place pork belly, garlic, ginger, soy sauce, and sesame oil in a small mixing bowl and stir to combine. Let marinate for 15 minutes.
Add pork belly and marinade to a heavy-bottom soup pot over medium-low heat. Let cook, stirring occasionally, for 8-10 minutes. Add onion to pot and cook, stirring occasionally, 5-8 minutes, or until onion has softened.
Turn up heat to medium high and add kimchi (no juice), gochujang, and gochugaru. Cook, stirring frequently, for 2 minutes. Add kimchi juice, broth, and water, stir to combine, and lower heat to maintain a simmer for 20 minutes. If you have time to spare, feel free to let simmer for a bit longer.
During the last 2 to 3 minutes of the ramen broth simmering, cook ramen noodles in boiling water until just cooked through (if you cook too long, they will turn to mush).
Divide ramen broth between 6 to 8 bowls. Gently lower in ramen noodles into each bowl. Top with a poached egg and a sprinkle of scallions. Dig in, slurp like crazy, and devour.
Prep Time:

10 mins

Cook Time:

35 mins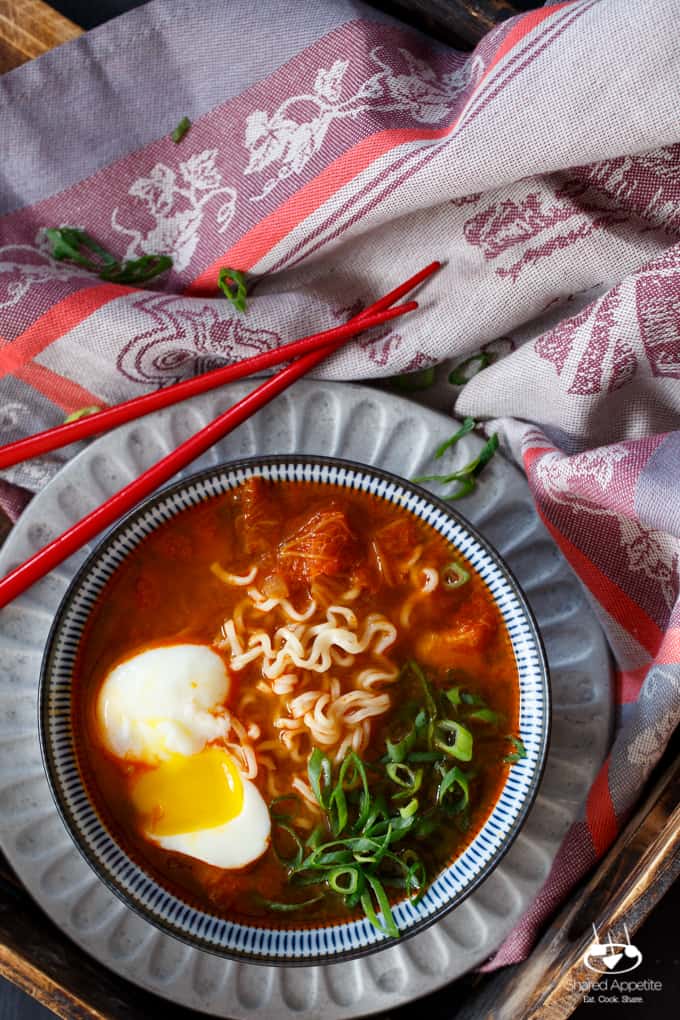 In The Mood For More Korean Flavors?
Korean Kimchi Burgers with Avocado and Gochujang Aioli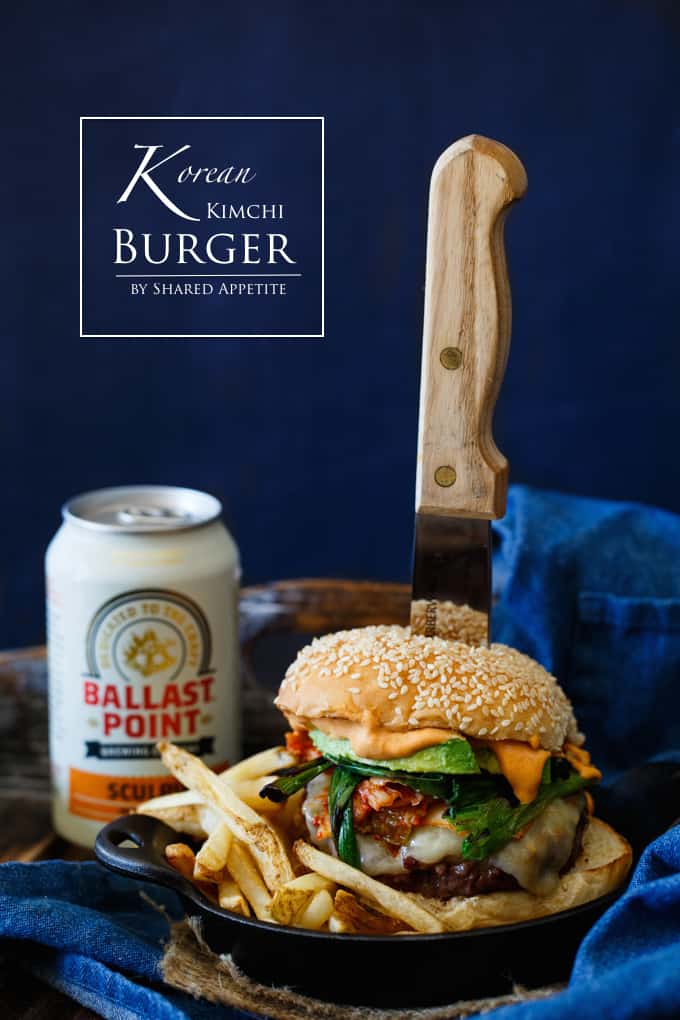 Korean Inspired Mexican Street Corn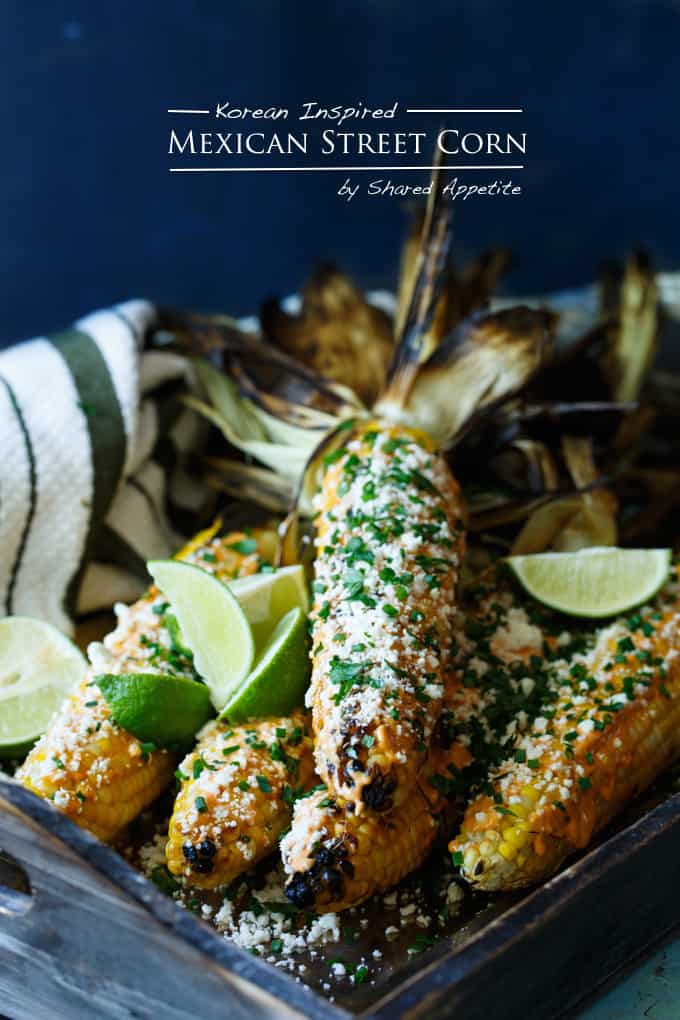 Korean Pork Sweet Potato Totchos with Kimchi, Avocado, and Gochujang Aioli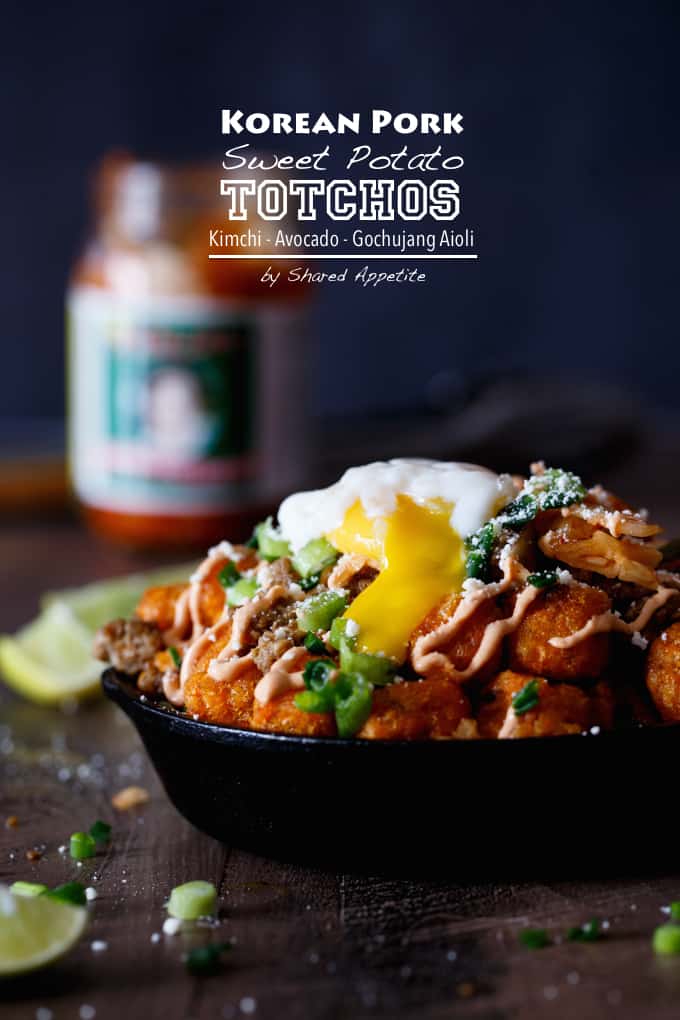 Healthy Korean Pork Spaghetti Squash Bowl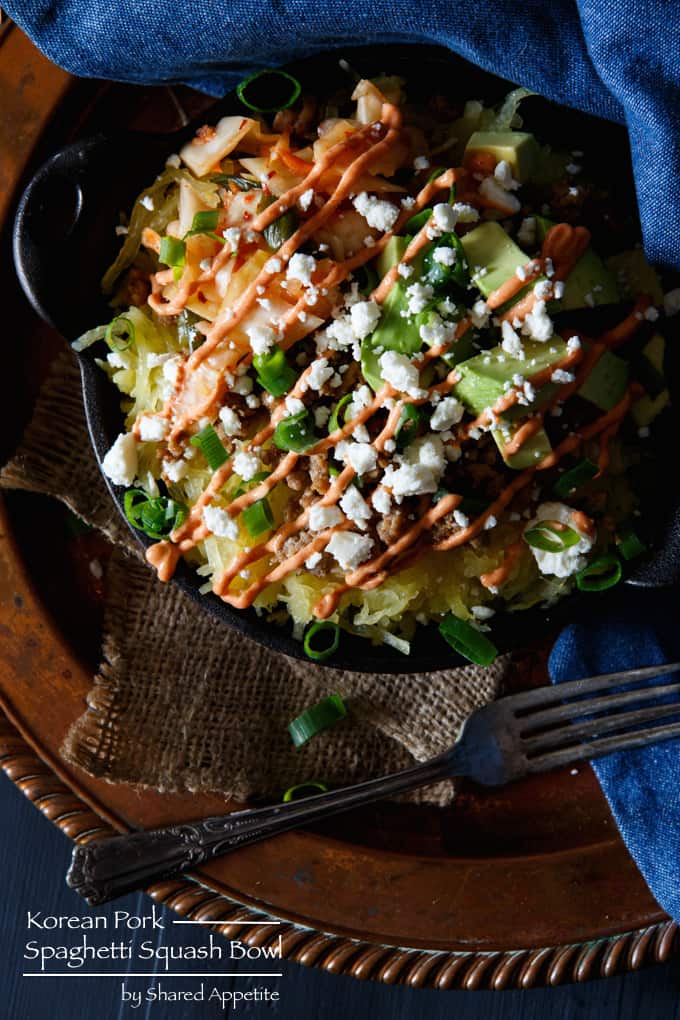 Slow Cooker Korean Chicken Sliders