Apple, Bacon, and Leek Pizza Bites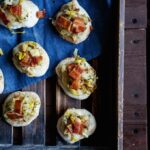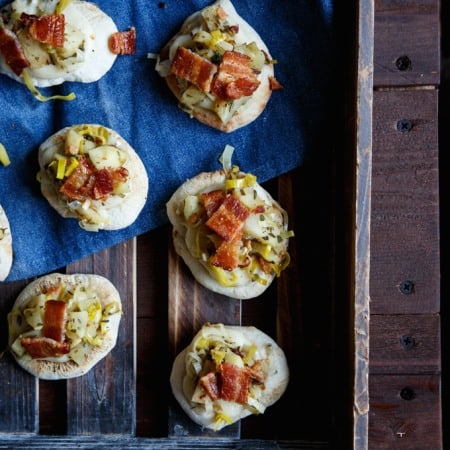 Prep Time:

15 mins

Cook Time:

20 mins

Total Time:

35 minutes

Yield:

A lot of pizza bites!
Scale
Ingredients
1

room temperature Pizza Dough, bought from local pizzeria
Cheddar Mornay Sauce (recipe below)

10

slices thick-cut bacon, cut into bite-size pieces

2

leeks, washed, trimmed, and thinly sliced crosswise

2

Granny Smith Apples (or other tart apples), peeled and chopped into ½" pieces

1 tablespoon

fresh sage, finely minced

1 tablespoon

fresh thyme, finely minced

1 teaspoon

fresh rosemary, finely minced
Kosher salt
Freshly ground pepper
for the Cheddar Mornay Sauce
2 tablespoons

unsalted butter

2 tablespoons

all-purpose flour

1 cup

whole milk

1 cup

grated white cheddar

1 1/2 tablespoons

sour cream
Pinch of nutmeg
Kosher salt
Freshly ground pepper
Cook bacon in a medium skillet over medium-low heat until crisp and golden brown. Transfer with a slotted spoon to a paper towel lined plate to drain. Remove all but 1 tablespoon of the bacon fat from the pan and add apples, leeks, and herbs (rosemary, sage, and thyme) to the skillet. Season with Kosher salt and freshly ground pepper. Cook over medium heat, stirring occasionally, until apples are soft and begin to caramelize, about 7 minutes. Add the cooked bacon back into the pan and cook for 1 more minute.
Preheat oven to 450F. Cut pizza dough into tiny balls. Lightly flour a clean work surface and roll out each tiny ball of dough into a "pizza bite". Prick each bite with a fork so that it doesn't poof up that much during cooking. Cook on a baking sheet or a pizza stone until dough is cooked through and light golden brown.
Top each pizza bite with a spoonful of Mornay sauce and then a spoonful of the apple mixture. Serve immediately.
for the Cheddar Mornay Sauce
Melt butter in a small saucepan over medium-low heat. Whisk in the flour and cook, stirring frequently for about 1 minute, until mixture is a bit golden. Whisk in milk until fully incorporated with roux and no clumps remain. Cook, stirring often, until the milk mixture thickens to a runny sauce consistency, about 10 minutes. Remove from the heat and stir in cheddar cheese until fully melted. Stir in sour cream and a pinch of nutmeg. Season with Kosher salt and freshly ground pepper.