Print
The Best S'mores Recipe – Ultimate S'mores Bar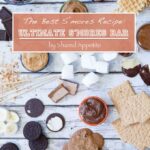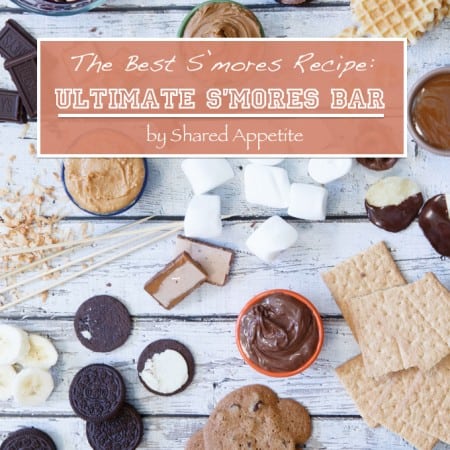 Prep Time:

20 mins

Cook Time:

5 mins

Total Time:

25 minutes

Yield:

A lot!
Scale
Ingredients
Graham Crackers
Marshmallows
Dark or Milk Chocolate Bars
Chocolate Chip Cookies
Waffle Cookies
Oreos
Rice Krispie Treats
Nutella
Cookie Butter or Speculoos
Candied Bacon (recipe below)
Roasted Berries (recipe below)
Caramel Sauce
Sea Salt
Bananas, sliced
Cinnamon
Chili Powder
Chocolate Covered Potato Chips and Pretzels (recipe below)
Milky Ways, cut into bite-sized pieces
Snickers, cut into bite-sized pieces
Kit Kats, cut into bite-sized pieces
Reese Peanut Butter Cups
Candied Bacon
Roasted Berries
1 cup

strawberries, quartered

1/2 cup

raspberries

1/2 cup

blueberries

3 tablespoons

sugar

1teaspoon

vanilla extract
Chocolate Covered Potato Chips and Pretzels
Potato Chips
Mini Pretzels
Dark Chocolate
I don't think anyone needs a lesson in how to build a s'mores, but here's the idea…
Using a stick, long grilling fork, or wood skewer, stick on a marshmallow and roast over an open flame for 30-60 seconds, or until toasted.
Place roasted marshmallow between 2 graham crackers (or cookies, etc) lined with chocolate and/or any other toppings. Devour immediately.
Candied Bacon
Preheat oven to 375-400°F. Sprinkle both sides of strips of bacon with brown sugar. Place on an aluminum foil lined baking sheet and cook in oven until crisp, about 15-25 minutes. Transfer candied bacon to a paper towel lined plate to drain. Once cool, cut into bite sized pieces.
Roasted Berries
Combine all ingredients in a small bowl. Spread into an even layer on a parchment-lined baking sheet and roast in a 450°F oven for 20-25 minutes. Transfer fruit and syrup to a bowl. Let cool completely before using on s'mores.
Chocolate Covered Potato Chips and Pretzels
Place some dark chocolate in a small bowl and microwave on medium power just until barely melted through, stirring every 30 seconds.
Dip pretzels and potato chips in chocolate and place on a piece of wax paper to allow chocolate to harden.