Print
Blueberry – Thyme Soup with Honey Vanilla Mascarpone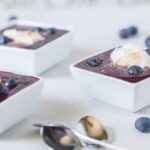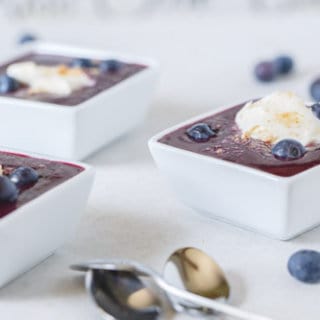 Prep Time:

20 minutes

Cook Time:

30 minutes

Total Time:

50 minutes
Scale
Ingredients
For the Blueberry – Thyme Soup
6 cups

(about

3 pints

) fresh blueberries

2 cups

water

3/4 cup

sugar

1

lemon, zested

1 tablespoon

fresh thyme, finely chopped
Pinch of Kosher Salt
For the Honey-Vanilla Mascarpone
8 ounces

mascarpone cheese

1 tablespoon

honey

1 teaspoon

vanilla extract

1/2

–

1

lemon, juiced
For Garnish
Fresh Blueberries
Crushed Graham Crackers or Crushed Shortbread Cookies , optional
In a medium pot, add the blueberries (keep a few of the blueberries to the side for garnish), water, sugar, zest of one lemon, fresh thyme, and a dash of salt. Stir to combine.
Bring the pot to a boil over medium heat then lower to a gentle simmer, stirring occasionally. Cook until the blueberries start to break down and the mixture thickens slightly, approximately 20-30 minutes,
Allow blueberry mixture to cool, then transfer to a blender (or use one of those fancy immersion blenders I love so much). Puree until smooth (make sure if the mixture is still warm while blending, hold the top of the blender down to prevent the steam from popping the lid off… not a fun mess to clean up!).
Place a fine-mesh sieve over a bowl. Transfer the blueberry mixture from the blender into the sieve (in batches if your sieve doesn't hold the full amount). Use a spoon or spatula and stir the mixture through the sieve, discarding the solids. Chill the soup until ready to serve (up to a day ahead of time).
Before serving, make the Honey Vanilla Mascarpone. Combine the mascarpone cheese, honey, vanilla extract, and the juice from 1/2 lemon. Stir to combine and taste. If you taste a hint of lemon, you're good. If you prefer a little more lemon taste, add the juice from the other 1/2 of lemon.
To plate, add the blueberry soup, a dollop (or quenelle, if you want to be fancy) of the honey-vanilla mascarpone, a couple fresh blueberries, and a sprinkle of the crushed graham crackers/shortbread cookies (optional).