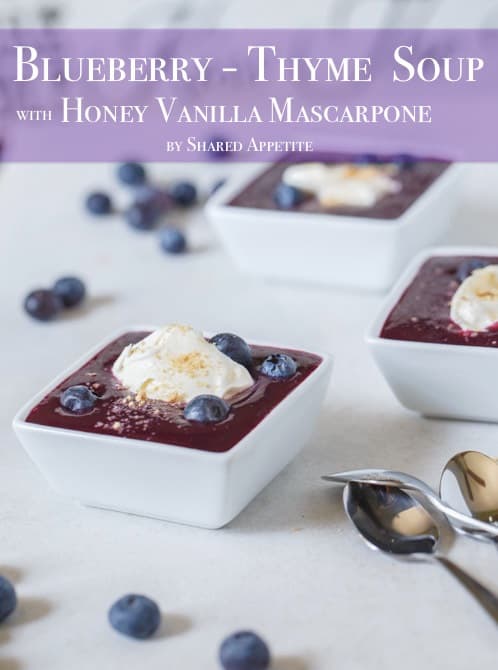 What?  Don't tell me you've never had soup for dessert.  I know, me neither.  Not too long ago I wouldn't even classify something a dessert unless it had massive amounts of chocolate, butter, sugar, and the like.  And dessert soup, come on really?  You're not fooling anyone.
But then Asheley ordered a blueberry soup for dessert at L'Office during our honeymoon in Paris.  I quietly chuckled to myself, knowing she just made a huge mistake.  She was totally going to regret that decision, right?!  Wrong.  This wasn't just a good dessert.  It was an unbelievably pretty darn perfect dessert.
Coming back from Paris, I immediately started working on creating my own version of Chef Kevin O'Donnell's mind blowing dessert. Over the past year, I've been serving up this soup, along with a ton of those addicting  Toasted Marshmallow Milkshakes, at pretty much every summertime get together.  It kind of has become a standard expectation (demand) of all our hungry visitors.
Little do they know, it's super easy to make.  Shhh, don't tell, them, okay?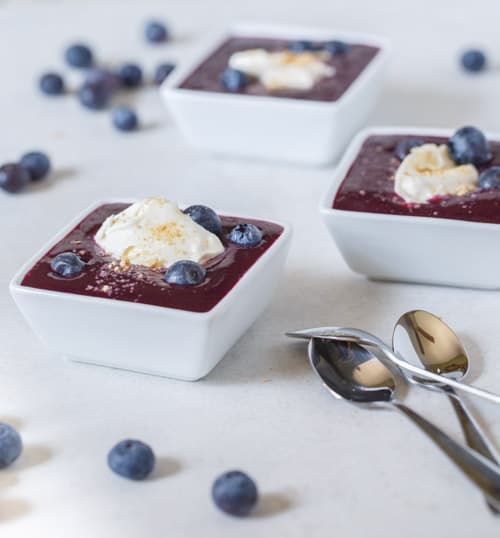 This Blueberry - Thyme  Soup with Honey Vanilla Mascarpone has a cleanly intense berry flavor with just a hint of herby-ness from the thyme.  And that mascarpone.  Oh the mascarpone!  It's so creamy and when it melts into the soup... oh man I can't even.
Listen, at first you might get a couple of strange looks from people when serving them this.  They might even ridicule you quietly in their heads.  But then they try it and bam.  Insert foot in mouth.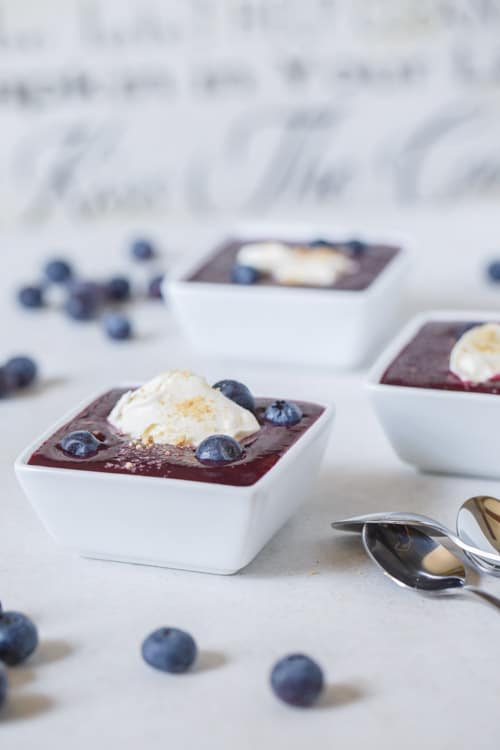 If you don't have access to mascarpone cheese, well that's just a darn shame.  It should be downright illegal.  Write your congressman and demand immediate action.
But in a pinch, a good quality vanilla ice cream makes for a delicious substitute.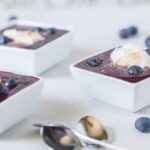 Blueberry - Thyme Soup with Honey Vanilla Mascarpone
---
For the Blueberry - Thyme Soup
6 cups

(about

3 pints

) fresh blueberries

2 cups

water

¾ cup

sugar

1

lemon, zested

1 tablespoon

fresh thyme, finely chopped
Pinch of Kosher Salt
For the Honey-Vanilla Mascarpone
8 ounces

mascarpone cheese

1 tablespoon

honey

1 teaspoon

vanilla extract

½

-

1

lemon, juiced
For Garnish
Fresh Blueberries
Crushed Graham Crackers or Crushed Shortbread Cookies , optional
---
Instructions
In a medium pot, add the blueberries (keep a few of the blueberries to the side for garnish), water, sugar, zest of one lemon, fresh thyme, and a dash of salt. Stir to combine.
Bring the pot to a boil over medium heat then lower to a gentle simmer, stirring occasionally. Cook until the blueberries start to break down and the mixture thickens slightly, approximately 20-30 minutes,
Allow blueberry mixture to cool, then transfer to a blender (or use one of those fancy immersion blenders I love so much). Puree until smooth (make sure if the mixture is still warm while blending, hold the top of the blender down to prevent the steam from popping the lid off... not a fun mess to clean up!).
Place a fine-mesh sieve over a bowl. Transfer the blueberry mixture from the blender into the sieve (in batches if your sieve doesn't hold the full amount). Use a spoon or spatula and stir the mixture through the sieve, discarding the solids. Chill the soup until ready to serve (up to a day ahead of time).
Before serving, make the Honey Vanilla Mascarpone. Combine the mascarpone cheese, honey, vanilla extract, and the juice from ½ lemon. Stir to combine and taste. If you taste a hint of lemon, you're good. If you prefer a little more lemon taste, add the juice from the other ½ of lemon.
To plate, add the blueberry soup, a dollop (or quenelle, if you want to be fancy) of the honey-vanilla mascarpone, a couple fresh blueberries, and a sprinkle of the crushed graham crackers/shortbread cookies (optional).
Prep Time:

20 minutes

Cook Time:

30 minutes