These Baked Monte Cristo Sliders were created in partnership with Hero Fruit Spreads. As always, all opinions and recipe are my own. Thanks for supporting the brands that support Shared Appetite!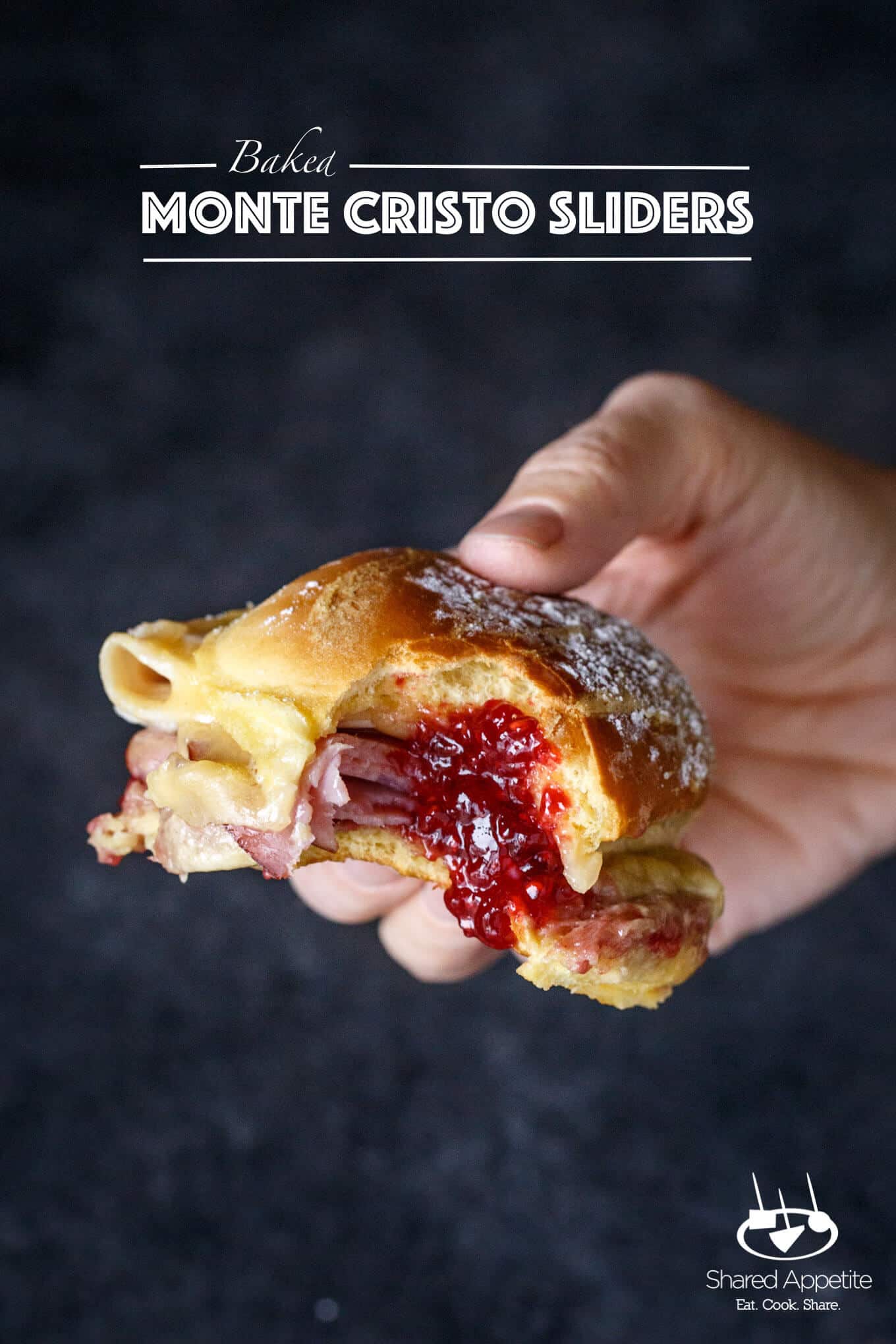 It's the most wonderful time of the year. Really, I so love the month of December. I'm the guy that wakes up the day after Thanksgiving and the first thing on my mind is to climb into the attic and get down all our Christmas decorations (while blasting my favorite seasonal tunes throughout the house, of course). It drives Asheley nuts (she sadly doesn't share in my ridiculous holiday enthusiasm), which coincidentally makes it all the more fun.
Buying gifts. Baking cookies. Get togethers with family and friends. I LOVE IT ALL.
There's something so amazingly magical about this time of year, and it's even more special that Olivia is now at the age that she is starting to get it. And Olivia is so my daughter... she loves decorating and constantly asks me to help when baking. It of course means that those Christmas cookie recipes now takes twice as long to make (i.e. toddler pace), but every extra minute is a memory worth waiting for.
Not going to lie, though. December is kind of exhausting. Between my full time teaching gig, finishing up the busiest wedding photography season we've had to date, shopping for lots of gifts, and the crazy packed social calendar that this time of year always brings... there's not much time to rest. Eh, that's what January is for. This month is all about getting together with as many friends and family as we can, which lines up perfectly with my never-ending thirst for entertaining.
Some people get stressed out (rightfully so) when hosting a party. There's a lot to think about, and cooking for a crowd can definitely be intimidating. I freaking love it so much. Planning a menu is one of my favorite things to do, and the more I entertain the more I rely on one very important rule: keep it simple. There's a time to make intricate dishes with 47 components that took two days to prepare, and then there's a time to make awesomely delicious food that is quick to prep and even faster to cook so you can actually spend time with your guests. Holiday entertaining is the latter.
I really enjoy hosting a cookie swap every year. It's a great way to get an epic spread of cookies without having to spend an absurd amount of time making them all. It's usually a fun Sunday late morning after church brunch thing, and this year I have a new secret weapon for feeding a crowd with minimal work... these Baked Monte Cristo Sliders with Hero Red Raspberry Fruit Spread!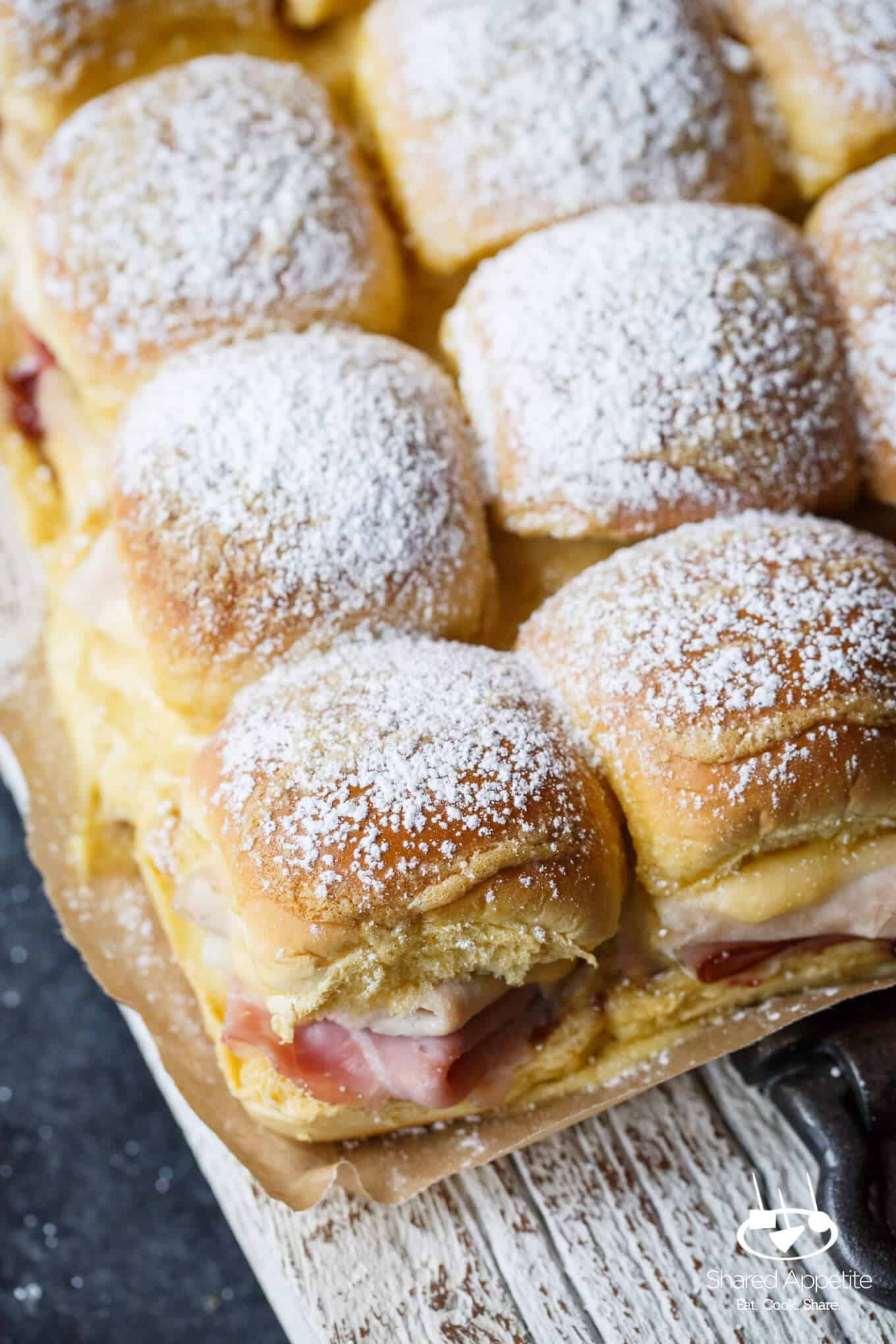 Let's be honest. Everyone loves a good slider. It's substantial enough to tame extreme hunger but at the same time small enough to allow your stomach the space it needs to explore the culinary delights on the brunch table. Making a classic Monte Cristo just isn't practical for feeding a crowd, but these oven baked Monte Cristo sliders are so beyond perfect for holiday entertaining.
These Baked Monte Cristo Sliders take less than 10 minutes to prep and only require a handful of ingredients (many of which you probably already have on hand anyway). Let's break it down: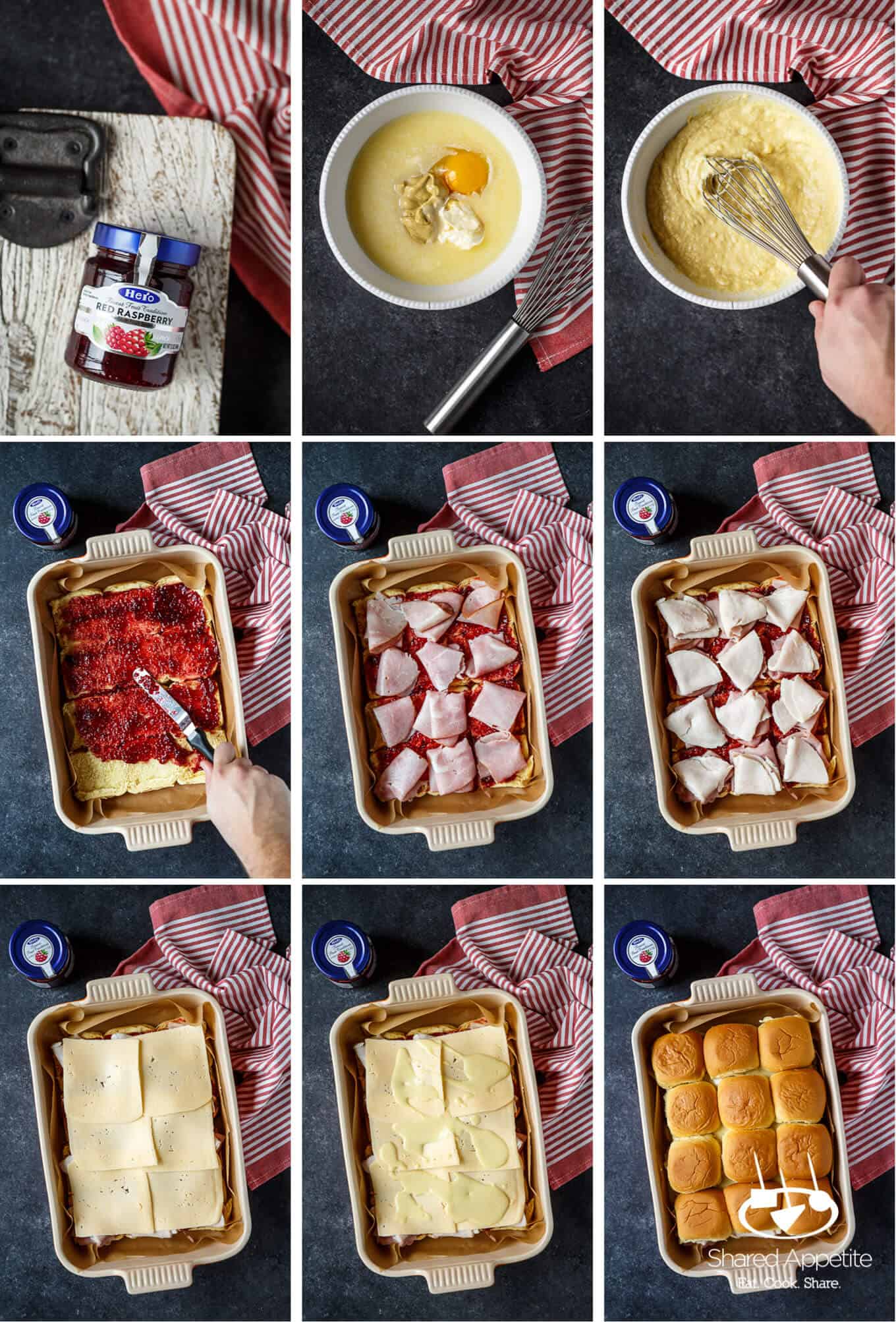 I like to layer my baking dish with parchment paper. It allows you to easily lift all 12 sliders at once and keeps the pan clean (because who has time to wash dishes). If you don't have it on hand, feel free to use foil sprayed with nonstick cooking spray. It'll have the same effect.
Cut your slider buns in half and place the bottoms in your pan. Spread with some of that gorgeous red raspberry Hero Fruit Spread (more on this later).
Layer slices of honey ham and honey roasted turkey. Does it need to be honey? No... but I'm partial to it because I have a sweet tooth.
Throw down some slices of cheese. You can use swiss if you're a purist, but I'm not a fan of the stuff and used gouda here instead. Gruyere would also work nicely.
Make the sauce, which is just some butter, egg, mustard, and mayo. Throw down half of it, slap on the slider tops, and then spread the remaining sauce on top. Cover and bake.
Seriously, that's it. So simple, my 2 ½ year old toddler was helping me make them.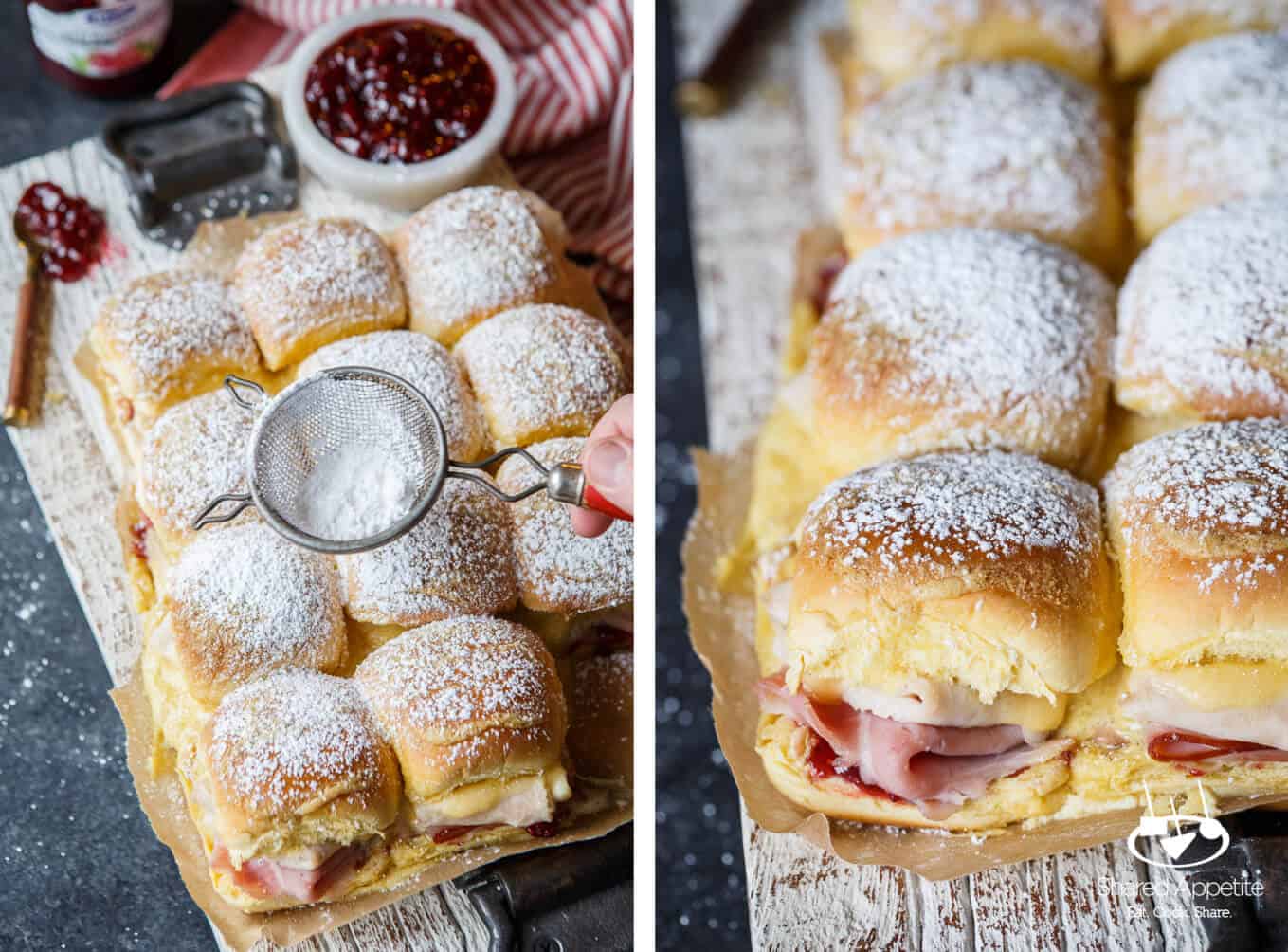 Once they come out of the oven, the sauce is going to be really liquidy and loose. Just let it sit for a minute and it'll set up a bit. Then you can let it rain with powdered sugar and serve these Baked Monte Cristo Sliders with plenty of extra red raspberry Hero Fruit Spread on the side.
Insider tip: if you're having a big party, this recipe can easily be doubled/tripled. Mmm hmm.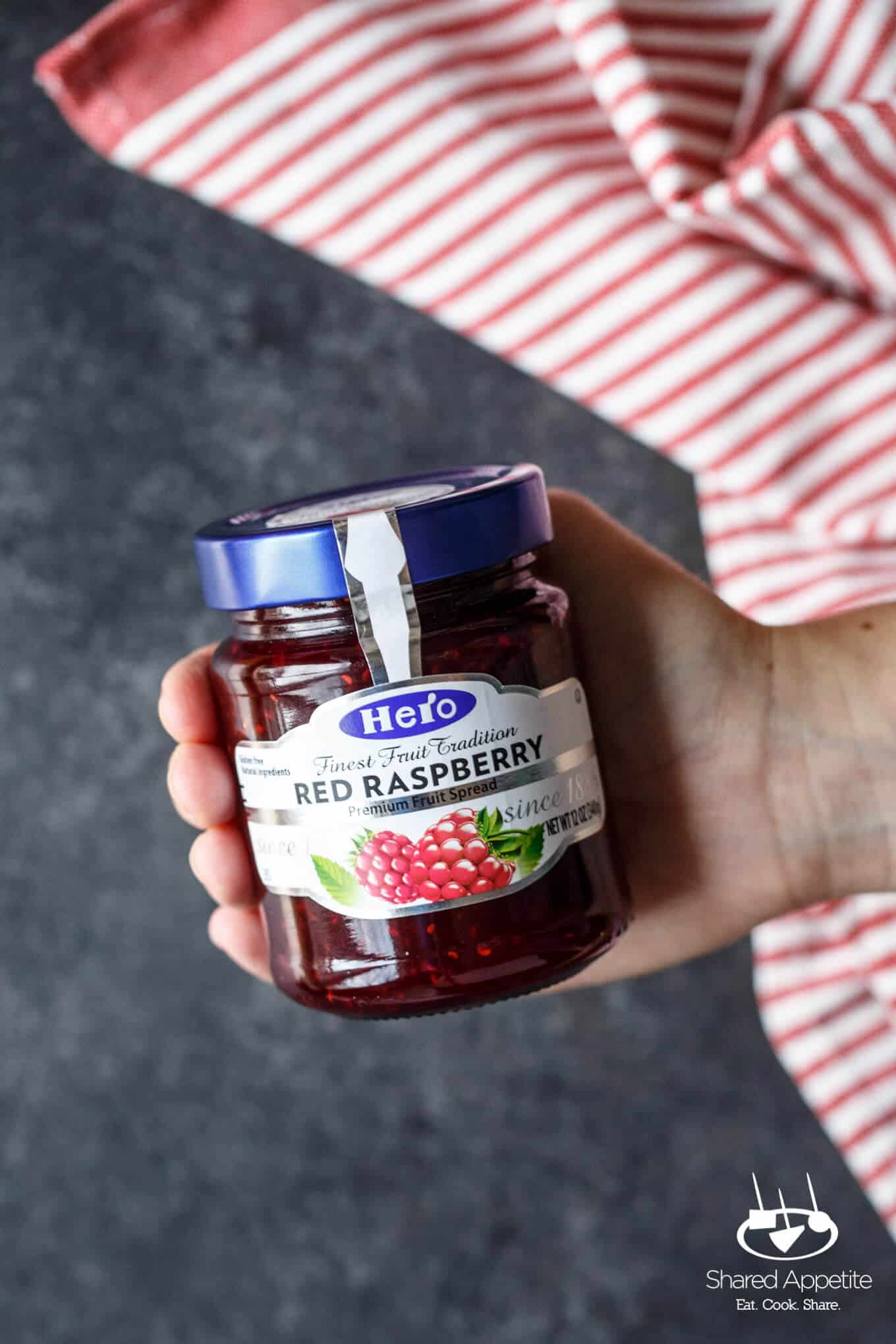 Back to this Hero Fruit Spread. The holiday season is a great time to spread the goodness, and Hero Fruit Spreads help make it happen. Whether it be the perfect flavor fruit spread for those thumbprint cookies or the unexpected addition to your winter charcuterie board, Hero Fruit Spreads has you covered when it comes to entertaining!
It all started back in 1886 in the quaint village of Lenzburg, Switzerland, and Hero Fruit Spreads continues a legacy of creating the gold standard of Gourmet Fruit Spreads. Best of all, it's 100% natural and contains no artificial flavors/colors/ingredients, high fructose corn syrup, or preservatives!
Hero Fruit Spread has actually been a favorite of mine for a long time. I buy it almost weekly at this point. The flavors are so vibrant and pure... it's quality that you can instantly taste and feel good about serving to your family and friends. And I'm totally not alone… Hero is preferred by professional chefs for its fruit quality, taste and wide varieties, like Red Currant, Black Currant, Black Cherry and Bitter Orange.
You can find Hero Fruit Spreads in the jam aisle at your local supermarket. I find it at Stop & Shop, Shop Rite, and Fairway by me! Hero is also at Harris Teeter, Kroger, HEB, Price Chopper Market 32, Giant, Eagle, and other leading stores. Make sure to look for their unique flavor varieties like Black or Red Currant and Bitter Orange as well as their super popular Black Cherry (and Red Raspberry of course)! You can explore Hero Fruit Spread flavors here!
For more recipe inspiration, check out the Hero Fruit Spread flavors here!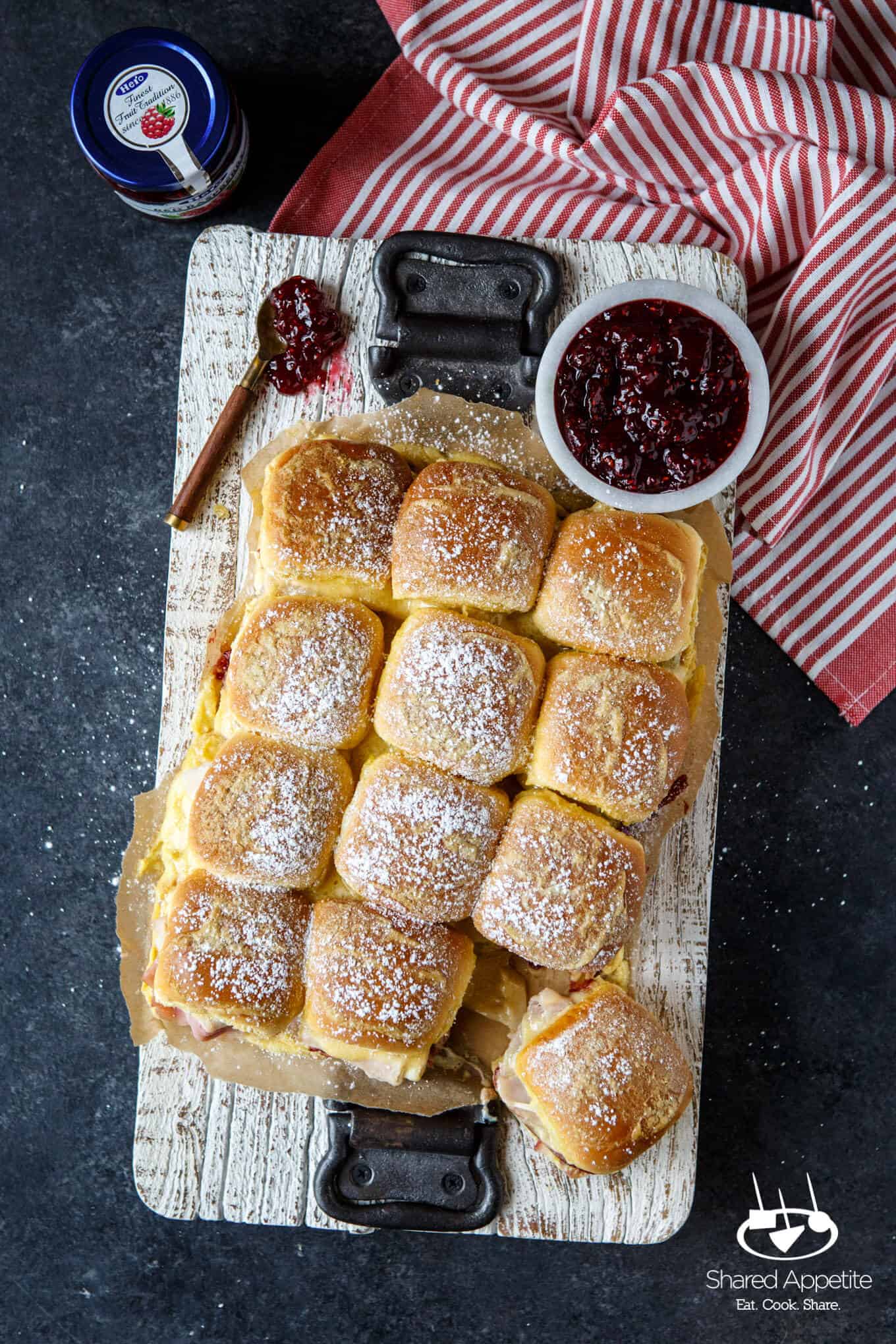 Print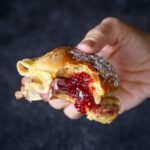 Baked Monte Cristo Sliders
---
Author:

Chris Cockren

Total Time:

30 minutes

Yield:

12

Sliders

1

x
12

slider rolls, sliced

⅓ cup

Hero Red Raspberry Fruit Spread, plus more for serving

½

pound sliced deli ham

½

pound sliced deli turkey

6

slices gouda cheese

½ cup

unsalted butter, melted

1

large egg

2 tablespoon

dijon mustard

1 tablespoon

mayonnaise
Kosher salt
Powdered sugar
---
Instructions
Preheat oven to 350°F.  Line a 9x12 baking dish with parchment paper or aluminum foil sprayed with nonstick cooking spray.
Place bottom of slider buns snuggly against each other in dish.  Spread ⅓ cup red raspberry fruit spread evenly on buns.
Top with pieces of ham and turkey, then cover with cheese.
Whisk together melted butter, egg, dijon mustard, and mayonnaise in a small bowl.  Season generously with Kosher salt.  Spread ½ of the sauce mixture over the cheese and place slider tops on top.  Spread remaining ½ of the sauce over the top of the buns and cover baking dish with aluminum foil.
Bake for 15 minutes, then remove foil and bake for an additional 5 minutes.
Remove from oven, let sit for a minute then top with powdered sugar and serve with additional red raspberry fruit spread.
Prep Time:

10 minutes

Cook Time:

20 minutes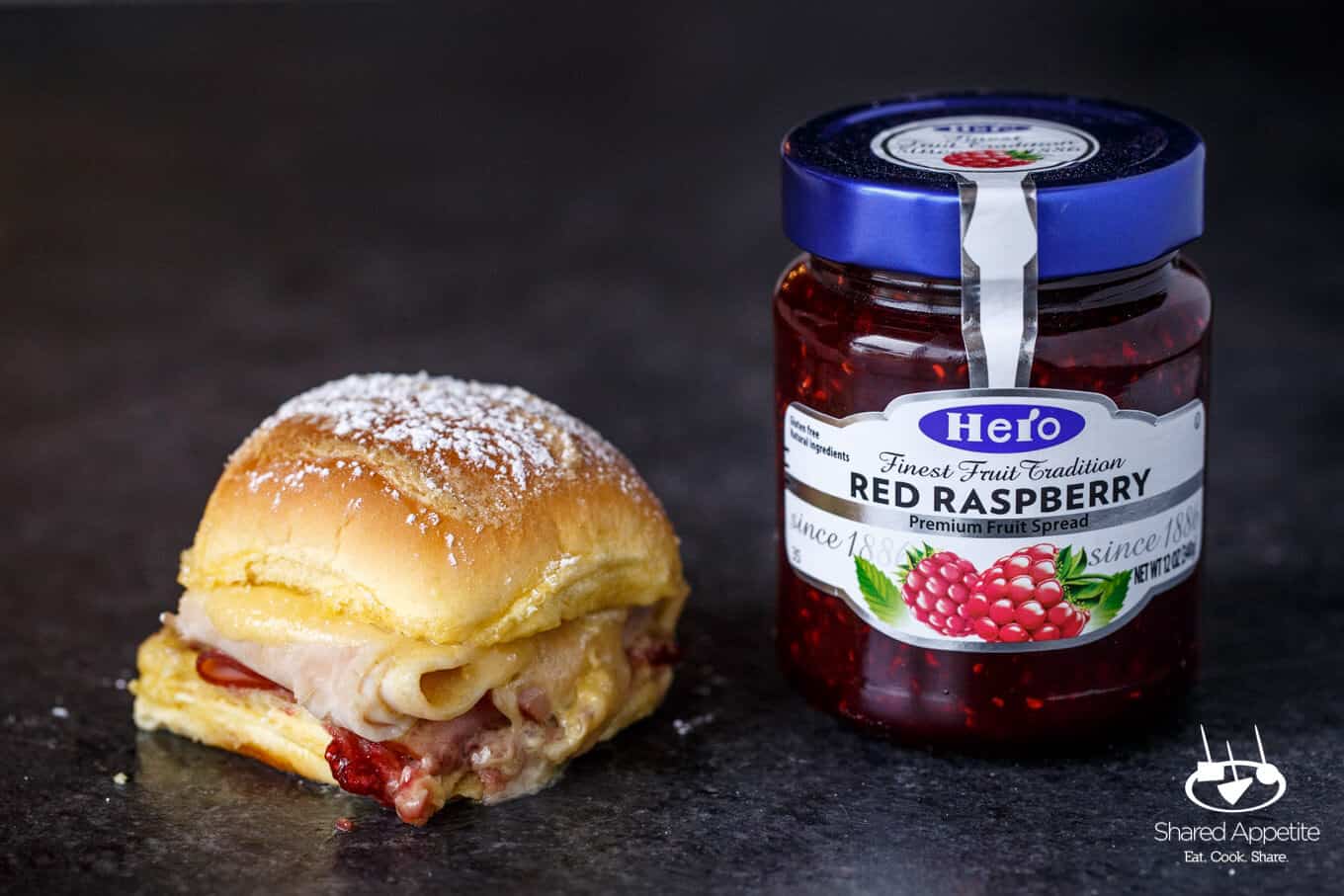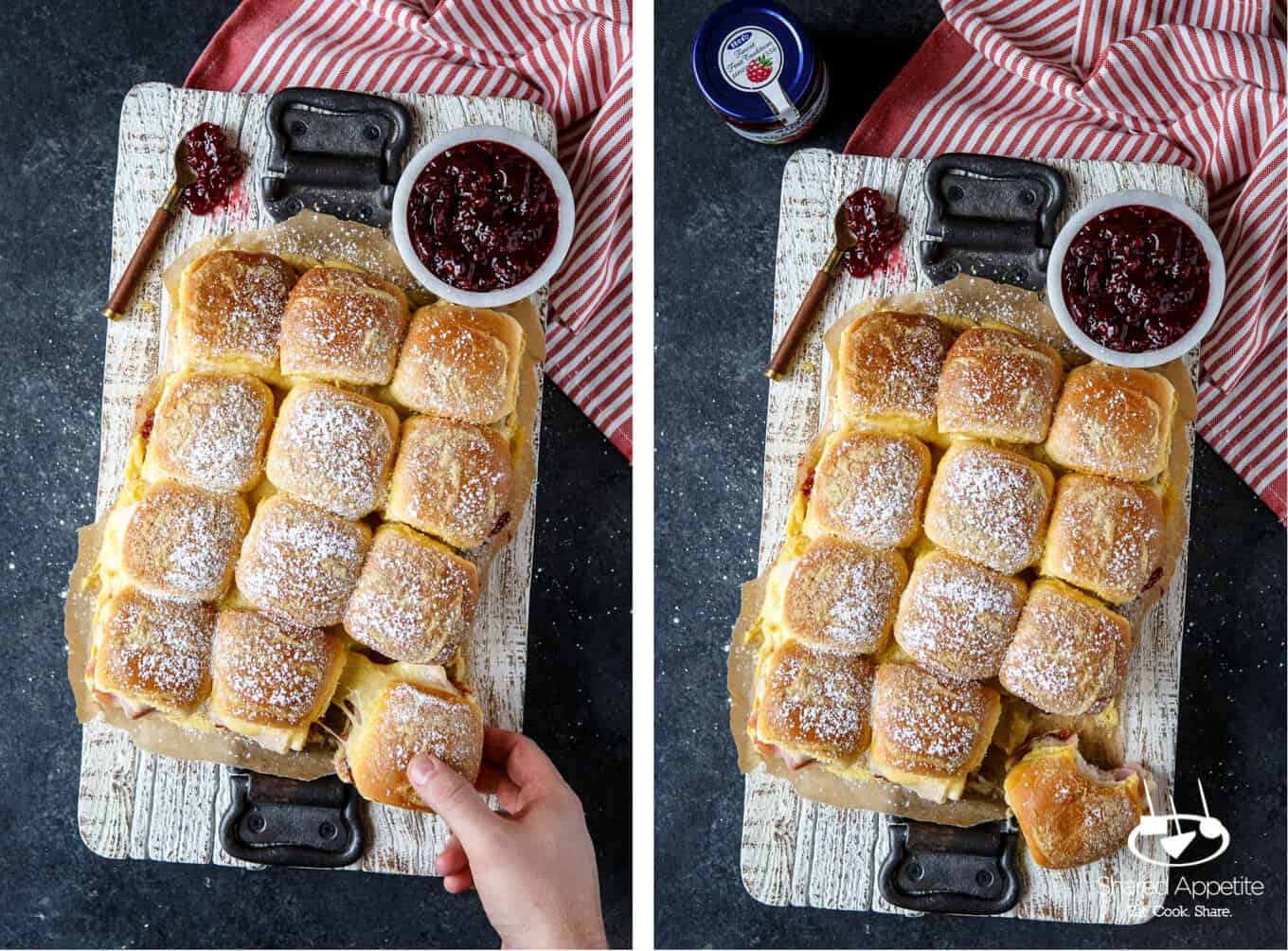 Baked Monte Cristo Sliders