This recipe for Garlic Knot Meatball Sliders is sponsored by McCormick®. As always, all thoughts, opinions, and recipes are my own. Thanks for supporting the brands that support Shared Appetite!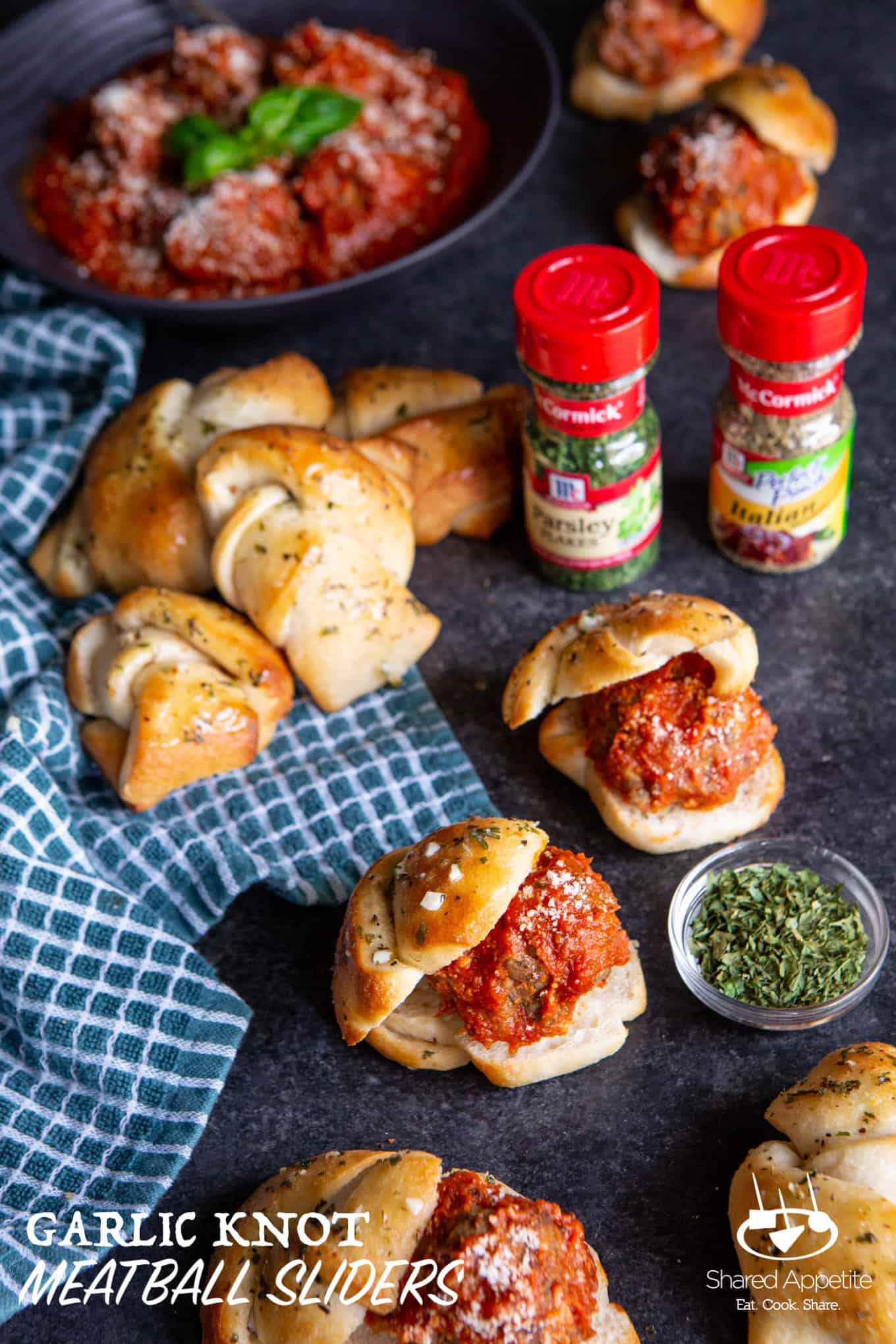 I have a weak spot for garlic knots. It's something I automatically order every time we get a pizza. There's not even an option in our house to get pizza delivery sans garlic knots. Those garlicky butter-doused carb nuggets are my kryptonite, and it was only a matter of time until I combined them with quick and easy homemade meatballs for comfort food nirvana. Yes, you heard that right. Garlic knot meatball sliders. Ermagherd.
A showstopper app for your next party? An exciting and unexpected weeknight family dinner? A comforting night of Netflix and Chill Garlic Knot Meatball Sliders? Yes, yes, and yes (disclaimer: please follow social distancing guidelines provided by your local government, of course)! And thanks to McCormick® Perfect Pinch® Italian Seasoning and McCormick® Parsley Flakes, these Garlic Knot Meatball Sliders are jam packed with flavor and come together in just 30 minutes! I got all of these ingredients from my local Stop & Shop. Shop now!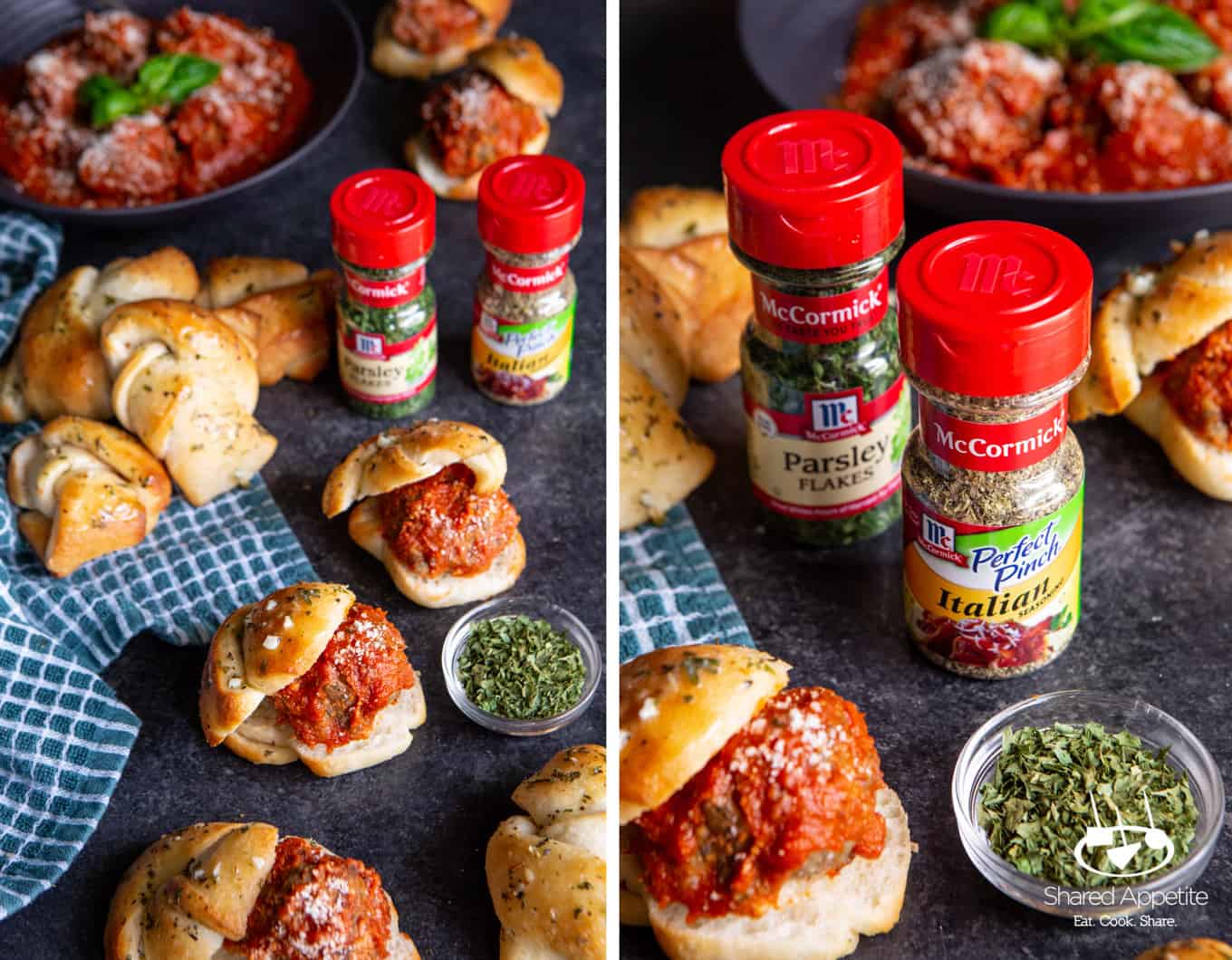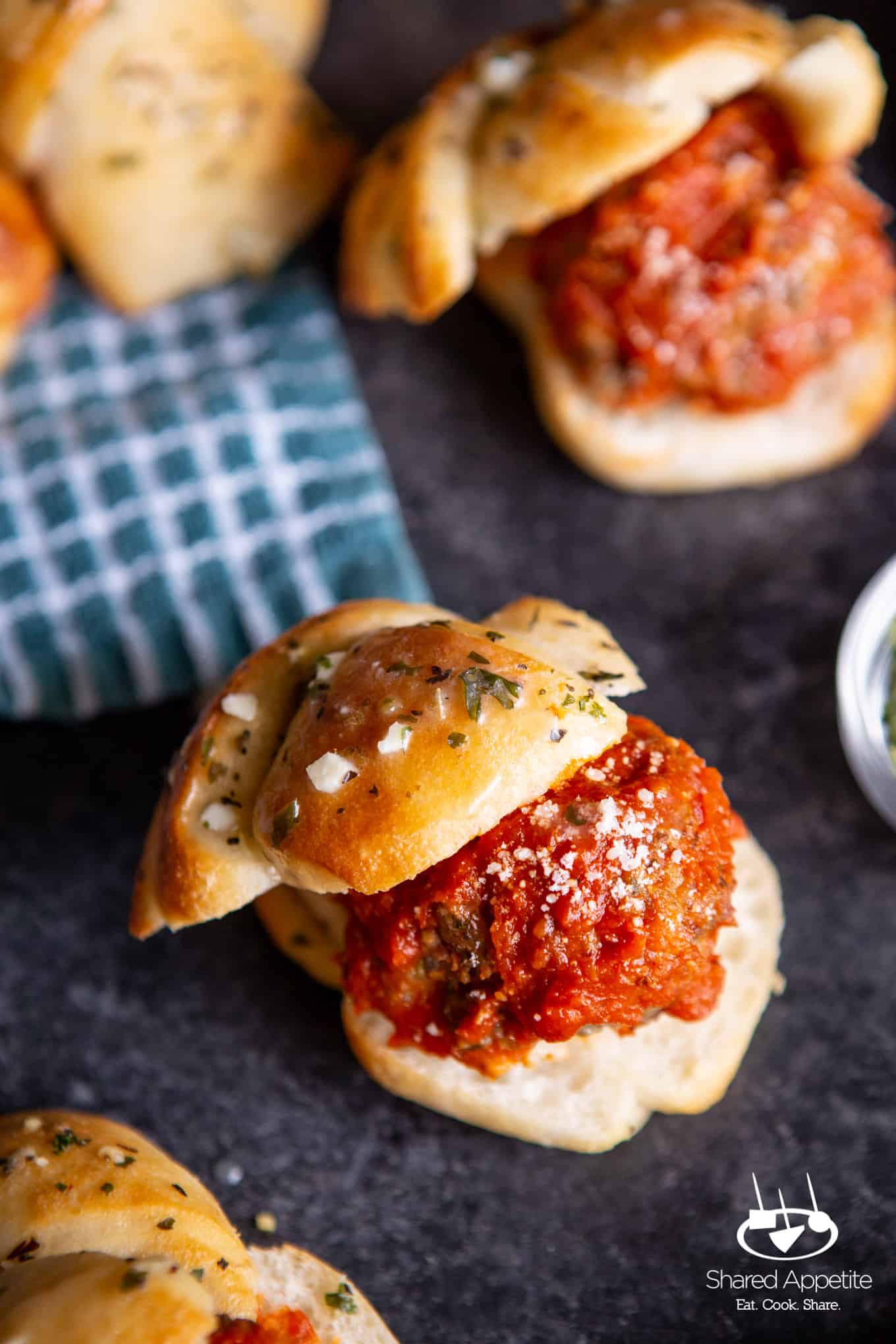 Yes, seriously. 30 minutes. Let me explain how to plan out this dinner so you reach maximum efficiency.
Heat up a small skillet as you chop up the onion and garlic (I mince the garlic for the meatballs and garlic knots all at once to save time)
Preheat oven as you sauté onion and garlic, and get the rest of the meatball ingredients in a bowl, as well as prep the meatball and garlic knot baking trays with non-stick cooking spray
Mix together meatballs and scoop out onto the tray (I use an ice cream scoop with one of those release levers), then put in oven to bake
Form garlic knots, place on the other baking sheet, and then melt butter in microwave and stir in garlic and herbs. Brush and bake
Heat up marinara sauce while meatballs and garlic knots finish baking
Remove everything from oven and serve
You'll notice below I didn't give an exact recipe for the marinara sauce. That's because I know everyone has their preference. It may be a jarred sauce. It may be your own recipe that you made a huge vat of a month ago and have a freezer full of perfectly portioned sauce rations for quick weeknight meals (me!). Or just maybe you have a Nonna that made sure she took good care of you the last time you were there and sent you home with a container of her gravy. Whichever way you go, the sauce is simply a condiment to the main flavors of this dish.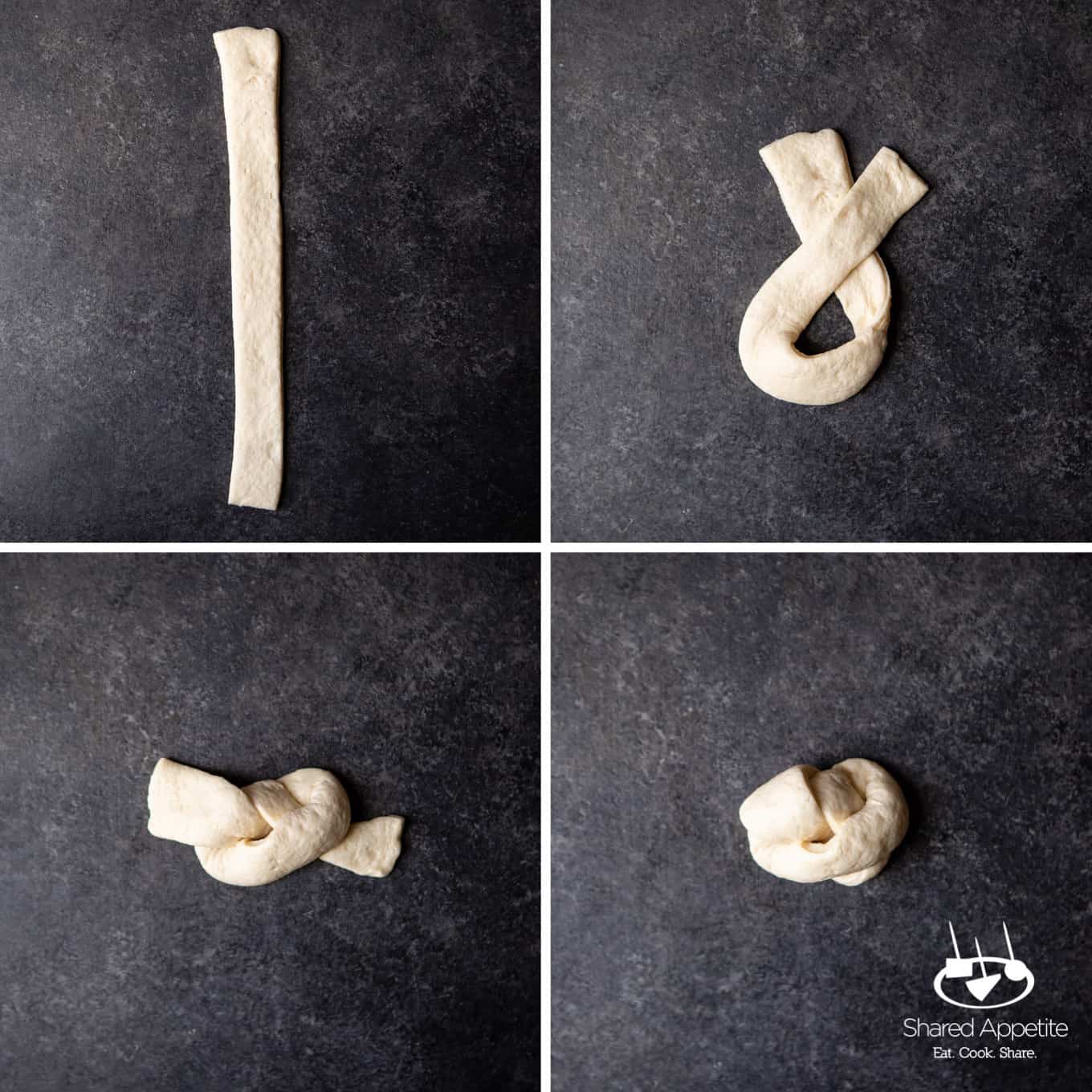 Don't be intimidated by shaping these garlic knots for the sliders. It's just as easy as tying a shoelace. And real talk... if they are a bit misshapen, just go ahead and call these Rustic Garlic Knot Meatball Sliders. Win-win.
Also, speaking of garlic knots. You have some options with the dough. While at the supermarket, you can find refrigerated pizza dough in those canisters that pop open, and the dough unfolds and rolls out for maximum ease. That's what I used here, because I was already at the grocery store picking up all the other ingredients. If you want a more elevated garlic knot experience, I highly recommend stopping by your local pizzeria the day you plan on making these Garlic Knot Meatball Sliders. They'll happily sell you a pizza dough for a few bucks. Make sure to let them know exactly when you plan on making your knots, because they will select a dough that will be perfectly risen and will stretch nicely, given your timeline.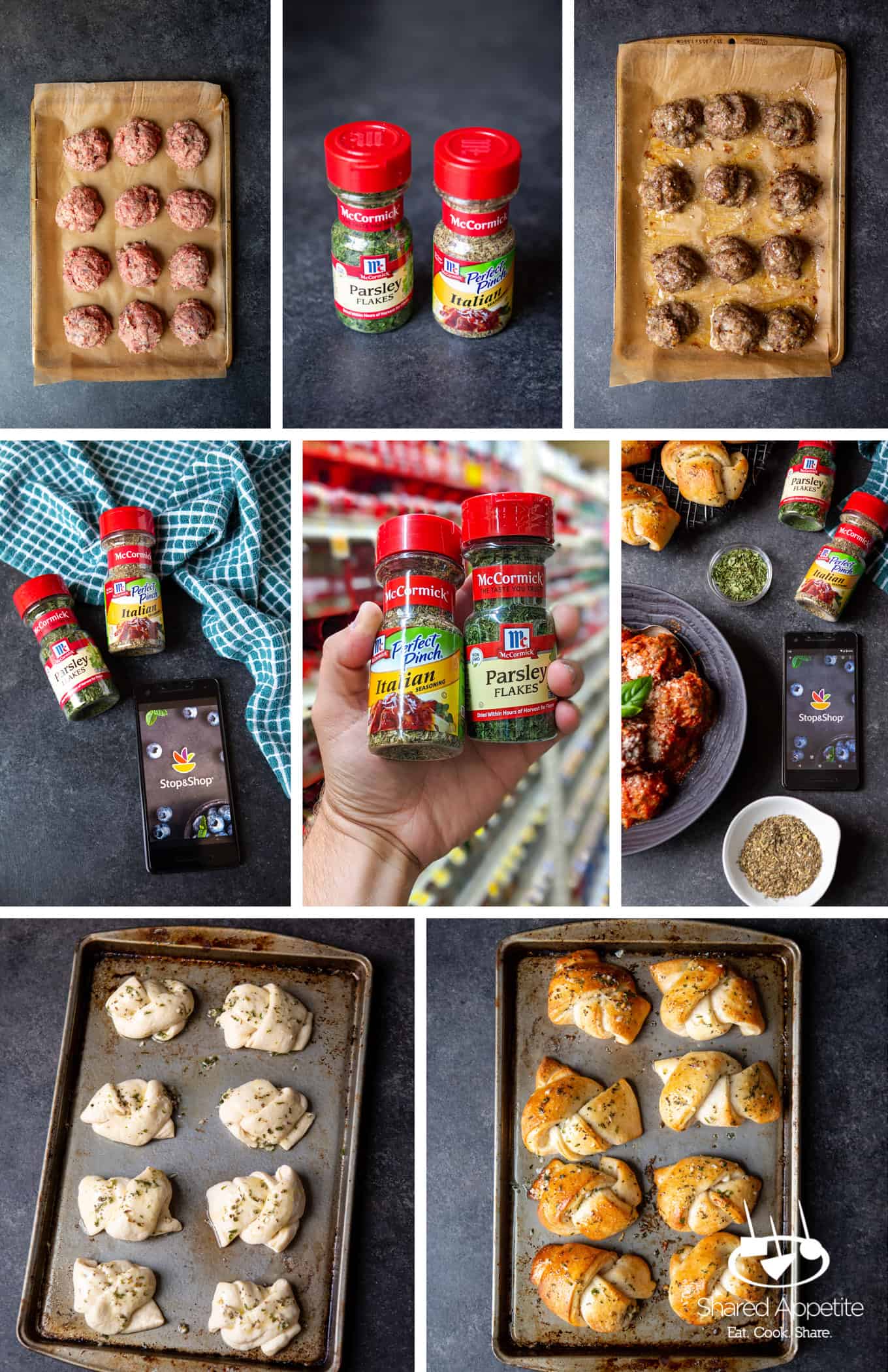 I'm a fan of big, bold flavors. And throughout all my escapades in the kitchen, I know that I can always rely on McCormick® spices to deliver in the flavor department.
You can find McCormick® Perfect Pinch® Italian Seasoning and McCormick® Parsley Flakes at your nearby supermarket. My local Stop & Shop has a huge variety of McCormick® spices just down the aisle from all the baking supplies. They of course have all my pantry spice staples, but I love that I always discover a new McCormick product to try every time I'm there.
The McCormick® Perfect Pinch® Italian Seasoning is a perfectly blended seasoning that adds the flavor of the Italian kitchen to your dishes. It's a classic combination of aromatic herbs such as thyme, oregano and basil; and is great for use in cooking or at the table. I love how it adds so much depth of flavor to the meatballs and garlic knots!
Not sure if you've noticed this lately about your local Stop and Shop, but I love love LOVE that they recently renovated a bunch by me and added a perpendicular aisle at the halfway point, or supermarket equator if you will. It makes it so much easier to find everything I'm looking for and saves me a lot of time while food shopping!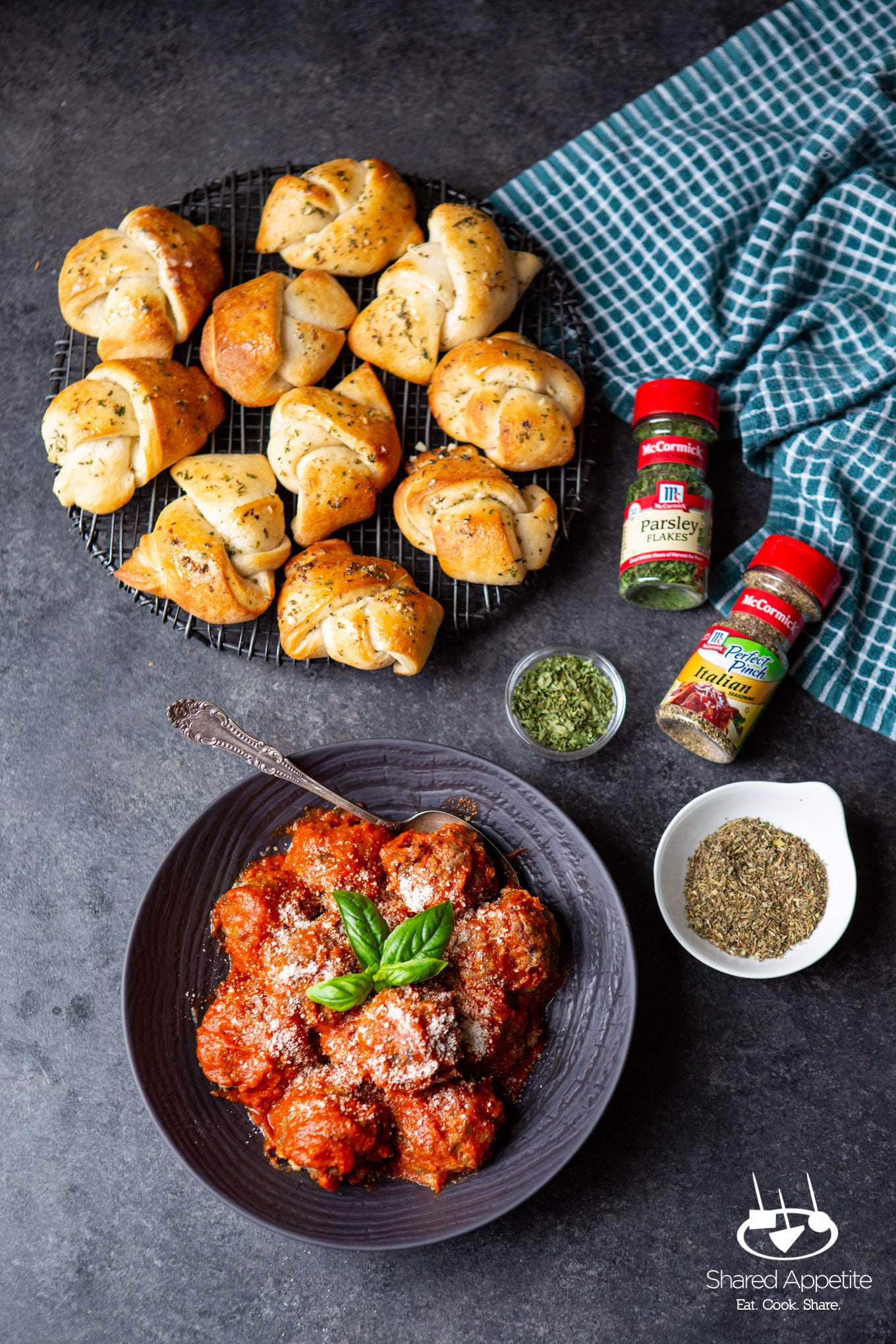 When it comes to serving up these Garlic Knot Meatball Sliders, I love just piling all the garlic knots on one plate and then the meatballs with sauce in a separate bowl. Our kids love "picking out" their favorite garlic knots and making their own sliders!
And of course, if you want to sprinkle your meatballs with a little parm for that extra visual appeal, or even add a slice of mozzarella in your sliders, that's never a bad idea!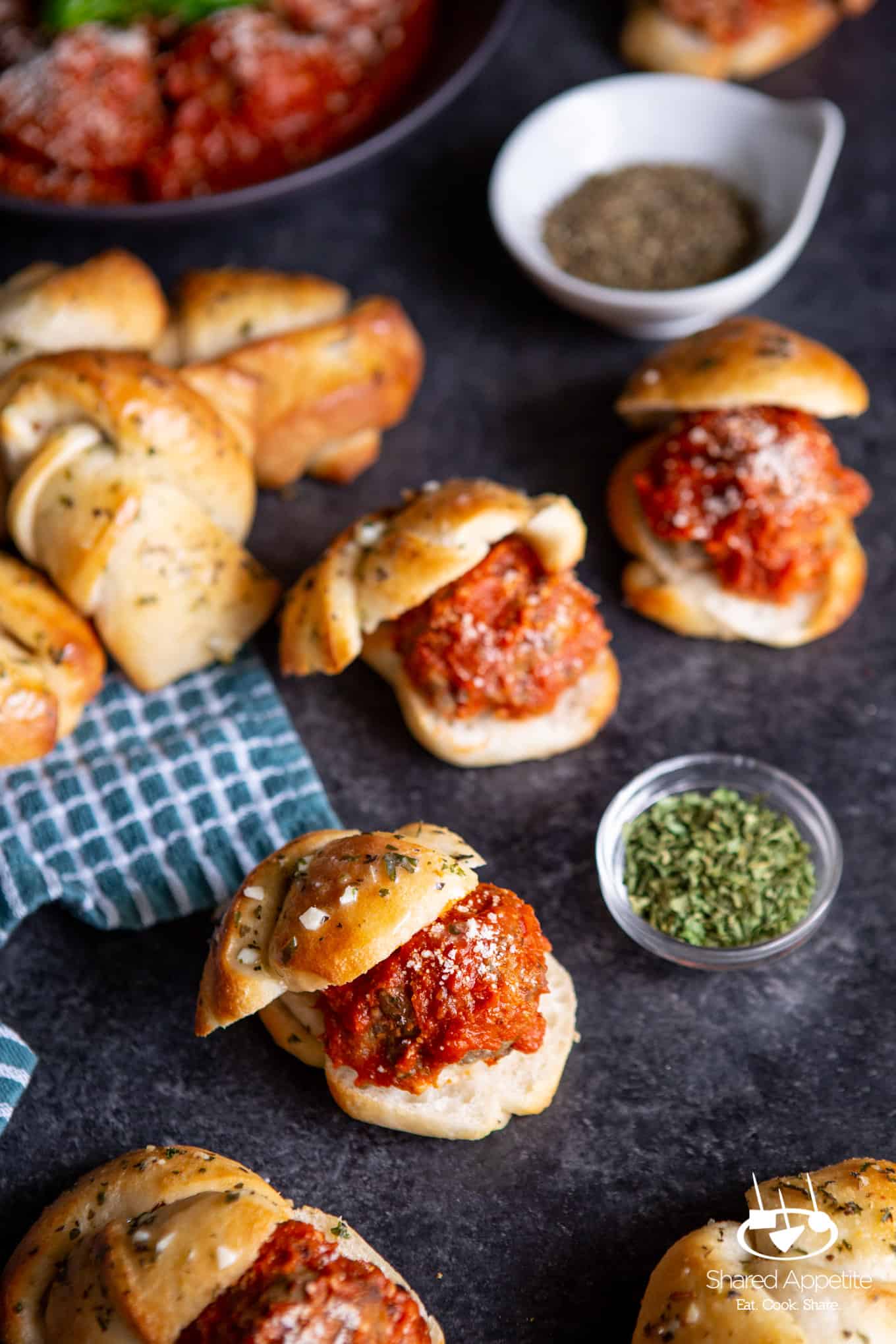 Print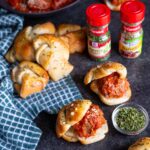 Garlic Knot Meatball Sliders
---
Author:

Chris Cockren

Total Time:

30 minutes

Yield:

12

sliders (4 servings)

1

x
for the Meatballs
1 tablespoon

olive oil

1

small onion, finely chopped

1

clove garlic, minced

1

pound ground beef

1

egg

½ cup

shredded parmesan cheese

½ cup

panko breadcrumbs

⅓ cup

milk

3 teaspoons

McCormick Parsley Flakes

1 teaspoon

McCormick Perfect Pinch Italian Seasoning

1 teaspoon

Kosher salt

2 cups

marinara sauce
for the Garlic Knots
2

(13.8 ounce) canisters pizza crust (or

1

large pizza crust from local pizzeria)

5 tablespoons

unsalted butter, melted

3

cloves garlic, minced

1 teaspoon

McCormick Perfect Pinch Italian Seasoning

1 teaspoon

McCormick Parsley Flakes

¾ teaspoon

Kosher salt
---
Instructions
for the Meatballs
Preheat oven to 400°F.  Heat olive oil over medium heat in a small skillet.  Cook onion until softened, stirring occasionally, about 4-6 minutes.  Add garlic and cook for 1 minute, stirring frequently.  Remove from heat and let cool.
Combine onion mixture with beef, egg, parmesan cheese, breadcrumbs, milk, parsley, Italian seasoning, and salt.  Stir until just fully incorporated.  Scoop (I used an ice cream scoop) meatballs (you should have 12 in total) onto a greased baking tray.
Bake meatballs until the internal temperature reaches 165°F, approximately 20 minutes.
for the Garlic Knots
Preheat oven to 400°F.  Using a pizza cutter, slice dough into 12 strips.  Shape dough into into knots.  Place knots on a greased baking sheet.
Mix together remaining ingredients in a small bowl.  Brush half of garlic herb butter on knots.  Bake for 12-14 minutes, until golden brown.  Brush with remaining garlic herb butter and slice.
Prep Time:

10 minutes

Cook Time:

20 minutes

Garlic Knot Meatball Sliders