A great way to introduce Indian cuisine to your family, this rich and creamy EASY Weeknight Chicken Tikka Masala is moist, flavorful, and SO comforting!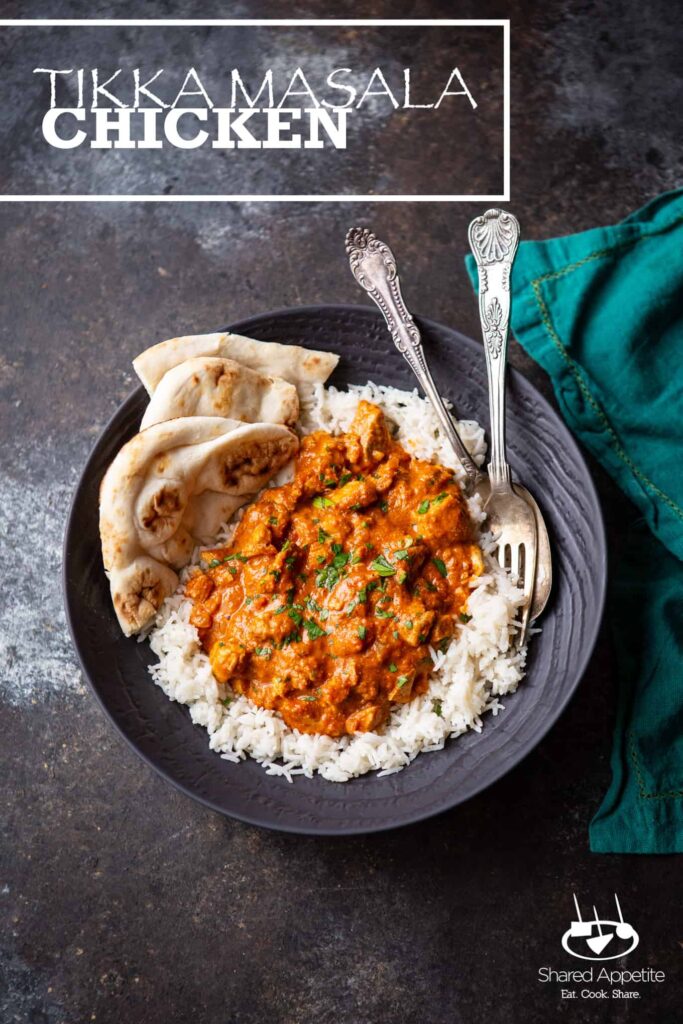 Chicken Tikka Masala. This, along with Butter Chicken, are probably the two standard dishes I would encourage anyone new to the flavors of Indian food to try. When I serve it up at parties (it's so easy to cook up ahead of time and then keep warm in the slow cooker), I explain to my suspecting friends that it's pretty much just the Indian version of vodka sauce.
The flavors are more exotic and complex to their palates, but at it's core there's still that addicting creamy tomato-based sauce that's rich, comforting, and downright addicting.
There are no shortage of great Chicken Tikka Masala recipes out there, and this one has just been slightly modified from Food & Wine's recipe here. However, there are some small but mighty differences I've changed to help simplify the process for the typical working parent that wants to make something fancier than the average weeknight meal without spending a ridiculous time in the kitchen.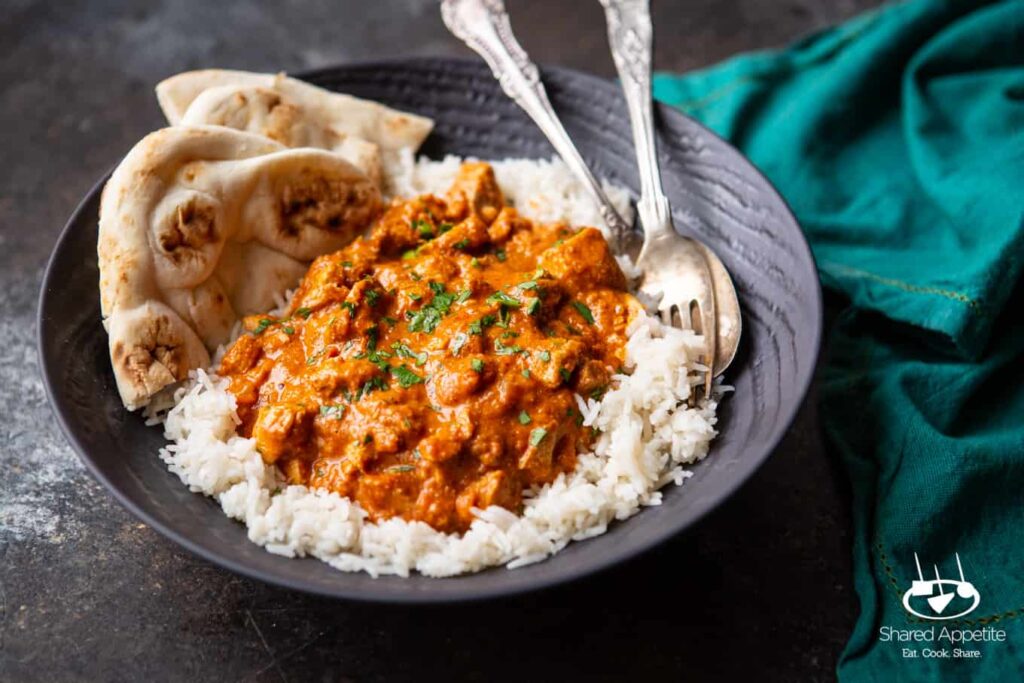 A few notes:
I've tried making Chicken Tikka Masala with both boneless, skinless breast meat and thigh meat. I strongly urge (scratch that, I insist) you make this with thigh meat. The breast always seems to dry out and just isn't nearly as flavorful. The thigh meat in this recipe can be overcooked, reheated, run over by a Mack truck and still be freaking awesome. I speak from experience.
The night before (usually right before I go to bed) or even right in the morning before I run out the door for work, I'll marinate the chicken. Because I'm always in a rush for this step and don't have the patience to cut garlic and ginger (and then have to do MORE dishes), I use a quick replacement of dried garlic and ginger. I've tried it both ways and the difference is indistinguishable.
I serve this Chicken Tikka Masala with a big batch of Coconut Rice (I usually make a double batch of this Instant Pot version because we go through it so fast (I use 3 teaspoons of sugar instead of 1, though).
It's also a necessity to serve naan. Trader Joe's sells GREAT frozen options (plain or garlic) that my wife and I love. If you can't find naan, pocketless pita that has been warmed in the oven also works great.
This Chicken Tikka Masala reheats incredibly well. When I make this for parties, I'll either make it a day or two ahead and reheat it, OR if making it just a couple hours ahead of time I'll keep it warm in a slow cooker.
Last thing... it takes 2 minutes for this Quick and Easy 4 Ingredient Mango Lassi and it's 100% worth it. It took me a long time to get the flavors right and it tastes just like the one from our local Indian restaurant here in town.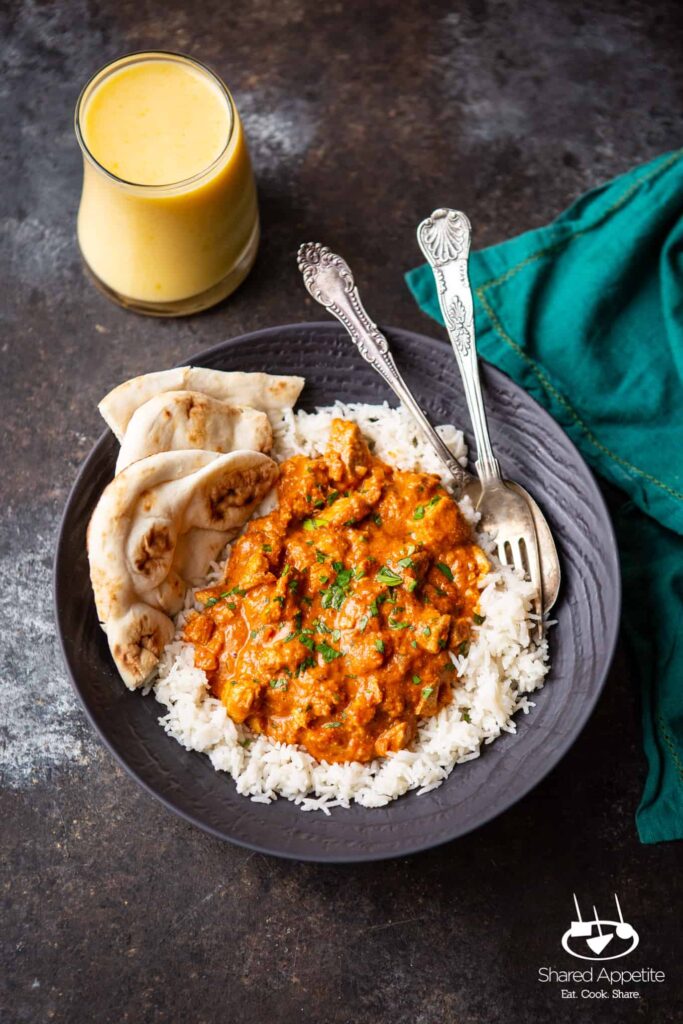 Print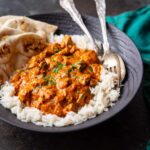 Chicken Tikka Masala
---
Author:

Chris Cockren

Total Time:

1 hour, 10 minutes + marinating time

Yield:

Serves 4
For the Chicken Marinade
2 ½

pounds skinless, boneless chicken thighs, trimmed

1 cup

plain low-fat yogurt (unsweetened)*

1 ½ teaspoon

ground cumin

1 ½ teaspoon

ground coriander

¾ teaspoon

granulated garlic (or

½ teaspoon

garlic powder)

¾ teaspoon

dried ground ginger

¼ teaspoon

ground tumeric
Kosher salt
For the Tikka Masala
2 tablespoons

olive oil

1

large onion, finely chopped

1 ½ tablespoons

garam masala

1 ½ teaspoons

chile powder

¾ teaspoon

granulated garlic (or

½ teaspoon

garlic powder)

½ teaspoon

dried ground ginger

½ teaspoon

cayenne pepper (optional)

1

(28 ounce) can crushed tomatoes or tomato sauce

1

-

1 ½

cup heavy cream
Kosher salt
---
Instructions
TO MARINATE CHICKEN
Stir together all ingredients besides chicken in a large bowl or ziploc bag and season with Kosher salt.  Add chicken, turn to coat.  Cover and chill overnight (or at least 8 hours).  
FOR THE TIKKA MASALA
Heat oil over medium heat in a large skillet or dutch oven.  Add onion, season with Kosher salt and cook, stirring occasionally, until softened, about 8 minutes.  Add spices and cook, stirring constantly, for 1 minute.  Add canned tomato, season with Kosher salt and cook, stirring occasionally, about 20 minutes.  Add 1 cup of heavy cream and stir.  If more cream is desired, you can add the other ½ cup.  Lower heat to low and cook, stirring occasionally, for about 10 minutes. 
Meanwhile, preheat your oven broiler on high.  Remove chicken from marinade and place in a single layer on an aluminum foil lined baking sheet.  Broil chicken, until just cooked through and browned in spots, about 6 minutes per side.  Transfer to a cutting board and chop.  
Stir chopped chicken into the tikka masala and simmer gently, for about 10 minutes.  
Serve with rice** and naan***
Notes
slightly adapted from Food & Wine's recipe here.
*plain Greek yogurt will also work.  I tried it once accidentally and it worked great!
**I like to make coconut rice in the Instant Pot with this recipe but I use 3 teaspoons of sugar instead of 1. 
***the best I've found is either the frozen plain or garlic naan at Trader Joe's.  If you can't find naan, good quality pocketless pita (heated in a 400°F oven wrapped in foil for a few minutes) works well too! 
Prep Time:

20 minutes + marinating time

Cook Time:

50 minutes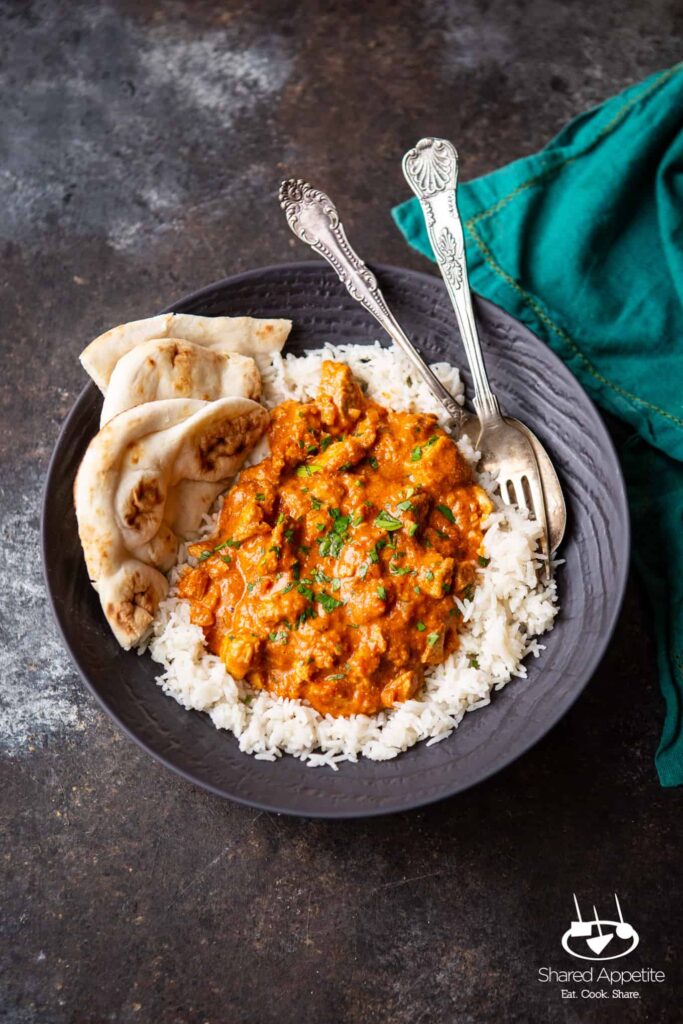 CHICKEN TIKKA MASALA