A quick and easy healthy weeknight family-friendly dinner featuring Greek Chicken Meatballs with Hummus and Israeli Salad! Don't forget the pita!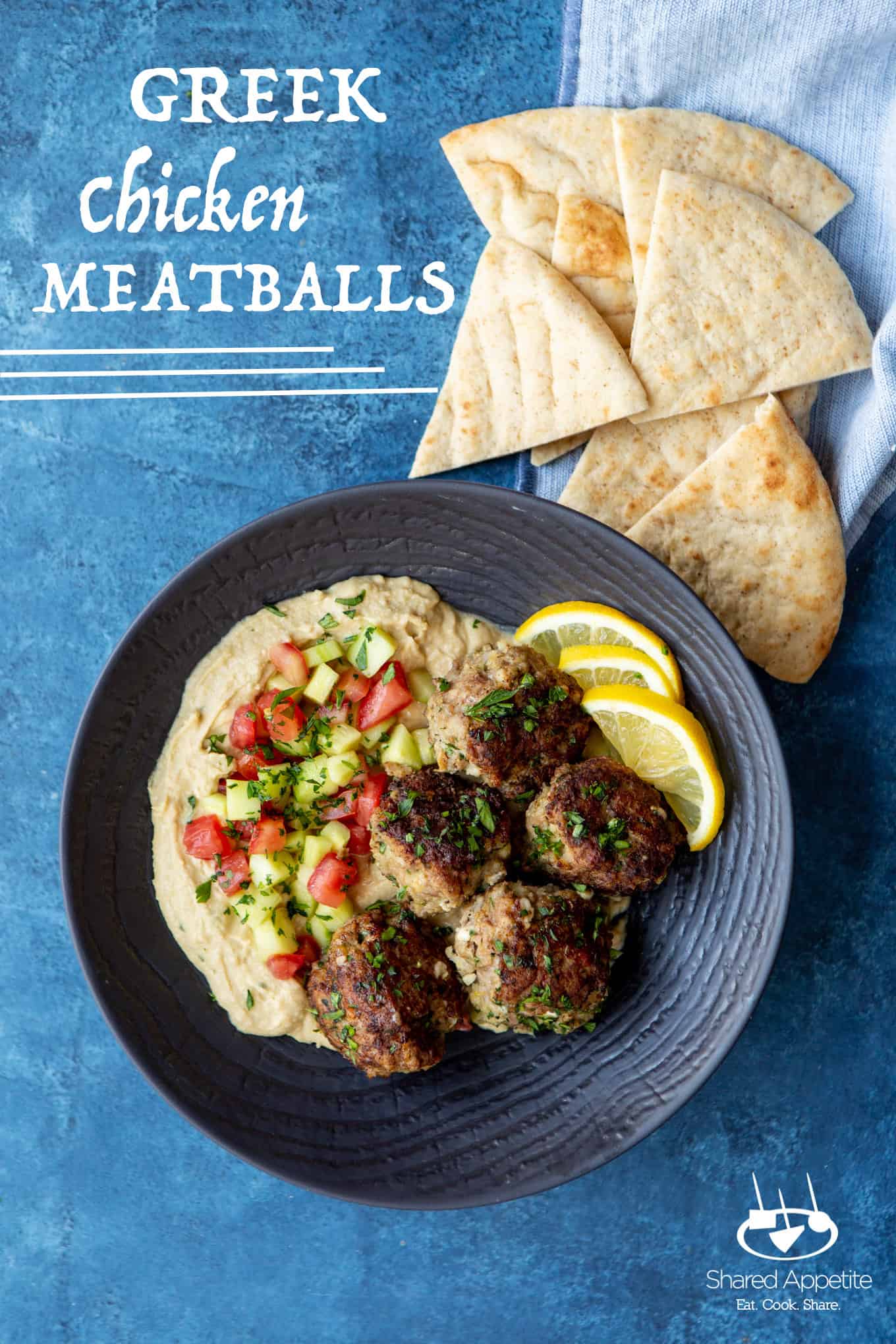 These Greek Chicken Meatballs have been on repeat at our house all summer long, and it's a meal I'll be keeping in my year round rotation. They are SO quick to come together with just 15 minutes of prep, which means it's a great oh crap Mommy will be home from work in a little bit and we need to get out of the pool and get dinner going. Or more accurately now that school has started.... AHHHHHHHHHHHHHHH.
The kids love to help, too. Meatballs are a great dump and mix recipe, which is perfect for my little kiddos to feel like they are really helping. Of course the two of them fight over who's going to get to crack the egg, but I digress.
Equally exciting about these Greek Chicken Meatballs with Hummus and Israeli Salad? They are approachable enough for our little ones' palates but sophisticated enough for the adults (and even a recipe I would be proud to serve up at a dinner party for my foodie friends). The meatballs are jam packed with big Mediterranean flavors and the Israeli salad gives fresh, bright, and acidic flavors that cuts through the richness of the meatballs. If you're some sort of super parent, feel free to make homemade hummus. I mean, if making for a dinner party I'd go all out too, but for our usual weeknight dinner routine, I reach for our favorite store-bought creamy hummus.
The one thing I refuse to negotiate with these Greek Chicken Meatballs? Serving it with lots of piping hot toasty pita bread. Dipping is necessary.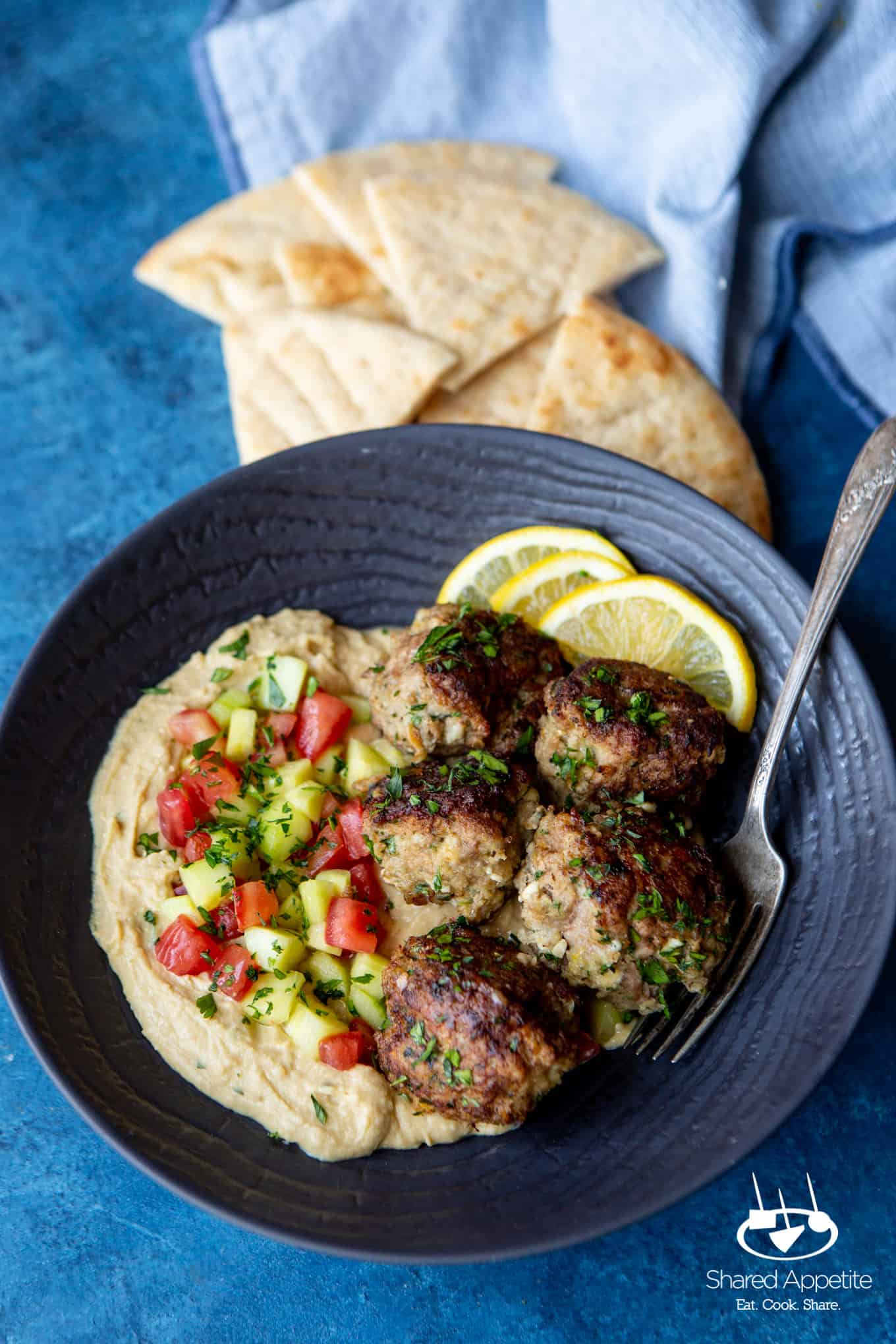 A couple of notes:
If you've never had Israeli Salad before, it's freaking awesome. I often make Hummus with Israeli Salad as a quick and easy healthy appetizer for parties. Everyone always raves about it, which I find so amusing because it's always the easiest thing to make on the menu. Chop up equal parts tomato and cucumber, spike it with lemon juice, olive oil, salt, and fresh parsley, and boom. DONE. It's the best fresh and bright crunchy compliment to creamy hummus.
You have some options when it comes to cooking these meatballs. The easiest way is just to pop them in the oven and bake them until they reach 165°F. You'll notice the time I made them to photograph, though, I pan fried them first before finishing them off in the oven. Is it an extra step? Yes. Does it make more dishes to wash? Yup. Does oil splatter a little on your stovetop and make you have to clean up more? Sure does. But it also gives another layer of flavor and texture. 100% not necessary if you're going for convenience, but an option if you're into going extra.
Oh, and these Greek Chicken Meatballs work equally well with ground turkey!
I hope your family enjoys these Greek Chicken Meatballs with Hummus and Israeli Salad as much as mine does! Happy eating!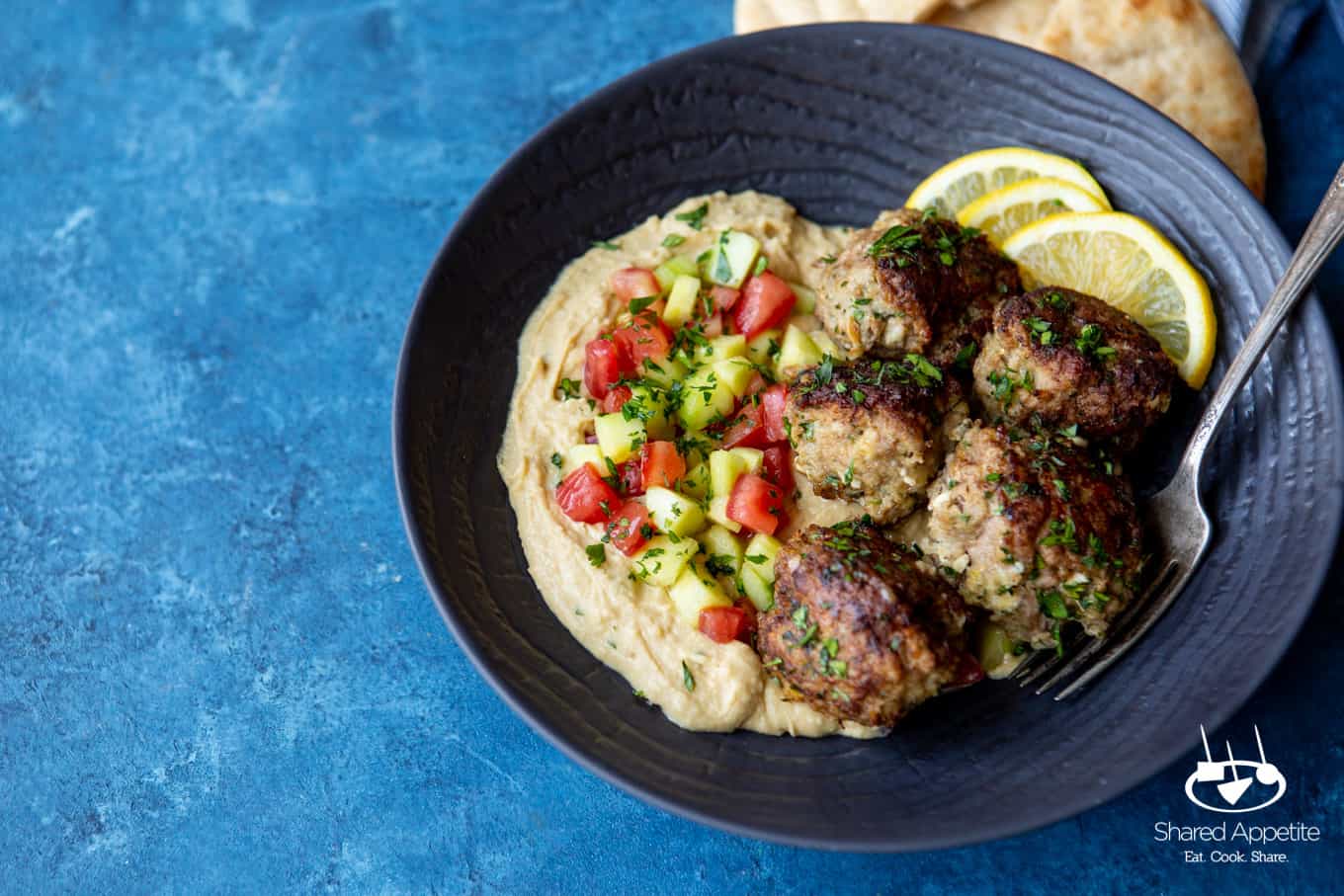 Print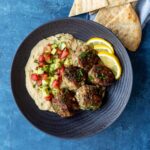 Greek Chicken Meatballs
---
Author:

Chris Cockren

Total Time:

35 minutes

Yield:

4

servings

1

x
1

(1.25 to 1.5 pound) package ground chicken

1

egg

⅔ cups

panko breadcrumbs

½ cup

crumbled feta cheese

½

red onion, grated or minced

4

cloves garlic, minced

½

lemon, zested

¼ cup

finely chopped fresh mint or parsley OR

1 tablespoon

dried parsley or mint

¾ teaspoon

coriander

¾ teaspoon

cumin

½ teaspoon

dried oregano
Kosher salt
Hummus and Israeli Salad
1

large family-sized container (around

16 ounces

) hummus

1

 cucumber, peeled and seeds removed, finely diced

2

 plum tomatoes, peeled and seeds removed, finely diced

1 tablespoon

 extra virgin olive oil

1 tablespoon

 fresh lemon juice

2 tablespoon

 chopped parsley
Kosher salt
---
Instructions
Preheat oven to 400°F.  Combine all ingredients gently in a medium mixing bowl.  Using an ice cream scoop, scoop meatballs into a ball shape and place onto a parchment lined cookie sheet.  Cook using one of the methods below and then serve meatballs on top of hummus and Israeli salad sprinkle with freshly chopped parsley:

Pan Fry + Bake -

Heat 2 tablespoons of olive oil in a skillet over medium high heat.  Pan fry              meatballs until golden brown, about 1-2 minutes per side.  Transfer back to the parchment lined cookie sheet.  Finish cooking meatballs in the oven until they reach an internal temperature of 165°F using a meat thermometer, about 10 minutes.

Bake - place meatballs in the oven and bake until they reach an internal temperature of 165°F using a meat thermometer, about 20 minutes.

  
Hummus and Israeli Salad
Combine cucumber, tomato, olive oil, lemon juice, and parsley in a small mixing bowl.  Season with Kosher salt.  Let sit at room temperature for flavors to meld for at least 10 minutes, then serve atop hummus.
Prep Time:

15 minutes

Cook Time:

20 minutes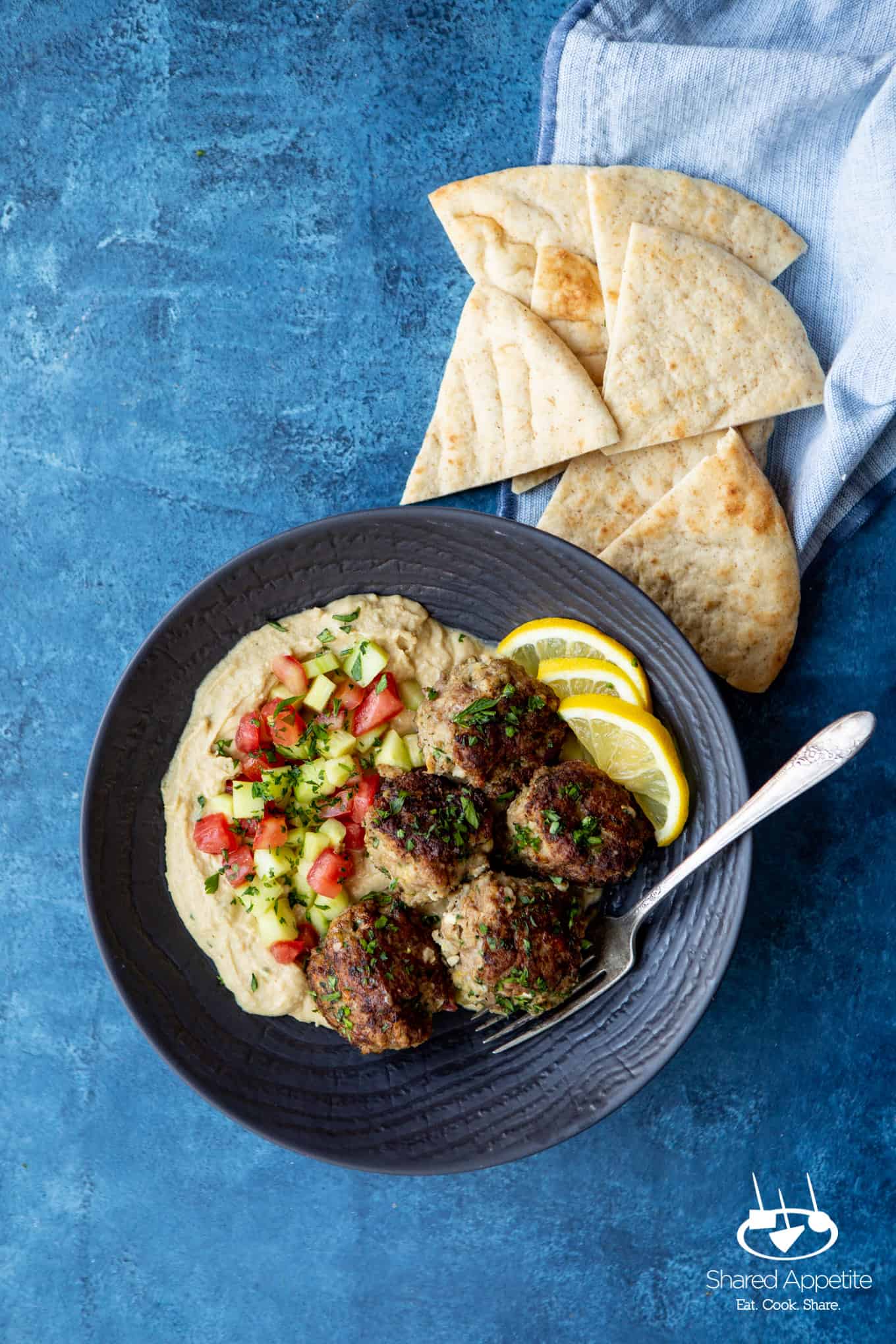 GREEK CHICKEN MEATBALLS