Dumplings.  One of the best cheap eats option in NYC.  The little bundles of joy are satisfying, filling, and downright comfort food.
Spending a lot of time in the Lower East Side recently, I've grown accustomed to and thoroughly enjoy those delicious dumplings served up over at C & C Prosperity.  They are the perfect $1 treat in between my typical stops at Doughnut Plant, The Meatball Shop, and Big Gay Ice Cream.
But for a while now I've wanted to head down a bit to Chinatown and do a little dumpling tour, stopping at some of the best known spots for dumplings to have a look... or more accurately, taste.  And as I quickly found out, you never even have to leave Eldridge Street.  How convenient is that?!
So one late afternoon, Asheley and I headed down... headed down to Chinatown:
1. Super Taste Restaurant
Located at 26 Eldridge Street, between Division and Canal.
Our first stop on the tour, at the beginning of Eldridge Street just underneath the Manhattan Bridge, we walked into this narrow but long storefront.
I was expecting just the typical dumpling house walk-up counter, but this is actually a sit-down at a table sort of place.
Surprisingly, steamed dumplings were the only option, not the pan-fried variety that I've grown so attached to.  $3 gets you 10 dumplings here at Super Taste, which roughly works out to 3 for a $1.  These dumplings came in as the most pricey of the day.
The dumplings were slippery little buggers, but I quickly adapted my samurai chopstick skills.  And be careful, they are HOT!  I recommend taking a little bite to open up the wrapper a bit and allow the steam to escape to avoid the oh so painful dumpling mouth burn.
The wrapper was very thin and delicate, the filling good, and the dipping sauce deliciously sweet.
Asheley was really in the mood for some soup, so she tried the Lanzhou Hand-Pulled Noodles with Beef in Soup ($5.50).  It's definitely on the expensive side, but that's how I roll when my loving wife wants some soup.  She wants it, she gets it.  Asheley really liked the soup.  I thought the noodles in the soup were really great.  Super Taste is actually known for their hand-pulled noodles.   However, the soup overall was disappointing... all I tasted was a super greasy broth with tough, inedible pieces of beef.
Overall, a good start to our dumpling tour.  The service was quick.  The food was satisfying.  The bill was under $10.  Although a bit of a bummer that they only serve steamed dumplings, they were delicious and perhaps a "lighter" appetizer version of the pan-fried dumplings to come.
2. Prosperity Dumpling
Located at 46 Eldridge Street, between Canal and Hester.
Moving one block north, we hit up Prosperity Dumpling.  You already know how much I love Prosperity's sister establishment, C & C Prosperity Dumpling.  I was excited to finally try the original, assuming that it would of course be equal to or even better than the one I frequented in the Lower East Side.  Unfortunately, not the case.
Entering inside what can best be described as a small tool shed, I squeezed my way past the people waiting to receive their order.  Of course I went for the Pan-Fried Pork and Chive Dumplings, which are absolutely amazing at C & C Prosperity Dumpling.
One plust of coming to the original Prosperity Dumpling is that you get the added bonus of one extra dumpling for your $1, five in total.  That's right, FIVE dumplings for a buck. (You only get 4 dumplings for $1 at C & C Prosperity).
The turn around is pretty darn quick here.  Within a minute or two I had that styrofoam container in hand. There was a nice crust on these dumplings, but I found the wrapper a little chewier than I am used to.  Also, they were ridiculously hot.  I totally burned my mouth on these puppies.  That didn't really slow me down though, and forged ahead with courage.
There's Asheley, my wonderful dumpling hand model:
So all in all, a pretty good dumpling, and great deal at 5 for $1.  However, I prefer their sister dumpling house in the Lower East Side... less greasy, more tender wonton wrapper, and a place to sit down and enjoy my delicious cheap eats!  Oh, and if you go, don't forget to get a Vegetable-Filled Sesame Pancake.  They are awesome.
3. Panda Dumpling House
Located at 67 Eldridge Street, at the NorthWest corner of Hester.
As we left Prosperity, the sun quickly went into hiding and gave way to nightfall.  As we descended upon Panda Dumpling House, I was shocked by its sheer massive size (especially when comparing it to the Prosperity's tool shack interior).
Although it doesn't look it from the outside (and I forgot to take a picture), the interior has a clean, modern-ish design with ample seating.
You get FIVE dumplings for $1 at Panda House, a generous amount considering it being my favorite dumpling stop the entire day.
Although the dumplings had quite a bit of grease to them, the filling had excellent flavor.  The wonton wrapper was a bit more tender than its counterparts at Vanessa's and Propserity.
This was my favorite dumpling house of the day.  Asheley, who isn't even a big dumpling fan (I know, I know... but try not to judge her too much), liked Panda House the best as well.  The service was quick and friendly, the interior ambience was excellent and incredibly clean, and there was a ton of seating.  The dumplings were excellent, the price is right, and the sriracha is not watered down like it so often is at other dumpling establishments.
4. Vanessa's Dumpling House
Located at 118A Eldridge Street, between Grand and Broome.
We were spoiled with the first three stops being so close to one another.  From Panda Dumpling House, we had to walk a whole TWO blocks to reach our next and final destination.
And so we arrived at the other big player on Eldridge Street... Vanessa's.  They have long been known to be rivals with Prosperity Dumpling.
On ambiance alone, Vanessa's is way above Super Taste and Prosperity and just squeaks out Panda House.  I mean, there is something to be said about the cheap eats out of a small shack type vibe, but the clean, sleek design of Vanessa's, along with the ample amount of seating and lively chatter of a packed house, is quite welcoming.
There was quite the line for these dumplings.  It took about 10 minutes to just place my order, and then another 10 minutes for them to finally call my order number for food pickup.   As compared to the 5 dumplings to an order at Prosperity and Panda House, only expect 4 for $1 at Vanessa's.  From what I've been told, you used to get 5 to an order, but following Vanessa's big remodeling project to obtain the aforementioned awesome ambiance, they changed their dumpling pricing.
The dumplings were fine, although the wonton wrapper was kind of chewy, and the filling was a bit lackluster.
I also tried a Vegetable Sesame Pancake.   I love the one at C & C Prosperity Dumpling:  fried, chewy  yet fluffy dough goodness with a heavy sprinkling of sesame seeds and stuffed with pickled carrots and cilantro.   Although the one at Vanessa's also has julienned cucumber, I still think C&C's is a bit better (but then again, I'm not a big cucumber fan...)
And there ended our delicious dumpling tour.  Absolutely stuffed on dumplings, we had to declare a winner...  drumroll please... Panda Dumpling House!
So when you get the chance head down to Eldridge Street and try a dumpling tour all for yourself.  Make sure to let me know where you think has the best dumpling!
You may want to also check out...
The Top 10 Foods You Have To Eat In NYC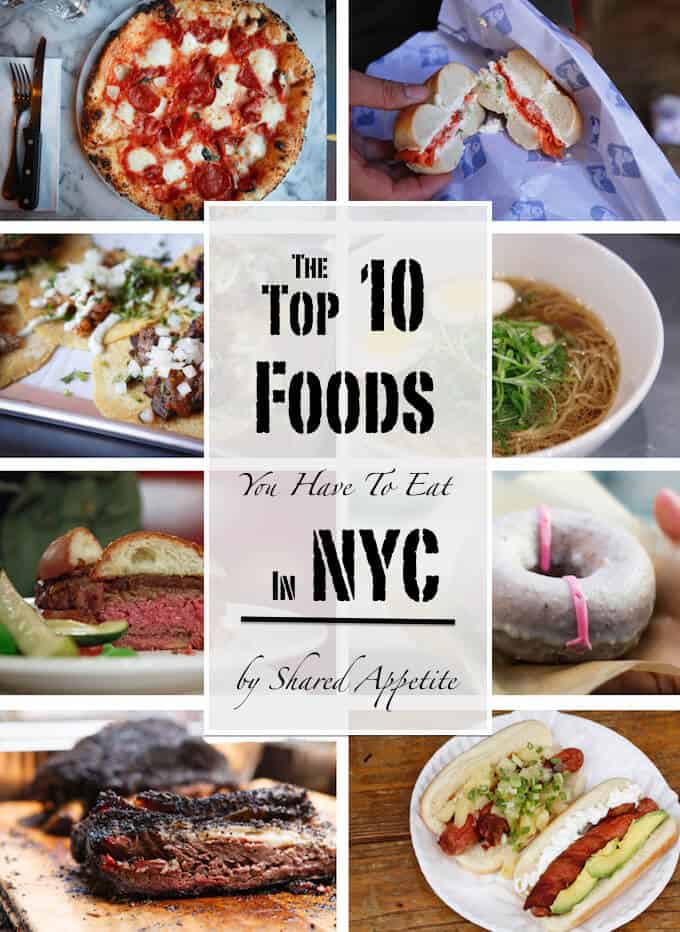 The 10 Best Ice Cream and Frozen Treats in NYC