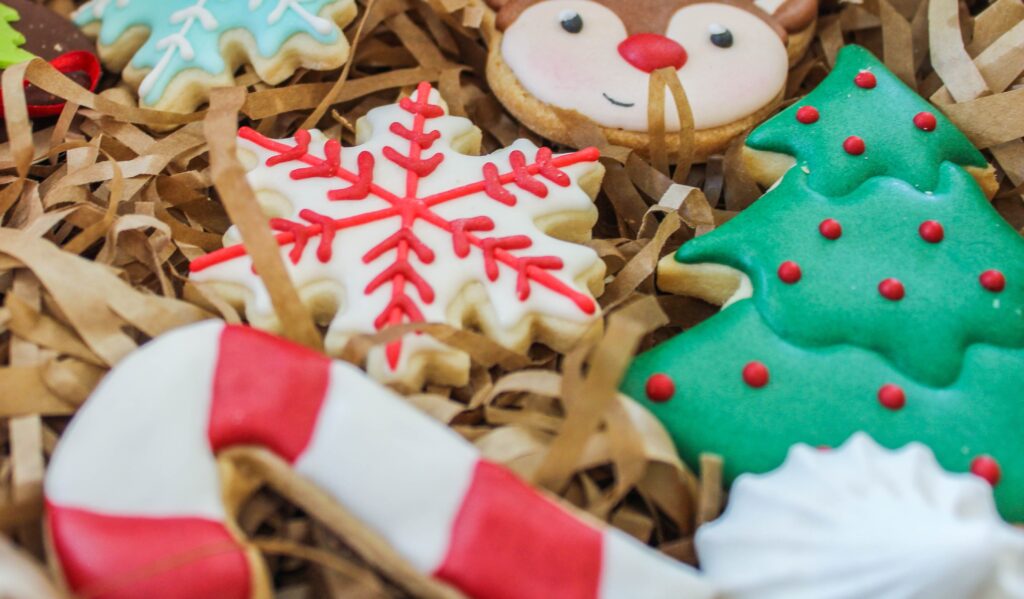 Our 20 great Christmas desserts list
It is that time of the year again! Christmas is the time for merry-making and it is incomplete without delicious desserts!
Whether you're hosting or attending a holiday gathering, bringing a dessert is sure to help you win hearts and spread joy. But with so many delicious desserts to choose from, it can be hard to decide which one to make for Christmas.
Don't worry. Here's a list of some of the best desserts to bring to Christmas or make for yourself.


1. Christmas Pudding
There's no Christmas without a traditional Christmas pudding. This decadent dessert is made with dried fruits, spices, and a few "special" ingredients, like brandy. It's usually served with custard, cream, or ice cream, making it a truly indulgent holiday treat.
And, you just cannot go wrong with it. This is a great make ahead dessert for Christmas.
2. Mince Pies
Another classic Christmas dessert is mince pies.
These individual pastries are filled with sweet mincemeat, topped with a dusting of castor sugar, and glazed with the goodness of melted butter. They're the perfect finger food for a festive gathering, and they're sure to be a hit with everyone at the table.
3. Bûche de Noël
If you're looking for something a bit more unique, try making a batch of Bûche de Noël.
This French-inspired dessert is a combination of sponge cake and frosting. It is usually decorated with marzipan, chocolate, or other festive ingredients.
It's a great way to celebrate the holidays with a touch of elegance. You can make your own Bûche de Noël or find a local bakery that specializes in these festive treats.
4. Gingerbread Cookies
Gingerbread cookies are a classic Christmas dessert that everyone loves! They're easy to make and even easier to eat. You can decorate them with icing, sprinkles, or other festive toppings, and even hang them as decorations on your Christmas tree. This is a great example of a traditional Christmas dessert.
5. Christmas Cake
A Christmas cake is a must-have for all of your holiday parties. It's easy to make and can be decorated to match your Christmas décor. Plus, it's sure to be a hit with all of the guests. Spike it up with some brandy or rum to make a sweet and boozy adult version - no one will complain.
6. Chocolate Fondue
Chocolate fondue is a decadent and playful dessert that is sure to be a hit in any gathering. Gather around the fondue pot and dip your favorite fruits, cookies, and other treats into the warm, melted chocolate for a truly special and lip smacking experience. I love any chocolate Christmas dessert I can get my hands on.
7. Apple Pie
A timeless dessert, an apple pie can sweeten just about any Christmas celebration. It's easy to make and you can use store-bought crust and filling to make baking it an easy affair. Plus, it's always a hit with everyone at the table. Another great option is the Caramel Apple Pie Tacos we made a few years ago.
8. Christmas Trifle
If you're looking for a show-stopping dessert, a trifle is the way to go. It's a layered dessert made with slices of cake, fruit, custard, and cream. This dessert is also another perfect way to end a festive Christmas meal, albeit it requires a fair bit of elbow grease.
9. Eggnog Cream Pie
Nothing says Christmas like the flavors of eggnog in a creamy and delicious pie. Rich and decadant, it combines the classic flavors of eggnog with a flaky pie crust for a delicious treat. Enjoy a slice of this comforting and indulgent pie to get into the yuletide spirit and wow your guests too.
10. Cranberry Cheesecake
A delicious Cranberry Cheesecake is another perfect way to finish off any holiday meal. The combination of tart cranberries and creamy cheesecake creates a unique flavor that is sure to please even the fussiest eaters. Enjoy a slice of this delightful dessert and share the joy of the season.
11. Pecan Pie
Pecan Pie is a classic Southern dessert, perfect for the holiday season. This decadent treat is made with a sweet, rich filling and loaded with crunchy pecans. The perfect combination of sweet and salty, you can enjoy the unique flavor of this nutty pie and make it a staple at your holiday gatherings.
12. Chocolate Yule Log
A classic French cake, a yule log is as festive as it gets. It is made with a light and fluffy meringue-based sponge, filled with a rich and creamy chocolate ganache, and then rolled into a log shape.
The log is then finished with a chocolate frosting, giving it the illusion of a fallen log. This is a show-stopping dessert like no other and is sure to be a hit with family and friends this holiday season!
13. Peppermint Bark
Peppermint Bark is a delicious holiday treat made of layers of white and dark chocolate swirled together and covered with crushed candy cane pieces. It's a perfect combination of sweet and minty flavors, making it a great after-meal dessert or snack to enjoy during this time of the year.
If your guests like After Eights, they will dig the peppermint bark.
14. Hot Cocoa Cake
A Hot Cocoa Cake is a luxurious and indulgent treat. Made with rich, dark chocolate and topped with a creamy frosting, it is very sweet and sticky - perfect for satisfying anyone with a massive sweet tooth.
You can serve it as an after-dinner treat or cut yourself a slice with your evening tea, this delicious cake is great for any time of the day.
15. Shortbread Cookies
Made with just a few basic ingredients - butter, sugar, and flour, shortbread cookies are light, crumbly, and melt in your mouth with each bite you take. The perfect accompaniment to a cup of hot cocoa, these classic cookies are sure to bring a smile to everyone during the holiday season.

16. Peanut Butter Blossoms
Peanut Butter Blossoms are a delicious and classic cookie with a soft and chewy peanut butter cookie base and a Hershey's Kiss perched on top. Simple to make but incredibly delicious, these "blossoms" make for an excellent gift too.
So if you plan on surprising your mailman or building super with Christmas cookies, go with this one and win them over.
17. Snickerdoodles
Snickerdoodles are soft and chewy cookies that are rolled in cinnamon and sugar. They are a great addition to any holiday cookie tray but can be enjoyed all year round!
18. Thumbprint Cookies
Thumbprint cookies are a great way to make cookies special for the holidays. The dough is shaped into balls and then pressed with the thumb to make a shallow indentation. The cookies can then be filled with your favorite jam or melted chocolate before being topped with festive sprinkles.
You can bake them with your family and make a ritual out of it.
19. Chocolate Chip Cookies
Chocolate chip cookies are always a hit with kids and adults alike. They can be made with festive-colored chips and shaped into holiday designs using cookie cutters. Plus, who doesn't love chocolate chip cookies, eh?
Make them as chewy or crunchy as you want and stow some away for later. It's a win-win!
20. Sugar Cookies
Sweet and classic sugar cookies are a must for any Christmas celebration. They can be decorated with holiday-themed sprinkles, icing, candy canes, and other similar decorations.
No matter what dessert you decide to make for Christmas, have fun in the process. Anything you make with love is sure to be a hit with all of your guests. So pull out your apron, preheat your oven, and start baking.
The Christmas bells will start tolling before you know it. What are some of your favorite Christmas dessert to bring to friends and family.