I vividly remember my second grade teacher.  Mrs. McQueen.  McQuaid.  Mc… something like that.  Maybe not so vividly as I thought.  Anyway, I do remember really loving hot dogs right up to the point Mrs. Mc…Quaid (that's definitely it, yes, McQuaid) told the class that they were made from pigs eyes.  I was only in second grade!  It was devastating, almost as much as watching that scene in the Lion King where Simba's dad died.
Her hot dog declaration scared the living daylights out of me, leading me down a sad and lonely frankfurter-free diet for several years.  To think about how many backyard bbq hot dogs I missed out upon because of Mrs. McQuaid deeply saddens me.  A piece of my culinary childhood gone.  Forever.
Don't cry for me.  It's okay.  I've moved past it.  Hot dogs are back to being a mainstay on the summer grill rotation at our house.  Asheley would eat them every night for dinner if I allowed her (which I don't, sorry hun).  And whenever we are in the East Village, our favorite hot dog joint is a must.  I present to you the amazing, the magnificent, Crif Dogs:
It's not too hard to find Crif Dogs sunken entrance on St. Marks Place (which is pretty much just 8th street with a fancy name) thanks to a giant Eat Me dog dangling overhead.
Good news for you party animals that are taking advantage of the lively bar scene in the East Village:  they're open until 2 a.m. weeknights and 4 a.m. weekends.  I can't remember the last time I've been up at 2 a.m.  I'm more of a morning person.  I know, crazy right?  But for you night owls out there, I can't think of anything more perfect to snack on after a late night out.
When hunger strikes us on a nice sunny day, Asheley and I like to walk our artisan dogs across the street to Tompkins Square Park.  People watching and hot dog eating.  Does life get better?
And nothing completes the experience more than heading around the corner afterwards to Big Gay Ice Cream for a Salty Pimp or Bea Arthur for dessert.
It can get pretty cramped inside Crif Dogs during peak hours.  Seating can become quite the precious and rare commodity.  If you see a free couple of seats, nominate someone in your party to sit there and call dibs while you order.
And check this out.  This place is cool enough all on its own, but there is actually a hidden speakeasy accessible only through the honest-looking phone booth within Crif Dogs.  PDT (Please Don't Tell) is open during the evening and reservations are highly recommended since it's super tiny in there.  I've never been, but a good friend of mine has and said they have mixologists serving up some serious drinkage.  Even better, they serve the full Crif Dogs lineup as well as secret menu items exclusive to PDT customers.
I haven't even come close to eating my way through the entire menu yet at Crif Dogs, with fun and inventive dogs topped with everything from cream cheese and everything bagel seeds to fried eggs or avocado.  Some say weird.  Others (correctly) say genius.
And if you're a vegetarian, no worries, they've got a dog for you too 🙂
You're looking at my current 2 favorite hot dogs to date at Crif Dogs, the Chihuahua and the Tsunami.  The bacon-wrapped Tsunami dog is topped with pineapple, teriyaki, and green onions.  The chihuahua also gets the bacon-wrapped treatment, and it topped with sour cream and avocado.
Doesn't sour cream and avocado sound super weird, like it wouldn't (and shouldn't) taste good?  I know!  That's what I thought the first time I tried it.  But it's so strangely….ridiculously amazing!
If you're at all like me and wondering why the place is called Crif Dog, try saying "Chris" while chewing on a mouthful of hot dog.  That's seriously how childhood friends and owners Brian Shebairo and Chris Antista named the place when they opened in 2001.  Random piece of culinary trivia for ya.  It could come in handy some day.
What, it could!  Case in point, I was just playing this "Foodie Fight" game with some friends the other day and there were tons of random food facts on those cards.  You're welcome.  In advance.
And go to Crif Dogs.
Crif Dogs 113 St. Marks Place New York, NY 10009 (212) 614-2728
You may want to also check out…
The Top 10 Foods You Have To Eat In NYC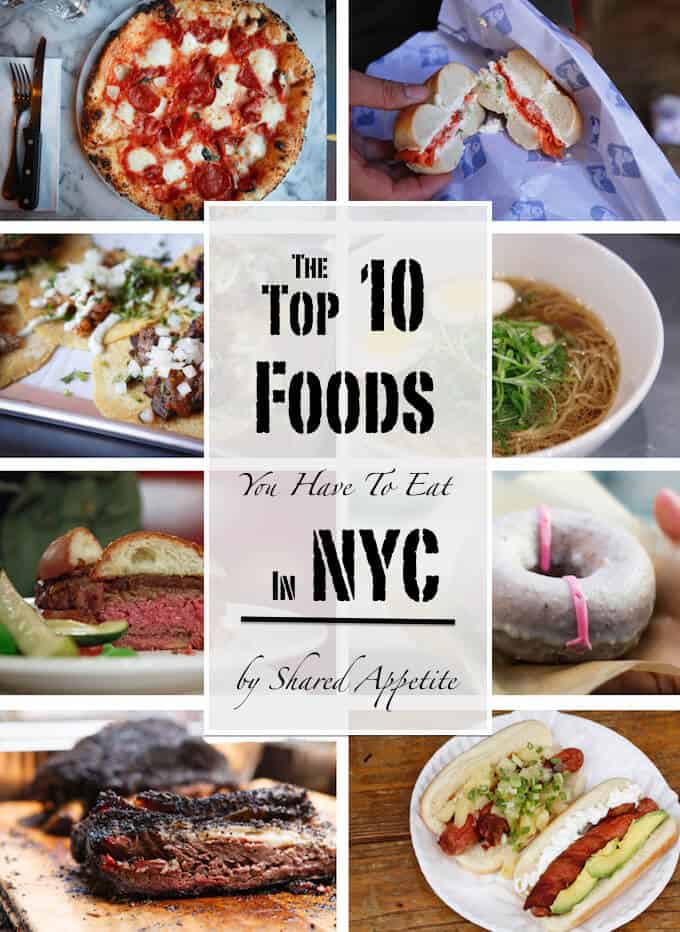 The 10 Best Ice Cream and Frozen Treats in NYC