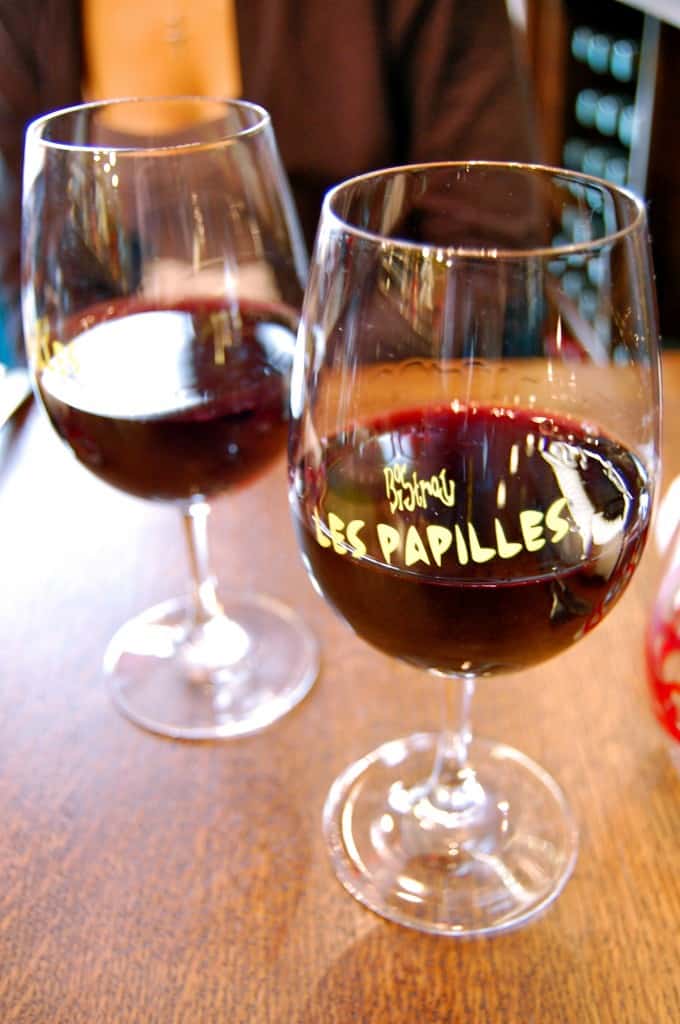 After being good tourists and doing touristy things: taking a strol through the beautiful Luxembourg Gardens, viewing the Paris panoramic from atop Montparnasse Tower, and visiting the crypts within the Pantheon, we were absolutely starving for some lunch.  Luckily not too far away and within walking distance were two places I wanted to check out:  Franck Kestener Chocolatier (which you can read about in my post The Best Paris Chocolatiers) and Les Papilles, a charming little bistro/wine bar.  I had Les Papilles on my list of potential restaurants to visit after reading how much Paris food blogger David Leibovitz enjoys dining there.  And man he was right... this place was great!
Opened in 2003 by Chef Bertrand Bluy, Les Papilles's bright yellow storefront welcomes a mostly local crowd into their cozy, homey interior.  Luckily the table next to us was left unoccupied while we dined, as tables are placed almost on top of each other.
Les Papilles is more than just a tiny little bitro.  In front of the bar area are various gourmet and artisan jams, spices, coffees, and such for sale.  The left wall is covered floor to ceiling with various bottles of wine as this bistro doubles as a wine shop, and as I went downstairs to visit the restroom, I saw a beautiful wine cellar where I assume tastings or small private events can take place.  The food itself is nothing short of spectacular: simple, comforting, and incredibly satisfying.  In 2008, Les Papilles won the Michelin Guide Bib Gourmand Award, which is awarded to restaurants serving excellent food at very reasonable prices.
We each started with a glass of wine, priced at a reasonable 4€.  The server explained the different options for lunch, and we decided upon doing the 2-course lunch prix-fixe (26€ per person) that changes daily based upon exceptional seasonal finds at the market.  The meal was served family-style with very generous portions:
It was a rainy and pretty cold July afternoon when we walked in for lunch at Les Papilles, so this soup was the perfect first course.  I'm still amazed by the stunning presentation:  in our bowls was a neatly stacked tower of cubed potatoes and celery, bacon, croutons, chives, and a dollop of creme fraiche topped with fried parsley.  In addition, a curry/cumin spice blend made a neat line across the edges.   As we ladled in the creamy potato soup from the crock into our bowls, we eagerly swirled and twirled our spoons to mix all that goodness together!  It was absolutely fantastic in every sense of the word.
For our main plate was this amazing roasted pork tenderloin, served in a rich pan sauce with assorted vegetables.  The pork was tender, the vegetables cooked perfectly with just a little amount of crisp bite, and that sauce, oh that sauce!  Ooooooh, and if that all wasn't enough to make us happy, this certainly was:  a super creamy, buttery polenta:
The entire meal was so satisfying and incredibly delicious.  Although a little on the expensive side for lunch (the total bill was around 60€), it was completely worth it when considering the generous portions, the quality of ingredients, and the skill with which they were prepared.  I would return to Les Papilles in an instant.  And while you are there, make sure to make your way down the block to visit Franck Kestener Chocolatier for dessert!