Do you want to learn how to speak Khmer, the official language of Cambodia?  Well actually, just maybe one very important word.  A word anyone that may ever remotely be in the Union Square area should memorize: Num Pang.  Go ahead, say it.  Say it again. Memorize it.  Meaning "sandwich" or "bread" in Khmer, Num Pang is not only a tasty word, it's quite the tasty place.
Owned by Ben Daitz and Ratha Chaupoly, Num Pang has a unique line-up of Cambodian-inspired sandwiches.  They offer a wide variety of sandwiches that will make carnivores, vegetarians, and everyone in between happy as can be.  Just make sure to bring cash to cover your meal, which shouldn't be hard considering sandwiches are around $8.  Although there is also a Num Pang location right by Grand Central (140 E. 41st Street between Lexington and 3rd Ave.), I have only been to the one just around the corner from Union Square (21 12th Street between 5th Ave. and University Place).
So what exactly is a Cambodian sandwich?
Well, if you ever had the currently very trendy/popular Vietnamese Banh-Mi sandwich, it is pretty much like that (which makes sense considering Vietnam and Cambodia are neighbors).  The menu at Num Pang consist of both Classic Sandwiches, which are the mainstays available year round, as well as the periodically-changing Seasonal Special Sandwiches.  All sandwiches are topped with cucumber, pickled carrots, cilantro, and chili mayo, served on a mini baguette that is freshly baked daily in NYC.
Some of the most popular sandwiches at Num Pang include their famous Five-Spice Glazed Pork Belly, Coconut Tiger Shrimp, and Pulled Duroc Pork sandwiches.  I'm still eating my way around the menu, and I love the variety they offer.
At Num Pang, no modifications of their sandwiches are allowed, probably for two reasons:  it slows down turn-around time and their sandwiches are built to balanced perfection.
After ordering at the walk-up window, you can watch the couple employees in the open kitchen feverishly keep up with the demand.
Many people seem to grab their sandwich to-go (if it's a nice day I presume eating in Union Square would be a nice idea), but I typically ascend up this spiral staircase to the 2nd floor dining space.
There is probably room for about 20 people up here, with both a countertop with stools as well as a standing-only countertop.  Facing 12th Street (which you can't see in this photo), is a super low-to-the-ground countertop with little tiny stools... ones that once you sit your knees are higher than your waist.  I sat there once out of curiosity, but then smacked my head really good on the overhanging ceiling.  Not making that mistake again.
Grab a seat and load up on some napkins, and feel free to make judicious use of the several bottles of Sriracha sauce gracing the countertops.
On this particular day, Asheley ordered our favorite Classic Sandwich: Pulled Duroc Pork with Spiced Honey (left), while I tried a Seasonal Special Sandwich: Ginger Barbecue Brisket with Pickled Red Cabbage (right).
One thing I really love about Num Pang is that they pay attention to detail.  The ingredients are high-quality:  sustainable and obtained by local markets when available.  The mini baguettes, which are baked by Parisi Bakery (the same bakery that supplies the hero rolls for the very popular Parm), are always super fresh, have great crust and flavor, and are perfectly toasted.
Here is a close-up of the Pulled Duroc Pork with Spiced Honey Sandwich.  The sandwich is incredibly well-balanced, with the sweetness of the honey counterbalanced by the spicy mayo.  The crazy moist, tender, fatty richness of the pork is the perfect yin to the acidic pickled carrots and fresh cucumber and cilantro yang.  It's just a beautiful, beautiful sandwich!
I usually get the Pulled Duroc Pork sandwich because it is that good, but when I saw the words "Ginger Barbecue Brisket" on the seasonal menu, I knew I had to try it.  And yup, as expected, it was ridiculously amazing.  The generous amount of brisket was fall-apart tender and super moist, with just an underlying ginger flavor.
I ate this sandwich with feverish intensity, and within minutes, it was gone.
Want to see a very sad sight?  Brace yourself, this is a disturbing image...
I seriously considered getting a second sandwich.  Seriously.
So next time you are in the Union Square area, make sure to check out Num Pang.  And if you are around during the weekend, also check out some of the food trucks that hang out around Union Square, including two of my favorites: Coolhaus Ice Cream Sandwiches and Kimchi Taco Truck.
You may want to also check out...
The Top 10 Foods You Have To Eat In NYC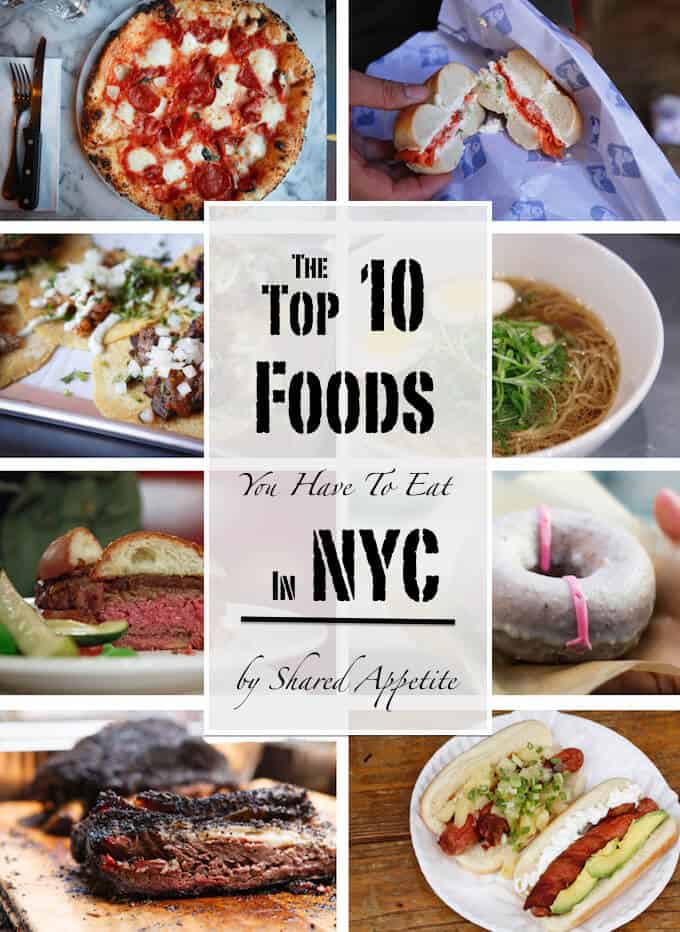 The 10 Best Ice Cream and Frozen Treats in NYC