Asheley has been running a bunch of 5-Ks the past couple of weeks as part of a Winter Run Series in our area along with Tyler's Ashley.  Personally, I don't enjoy running.  At all.  But I will do some running in the warm weather just to enjoy the outside and to appease my running-obsessed wife.  Running in the freezing cold though is just plain insane to me.
I'm glad the Asheley/Ashley duo enjoy it, because while they are off at their little cold runs, Tyler and I get time to talk food.  This past race day we cooked up and photographed a beautiful Sweet Potato and Kale Hash topped with a Fried Egg.  Stay tuned for that recipe this upcoming week.  Once the girls returned from their freezing 5K (while Tyler and I were enjoying the warmth of his house with food in hand), we decided to take a little trip into the city to try out Chef April Bloomfield's newest spot, Salvation Taco.
And then it kind of spiraled outward from there...
1 point to Asheley for finding the entrance to Salvation Taco as we walked up and down the street without any luck.  Scaffolding and very little signage concealed its humble entrance nestled adjacent to the Pod 39 Hotel.  Walking inside, we were met with an explosion of fun colors and a vibrant, party-like atmosphere.  The place just gives off that "fun vibe", a place I definitely would like hanging out at night with friends.
Salvation Taco is the latest collaboration between the all-star duo Ken Friedman and April Bloomfield.  They also teamed up for the very popular and trendy gastropub The Spotted Pig (which we also happened to go to with Tyler and Ashley), as well as The Breslin and The John Dory Oyster Bar.
Salvation Taco just started serving food about a month ago (the rooftop bar was apparently open since this past summer).
The lunch menu is basically a truncated form of its dinner offerings.  And a welcomed but nonetheless surprising sight: everything on the menu is $10 or less.
The naan and corn tortillas are both made on site.  Asheley, who loathes corn tortillas, actually found them quite enjoyable.   And be forewarned: the tacos are quite tiny, so if you are planning on making them your entire meal, plan on getting at least 3 or 4.
The big winner of the day, HUGE winner, was the Moroccan Lamb on Naan ($5).  The naan was excellent.  The lamb was moist and tender yet had a beautiful crispy exterior.  I would be very happy eating a diet of only this for the next year.
The Skirt Steak with Pecan and Chipotle ($3) was also exceptionally good.  I've never experienced skirt steak so tender.  It literally almost melted in your mouth.  There was also plenty of heat in this taco, which I really loved.
There was a clear disappointment and miss in the bunch though, and that came with the Roasted Cauliflower with Curried Crema ($3).  It was devoid of flavor (especially when comparing it to the other two), and describing it as dry and boring would be an understatement.
I was really surprised at how affordable the tortas (sandwiches) on the menu were.  I spend seven or eight bucks on a lousy sandwich at the deli or even Panera for that matter.  For the same price, Bloomfield is offering her upscale tortas.  If you are hungry and want the most bang for your buck, definitely go with a torta.  Note: tortas only available at lunch.
We agreed on sharing the Confit Chicken Thigh Torta $7, which had beautiful moist meat and a complex chocolate-cinnamon mole-ish type sauce.   It was definitely enjoyable (except for the skin of the chicken that was soggy and limp), although I definitely want to try the Braised Short Rib next time.
As we happily left Salvation Taco excited to return for another visit soon (probably for dinner so we can try some different menu options, although the server also said the breakfast burritos are super awesome and worth a trip), we headed uptown to check out all the buzz I've been hearing about Two Little Red Hens Bakery.
Their cupcakes have been getting a lot of attention in the media, but Tyler also came across a Serious Eats article that put the bakery on top for NYC's Best Cheesecake.  Cupcakes and cheesecake it is!
We ordered a slice of the cheesecake and both a Red Velvet and Brooklyn Blackout cupcake.  The bill came to around $15... not to bad at all.  The four of us attacked the box of delectable sweets with such ferocity that I didn't even get pictures of the red velvet cupcake or cheesecake.  The red velvet was definitely, for my money, one of the best I've ever had.  The cheesecake was okay, but I think we hyped it up too much in our heads and kind of fell short because of that.
The Brooklyn Blackout, pictured below, was a delightful chocolate explosion with a generous amount of chocolate pudding crammed into the interior.  This was a darn good cupcake.   

I now have two favorite cupcake places in the city:  Two Little Red Hens Bakery and those whimsical cupcakes over at Molly's in Greenwich Village.
We were still hungry for more and Asheley really, really wanted to head over for a Cambodian-inspired sandwich from NumPang.  If you've never been to NumPang, which serves up some of the most amazing sandwiches I've ever had, you need to go.  Unfortunately, we couldn't find street parking and I made the executive decision to head down to Parm.  We found a spot right outside the restaurant... totally a sign that this is where we were meant to be.
We walked in and found out that they were only serving a very limited bar menu at that time of day (between 4 p.m. and dinner service).  Poop.  We decided to stay and try some mozzarella sticks and the apparently amazing House-Roasted Turkey that The Amateur Gourmet keeps raving about.
Parm, which is an offshoot of the next door restaurant Torrisi Italian Specialities run by Rich Torrisi and Mario Cerbone, is a more casual, laid back spot that is successfully reviving tired and worn out classic Italian-American dishes.
Case in point:  the humble mozzarella stick.  I can't remember the last time I actually had or ordered mozzarella sticks.  They scream boring and uninspired.  But people... this is no ordinary mozzarella stick.  It's the perfect mozzarella stick.  It is all in the high-quality cheese, which was addictively salty and goey.  This perfection is going to cost you though:  $10 to an order of 4.  And yes, I would definitely order them again.
The House Roasted Turkey Hero ($12) is not as big as what I normally consider to be "hero" size, but I blame a society that has trained me in thinking a hero should be the size of my forearm.   The turkey was exceptionally moist and there was an amazing spicy red pepper - tomato sauce that was slathered on the bottom of the sandwich.  Your typical accoutrement of shredded iceberg lettuce, tomato, and mayo also joined the party.  This is a mighty fine sandwich (and probably one of the best turkey sandwiches out there... although I also really enjoy the one at 'wichcraft), but NumPang still has the best sandwiches I've ever had.
We wanted to finish off the food fest with something sweet, so we headed over to a place that some friends from church had recently checked out for goat milk ice cream: Victory Garden in Greenwich Village.  You heard that right: ice cream from goat's milk.  They only have about three or four flavors daily, so Asheley and I went with the Chocolate-Orange and the Salted Caramel.  Both were really good, but the clear winner was the Salted Caramel.  Really creamy, superb flavor, with just the slightest hint of tang from the goat milk, similar to that of frozen yogurt.
These are the days that I love, eating our way around the city.  And as always, it's not just about what we eat, but the people we get to share it with.  I was really happy to have tried four new places that I could cross off my list.  Often Asheley and I get into a rut of eating at the same stops over and over again... with good reason, they're fantastic!  It was a nice change to venture out a bit 🙂
You may want to also check out...
The Top 10 Foods You Have To Eat In NYC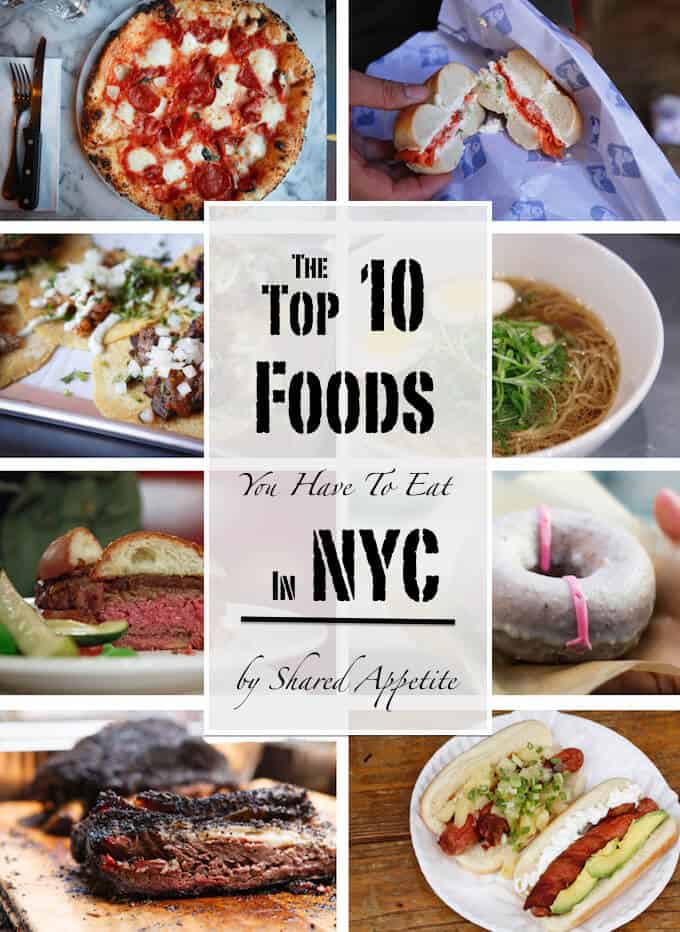 The 10 Best Ice Cream and Frozen Treats in NYC