This recipe for Roasted Peaches with Ricotta Buttercream and Sugared Cornbread Crumbs is brought to you because I was part of the Every day, care™ project with Whirlpool® as part of a sponsored post for Socialstars. #EveryDayCare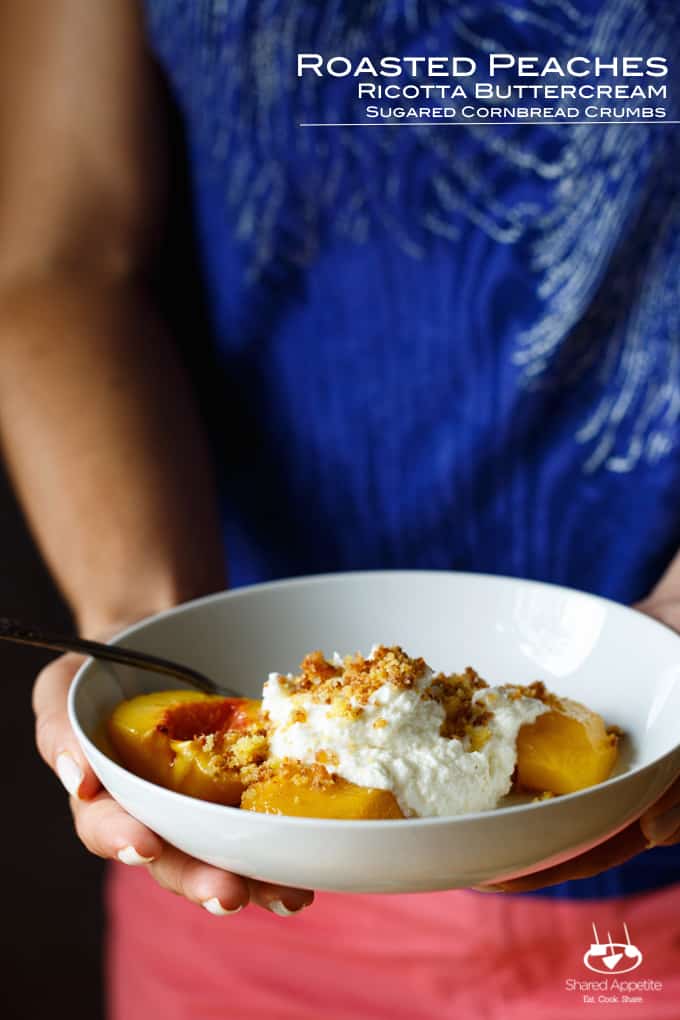 Looking for a unique and sophisticated late summer dessert? Boom. These Roasted Peaches with Ricotta Buttercream and Sugared Cornbread Crumbs are beyond legit!
There are many things Asheley and I hope to get right with raising our now 2-month-old little miracle. Olivia didn't come with an owner's manual though, and we must have missed the opportunity in school to sign up for the how to be a good parent class.
The one thing we really really really want to get right? Getting her to happily eat a variety of foods.
Picky eater = our biggest fear.
So hey, if you have any advice for us on that, leave a comment below. Thanks 🙂
Take for instance, dessert time. I want her to be as excited to try the unique combination of flavors in these Roasted Peaches with Ricotta Buttercream and Sugared Cornbread Crumbs as those dumb character ice pops and other "kid-friendly" desserts.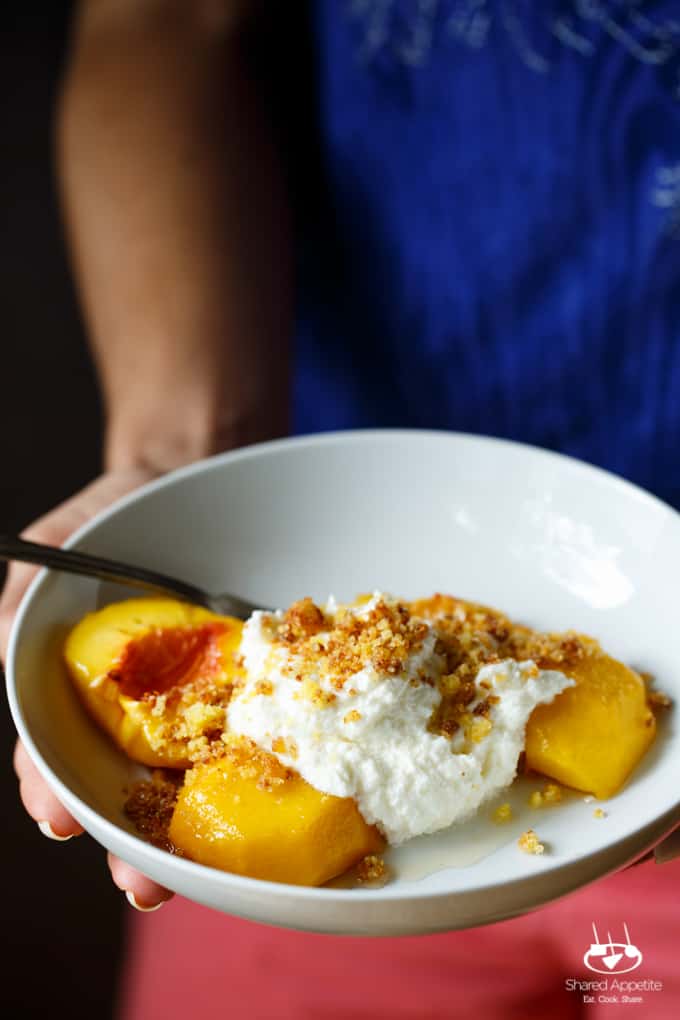 Because really, this creative peach dessert, as weird as it may sound, is freaking ridiculously legit. And I want Olivia to experience awesome flavor like this.
Real ingredients. Actual fruit. FOOD.
I do have one strategy that I hope will help with having a great little eater on our hands. Having her be a part of the cooking process. My mom signed me up for cooking class in the 2nd grade with Mr. Scoops. His real name was Mr. Scupinsky or something like that, but us cool 7 year olds stuck with the nickname.
And look at that mom, those cooking lessons were a good call. Now I absolutely love food (some would say a little too much...), and one of my favorite parts of my day is to care for my family by cooking for them.
So Olivia is going to start early with me in the kitchen. Well, as soon as she is actually aware that she has hands and knows how to kinda use them.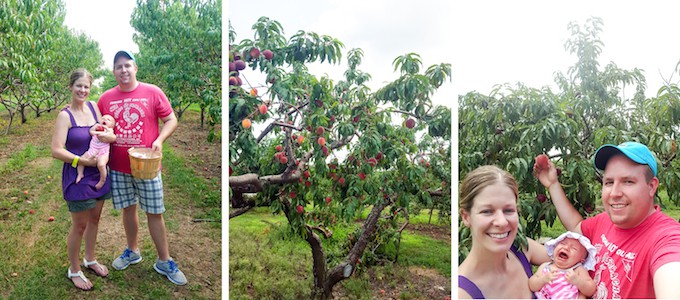 Just look at our little baby girl. Doesn't it look like she LOVED picking these peaches? Okay, well she's like 2 months old and she was a little cranky. But it was a wee-bit hot, she was hungry, and mommy put a hat on her for the first time. Wouldn't you cry?
Bottom line. It was a great family day out 🙂
This is a habit I hope to continue with my little sweet Olivia. Her seeing where the food comes from, how it grows, and who grows it. And hopefully, by her being a part of the process, she'll be more excited to try new things.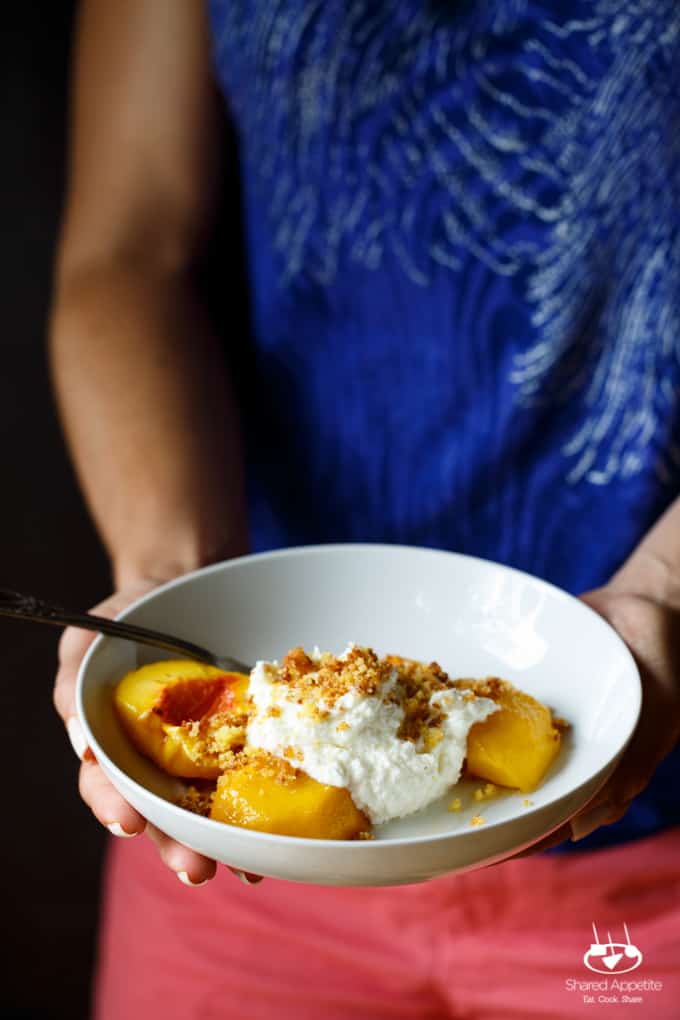 This recipe has been adapted from Bon Appetit.
Print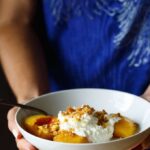 Roasted Peaches with Ricotta Buttercream and Sugared Cornbread Crumbs
---
Total Time:

55 minutes

Yield:

4

Servings

1

x
Description
Looking for a unique and sophisticated late summer dessert? Boom. These Roasted Peaches with Ricotta Buttercream and Sugared Cornbread Crumbs are beyond legit!
---
4

firm but ripe peaches (peeled, halved and pitted)

½ cup

honey

½ cup

champagne vinegar

1 ½ tablespoons

bourbon

½ teaspoon

Kosher salt, divided

6 tablespoons

unsalted butter, room temperature

4 tablespoons

powdered sugar

¾ cup

ricotta, room temperature

¼ cup

cornbread crumbs*

2 teaspoons

granulated sugar

2 teaspoons

olive oil
---
Instructions
Preheat oven to 250°F. Lay peaches in a baking dish just big enough that they can fit snuggly in a single layer. Whisk together the honey, vinegar, bourbon, and ¼ teaspoon of the Kosher salt in a small mixing bowl. Drizzle over the peaches and stir gently to coat peaches with mixture.
Roast peaches in oven, cut side down, for 20 minutes. Remove from oven and carefully turn peaches over. Baste peaches with the pan juices and continue to roast for another 25-35 minutes, until the peaches are soft but still holds its shape.
Meanwhile, beat butter, powdered sugar, and remaining ¼ teaspoon Kosher salt in a mixing bowl with an electric mixer until light and creamy, about 2 minutes. Add ricotta and beat until fully incorporated, about 1 minute. It won't be completely smooth (because ricotta inherently has a little coarse texture).
Combine cornbread crumbs, granulated sugar, and olive oil in a small skillet over medium heat. Cook, stirring frequently, until cornbread is golden brown, about 3 minutes. Transfer sugared cornbread crumbs to a bowl, where they will crisp up as they cool.
Divide peaches among 4 bowls. Top with a spoonful of pan juices, ricotta buttercream and sugared cornbread crumbs. Devour immediately, reminding guests to combine all the elements into each bite.
Notes
*whenever I make cornbread or cornbread muffins, I always have some leftover that I freeze. This way I have small amounts for occasions like these. You definitely want the cornbread to be a bit stale. If it's fresh, try crumbling and toasting in the oven on a low temperature for 5 minutes to dry it out a bit.
**Feel free to substitute in nectarines or other stone fruit!
Prep Time:

10 mins

Cook Time:

45 mins
Laundry. Cleaning. Cooking. These words are typically looked at as boring, mundane chores. But hey, these chores have the amazing power to make a lasting positive impact on the little ones in our families. Join along with the Whirlpool® Every day, care™ mission, and know how all the little things you do on a daily basis add up to something greater. Check out this video...

Looking for More Peach Recipes?
Peach Vanilla Cheesecake Trifle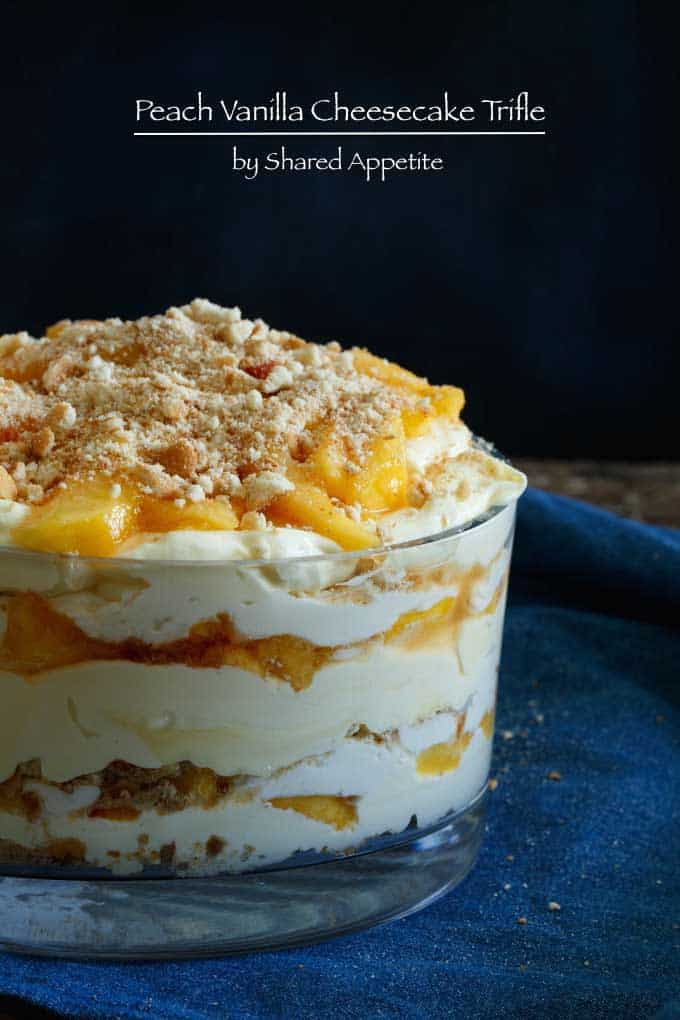 Peach Blueberry Margarita Popsicles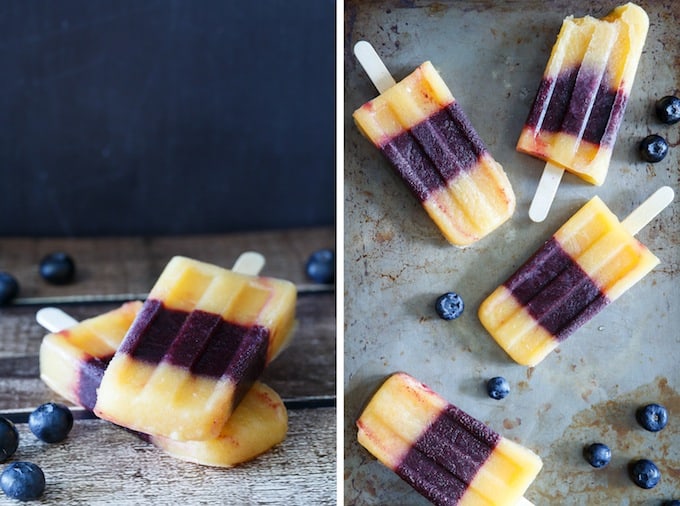 Peach Basil Arnold Palmer Cocktails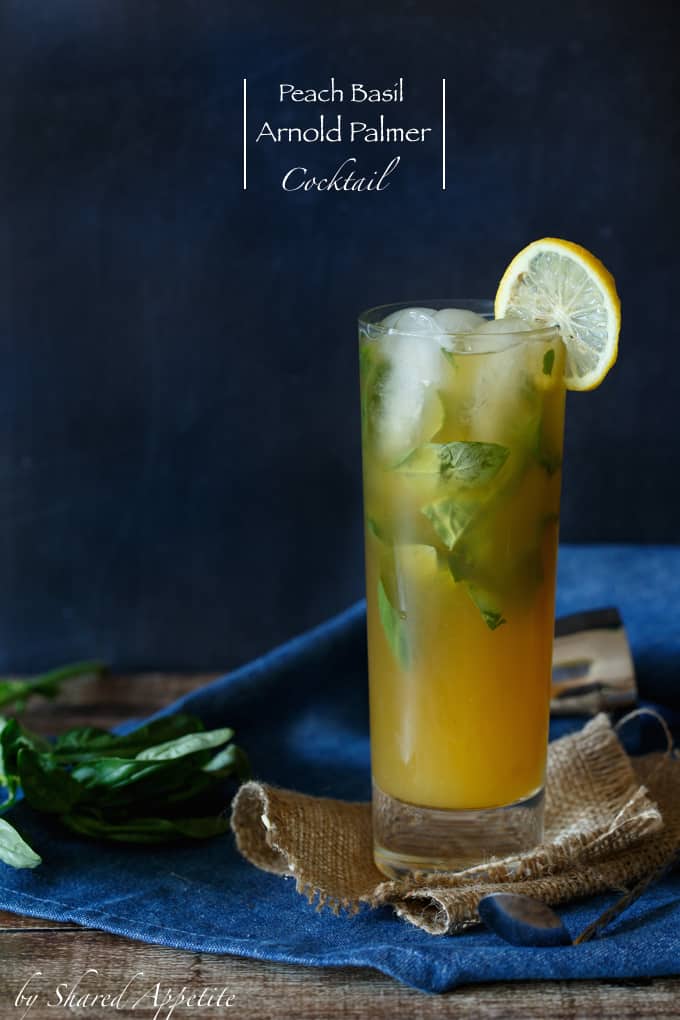 Peach, Corn, and Basil Flatbreads with Balsamic Glaze