Happy spring!  Although it's still pretty cold here in New York and it actually snowed yesterday, winter is finally behind us.  I'm so ready for warmer weather, breaking out the grill, and getting our vegetable and herb garden going.  Asheley is really excited that she can finally start using the bike she got for Christmas.  Her new obsession is wanting to compete in triathlons (yea, I know… I don't get it either).
If you can remember way back to the beginning of January, I told you about how Asheley and I were doing this sort of food cleanse.  Well the cleanse and its effects are long gone, but the spaghetti squash that was frequently consumed during those ten days stuck with us.  Both the Roasted Spaghetti Squash with Red Pepper – Tomato Sauce and Spaghetti Squash with Roasted Broccoli and Parmesan have made occasional appearances since then on our dinner plates.
But then my good friend Steve and I went to this little, local Thai restaurant this past weekend and that got me thinking.  Pad Thai.  Spaghetti Squash.  Pad Thai.  Spagh…. what if I can make Spaghetti Squash Pad Thai?!
In full disclosure, my first attempt didn't go so well.  The sauce was weird.  And I added the cooked spaghetti squash into the pan with the rest of the Pad Thai mixture too early, making it a big bowl of mush by the time the rest of the dish was done cooking.  After some much needed tweaking, culinary victory was mine.
Spaghetti squash makes such a great, healthy substitute for dishes where regular pasta or other noodles are called for.  Just slice one open (easier said than done, since it does have a thick skin… make sure your knife is sharp!), scoop out the seeds and guts, brush with some oil and season with salt and pepper, and roast in the oven for about 45-60 minutes.  Then comes the fun part: shred the flesh using a fork, creating beautiful long strands.
I should have had the red onion and garlic in this picture also.  I forgot.  And now it's too late, so I hope you didn't notice.  But then I told you about it, so now you probably noticed.
The bean sprouts can be found in some grocery stores.  Only one by me carries them.  I'm sure they can be found at Asian markets as well.  And do yourself a favor like I did and just get a bag of the carrots already cut up into matchsticks.  Don't try to be a hero and cut up whole carrots yourself.  Or be a hero.  Totally your call 🙂
Everything you need for the sauce should be readily available in your normal grocery store.  Fish sauce and rice vinegar are easy finds, and tamarind nectar should be by all the Goya products.  If you don't have rice vinegar, I've heard that you can substitute regular distilled vinegar (although I haven't tried it).
If you have Thai chiles around, feel free to use them instead of red pepper flakes.  I did not.
Definitely do not, under any circumstance, forget the wedges of lime and chopped peanuts.  I know garnishes don't always scream "essential", but in this case I think they are.
Asheley doesn't have many faults.  That's why I married her.  But she does, unfortunately, have one that still shocks me to this day.  She's not a huge fan of Thai food.  Yet.  I'm working on it.
With that being said, even she enjoyed this spin on the classic Pad Thai.  I hope you do too 🙂
Print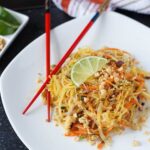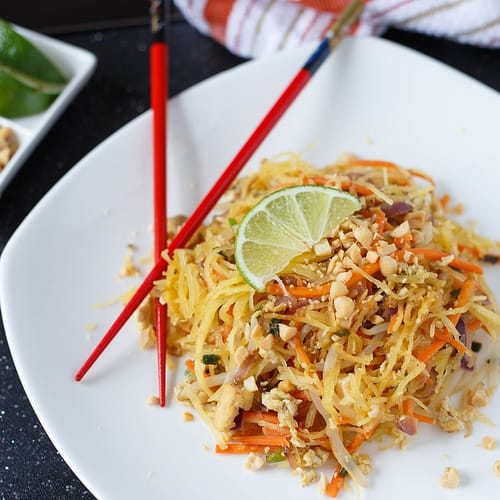 Spaghetti Squash Pad Thai
---
Spaghetti Squash Pad Thai
1

medium-sized spaghetti squash (about

3

–

4

pounds)

7 tablespoons

neutrally-flavored oil, such as canola or vegetable oil
Kosher salt and Freshly ground black pepper

3

eggs

1

(8-ounce) package firm tofu, finely diced (about

1 cup

)*

1

large red onion, thinly sliced

6

cloves garlic, finely minced

2 cups

carrots, cut into tiny matchsticks

2 cups

bean sprouts

2

bunches scallions, sliced

6

–

8

tablespoons Pad Thai sauce (see below)

3/4 cup

peanuts, chopped

1

lime, cut into wedges
*you could alternatively use thinly sliced chicken, beef, pork, or shrimp.
Pad Thai Sauce
2 tablespoons

light brown sugar

2 tablespoons

fish sauce

2 tablespoons

rice vinegar*

1

lime, juiced (should yield about

1 tablespoon

)

2 tablespoons

tamarind nectar**

1

clove garlic, minced
Pinch Red Pepper Flakes (optional)
*you can substitute regular distilled white vinegar if needed.
**Check in the aisle of your grocery store where all the Goya brand products are located. Goya sells them in small cans and are readily available by me.
---
Instructions
Prepare the Pad Thai Sauce. Combine brown sugar, fish sauce, rice vinegar, juice of 1 lime, tamarind nectar, minced garlic, and red pepper flakes (if using) in a small saucepan over medium low heat. Cook sauce, stirring occasionally, until brown sugar is completely dissolved (typically just when it begins to simmer). It should yield about 8 tablespoons of sauce.
Meanwhile, preheat your oven to 400°F. Cut the spaghetti squash in half with a large, sharp knife. Remove seeds and stringy guts, and brush the cut sides of the squash with 1 tablespoon of oil. Season with Kosher salt and freshly ground black pepper. Place spaghetti squash, cut side down, on a baking sheet and roast until tender and easily pierced with a knife, about 45-60 minutes.
To test if your squash is done, scrap the flesh with a fork. If the strands come off easily, it's done. Let the cooked spaghetti squash cool for about 5 minutes, then scrape all the flesh into a beautiful pile of spaghetti strands. Taste and season with some more Kosher salt and pepper if needed.
Heat 3 tablespoons of oil in a wok or large skillet over high/medium-high heat (I set my stove top dial to 8 out of 10). Once oil is nice and hot, add tofu (or chicken/beef/pork/shrimp if substituting) and cook, stirring frequently, for 3-4 minutes. Remove tofu and set aside.
Add remaining 3 tablespoons of oil to the pan. Once hot, add red onions and cook for 1 minute. Add garlic and cook for 1 minute, stirring constantly to avoid burning. Add carrots, bean sprouts, and scallions to pan and cook for 1 minute. Return the cooked tofu to the pan with 6 tablespoons of the Pad Thai sauce and stir.
Move the mixture to one side of the pan, crack the three eggs and add them to the other side. Scramble the egg with a wooden spoon and cook until just set, about 30 seconds. Combine into the Pad Thai mixture.
Add cooked spaghetti squash and gently toss everything together and cook for 1-2 minutes. Taste and if Pad Thai needs more flavor, stir in the other 2 tablespoons of sauce.
Serve Pad Thai immediately with lime wedges and chopped peanuts.