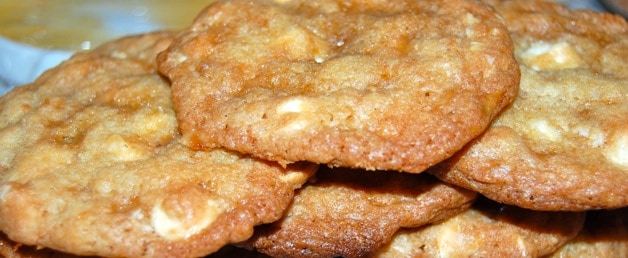 Christmas is Sunday already?! Every year right after Thanksgiving, I get excited with cookie-making anticipation. Which new recipes should I try? What new cookie concoction can make me gasp with culinary delight?! But somehow, Christmas always seems to sneak right up on me and I fail big time on making anything but the typical batch of chocolate chip cookies. Don't get me wrong, chocolate chip cookies are a classic (rightfully so) that I cherish and thoroughly enjoy. But, with a couple of hours to spare tonight, I wanted to try something a little different. I was walking in the grocery store baking aisle with nothing particular in mind when my eye caught glimpse of toffee candy bits (I think it was Heath brand). Bingo, I was going to make a toffee crunch cookie, and I figured I would try pairing it with white chocolate chips. Let it be known: I'm not a fan of white chocolate. In fact, white chocolate cannot even be classified as chocolate (it lacks the cocoa solids that makes chocolate, well... chocolate). However, I think the white "chocolate" works nicely in these cookies. I reviewed a couple recipes for cookies containing toffee and here's what I came up...
Print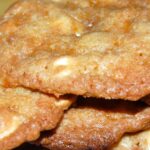 White Chocolate - Toffee Crunch Cookies
---
Description
1 cup (2 sticks) unsalted butter, softened
1 cup packed light brown sugar
½ cup white sugar
1 tsp. vanilla extract
2 eggs
2 ¼ c. all-purpose flour
¼ tsp. salt
½ tsp. baking soda
1 (8-ounce) bag toffee candy bits
½ - ¾ of a bag (11-ounce) white chocolate chips
1 cup rolled oats
---
Cream together the butter, sugars, and vanilla on medium speed.  Add the eggs to the butter mixture and mix well.  In a separate bowl, sift flour, salt, and baking soda.  Slowly add the dry ingredient mixture to the moist mixture on low speed.  Once the wet and dry ingredients come together, mix in the toffee bits, white chocolate chips, and oatmeal, until just combined.
Cover with plastic wrap and refrigerate for approximately 1 hour.  When ready to bake, preheat oven to 350°F.  Drop dough by the teaspoonful onto an ungreased baking sheet and bake for about 10-11 minutes, until light golden brown.
---
Prep Time:

10 minutes

Cook Time:

10 minutes