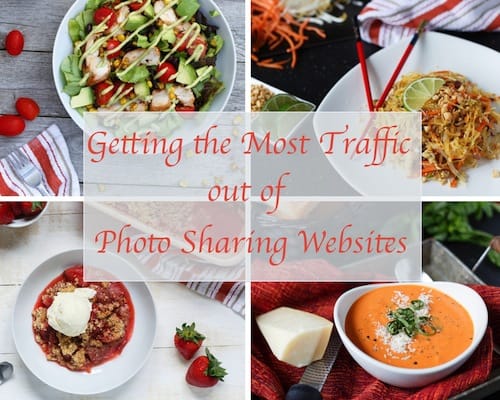 In follow-up to my post on the Top Photo Sharing Sites for Food Bloggers, here are some tips and tricks you may find useful to help optimize that referral traffic.
Getting your photo posted and accepted is one thing, but getting people to actually click and come to your website is a completely different beast. From my experiences (and I'm still working on improving at these tips and tricks as well), there are some definite ways to improve your click-through traffic.
Be Different.
This is probably the biggest way to getting your photo noticed. Unique and different typically works. Something that hasn't been seen before and can spark curiosity often gets clicked. A creative twist. A new technique. A wacky combo.
For instance, my most popular post on all the photo-sharing sites is this Spaghetti Squash Pad Thai. I was sort of having a love affair with spaghetti squash for a bit and was getting bored with typical preparations. After getting some take-out Thai food one night, the light bulb went off. And besides getting some good click-through traffic, it also peaked the interest of a writer from BuzzFeed, who featured the post in a recipe round-up (which drummed up lots of referral traffic).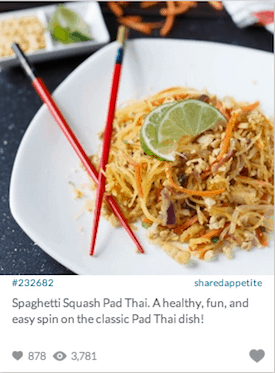 What's Your Title?
And by title, I mean the text that is displayed with your photo. Some of the photo sharing sites actually display the "description" and not the title. But in any event, the words you use are super important. Pick words that will have a strong impact and will call your audience to action... clicking to your blog!
A boring description of "Carnitas Burrito Bowl" probably wouldn't have gotten too much traffic. But when I posted the bold claim "Better Than Chipotle Carnitas Burrito Bowl", people got to clicking.
I also tend to add in words like healthy, easy, simple, or quick when appropriate. Recipe seekers tend to like those words. And if a dish is great for a bbq, dinner party, weeknight dinner, or get together, I like to mention that too. Think about what would grab your attention 🙂
Make Sure Your Photo Looks Good as a Tiny Square.
It's one thing to have great, full-sized images on your blog. But sometimes, you'll find that cropping that image to a square for photo-sharing sites doesn't quite work. It might just crop out an essential part of your photo, ruin the overall composition of your image, or lose a bit of the impressive impact the full frame brings to the table. Take a look at this photo, which just doesn't work as a square (I faded the cropped out area).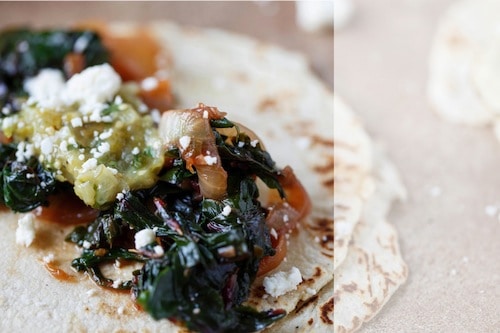 Shots that are close to your subject like this one don't work once cropped. When I'm shooting a recipe, I try to actively think about that tiny piece of square real estate and take a few photos a bit further back, allowing for cropping. I also tend to have an easier time and find more success with cropping vertical images lately.
Also, while editing your photos, I've found that upping the exposure slightly seems to help images be a bit more dynamic and get more attention. With so many terrific food photographs juxtaposed so closely to one another, your image needs to pop!
You Might Not Agree.
Sometimes, I have a photo or recipe that I'm particularly excited about. One that I can't wait to share with the world, and one that I'm positive people will totally go Justin Bieber over (or is One Direction the newest heart throb... I digress). And many times, I'm dead wrong. Go figure. Don't worry if an image doesn't get the traffic you were hoping for. It happens... to everyone.
The opposite is also true, by the way. A recipe that you think won't be very popular may end up doing ridiculously well. It's happened to me a few times. I didn't think these Sweet and Spicy Soy Glazed Edamame would do so well, but they continue to be viewed a bunch!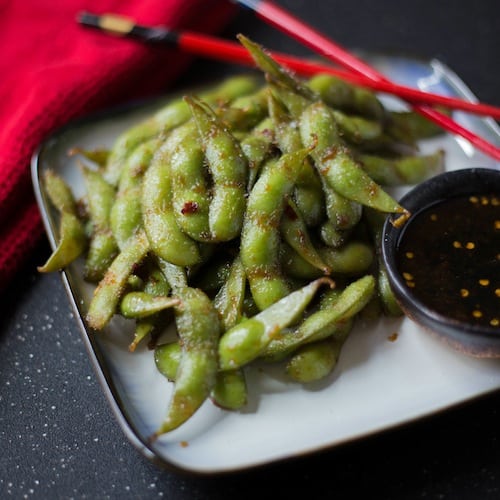 And on that same train of thought, a recipe that doesn't do well on one photo sharing site might explode off the charts on another site. A flop on Foodgawker might end up being a priceless gem on Pinterest!
I don't know why some recipes get super hot and some don't. I think part of it is human psychology. If 100 people click on a particular photo, everyone else gets super curious and nosey as to why they clicked on that photo and then they click on the photo also.
Tag Those Photos!
Those tags, or keywords, are super important. It's how people are going to find your images once your 15 seconds of fame on the front page quickly vanishes. And yes, people really do use the search function on these sites. I continually see my numbers go up on well-tagged photos.
Try to think of quality, relevant keywords for your images. For instance, if I was posting a recipe for spicy southwest corn, my keywords might be: spicy corn, southwest corn, corn side dish, summer corn side dish, bbq side dish, creative corn recipe, unique corn recipe, weeknight corn recipe, weeknight dinner side dish, etc.
Resubmit If Needed.
If your photo is rejected, don't give up. If it was an exposure or white balance issue, try fixing it in your editing software. That's how I got my first ever Foodgawker post accepted, when I fixed the exposure on these Compost Cookies.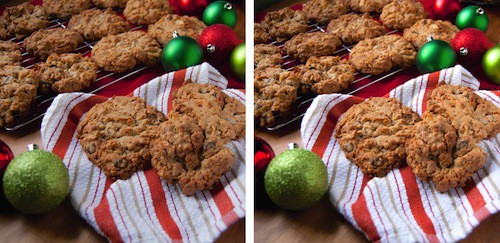 If they noted "composition" as the reason for rejection, try submitting a new photo. Sometimes the photo that you think looks best and is your favorite might not be the one that the particular editor reviewing your image likes. It's happened to me several times. Once I submitted another image (or two or three if need be... I'm stubborn), I've gotten approval. Take for instance, these Asian Steak Lettuce Wraps.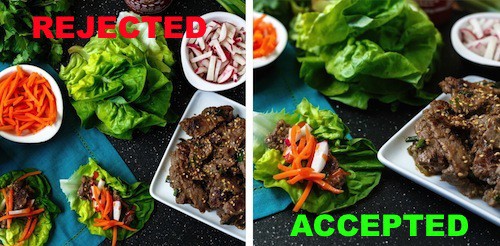 Personally, I like the one on the left more, but Mr. editor person said the composition was too cluttered. They liked the one on the right though 🙂
Christmas is Not in July.
Make posts relevant to what people might be searching for at a given moment. Post seasonal and holiday recipes accordingly. And for holiday recipes, don't upload them too late. You want that recipe to be viewable at least a few days up to a week prior to the actual holiday, since that's generally when people will be searching. No one really searches for a Thanksgiving recipe on Thanksgiving, at least not someone that I want to be cooking for me on Thanksgiving! Keep in mind also that images submitted to curated galleries can sometimes take a day or two to get approved.
For instance, when I posted a plethora of Cinco de Mayo recipes throughout the month of April, many did very well, like my tutorials on How to Make Flour Tortillas and How to Make Perfect Carnitas.
Take a Trip Down Memory Lane.
You can submit previously written posts as well, as long as they've never been accepted to the site you are attempting to get your photo approved on. It can help re-awaken posts that have slowed down over time.
If the photos are already looking good, just go ahead and submit. You could also re-shoot photos from your ugly past, like I had to do with my How To Make Perfect Home-Cooked Cowboy Beans (Frijoles Charros). When I first posted this recipe, I had no idea how to take a photo (it's just throw on the overhead kitchen lights, turn on the camera to automatic with the flash on, and press the button, right?). Haha oh man I look at my early images and just cringe...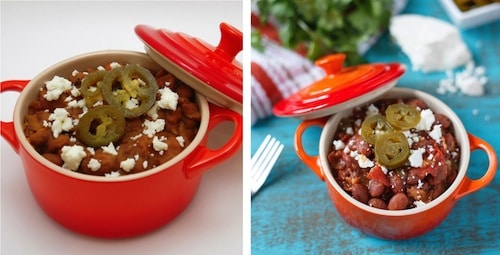 When To Post?
I don't have this one figured out yet, but am playing around with different times and trying to keep an eye on any big changes in traffic. For Pinterest, you want to post at popular viewing times. I recently read somewhere that in the afternoon when people get bored at work (2-4 p.m.) and at night after the dishes are done and kids are asleep (8 p.m. - 1 a.m.) are the best times on weekdays, and that the overall optimal time is Saturday morning.
For Foodgawker, I've found that typically when I submit a photo at night, it is accepted that next morning. When I post early in the morning, it will be accepted that night. But sometimes, it's really all luck, since they sometimes accept a huge number of photos at once, which can push your photo down into the depths of the universe. All the more reason to use good tags 🙂