Gluten Free Spinach and Bacon Quiche with Hashbrowns Crust is the perfect easy entertaining brunch recipe!
A creative and gluten-free brunch recipe for Spinach and Bacon Quiche with a crust made out of hashbrowns!
Most holiday eating in our family revolves around dinner. But for Easter, we roll differently. Every year, it's all about the Easter brunch. The whole extended family gets together and we throw down. Feast-style. And one thing that's always on the brunch menu? Quiche. Specifically, this Gluten Free Spinach and Bacon Quiche!
I tried making a quiche once. Once. It was a huge disaster. The darn thing never set. Jerkface stupid quiche.
Time to face my fears. I mean, quiche can't be THAT hard, right?
Right. It really isn't hard at all. I probably just measured something terribly wrong.
And this year, it's time for a little twist. Who knew that Ore-Ida Shredded Hash Brown Potatoes make for an absolutely perfect gluten-free crust?
Oh, oh… you did. Well thanks for raining on my happy parade. Let's pretend you didn't and you can be happy for me. Thanks.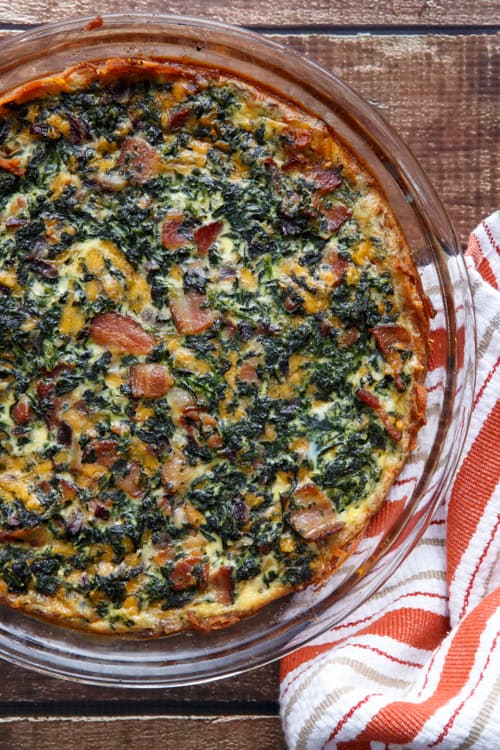 But seriously, I was beyond excited when I figured out that you can make a killer, super easy gluten-free quiche crust out of shredded potatoes.
Key word? Well, words technically… super easy. Like seriously, Ore-Ida Shredded Hash Brown Potatoes makes this gluten-free hashbrown crust come together ridiculously quick.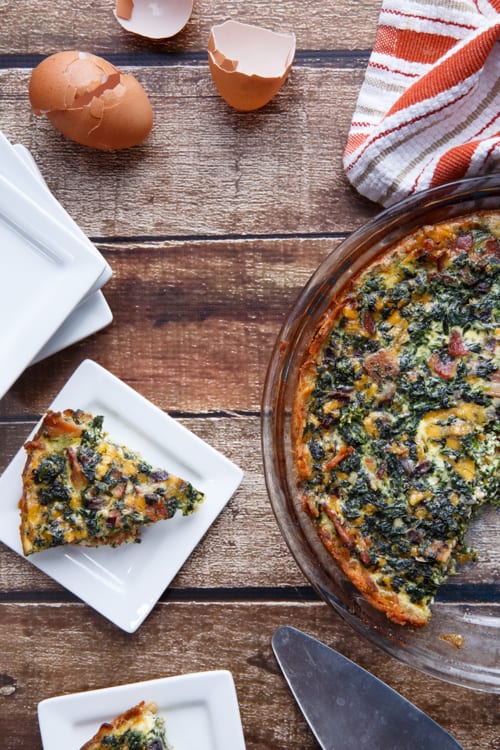 And you know what's an absolute necessity when it comes to holiday entertaining? Easiness.
No one wants to be running around trying to cook an entire brunch menu as your family and friends are starting to arrive.
Ain't nobody got time for that.
This gluten free spinach and bacon quiche… you can make it ahead of time. Like, a whole day ahead of time. And then just throw it in the oven to reheat briefly. Woot. #brunchwin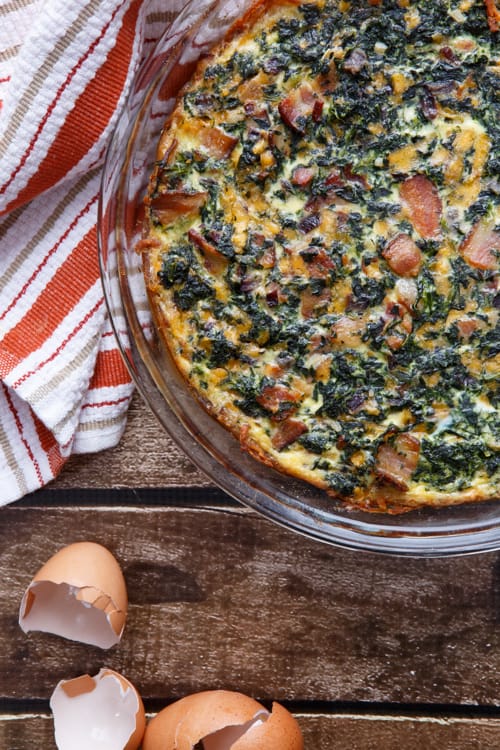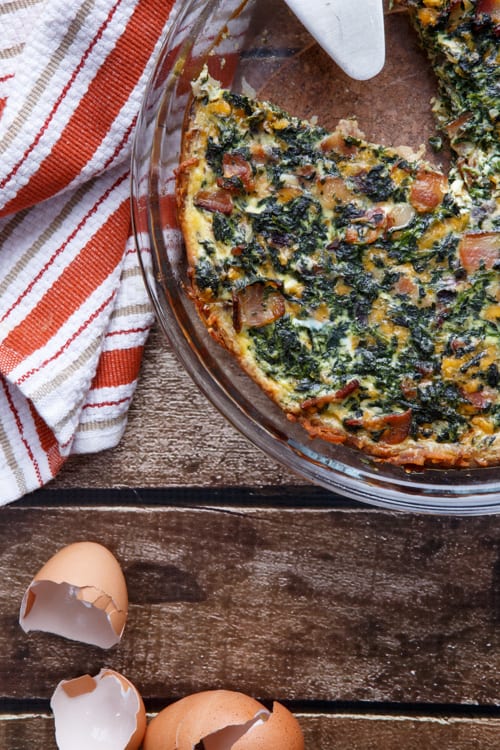 So what are your Easter eating traditions? What special dishes are you whipping up this year? #CollectiveBias, #OreIdaHashbrown, and I want to know 🙂
Recipe adapted from Paula Deen, y'all.
Print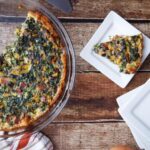 Gluten-Free Spinach and Bacon Quiche with Hashbrowns Crust
---
Total Time:

1 hour

Yield:

1

9-inch Quiche, serves 8

1

x
3 cups

Ore-Ida Shredded Hash Brown Potatoes, thawed

3 tablespoons

unsalted butter, melted and cooled slightly

1

(16-ounce) package thick-cut bacon, chopped

1/2

small red onion, finely chopped

2

cloves garlic, minced

1

(10-ounce) package frozen chopped spinach, thawed

3

large eggs

1 cup

half and half

1 cup

cheddar cheese
Kosher salt
Freshly ground pepper
---
Instructions
Preheat oven to 450°F. Press hash browns between a few paper towls or a cheesecloth to drain as much excess moisture as possible. In a 9″ pie plate, mix together the hash browns and melted butter. Season with Kosher salt and freshly ground pepper. Gently press the hash browns into the bottom and up the sides to form a thin crust. Bake for 20 to 25 minutes until the edes are golden brown and are starting to crisp. Remove from oven and lower temperature to 350°F.
Meanwhile, cook the chopped bacon in a medium skillet over medium-low heat until crisp. Drain on a paper-towel lined plate. Remove all but 1 tablespoon of the bacon grease from the skillet and reserve (keep refrigerated) for another use.
Squeeze spinach in between a few paper towels to remove excess moisture.
Add onion to the skillet with the 1 tablespoon of bacon grease, season with Kosher salt, and cook for 4-6 minutes, stirring occasionally. Add garlic and cook for 1 minute, stirring constantly to avoid burning. Add spinach and cook just until mixture is warmed through, about 1 minute.
In a medium mixing bowl, lightly beat the eggs, then stir in half and half, cheese, bacon, and spinach mixture. Season with Kosher salt and freshly ground pepper. Pour egg mixture over hashbrown crust and cook in 350°F oven for 30 to 35 minutes, until quiche is light golden brown on top.
Transfer to a cooling rack and let cool for at least 10 minutes before slicing and serving. Alternatively, let cool completely, refrigerate, and reheat in a 350°F oven.
Prep Time:

10 minutes

Cook Time:

50 minutes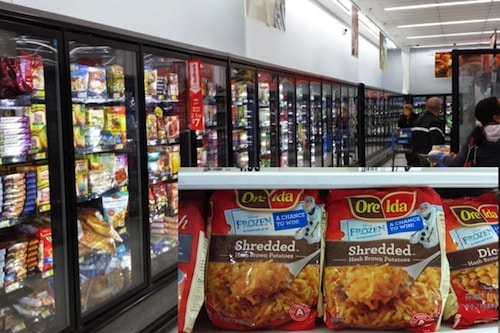 I found my Ore-Ida Shredded Hash Brown Potatoes at Walmart. #CollectiveBias #OreIdaHashBrown