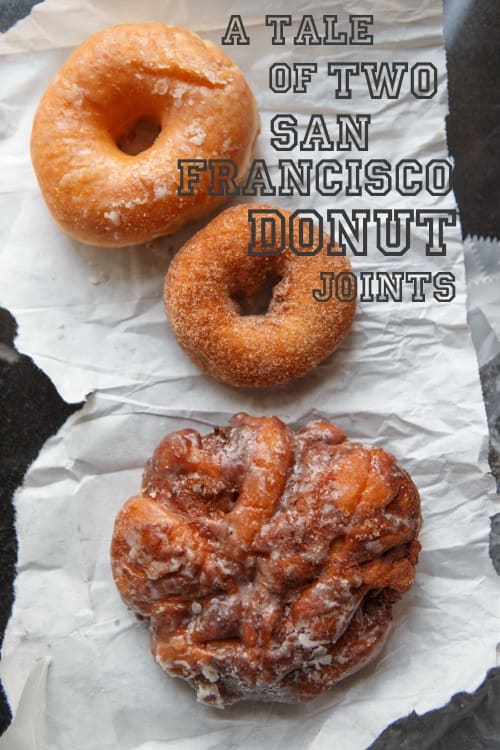 Donuts. America's favorite breakfast treat. Okay well don't exactly quote me on that. It might not be straight up factual. But inhaling a donut (or two on the rare occasion I can sneak an extra one past Asheley) sure is one of my favorite ways to eat breakfast.
And actually, although Asheley may be ashamed to admit it (I'm surely not), we may have enjoyed donuts from these two establishments for breakfast and as a second dessert all within the same day. Maybe this is why none of my clothes currently fit properly?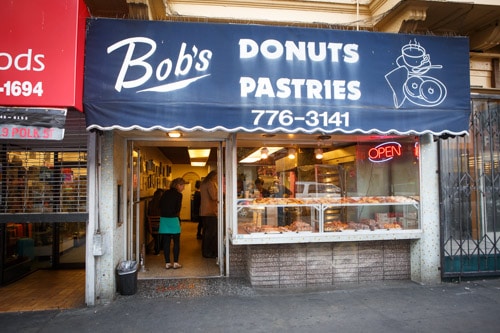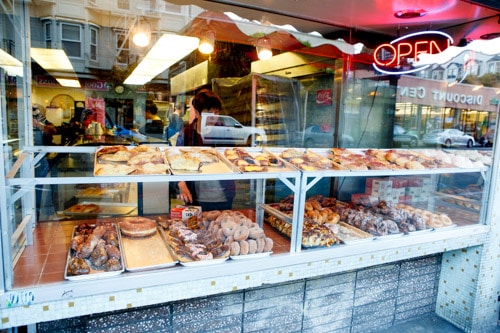 Bob's Donuts is that classic, old-fashioned donut joint with a run-down awning and a decrepit interior that leaves much to the imagination (the iPad used to ring you up sure does feel out of place). With many bars in the area and considering they are open 24 hours a day, I'm sure it's quite the popular spot to grab a late night snack (the incredibly cheap donut prices also helps).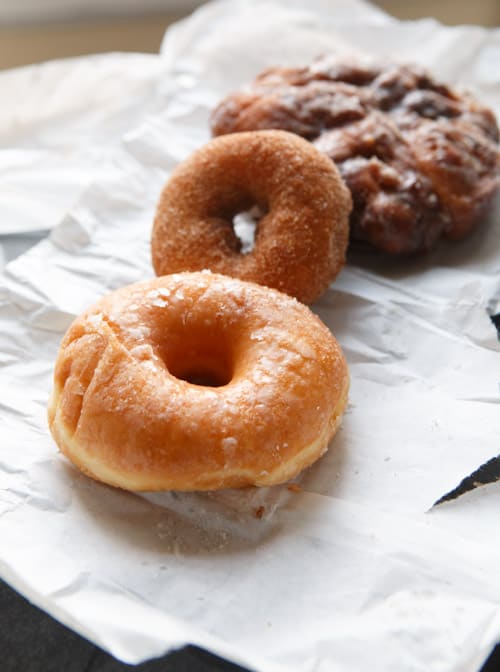 We went with the classic glazed donut, a cinnamon sugar, and an apple fritter. The donuts are simple, fluffy, and fresh. Everything and more you could want out of the classic flavors.
The apple fritter is apparently a popular item at Bob's, but we found it a bit dense and underwhelming. I think if it was fresh out the the fryer, or we had something to heat it up with, our experience might have been a bit different.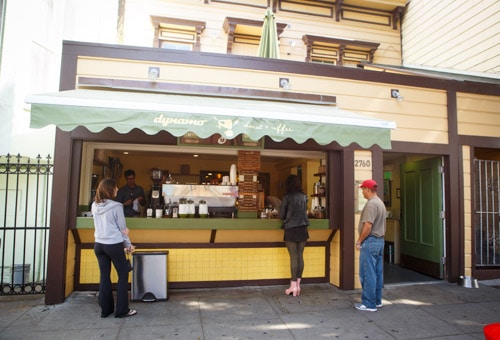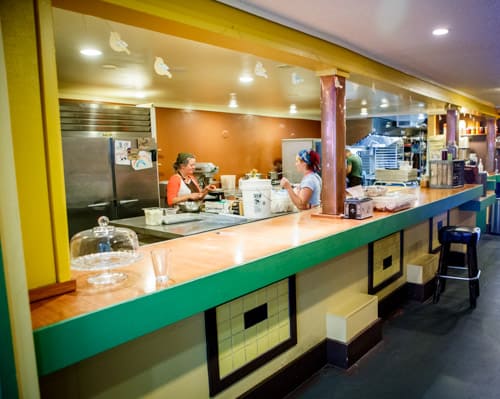 The Mission District's Dynamo Donuts is a totally different donut establishment. Their unique and inventive artisan flavors are more reminiscent of our beloved Doughnut Plant right here in NYC's Lower East Side. Using organic and local ingredients as much as possible in their pastries, Dynamo Donuts has become a neighborhood gem (which was easily seen by the donut-hungry mob that amassed just as we were leaving)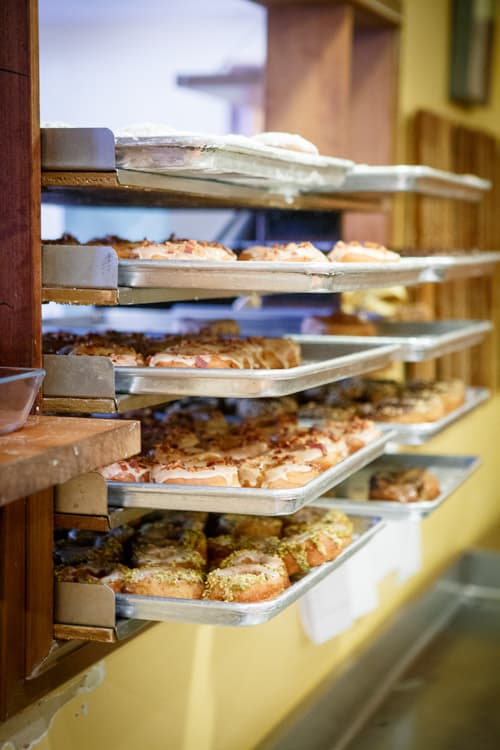 A glorious sight indeed.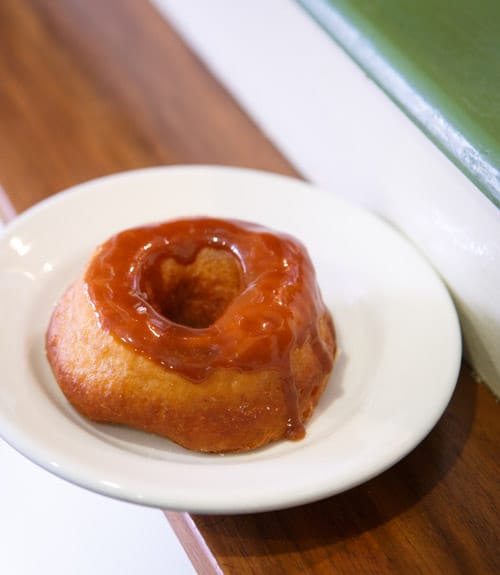 Asheley went with the Caramel de Sel Donut (a.k.a. Salted Caramel Donut). The salted caramel was very good, although Asheley found it overly sweet for breakfast. The donut itself was forgettable at best.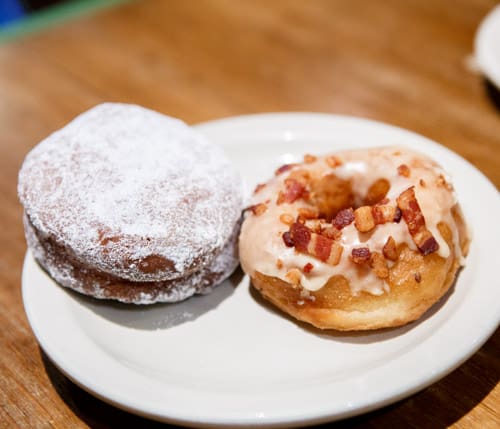 Chef Chris Cosentino raved about the Maple Bacon Apple Donut on one of those Food Network Show. I think it was "Best Thing I Ever Ate" or something like that. This donut is studded with bacon and apple, and then sautéed in bacon fat (you heard me right). Topping it off is a maple glaze with crispy bacon bits. Yes, it was very good.
The big winner of the bunch, though, was the Strawberries and Cream donut. It was, in every sense of the word, donut perfection. The dough was light, pillowly goodness. And the filling was divine. It was a donut that Asheley and I fought over.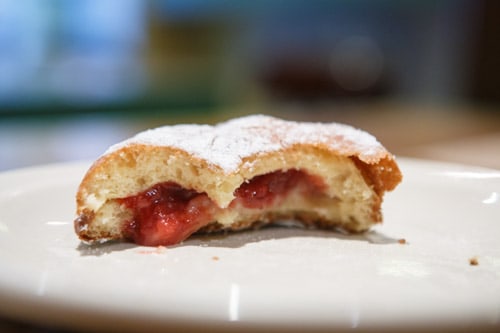 Two of San Francisco's best donut eateries. Two very different styles. Both are definitely worth a stop if you're in the area.
And if I can be honest, and I have to be honest... NYC's Doughnut Plant has both of these places beat. Sorry San Francisco. Point 1 for NYC. Don't get me wrong though, these two places are still definitely very good. It's just pretty tough to touch Doughnut Plant's greatness.
Bob's Donut & Pastry Shop 1621 Polk St
San Francisco, CA 94109
(Nob Hill) 415-776-3141 Dynamo Donuts and Coffee 2760 24th St
San Francisco, CA 94110
(Mission District) 415-920-1978
You May Also Want To Check Out...
The Top 12 Foods You Have To Eat in San Francisco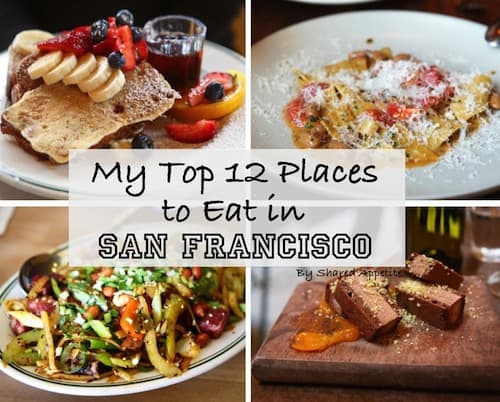 The Top 10 Foods You Have To Eat in NYC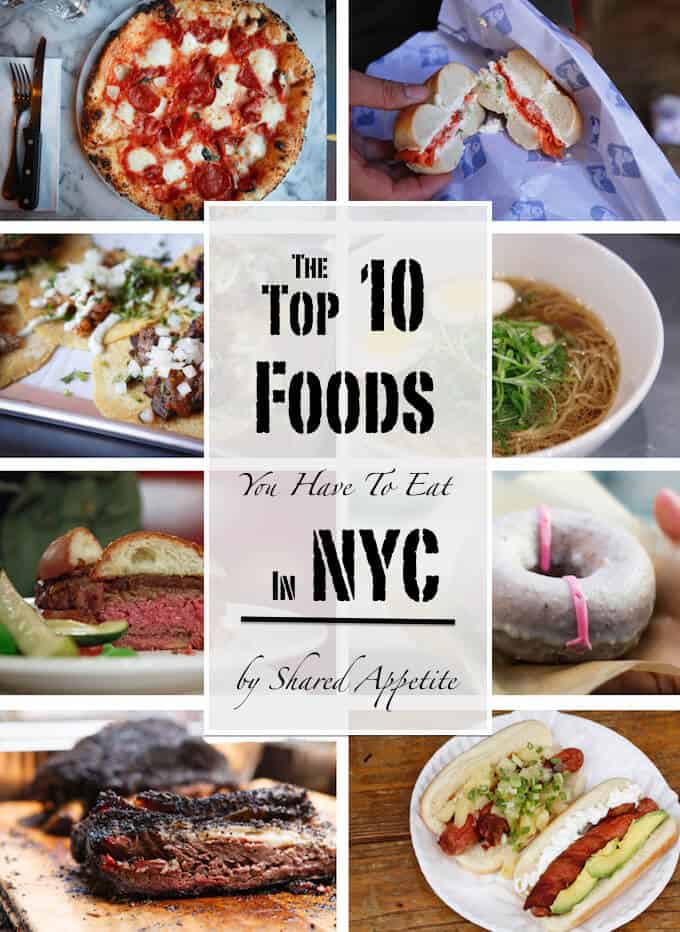 The Top 10 Food You Have To Eat in Paris