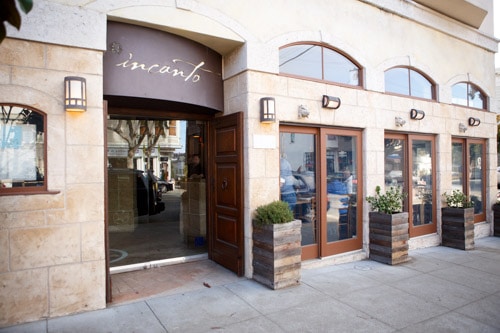 Asheley doesn't watch a ton of cooking shows, but even with her limited contact time with celebrity chef television time, she has developed quite a few healthy affinities (it sounds to juvenile to write "crushes" and too forward to write "eye candy") to a few certain someones. Geoffrey Zakarian is her silver fox. Michael Symon and Marc Forgione are favorites as well. And recently, she has had quite the infatuation with Chef Chris Cosentino.
When I told Asheley that Chef Cosentino's restaurant was in San Francisco, she almost fell off her chair and choked on the apple she was attempting to eat. Since I'm a husband that doesn't like to disappoint, a reservation was immediately made.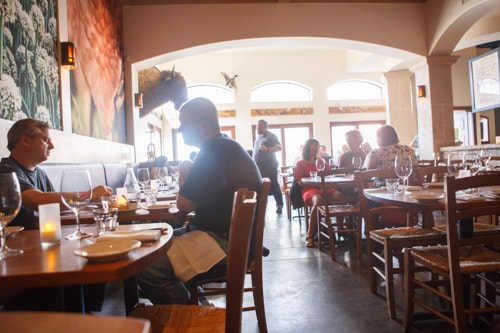 Side Note: I know the restaurant looks empty, but that's because our reservation was right when they opened (need that good daylight so I can take pictures, after all) 🙂 By the time we left, the place was packed.
Chef Chris Cosentino is probably best known for his passion of offal. Heck, even his web address is www.offalgood.com. Seriously.
Offal, pretty much, are the parts of the animal that typically don't get all the recognition and aren't found in the majority of household refrigerators. It's the overlooked stuff. We're talking organs, extremities (feet, tail, head), and other usually unused parts of the animal.
Cosentino's earthy rustic Italian cooking at Incanto isn't all about offal. He's got "regular stuff" too for all you not-so-adventurous eaters. For those willing to go for a ride on Cosentino's roller coaster, there is his daily Odds & Ends board, which lists specials for the day.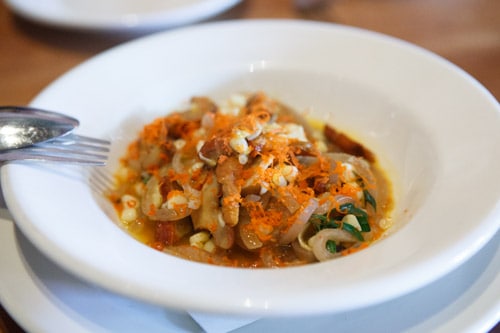 We started with one of his Odds and Ends, the Pig Skin Spaghetti with Lobster Mushrooms, Corn, and Lobster Bottarga. That's right. He turned pig skin into spaghetti. It was definitely one of the highlights of the meal.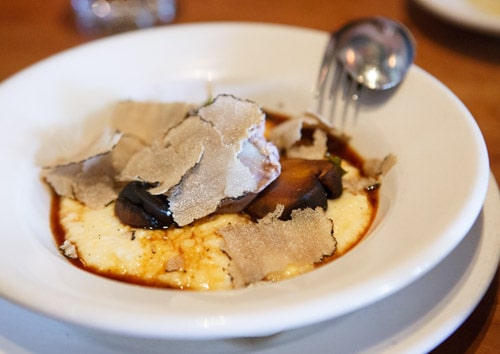 Another selection off of his Odds and Ends board, Asheley wanted to try the Confit Butter Boletes, Polenta, Poached Egg, and Summer Truffles. This dish was a bit of a miss for me. It fell flat on flavor, unfortunately. Asheley said she enjoyed it though.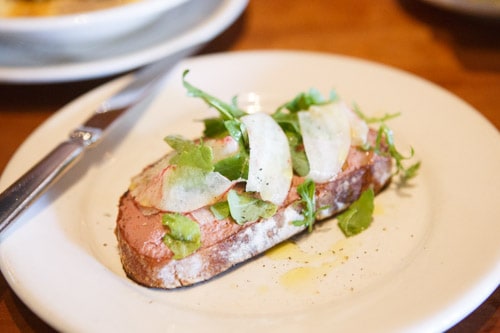 Now onto the regular menu for the evening (which apparently changes seasonally). The Chicken Liver Bruschetta with Peaches was very good. The chicken liver mixture was very flavorful.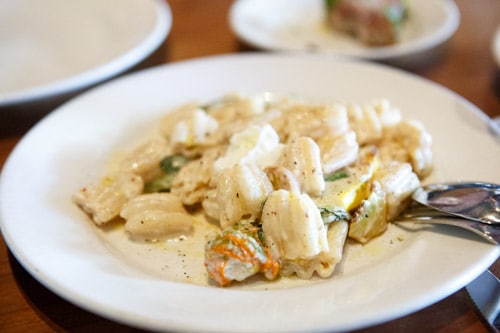 I have no idea what this dish was called and I've never even seen this shape of pasta before, but aren't they cool?! The pasta was enrobed with a creamy yet light cheese sauce and was studded with zucchini, squash, and squash blossoms. Summer on a pasta plate 🙂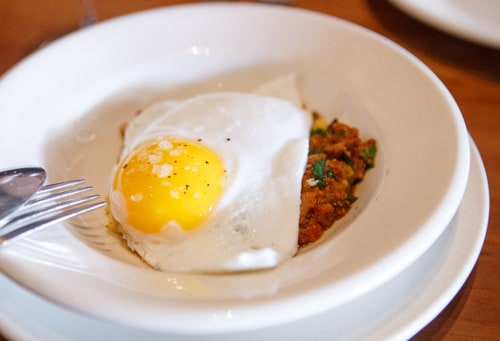 The Pasta with Rustic Pork Ragu was everything you would want from a ragu. Meaty, comforting, and totally delicious. Although it seems out of place on a summer menu, it is one of Cosentino's signature mainstays on the menu (which is why we had to try it, of course). Oh, and obviously we added the optional duck egg on top. What person in their right mind wouldn't want a fried egg on top?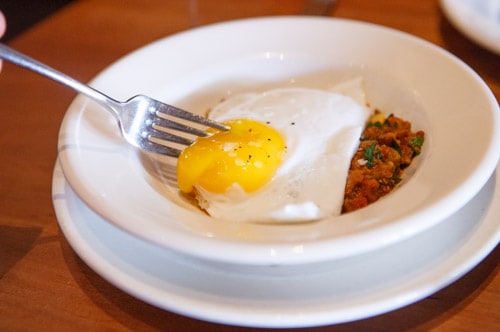 And that's exactly why. That runny yolk getting all up in the ragu and coating the pasta. That's beautiful right there. That's beauty in a bowl.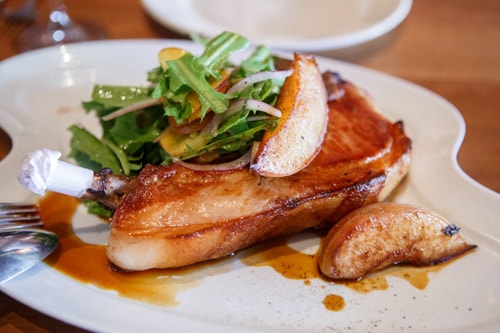 The pork chop (with it's fancy little paper hat thingy) was cooked perfectly and Asheley loved the warmed peaches that accompanied it.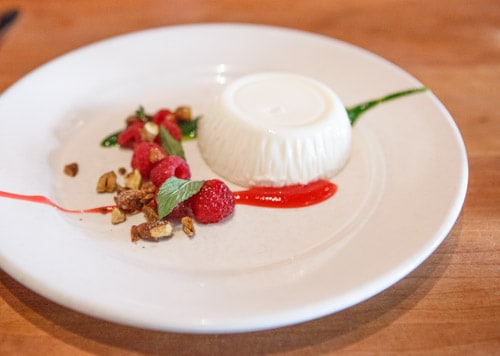 Asheley and I were having a bit of an anxiety attack when trying to decide what to order for dessert. Everything was looking so good. We asked our server for some help and she let us know that Incanto is kind of known for their panna cotta. And after one bite, I know why. You have to try the Panna Cotta if you ever get to Incanto.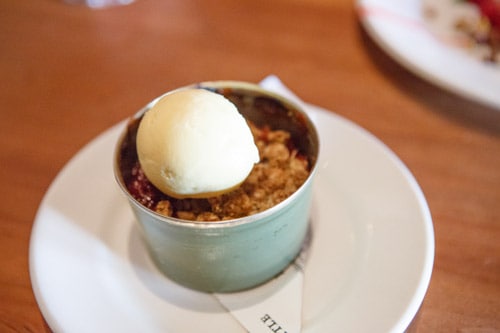 We also tried the Stone Fruit Crisp with Orange Blossom Ice Cream. It was very good, although just a pretty standard fruit crisp. The ice cream was a bit to icy and not enough creamy, but that didn't stop me from devouring the entire thing.
Earlier in the day before our reservation, I tweeted Chef Cosentino asking if he was going to be at the restaurant that night (he was previously on vacation according to my Instagram feed). He wrote right back saying yes and to come say hi. Well okay then! Throughout the meal Asheley kept seeing glimpses of Chef Cosentino from within the kitchen area (which got her pretty excited). I asked the server about the possibility of saying hello and she arranged for him to meet up with us following our meal.
He spent a crazy generous amount of time hanging out with us, talking about the San Francisco and Napa Valley dining scene, the NYC dining scene (and how even he can't get into Mission Chinese Food in the Lower East Side and he's friends with Danny Bowien), and about his recent vacation. He was even giving us suggestions for the rest of the night, including how we should go to a Tiki Bar that he just took Anthony Bourdain a couple weeks prior. Apparently they had a very good time there.
After talking with him, it was obvious that Chef Cosentino is a warm, genuine, awesome, generous guy who loves food and cares about his customers. Asheley was on an unbelievable high after meeting Chef Cosentino. You can probably tell from the enormous smile on her face in the above photo.
Incanto 1550 Church St
San Francisco, CA 94131
(Noe Valley) 415-641-4500
You May Also Want To Check Out...
The Top 12 Foods You Have To Eat in San Francisco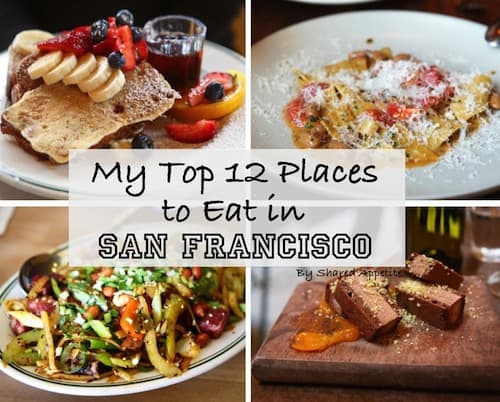 The Top 10 Foods You Have To Eat in NYC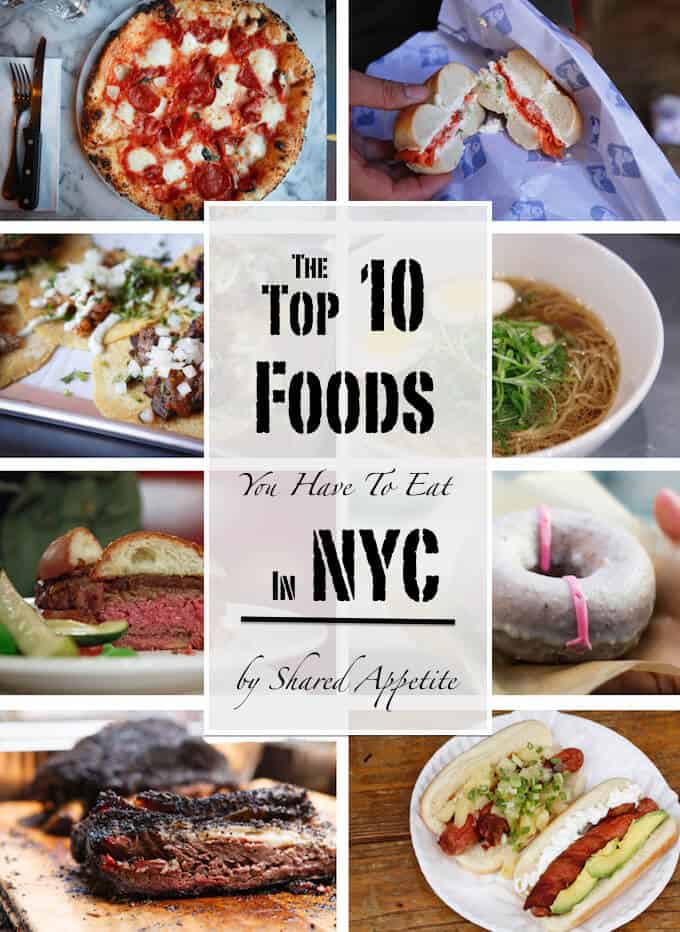 The Top 10 Food You Have To Eat in Paris