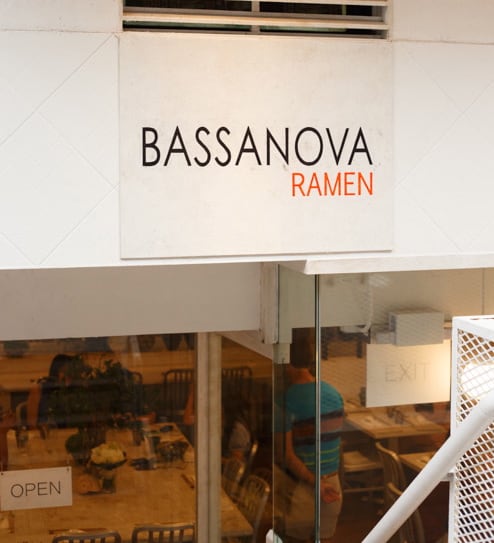 I wish I could say that I'm well-versed in the current wildly-popular ramen culinary scene. But I'm not. The only real experience I've had with it, embarrassingly enough, are those lousy packets in the supermarket that promises an authentic experience with the simple phrase just add water! Oh, you too?
When Asheley and I got to spend last Saturday with our friends Steve and Valerie in the city, we knew ramen... like, real ramen... had to be a stop on our day of eating adventure. Steve mentioned that this new place Bassanova Ramen had just opened a few weeks ago. To Chinatown we went...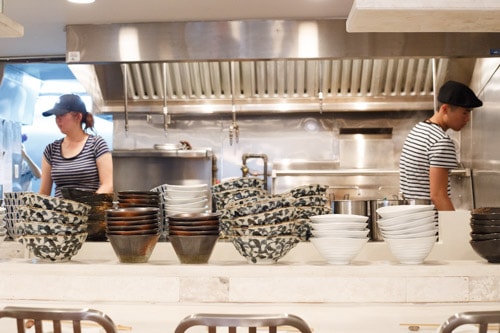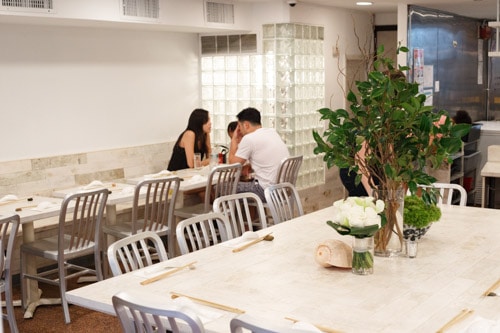 The first American outpost from the original Tokyo location, Bassanova Ramen is known for their super original green-curry variety.
As we walked up, or more accurately, down to the subterranean storefront, we were welcomed into a light, airy, and modern dining room. It was pretty empty when we arrived at 6 pm, but by the time we left, the place was near capacity.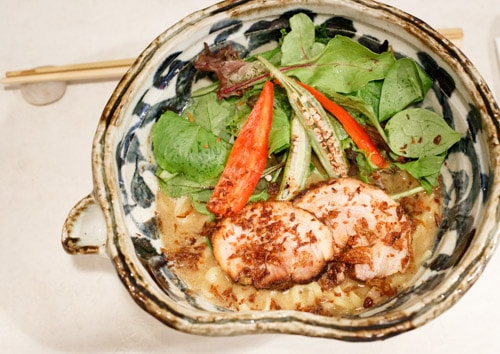 The thing to order here is their signature Green Curry Ramen ($15), which is the best-seller at the popular Steagaya branch in Tokyo.
So what's in the pot of gold? You've got some luscious pork along with peppers, okra, mesclun greens (which quickly wilt into the broth), shrimp, and a meaty rich pork broth (albeit a bit salty) that's been enriched with coconut milk, makrud lime, galangal, and other herbs and spices.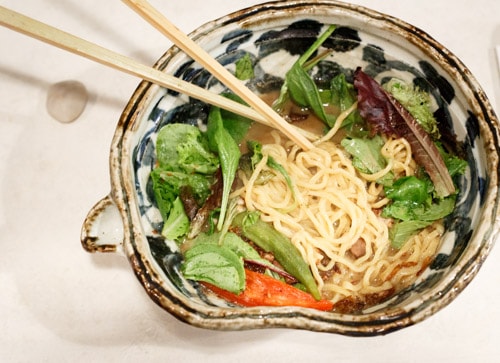 Oh, and noodles, you can't forget those thick and tender noodles.
And check out that super cool bowl. Do you see the little spout on the left hand side? Yup, that's for slurping out the broth. I need those bowls.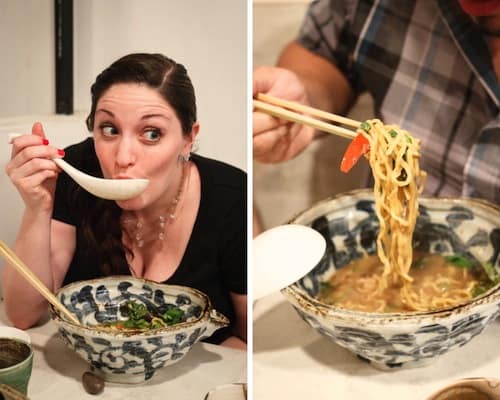 Valerie graciously offered to model the ridiculously humongous spoon that can be used to gobble up that green curry broth. And that's Steve's expert ninja chopstick skills, showing off those beautiful noodles.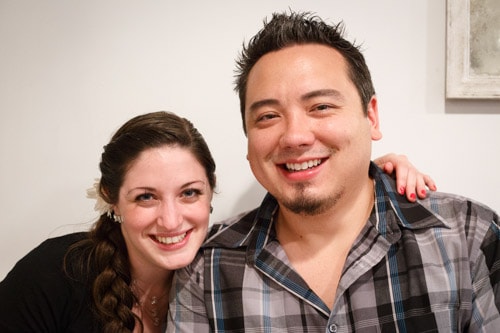 That's Steve and Val.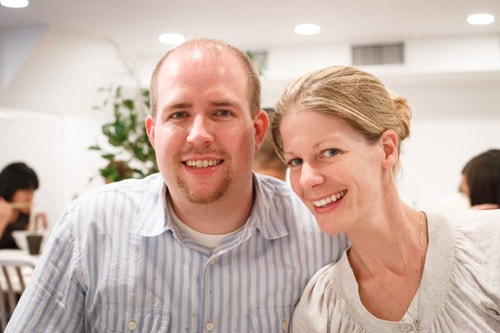 And you know those two people.
I'm kind of worried to go out for ramen again, because this place has set the bar pretty high. It was a bowl of warm, comforting, big flavored goodness. We can't wait to go again once the temperature drops, because this ramen really warms you through.
Oh, and FYI, Bassanova Ramen is cash only, so come prepared with the green.
Bassanova Ramen 76 Mott St
New York, NY 10013
(Chinatown) (212) 334-2100
You may want to also check out...
The Top 10 Foods You Have To Eat In NYC