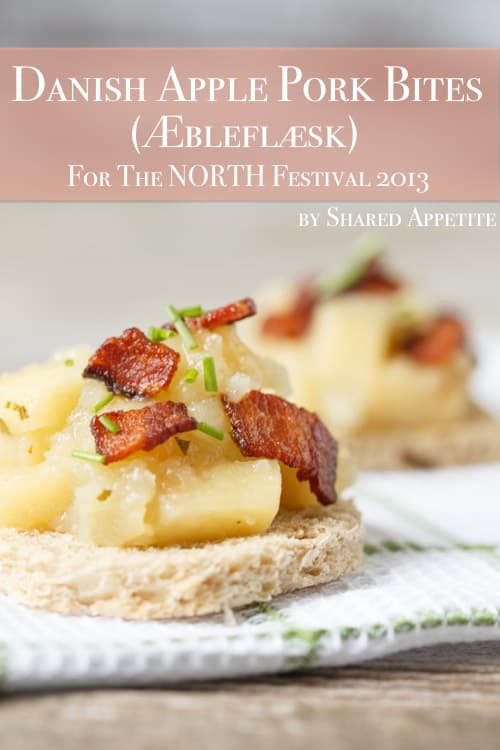 Compensation for this sponsored post was provided by NORTH Festival 2013. As always, all views and opinions, as well as the recipes herein, are my own.
Okay, I honestly have no idea how to pronounce Æbleflæsk. But the A connected to the E is pretty fancy, isn't it? What I can tell you, though, is that apple and pork always makes for one heck of a classic flavor combination, no matter what language we're talking.
No wonder why pork chops and applesauce was my favorite meal as a kid, even if the pork was cooked until it was completed obliterated of any moisture and flavor (remember those good old times when our moms were super concerned about trichinosis?). Leave it to the Danish to take this pork and apple pairing to the next level with… drumroll please… bacon.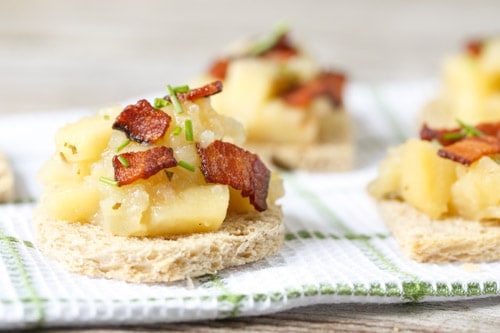 And while we are talking about flavor combinations that pretty much rock our world, when I think apple and pork, especially in the fall (I know it's technically still summer but my brain switches to fall as soon as the school year begins), you gotta have some sage in the mix.
So let's review. Apples, bacon, and sage. Oh, and to make those apples even more ridiculous, we're going to let them cook and get nice and friendly with the bacon drippings.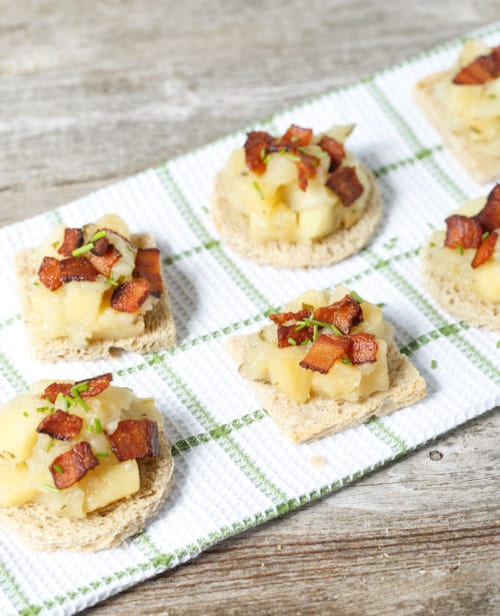 So what's up with the random Danish recipe? The first ever NORTH Food Festival is coming up soon and to celebrate, they enlisted the help of a bunch of us food bloggers to spread the word. Celebrating Nordic food (we're talking Denmark, Sweden, Finland, Iceland, and Norway), the week long extravaganza features cooking classes and dinners with some of the the best chefs specializing in Nordic cuisine.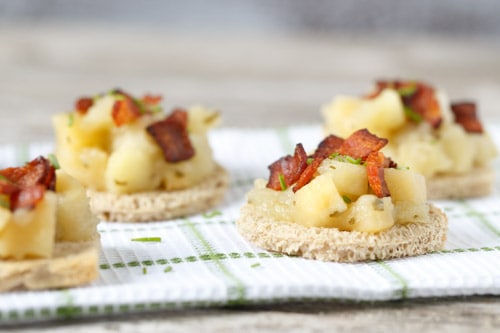 Danish Apple Pork (Æbleflæsk) Bites for NORTH Festival 2013
---
Total Time:

35 minutes

Yield:

Approximately

8

-

10

Apple Pork Bites (depending upon size of toasts)

1

x
2

Granny Smith Apples, peeled and diced

6

–

8

slices of Applewood Thick-Sliced Bacon, diced

1 tablespoon

fresh sage, finely chopped

1/2 tablespoon

sugar
Kosher salt

1/3 cup

water
Rye Bread
Chives, finely chopped, for garnish
---
Instructions
In a small skillet, cook bacon over medium heat until fat is fully rendered and bacon is crisp. Remove bacon to a paper towel lined plate to drain. Reserve 1 tablespoon of the bacon drippings (fat).
In a small saucepan, heat the 1 tablespoon of reserved bacon drippings over medium heat. Add apples, sage, sugar, and season with Kosher salt. Cook until apples just begin to soften slightly. Add 1/3 water, reduce heat to a simmer, and cover saucepan. Cook until apples are soft and have broken down slightly, approximately 8-10 minutes. If mixture is too watery, remove lid and cook until it reaches desired consistency.
Meanwhile, preheat oven to 375°F. Cut rye bread in desired shapes (I used both round and square cookie cutters). Place bread on baking sheet and cook in oven until completely toasted, approximately 3 minutes per side.
Top rye bread toasts with apple mixture, bacon, and chives. Serve immediately.
Prep Time:

10 minutes

Cook Time:

25 minutes
Learn more about Nordic cuisine at the NORTH Festival 2013 in New York City. This post is a collaboration between the blogger and NORTH Festival 2013.