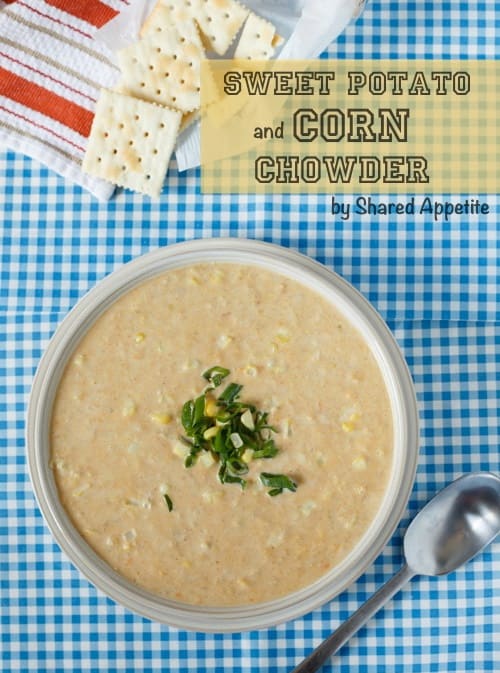 People. I'm pretty upset. My timing totally stinks. So you already know that the school year has started and back to work I went. But what I might have forgotten to mention was that when I tried to get back into my work pants after 2 months of apparently a-little-to-good summer eating, those puppies weren't even coming close fitting. So I had to go buy fatter pants. Yup. I reluctantly decided it would probably be a good idea to lose some of that extra poundage.
And on that same day I vowed to start eating healthier, who made a super delicious, decadent, thick and creamy corn chowder? Yea... so Asheley got to eat real good for a few days, while I was and still am restricted to oh so fun healthy eating. But just because I'm watching my waistline doesn't mean you can't indulge a bit, right?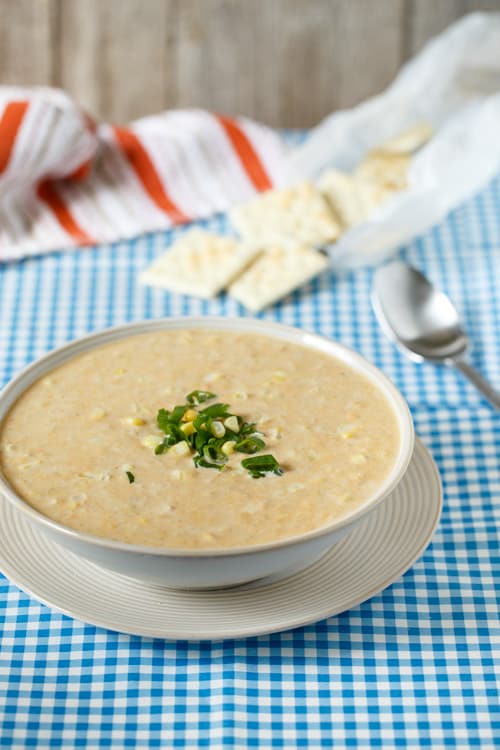 I know I keep saying this, but I love corn. I do. I like corn like Bubba Gump loves shrimp. Spicy Southwest Corn. Corn and Basil Salad. Chilled Corn Soup. And of course in salads like this one.
Heck, even corn ice cream. And if you're wondering, yes, I made that too on the day my pants decided to shrink and not fit me anymore. So that's sitting in the freezer for a rainy day when I fit back into my clothes.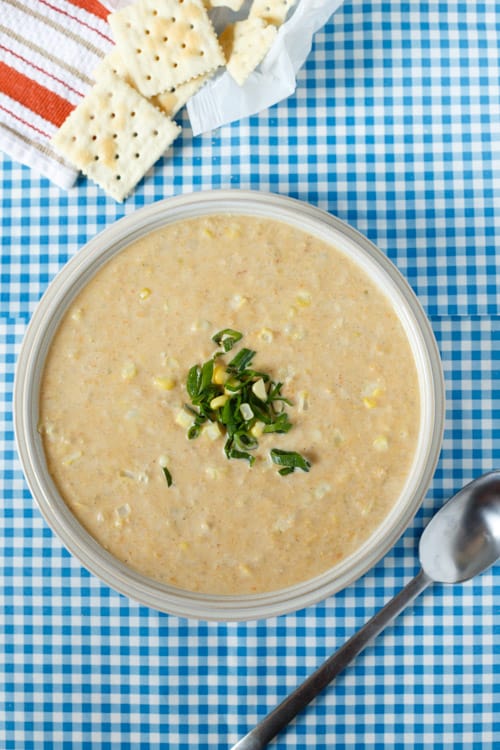 A couple notes about the recipe:
Listen, you need to use fresh corn. Once corn is picked, it immediately begins turning its sugar to starch. Make sure to by super fresh corn and use it that same day. If you need to store it, do so in the husk in the refrigerator, which will help slow down the process.
I made my own corn stock to use in the chowder. It is super easy to make and you'll feel good about not wasting all those flavorful cobs once the kernels are removed. If you don't have the time (or desire) to make corn stock, feel free to use chicken or vegetable stock. So why corn stock? It gives your chowder über corn flavor. The corn stock recipe makes more than you need for the chowder, so freeze any extras for next time. And hey, nifty trick: whenever you eat corn, just save the cobs in a ziploc bag in the freezer, and then when you collect enough you can go ahead and make the stock 🙂
And sure, you could use regular potatoes for this if you want. Russet would be a good choice. But come on, sweet potatoes are so much cooler. And taste better. And are better for you!
Oh, and if you enjoy a little spice in your life, you should totally add in the jalapeños to this soup. Asheley and I are fans of how the kick balances out the creamy sweetness of the soup.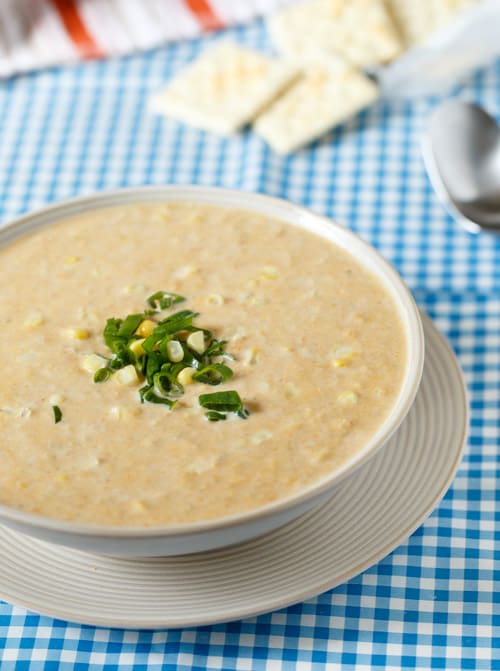 Print
Sweet Potato and Corn Chowder
---
4 tablespoons

butter

6

ears corn, husks and silks discarded and kernels removed (reserve cobs)

1

medium onion, finely diced (about

1 cup

)

2

medium cloves garlic, minced

3

-

4

jalapeños, seeded and finely chopped (optional)

½

tbl. ancho chile powder

3 tablespoons

flour

6 cups

corn stock (recipe below)*

2

medium-sized sweet potatoes, peeled and cut into ½-inch dice (about

1 ½

-

2

cups diced)

1 ½ cups

heavy cream
Kosher salt and freshly ground black pepper

3

scallions, finely sliced, for garnish
*if you don't have the time or desire to make corn stock, feel free to substitute chicken or vegetable stock
For the Corn Stock
6

-

8

Cobs

½

yellow onion, roughly chopped
A few stems parsley
A few sprigs of thyme

1

bay leaf

4

peppercorns
---
Instructions
For the corn stock
Place cobs (snap or cut in half if too big for pot), onion, parsley, thyme, bay leaf, and peppercorns in a stockpot. Add enough water to cover ingredients. Bring mixture to a boil, then reduce heat and maintain a simmer. Cook for 2-3 hours, until the stock has a strong corn flavor.
**If not making corn stock, you can infuse some corn flavor into your store-bought stock: Add chicken or vegetable stock to a saucepan. After removing the kernels from the 6 cobs for the chowder, break cobs in half and add to the saucepan. Bring to a boil, then reduce heat to just below a simmer and cook for 10-20 minutes. Remove cobs.
Meanwhile, melt butter in a stockpot over medium/medium-low heat. Add corn kernels, onions, jalapeño (if using), ancho chile powder, and season generously with Kosher salt. Cook, stirring occasionally, until onions have softened and corn is tender, about 10 minutes. Add flour and cook for 1 minute, stirring frequently. While stirring, so that the flour incorporates with the liquid, add in corn stock or your infused chicken/vegetable stock. Bring mixture to a simmer, then add sweet potatoes, season with Kosher salt and pepper, and cook until potatoes are tender, about 10 minutes. Add heavy cream and stir to combine. Simmer for at least 10 minutes, although longer is perfectly fine.
Using an immersion blender, blend soup to desired consistency. Alternatively, transfer a ¼ of the mixture to a regular blender and blend until smooth (hold lid of blender firmly so that the steam doesn't pop it off). Return to pot and stir to combine. Blend more of the soup if you want a smooth consistency.
Serve immediately, topped with the scallions. Store leftovers in refrigerator and reheat over low heat.