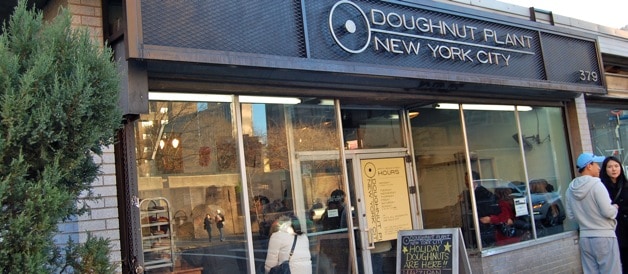 Does your family have certain traditions that you truly cherish?  Traditions that immediately bring to mind thoughts of happiness and bliss?  One of those traditions in our house growing up was doughnut birthday breakfast!  I would so look forward to anyone's birthday in our house just so I could enjoy a doughnut at breakfast.  If it was my birthday, sometimes I could even convince my mom to let me eat two.  This is one tradition I plan on keeping around as my fiance and I eventually start our own family.  However, there will be one major audible called:  goodbye you chain store "donut" wannabes and hello delicious, amazing, where have you been all my life doughnuts from Doughnut Plant in NYC!
Nestled in Manhattan's lower east side, just east of Chinatown on Grand Street, is doughnut euphoria.  378 Grand Street is home of New York's Doughnut Plant.  Although with seven sister stores in Tokyo, Japan, Doughnut Plant was actually started in the apartment of it's owner Mark Israel in 1994.  After NYC started going gaga over his doughnuts, he quickly outgrew his little delivery business and opened up shop at its current location.  The interior of Doughnut Plant is quite small and pretty much standing room only, so you will most likely have to enjoy your little bite of doughnut heaven somewhere else.  For me, it is normally a couple steps outside the door as I walk back to my car.  Also, be prepared to wait for a little bit.  I normally hit the doughnut plant in the afternoon, when lines aren't too bad, about 5 minutes.  However, during the morning rush, I'm sure you may have to wait a bit longer than that.
The doughnuts at Doughnut Plant are divided into two categories: cake doughnuts and yeast doughnuts.  The yeast-based doughnuts are mostly the jelly filled doughnuts, such as the Peanut Butter & Jelly, as well as the custard-filled Creme Brulee doughnut.  The texture is more chewy, airy, and fluffy than the cake doughnuts, which are a denser and well, cake-ier doughnut.  Personally, although I really like and enjoy both kinds, cake is my preference.  The texture is perfectly moist, tender, and flavor-packed.
Doughnuts are around $2-3 each at Doughnut Plant.  Although on the expensive side compared to your typical chain donut shop, these doughnuts are artisanal, gourmet, and super high quality.  And personally, I don't mind spending a little bit more if I'm going to get a much better product.  In addition to using top-notch ingredients throughout the doughnut, the glazes are truly remarkable.  They are made using natural flavorings and taste fresh, authentic, and often seasonal.  The jelly-filled doughnuts are unlike anything you have ever experienced at your regular donut shop.  These doughnuts are square, with a hole cut out of the center.  In an amazing feat of doughnut technology, Mark Israel revolted against the jelly glob in the center of the doughnut for a more refined, dignified approach: jelly piped all the way around the interior of the doughnut.  Every single bite includes a nice ratio of doughnut to jelly!
Many doughnuts have a permanent place on the menu, but some flavors do rotate (especially seasonal flavors).  One of the mainstays on the menu that I and many others adore is the yeast-based Peanut Butter Glaze and Blackberry Jelly Doughnut.  It's what every PB&J sandwich aspires to be.  As always with all the jelly-filled doughnuts, there was a perfect ratio of soft, chewy doughnut to superb blackberry jelly.  Every bite is balanced.
Ahhh, the Creme Brulee Doughnut.  This is my favorite yeast doughnut at Doughnut Plant.  This definitely proves the phrase, "Good things come in small packages."  It may be the smallest doughnut at the Plant, but man is it delicious.  The sugary glaze on top is browned to crispy goodness.  The generous amount of perfectly creamy vanilla bean custard filling is so delicious.
The Tres Leches Doughnut is my favorite cake doughnut.  Tres Leches, meaning "three milk", is a popular cake in Latin America which is soaked in evaporated milk, condensed milk, and heavy cream.  This doughnut is so super moist, so delicate, but such an amazing flavor.  There is also a delicious little ring around the interior of the doughnut of some sort of tres leches filling.  This doughnut is dynamite!
The Triple Chocolate Doughnut is also delicious.  They were sold out of the Blackout Doughnut at this point in the day when I went, which was my first choice for fulfilling my chocolate craving (yes, they do sell out of flavors as the day progresses, so obviously the earlier you get there the better chance you have of getting everything you want).  However, the Triple Chocolate Doughnut was still an awesome chocolate treat.  What gets me every time about all these cake doughnuts are how delicately moist they are.  So fresh tasting, so rich in flavor, so… awesome!
A word to the wise:  My eyes are many times much bigger than my stomach.  Only get what you are going to eat that day.  I have tried to bring home the doughnuts twice now for the following day's breakfast and although they are still pretty good and better than those other donuts, they are nowhere near the delight that they are enjoyed the same day.   Don't save them until the next day… they just don't taste the same.  They are 100% preservative free, so eat them now people!
If you visit the Doughnut Plant on Grand Street (there is also a newly opened one in Chelsea I've heard), here are some suggestions for you foodies out there of where else to visit.  Literally right around the corner (the block just west of where Doughnut Plant is) is home of The Pickle Guys.  I heard about these guys from reading another awesome food blog, Smitten Kitchen.  I'm not the biggest pickle fan, but Asheley is, and she loves this place.  I am amazed by it too, actually.  When you walk in, all you see are barrels and barrels of pickles, and the guys in there are really cool.  They will let you sample if you ask nicely.  Try the pickled pineapple, it's pretty awesome!  Also, about 3-4 blocks North of Doughnut Plant is Stanton Street, home of 2 of my recently favorite restaurants… Chris Santos' Stanton Social, which serves up amazing and creative small plates (get the French Onion Soup Dumplings, you'll thank me later), and The Meatball Shop (get the Spicy Pork meatballs with Parmesan Cream sauce, so good!).
You may want to also check out…
The Top 10 Foods You Have To Eat In NYC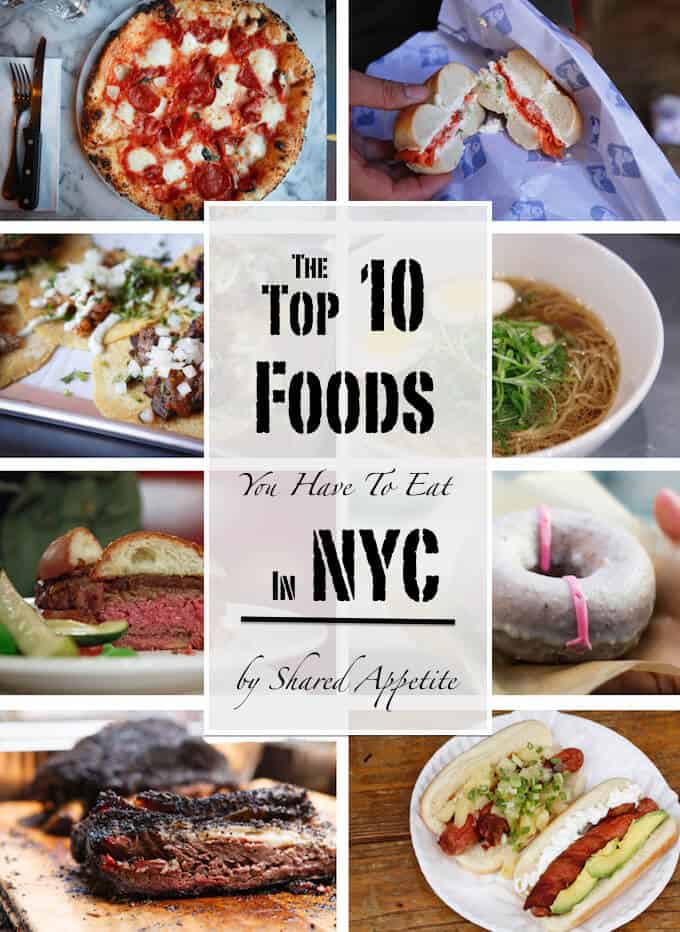 The 10 Best Ice Cream and Frozen Treats in NYC