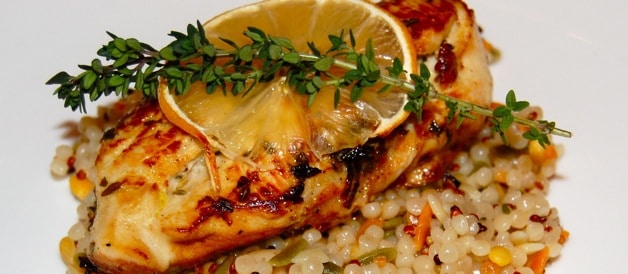 I received a message the other day from a friend requesting an easy, delicious weeknight dinner chicken recipe.  I adapted this recipe from Ted Allen's cookbook a year or two ago and it has become a weeknight dinner staple in our house.  It is healthy, no-fuss, and absolutely delicious.  With only a handful of ingredients, the fresh and flavor-packed marinade comes together in under 10 minutes.  I get mine going before work in the morning and then making dinner at night is a breeze.  Enjoy this comforting recipe for oven roasted lemon-thyme chicken:
Oven Roasted Lemon-Thyme Chicken
Ingredients
[list style="red"]
4 boneless skinless chicken breasts
3 fresh lemons
3 tbl. Fresh Thyme, roughly chopped
½ cup Canola Oil + ½ tbl.
½ tbl. Dijon Mustard
2 cloves Garlic, finely chopped
½ tsp. Kosher Salt
½ tsp. Freshly Ground Pepper
1 cup White Wine
[/list]
Before you go to work in the morning (or at least 4 hours before you intend to cook the chicken), marinate the chicken.  In a large ziploc bag, add the zest and juice of 1 lemon (I use a microplane grater to zest the lemon and it works beautifully), thyme, dijon mustard, garlic, salt, and pepper.  Close ziploc bag and shake vigorously to combine.  Add in canola oil (about ½ cup should be plenty, but adjust as necessary).  Close the bag and shake vigorously to emulsify.  Add the chicken (make sure any big chunks of fat has been trimmed off of chicken) and shake again to coat the chicken.  Close the bag and place the bag in a bowl (just in case the bag leaks in the fridge).  Put in the refrigerator.
After chicken has marinated and you are ready to cook:  preheat oven to 400.  I use my Le Creuset enameled cast iron dutch oven for this recipe, but any ovenproof saute pan will work.  Spread a little (about ½ tbl.) oil in the pan and put it on medium heat..  When the oil is well heated, place the chicken in the pan and season the top of each with additional kosher salt and freshly ground black pepper.  When you place the chicken in the pan, it should be sizzling.  If it is not, the pan is not hot enough.  While the chicken is cooking, slice a lemon to create one slice of lemon for every breast of chicken. After about 5 minutes or when the cooked side is a nice golden brown and has obtained that nice crust, flip over with tongs, add one slice of lemon on top of each chicken breast, and place the pan in the oven.  The chicken should be done in about 25-30 minutes, depending on how thick your chicken breasts are.
Now, you will see that there is a lot of baked on brown stuff on the pan.  Don't freak out... That's good stuff!  It is time to deglaze that pan!  Take the chicken out and place on a platter to rest.  Put the pan back on medium heat, and add in white wine (I just use whatever my fiance is in the middle of drinking), and squeeze the juice of 1 lemon into the pan.  Using a wooden spoon, stir and scrape up every last bit of the "brown stuff".  Let cook for about 5 minutes, stirring.
Garnish your chicken with fresh thyme, a hearty drizzle of the pan sauce you just created, and you are done!  I like to pair this with some oven roasted broccoli and Trader Joe's Harvest Grains Medley (with a couple springs of thyme thrown in while cooking for added flavor).  It contains Israeli couscous, red and green orzo, split dried garbanzo beans, and red quinoa.  Drizzle some pan sauce on it and it's amazing!