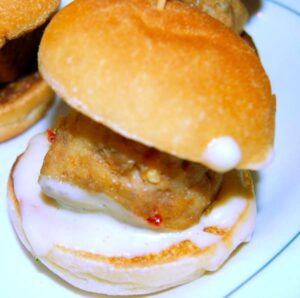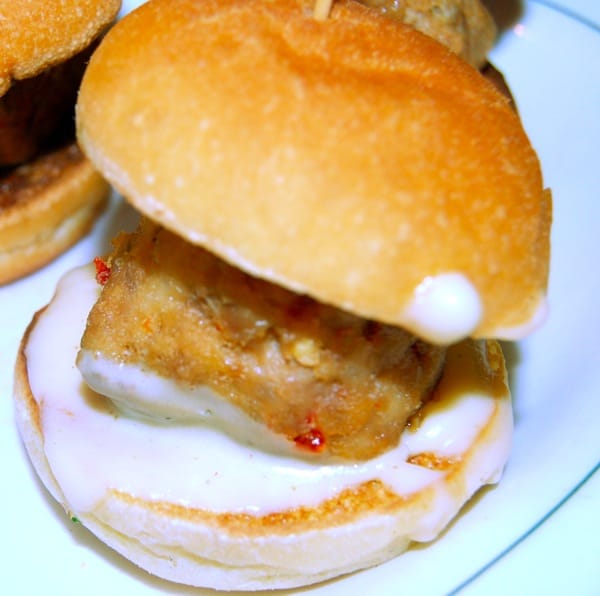 I forget where I first heard about The Meatball Shop, but I give tremendous gastronomical thanks to whoever it was!  This is a place where you definitely want to eat, plain and simple.  It's delicious, fuss-free, fun, comforting, and with everything on the menu under $10, it's definitely affordable.  What more can you ask for?
Opened in 2010 at 84 Stanton Street in the East Village, The Meatball Shop has quickly become a favorite of NYC locals and foodies alike.  With the success of their first location, co-owners Daniel Holzman and Michael Chernow soon expanded and opened two more locations (West Village and Brooklyn).
I recently visited The Meatball Shop on Stanton Street.  Here's a pretty detailed recount of my excellent experience while there:
Even during off-peak eating hours at 3:30 p.m., the place was packed.  Reservations are not accepted, so we had to either take our chances with the wait time or order from their take-out window.   The hostess said it would be about 30 minutes (and she was accurate, which is a big plus in my book of proper restaurant service).  She offered to take my phone number and call when the table was ready.  That was perfect!  We took advantage of our 30 minute wait  to take a delicious little side trip to Doughnut Plant, which is about a 5 minute brisk walk (or 10 minute stroll) away.
The interior of The Meatball Shop is small and cozy, with smaller tables outlining a large communal table dead center of the restaurant.  A decent-sized bar cradles the right side of the restaurant.  The atmosphere was lively and energetic, with diners ranging from college students just hanging out to families enjoying a meal together.
With dry erase marker in hand, I perused the laminated menu.  What a fun way to order, checking off exactly what you want on the menu!  Pick your meatball and sauce combination, any sides you may want, and hand it to your server.  Awesome!
There is a myriad of meatball choices... beef, spicy pork, chicken, and even a vegetarian made from mushrooms and green lentils.  There is also a rotating specials menu, featuring a different meatball (among other items) daily.  The Meatball Shop has plenty of sauce options as well:  classic tomato, spicy meat sauce, mushroom gravy, parmesan cream, and pesto.  Check out their complete menu for all the different ways you can enjoy your meatballs!
Wanting to sample a bunch of different kinds of meatballs, I decided on ordering 4 sliders ($3 a piece).  I took the advice of our server for sauces that would complement each of the meatballs I ordered.  We also ordered a couple sides to share ($4 a piece).  Here's the breakdown of the meal:
All of the sliders were really excellent.  Details, right down to the toasted and buttered buns, added to the depth of flavor.  There was a good ratio of meatball to sauce to bun for every slider.  All 4 meatball varieties I tried were very moist and extremely flavorful, and the sauces all tasted delicious.
My absolute favorite slider of the day was the Spicy Pork Meatball with Parmesan Cream Sauce.  This meatball, made of Heritage pork shoulder and hot pickled cherry peppers, is really special.  It had just the right amount of heat, and the flavors of the meatball with the cheesy cream sauce were so perfectly balanced.  The old phrase that the highest form of flattery is imitation is definitely true in this case.  I tried to replicate this  meatball recently and it actually came out quite well.  I'll post that recipe soon.
The Chicken Meatball with Pesto was a nice surprise!  When you see chicken meatballs on a menu, the are typically dry and/or flavorless.  However, this chicken meatball was moist and packed with flavor!  It is made with Bell and Evans chicken thighs, white wine, black pepper, fennel seeds, and herbs.  The pesto included spinach, basil, walnuts, olive oil, and parmesan cheese.
The Classic Beef Meatball with Spicy Meat Sauce was just that: classic done right.  It was simple and delicious.  The classic beef meatball is made with Creekstone all-natural beef and is mixed with prosciutto, herbs, and ricotta.  The spicy meat sauce is made with braised Heritage pork, chilies, and tomatoes.
The last meatball I wanted to try was the special of the day: Venison Meatball with a Vinaigrette Sauce.  It was superb.  The venison meatball had hints of juniper and orange, and the vinaigrette was made with venison stock and black currant.  So delicious!
We grabbed two sides while at The Meatball Shop.  The best of the two by far were the Mashed Potatoes.  They were velvety rich and definitely rank as some of the best mashed potatoes I've ever eaten.  The White Beans were okay.  The beans were cooked nicely, not overly mushy like many beans are.  The crunchy bread topping added nice texture as well.  The dish fell a bit flat though, due to lack of seasoning and/or an acidic component.
The Meatball Shop is apparently also known for their ice cream cookie sandwiches ($5).  I decided on a classic vanilla ice cream sandwiched between a chocolate chip cookie and a brownie cookie.  I liked the creative license I was allowed in choosing two different cookies for my sandwich!  The cookies were both good, the brownie being my favorite.  However, the texture of the ice cream was not as smooth and rich as I like it.  It was a bit icy.  Although it was overall still enjoyable (I mean, it is an ice cream sandwich after all!), my favorite ice cream sandwich of all time is still found at Coolhaus food truck.
So with all the food I ordered, my portion of the bill was under $20.  Now that's pretty awesome for such great food!   I am super excited to go back to this place.  Great food, great atmosphere, great prices... and a great location.   It's within walking distance of many of my old and new favorite places (Doughnut Plant, Pickle Guys, Dessert Truck Works, Stanton Social, Il Laboratorio Del Gelato, and Katz's Deli).  Happy eating!
You may want to also check out...
The Top 10 Foods You Have To Eat In NYC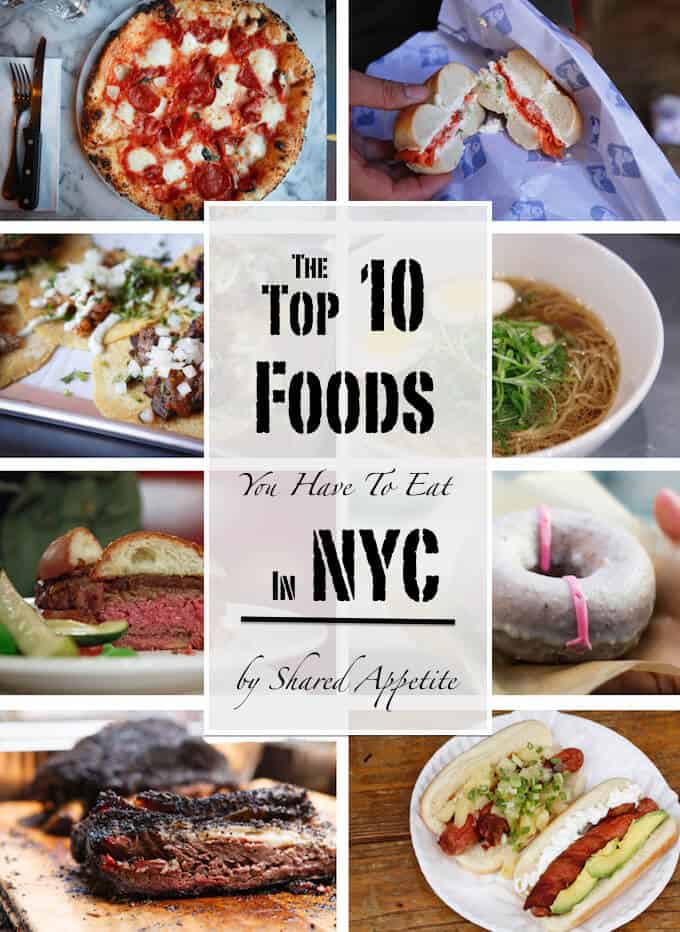 The 10 Best Ice Cream and Frozen Treats in NYC