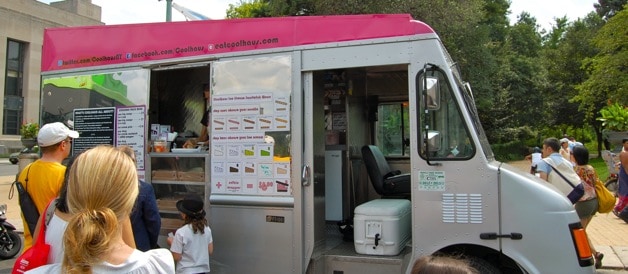 I like ice cream.  I like cookies.  Ice cream and cookies all at once... euphoria!  What's not to like about the old time favorite ice cream sandwich?  I remember being very excited as a kid when I would hear that familiar high-pitched tune, signaling the one, the only, ice cream man!  Approaching that ice cream truck, with all the different sugary choices colorfully plastered around the service window, I would very often choose the good ole' chipwich.  A prepackaged vanilla ice cream sandwiched between two frozen chocolate chip cookies, it was all a kid could hope for.  Ah, youthful days... But little did I know!
When I walked up to the Coolhaus food truck for the first time, I expected a decent, good, tasty ice cream sandwich.  That isn't what I got... not even close.  It was SO much more than that.  I have never had an ice cream sandwich this good.  It was stupid good.  So good I now literally compare all other ice cream sandwiches to the pedestal I have erected for my ice cream sandwich love: Coolhaus!
With trucks in LA, NYC, Austin, and Miami, Coolhaus is a company dedicated to quality and sustainability.  Every ice cream sandwich is all-natural, handmade, and organic whenever possible.  Their dairy is sustainably produced and free from artificial growth hormones.  Local and seasonal ingredients from farmers markets are used for many flavors of their ice cream.  Even their wrappers are "green" - they are made from edible potato paper and soy ink!
Coolhaus prides itself on flavor creativity, offering unique ice cream flavors I've yet to see elsewhere.  Beside the typical ice cream flavors you come to expect, they think up some real interesting and wacky combos.  For example, at the first ever L.A. Street Food Festival, Coolhaus created a spin on sushi dinner: Ginger Cookie and Wasabi Ice Cream Sandwich.
They have a ridiculous amount of ice cream flavors and varieties of cookies.  Flavors rotate daily (about 8-10 are typically available on a given day), with many served seasonally.  Due to demand, some flavors become sold out as the day progresses.  The good news is that there is always something on the menu that should be able to get you excited.  I know I do!  The  complete list of flavors (and there are a lot!) can be found on Coolhaus'  menu.  Check it out, some of the flavors will blow your mind!
What sets Coolhaus apart, besides their vast and unique flavor offerings, is the superb quality.  Coolhaus ice cream sandwiches are made to order, not pre-made and then frozen awaiting purchase (which then makes the cookie hard and you feel like you are going to break your jaw trying to bite into it... or you wait for the cookie to thaw but then the ice cream starts melting and the cookie turns mushy).  Coolhaus ice cream is incredibly smooth and rich in flavor.  It is always served at a perfect temperature to optimize its creamy texture.  The cookies always taste fresh, with both a little crunch on the exterior and good chew on the inside.
To date, my favorite ice cream sandwich flavor combination at Coolhaus is Brown Butter and Candied Bacon Ice Cream on Potato Chip - Skor Cookies.   Yes, you heard me correctly.  Brown Butter and Candied Bacon Ice Cream.  This is one of the flavors of ice cream that put Coolhaus on the map.  A brown butter based ice cream is speckled throughout with bursts of Applegate nitrate-free bacon that has been candied in brown sugar.  That bad boy ice cream is sandwiched between 2 Potato Chip - Skor Cookies (For those who don't know, me included the first time I had it, Skor is a candy bar made with chocolate and toffee).  There is a real balance of sweet and salty flavors in the sandwich.  I'm craving one right now.  People, you need to try this ice cream sandwich!  If they do not have the potato chip - skor cookie on the menu the day you visit, I've heard the chocolate chip cookie is a good alternative match.
Asheley's favorite ice cream sandwich from Coolhaus is the Yogurt with Berries Ice Cream on Snickerdoodle Cookies.  They use Greek yogurt and swirl in mixed berries.  Asheley really loves greek yogurt, so this sandwich was a huge hit with her.
No matter what flavor combination you create, you will be guaranteed an absolutely delicious treat.  This place knows ice cream sandwiches!  Check out the Coolhaus truck locator.  For you NY'ers, the truck is usually at Union Square (on the west side of the square) on weekends.
You may want to also check out...
The Top 10 Foods You Have To Eat In NYC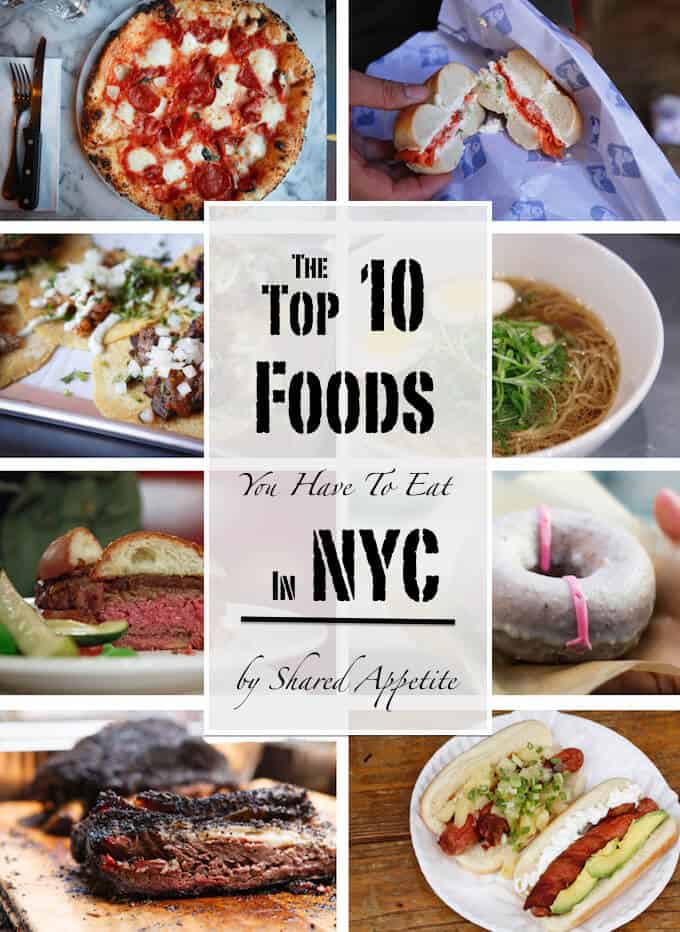 The 10 Best Ice Cream and Frozen Treats in NYC