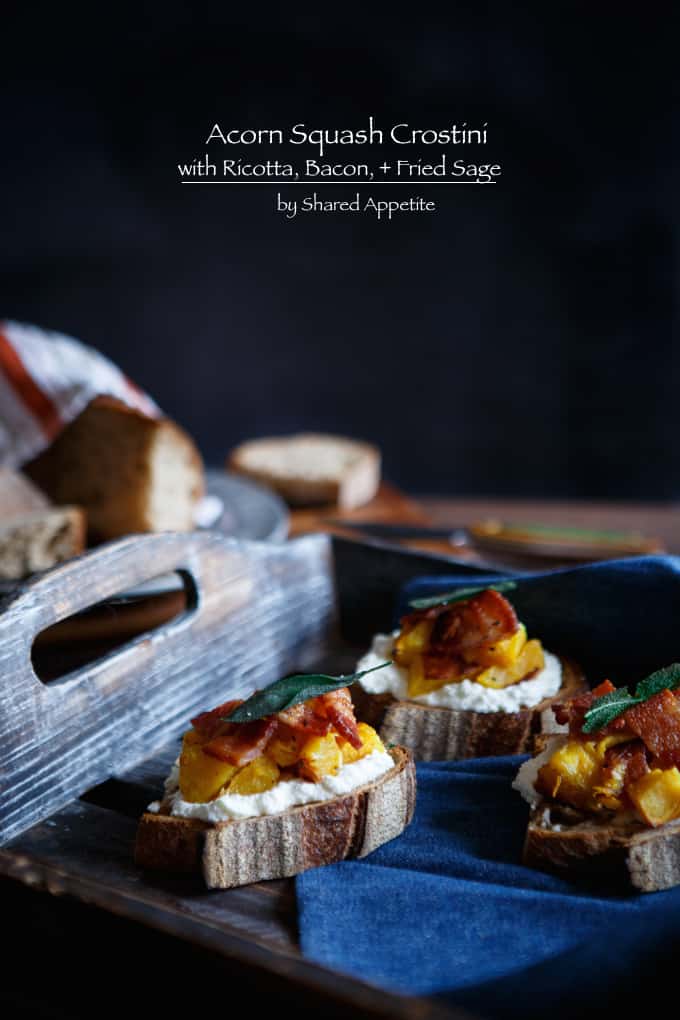 Ladies… this one is for you.
Sure, Bradley Cooper and Ryan Gosling may be easy on the eyes. Sure, Adam Levine may be able to pull off the ragged dirty white t-shirt look.
But really, let's be honest. I know you. Deep down, you don't want any of that superficial nonsense. What you really want, what really gets you going… is a man that knows his way around the kitchen.
And ladies, we have plenty of that today.
Welcome to the Wolfpack Thanksgiving. 5 guys. 5 recipes. #hotness
Me? I'm bringing this killer Roasted Acorn Squash Crostini with Ricotta, Bacon, and Fried Sage to the party. It's a seriously legit fall appetizer.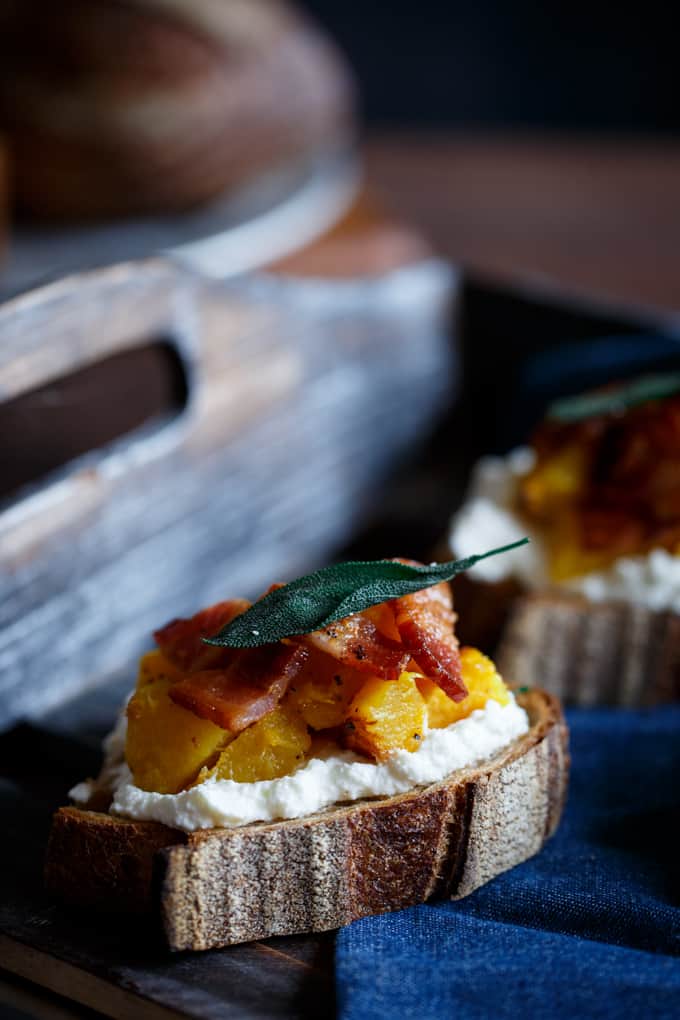 So let's just break this down, shall we?
If you want great crostini, you need to start with some great bread. Your average lame baguette at the grocery store isn't going to cut it. Look for a hearty, crusty loaf of something special. It is Thanksgiving, after all.
And ricotta. Sure, sure, you could go in the dairy aisle and pick up a plastic tub of whatever is on sale, but if you want to up your crostini game… go for the good stuff. Look for fresh, high-quality stuff. It's worth it.
Please. Go for the thick-cut bacon. Splurge a little bit.
And for the love of all things that is right in this world… don't skip the simple step of frying up some sage and drizzling on some honey. It totally takes this crostini from Ryan Seacrest to Ryan Reynolds.
If frying herbs is new to you… make it not new. It's amazing… the sage gets nice and crispy and it gives it a mellow flavor. And really, let's be super honest here… it just sounds great when you serve these to be like… oh yea, and it's crowned with a beautiful fried sage leaf. Boom. Prepare to blow your guests' minds.
Oh and one more thing… don't go trying to substitute in regular old butternut squash. I mean, you totally could… but butternut squash already gets enough love in this world. Acorn squash is like middle child. It kinda gets overlooked. And it shouldn't, because it's waaaaay cooler than his older brother. Just saying.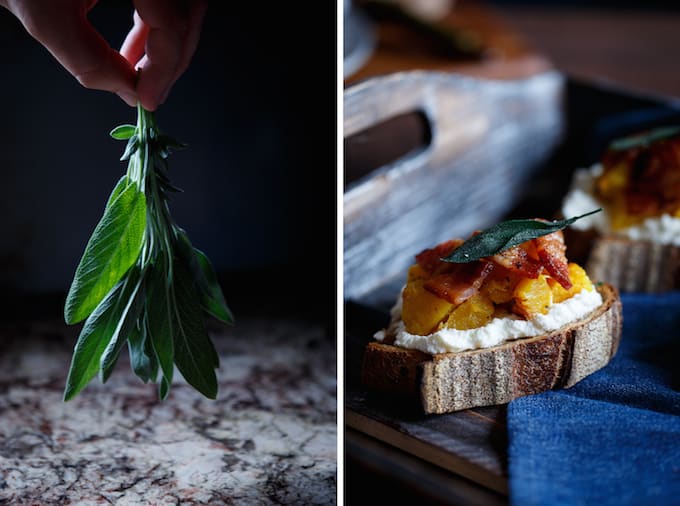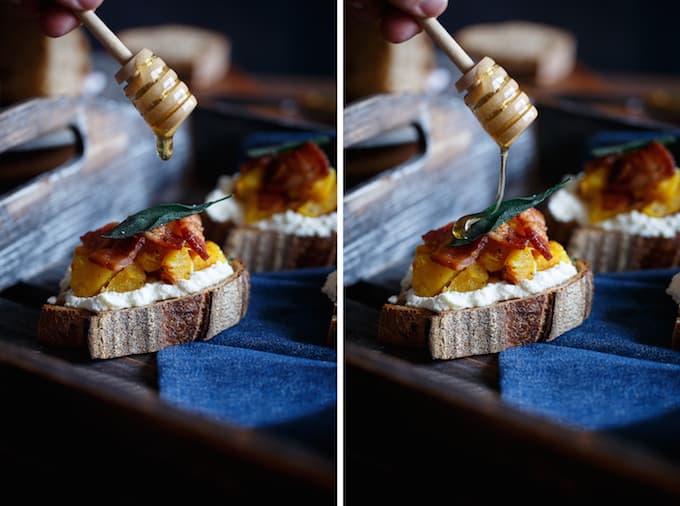 Let's talk about this Wolfpack, shall we?
We are a band of food blogger brothers… united by the sheer fact that dudes need to stick together. Especially in the food blog world.
David @ Spiced Blog is the grill master of the group… the dude is hardcore and will grill in the snow if he has to. He also grew up in the south, so the guy knows his comfort food.
Mike @ The Iron You is the health conscious one in the bunch. He competes in triathlons while simultaneously planning what kind of paleo-friendly awesomeness he's going to cook up in the kitchen after.
Matt @ Real Food By Dad is always whipping up these crazy delicious sounding quick and easy meals. He's got a few kids at home, so quick and easy are a must, especially when it comes to juggling their baseball schedules with weeknight dinner.
Sean @ Snack Fixation is a dude that loves to eat… he's always bragging about all the awesome snacks he finds throughout NYC on Instagram (yea, I'm a bit jealous), and he's also a beast in the kitchen.
If you aren't already following these guys, you totally need to. They are the real deal in the kitchen…. super creative, all star recipes that constantly impress the heck out of me. And eve more important… they are genuinely awesome guys that love sharing their passion for food with others.
Here's what they whipped up for the Wolfpack Thanksgiving:
David's bringing his Easy Yeast Rolls to the party.
Mike whipped up some Sweet Potato Pie Waffles.
Matt upped the stuffing game with his Butternut Squash Stuffing.
Sean is making some Candied Pecan Muffin Bites.
That's a Thanksgiving All Star lineup right there.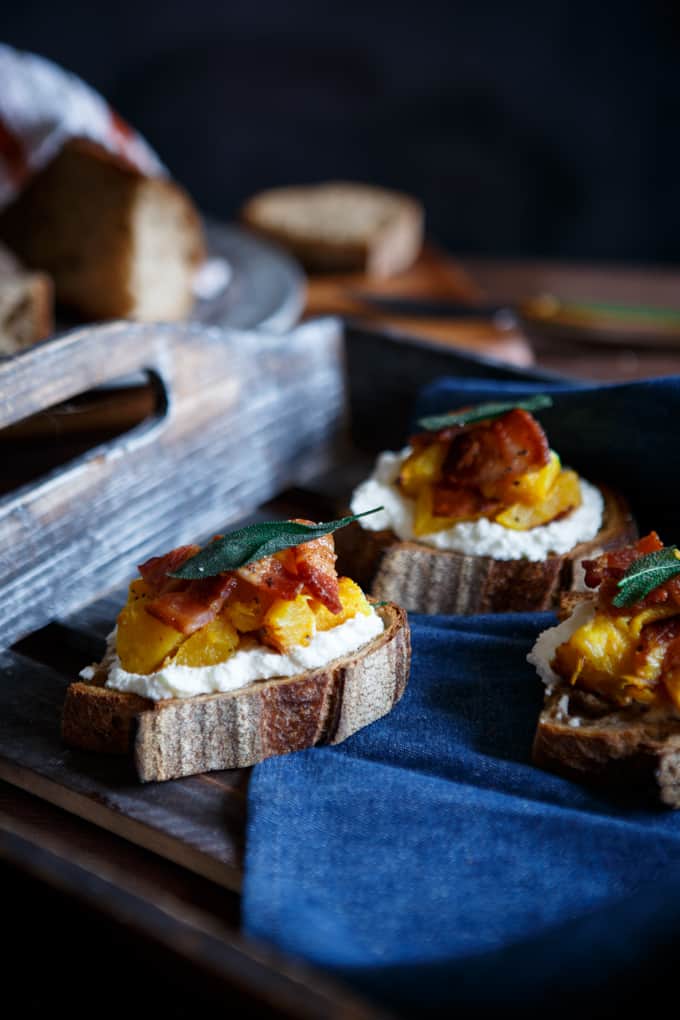 Print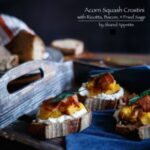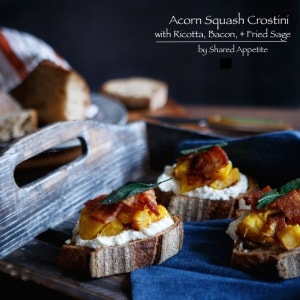 Acorn Squash Crostini with Ricotta, Bacon, and Fried Sage
---
Total Time:

40 minutes

Yield:

About

16

-

20

Crostini*

1

x
1

loaf of good-quality crusty bread, cut into slices

1

acorn squash

1

package thick-cut bacon, cut into

1

" pieces and cooked until golden brown

1 1/2 cups

good-quality ricotta

1

bunch sage leaves
Honey
Olive Oil
Kosher salt
Freshly ground pepper
---
Instructions
Preheat oven to 425F. Cut acorn squash in half and remove seeds and stringy guts. Place cut side of acorn squash down and slice into 1/2″-1″ strips. Carefully use a pairing knife to cut away the peel of the squash on each strip and then slice into bite-size pieces.
Drizzle squash with about 1 to 2 tablespoons of olive oil and season generously with Kosher salt and freshly ground pepper. Spread in an even layer on an aluminum foil lined baking sheet and roast until completely tender and easily pierced with a knife, about 30 minutes.
Meanwhile, heat just enough olive oil to generously coat the bottom of a small fry pan over medium heat. Once hot, fry sage leaves in batches (about 6 to 8 at a time) for about 5-7 seconds and immediately remove using a fork or spider to paper towels to drain. Sprinkle with Kosher salt and set aside until ready to assemble crostini.
Toast bread slices in oven or on grill/grill pan until a little crispy. Top crostini with a spoonful of ricotta, a few pieces of roasted acorn squash and bacon, drizzle with just a touch of honey, and top with a fried sage leaf. Devour immediately.
Notes
*yield depends upon size of bread. You'll get more crostini from baguette slices than you would from ciabatta, for example.
Prep Time:

10 mins

Cook Time:

30 mins