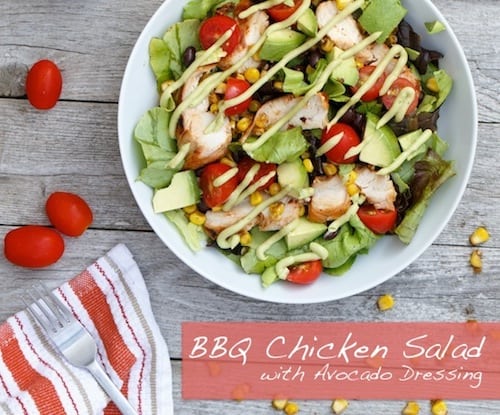 Anyone else's vegetable bin overflowing with lettuce this time of year?  Besides growing some leafy greens in our own backyard, Asheley and I excitedly joined this season's Golden Earthworm Organic Farm CSA.  And for the past three weeks, there has been no shortage of lettuce.  Red leaf.  Boston.  Baby arugula.  Green leaf.  Romaine.  Baby spring mix.  With all that lettuce, you better believe salads have become a weeknight dinner staple.
Not every meal I make shows up here on Shared Appetite… and for good reason. Some are just big flops.  But hey, that's how you learn what works and what doesn't, right?  The good news for you is that there is a critical development phase before I ever post a recipe for you to see.  And that development phase is Asheley. When she first tasted this salad, her fork speed quickly increased until every last morsel was eliminated from her bowl.  She demanded I share this recipe with you. And like any good husband, I listen.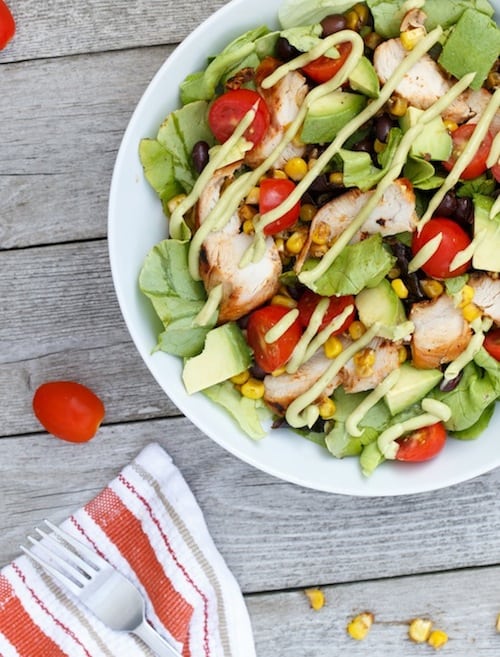 But seriously, this BBQ Chicken Salad with Avocado Dressing is beyond great.  It's a wonderfully healthy summertime salad that's substantial enough to fully satisfy me at dinner.  And that's no easy feat for a salad.  I'm a growing boy (of the horizontal variety, not the vertical).
Although Asheley thought I was totally weird for putting the hot elements of grilled bbq chicken and spicy southwest corn on a cold salad, she was quick to admit she was very, very wrong.  Music to my ears.  It rarely happens.  Say it again Asheley.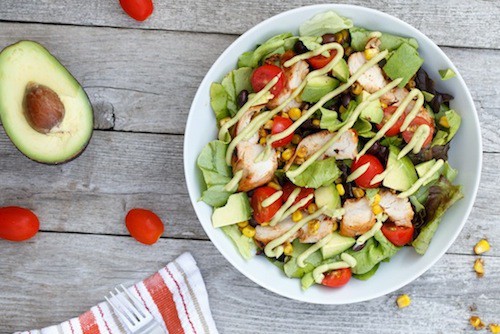 The creamy avocado dressing is key.  I wouldn't substitute it with anything else… and this is coming from a guy that would happily put thousand island dressing on most salads.  I know.  It's a weird nostalgic thing.
And good news, the avocado dressing is incredibly healthy since it uses greek yogurt.  You may actually recognize the recipe for it since its a variation of that avocado lime cream from those addictive little Southwest Wontons.
Print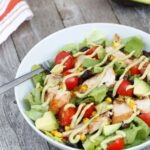 BBQ Chicken Salad with Avocado Dressing
---
Total Time:

35 minutes

Yield:

4

servings

1

x
2

–

4

boneless, skinless chicken breasts
BBQ sauce (homemade or your favorite store-bought variety)
Canola or vegetable oil
Kosher Salt
Freshly ground black pepper

1

large head of lettuce (any variety will do), rinsed, dried, and torn into bite-sized pieces

1

(15 ounce) can black beans, rinsed and drained

2

ripe avocados, diced

1 pint

cherry or grape tomatoes, halved
For the Avocado Dressing
1

ripe avocado, mashed

1/2 cup

plain greek yogurt

1

lime

1

clove garlic

1/4 cup

extra virgin olive oil
Kosher salt
Freshly ground black pepper
---
Instructions
Preheat grill to medium. Lightly coat chicken breasts with a little drizzle of canola oil and season liberally with Kosher salt and freshly ground black pepper. Grill, with the lid closed, approximately 5-7 minutes, then flip and baste cooked side with bbq sauce. Cook for another 5-7 minutes, or until cooked through and a thermometer inserted into the thickest part of the breast registers 155°F (it will continue to cook while resting). Remove from grill, baste with a bit more bbq sauce, and let rest for 5-10 minutes. Slice chicken breasts into bite-sized pieces.
Layer each bowl with lettuce, a hefty spoonful or two of Spicy Southwest Corn and black beans, anywhere between a half to a whole sliced chicken breast (we normally do half), a 1/2 of avocado diced, and a handful of halved tomatoes. Drizzle generously with the Avocado Dressing.
For the Avocado Dressing
In a food processor, purée the avocado, greek yogurt, juice from 1/2 of the lime, and garlic. Drizzle in olive oil and fully combine. Season with Kosher salt and freshly ground black pepper. Taste and add the juice from the other 1/2 lime if needed.
Prep Time:

20 minutes

Cook Time:

15 minutes