Well, it's official.  I'm on summer vacation.  That's right, two glorious months of relative freedom, filled with catching up on house projects, spending some quality time with Asheley and friends, and lots and lots of cooking experiments.
So let's start out with this Spicy Southwest Corn.  Does anyone else love corn as much as I do?  It might not be the most nutritional choice in the land of vegetables, but it is undeniably one of the best.  I love corn, pretty much the way Bubba Gump loves shrimp.  As cornbread.  Tortillas.  Or polenta.  In southwest wontons.  And that's just the beginning of a long summertime filled with an absurd amount of the stuff.
The idea for this corn came after I was at some food festival and a vendor was serving up corn on the cob lathered up in butter, sprinkled with some spices, and coated in a healthy amount of crumbled cheese.  Taking the kernels off the cob just makes for easier eating and removes the whole getting-corn-stuck-in-your-teeth thing.
Shucking corn is definitely not my favorite kitchen activity.  Good thing Asheley enjoys it.  It reminds her of those childhood days when she would go pick corn from the fields.  I know, how cool is that?  She actually had corn fields!
Spicy Southwest Corn has pretty much become a necessity at get togethers with friends, so much so that visual anger is displayed when it is absent from the dinner table.  They love it a ridiculous amount... little do they know how easy it is to make.  And when entertaining, easy is really important.
Print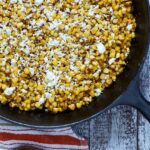 Spicy Southwest Corn
---
Total Time:

20 minutes

Yield:

serves 4
5

-

6

ears of corn on the cob

2 tablespoons

unsalted butter

1 tablespoon

olive oil

½ tablespoon

ancho chile powder

½ teaspoon

chile de arbol powder*
Kosher salt
Queso Fresco, crumbled**
*If you cannot find chile de arbol powder, substitute with another chile powder with a good amount of heat.
**if unable to find queso fresco, you may substitute with cojita chese, farmer's cheese, or even a mild feta cheese.
---
Instructions
Remove the husks and silk from corn and cut kernels off the cob. Reserve cobs. Heat butter and oil in a medium skillet over medium heat. Once hot, add corn kernels, ancho chile powder, chile de arbol powder, and a generous pinch of Kosher salt.
Using the back of your knife (dull side of the blade), scrape up and down the sides of the reserved cobs over the skillet to release some of the corn's milk into the mixture.
Let corn cook, stirring occasionally, until cooked through, about 10 minutes. Sprinkle crumbled queso fresco on top of the corn and serve.
Prep Time:

10 minutes

Cook Time:

10 minutes