Asheley hates wasting leftovers.  Me.  Well, uhm, I'm typically the culprit.  I know, wasting food is totally not cool.  And I could probably come up with some totally lame excuses to try to explain myself, but I'd rather just 'fess up, say I'm sorry, and move past it.  And I think lately I've been doing a lot better with using up leftovers in the fridge (Asheley, do you agree my darling?).
By themselves, leftovers often leave quite a bit to be desired.  They need some repurposing.  Take for instance, those Braised Short Ribs with Swiss Chard and Polenta that were transformed into a dynamite leftover meal of Orecchiette with Braised Short Ribs and Swiss Chard.  Or how about that time we used Easy Carnitas to make Tacos, Burrito Bowls, and even that Num Pang Sandwich.
So when I had a bunch of the Black Bean and Mango Salsa leftover from our Father's Day celebration this past weekend, it was time to get creative for a quick and healthy lunch.
This Black Bean and Mango Quinoa Salad couldn't be easier.  It really is as simple as cooking up some quinoa and mixing in a bit of the black bean and mango salsa with a glug of olive oil.  Boom.  Lunch is served.
Easy.  Quick.  Healthy.
I wish I thought of this at the time, but if you have an avocado, a knife, and some chopping skills lying around, feel free to add it to the salad as well.  That would add some creamy decadence I'm sure.  I really wish I would have thought of that... next time 🙂
Print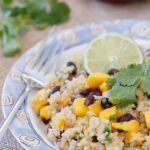 Black Bean and Mango Quinoa Salad
---
[Black Bean and Mango Salsa|
black-bean-and-mango-salsa/]

1 cup

quinoa

2 cups

vegetable broth or water
Kosher salt
Olive Oil
---
Instructions
Prepare [Black Bean and Mango Salsa|
black-bean-and-mango-salsa/].
Place quinoa in a fine-mesh strainer and thoroughly rinse under cold running water for at least 2 minutes. Use your hand to rub and move the quinoa around while rinsing. This will remove it's natural coating, which can make quinoa taste bitter. Even if the box says "pre-rinsed", it's still a safe bet to rinse it yourself. Drain quinoa after rinsing.
Add quinoa and your liquid (water or vegetable stock) to a medium pot. Give it a quick stir and season with a generous pinch of Kosher salt. Bring to a boil, then lower heat to very low (I went to my lowest setting), cover, and cook for 15 minutes.
Remove quinoa from burner and let stand, covered, for about 5 minutes. Remove lid and gently fluff quinoa with a fork. Let quinoa cool a bit.
Combine quinoa with a bunch of the black bean and mango salsa (you don't have to use the entire batch of salsa... just as much as you want) and a drizzle of olive oil. Garnish with cilantro and a wedge of lime if desired.
Can be served at room temperature or chilled.